This Smoky Parsnip Soup is perfect when you want a bowl of thick, creamy, warming food that is bursting with flavor and texture. Our roasted parsnip soup combines fresh parsnip, onion, smoky bacon, and Gouda cheese. Finished with aromatic spices like garlic, paprika, and fresh ginger for a bold flavor profile that is comforting and hearty.
Parsnips are an often forgotten vegetable that pairs well with squash, carrots, and other root vegetables; as well as nuts and savory pork or chicken for added protein. Cream, cheeses, and other dairy products work well with the carrot-like veggie by enhancing the flavor with a satisfying creamy element.
With a pleasant nutty, earthy, and slightly sweet flavor they are a mild root vegetable that can be used as a base for blended soups like this one.
Similar to leeks, parsnips stay in the garden all through the winter season. They make a wonderful early spring vegetable for harvest. You can enjoy this vegetable baked, sauted, roasted, and mashed, steamed or used in a soup. They can be wonderfully versatile and very rewarding to cook with.
What does parsnip soup taste like?
A creamy parsnip soup with have a slightly sweet, nutty and earthy flavor. Parsnips continue to sweeten the longer they cook, so a parsnip soup is one that you will want to cook low and slow. This is the perfect soup to prepare on a cool day when you want a bowl of warm, nourishing food.
Let is slowly simmer and build in flavor. Parsnip soups often use aromatic spices like turmeric, garlic, ginger, and paprika. These spices will develop and intensify yielding a rich soup that is comforting and hearty.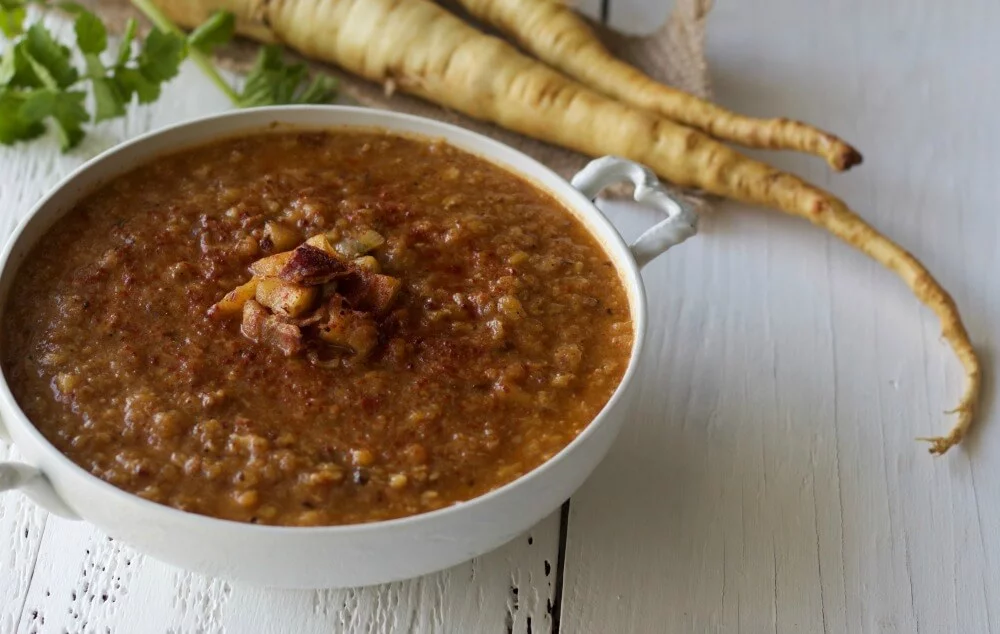 Do you need to peel parsnips before you eat them?
It is not necessary to peel parsnips before you eat them. They are a close relative of the carrot, and like a carrot, don't require the skin to be removed before consumption. That being said, if you would like to peel them beforehand you absolutely can.
Simply wash them under cold water, give them a light scrubbing, cut the top off, and peel with a potato peeler.
What do you eat with parsnips?
Parsnips are a fantastically versatile and mild vegetable that you can enjoy with a wide range of other ingredients. Squash is often a companion found in parsnip dishes, and you could add some to make this a zucchini parsnip soup.
Other root vegetables like sweet potatoes, carrots, and rutabaga are going to play well with parsnips, and rich leafy greens like arugula and spinach will be delicious companions. Lentils and nuts share similar flavors and taste fantastic with parsnips, which is partly why the parsnip soup Jamie Oliver makes is such a standout recipe.
Aromatic spices and herbs help to build flavor with parsnips, and sweet ingredients like honey and maple syrup will also play nicely with any parsnip recipe.
How do you make Parsnip Soup?
Bacon combines fantastically with the parsnips, paprika and other seasonings in this recipe. The smoked Gouda is the perfect addition to this soup. Just a nice bit of extra smokiness floating over the top of those deeper flavor notes in our Smoky Parsnip soup.
On medium heat in a deep skillet add bacon and cook until done, drain fat. (Reserve 1/8 Cup bacon for garnish if desired)
Add parsnips, garlic, ginger and onion. Stir often until veggies are tender and golden brown.
Reduce heat to low, add remaining spices and broth
Simmer until the soup is aromatic and thoroughly warmed, be careful not to let it boil and scald
Remove the soup from the heat and allow it to cool a bit
Transfer it to a blender and puree until creamy
Garnish with smoked paprika, shredded smoked Gouda cheese and reserved cooked bacon
Enjoy with a warm slice of bread

Here is the printable recipe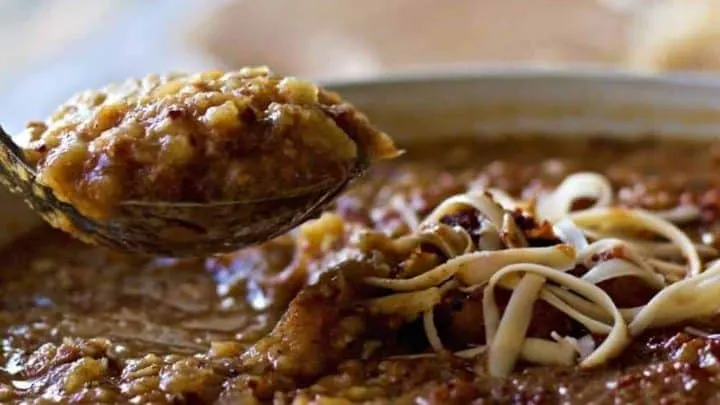 Yield:

6 servings
Smoky Parsnip Soup Recipe
Additional Time:
10 minutes
Total Time:
1 hour
15 minutes
Smoky Parsnip Soup is amazingly good for you. This Nutritionally Balanced, High-​Fiber, Dairy-​Free, Gluten-​Free soup is easy to make and full of flavor!
Ingredients
6 Cups peeled parsnips-cut into 1 inch chunks
1 large onion- diced
1/4 lb. bacon-chopped into 1 inch chunks
3 large garlic cloves-diced
1 inch piece of fresh ginger-peeled, minced and smashed
1 tsp. smoked paprika
1 quart chicken broth
1/2 Cup Smoked Gouda Cheese-shredded for garnish
Instructions
On medium heat in a deep skillet add bacon and cook until done, drain excess fat
Add parsnips, garlic, ginger and onion. Stir often until veggies are tender and golden brown
Reduce heat to low
Add remaining spices and broth
Simmer until the soup is aromatic and thoroughly warmed
Blender to a pureed consistency that you desire
Garnish with extra bacon and shredded smoked gouda cheese as desired
Nutrition Information
Yield
6
Serving Size
1
Amount Per Serving
Calories

275
Total Fat

10g
Saturated Fat

4g
Trans Fat

0g
Unsaturated Fat

5g
Cholesterol

32mg
Sodium

1027mg
Carbohydrates

36g
Fiber

7g
Sugar

11g
Protein

13g
Follow Us:
We enjoy meeting you on our social networks. Follow us on Facebook, Pinterest, Instagram . Tag us with your pictures of our recipes and comment on how it went for you. We would love to see what you do with them.
We often like, comment and share your posts of our recipes on our daily Instagram stories.
Ask questions and rate the recipe in the comments section below. Please share what you did with this recipe. We are always looking for more and better ways to make homemade food. Other cooks love your ideas!
Recent Posts:
Loosely based on Allrecipes.com