Smoky Parsnip Soup is amazingly good for you. This Nutritionally Balanced, High-​Fiber, Dairy-​Free, Gluten-​Free soup is easy to make and full of flavor!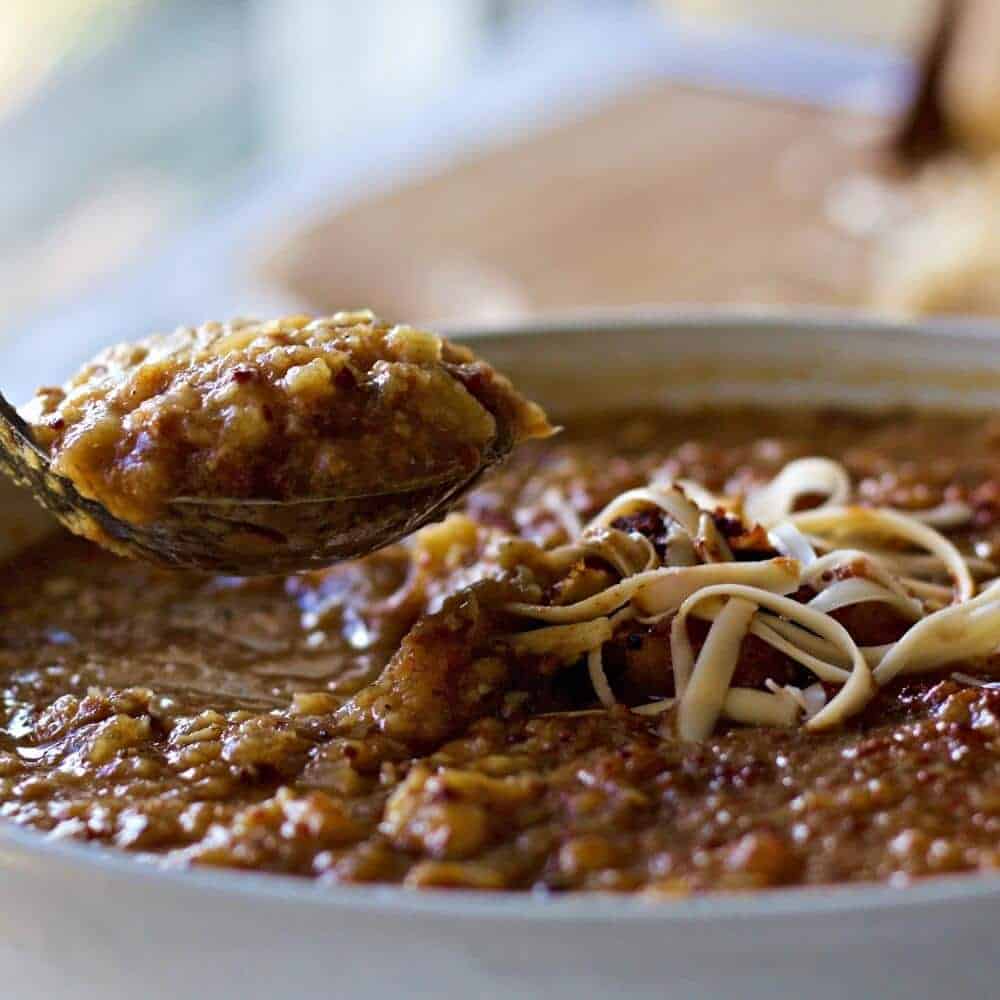 I'm using up the last our 2015 parsnips. Dave dug them up recently so he could get the garden beds ready for our 2016 crops. This weekend he is out there planting seed. I'm in the kitchen making Smoky Parsnip Soup!
Like leeks, parsnips stay in the garden all through the winter. They make a wonderful, in season, early spring vegetable. When nothing else is in season, go find some parsnips and make this soup! We are harvesting parsnips for the first time in many years. I used to hate them because the roots are AMAZINGLY looong. When I ran the old garden, I planted them in the yucky, dense clay. Parsnips are a bad choice for heavy soil. They will grown in it, but you'll need a post hole digger to get those long roots out! Dave put them in our raised beds this year. Popped em right out with his shovel. They look great and taste great too! I wrote a garden post on the benefits of growing parsnips. I encourage you to find out more about them!
This soup is hearty, yummy and filling.
Dave came in for lunch after a morning of working up an appetite in the garden. He dug into a big bowl of this soup and could not stop talking about how delicious it is. He is so proud, happy and inspired when his hard work outside turns into delicious meals like this. We are both working outside this weekend. Already mowing the grass! Looks like another great growing season for us.
If you purchase items from our affiliate links we may receive a small commision at no extra charge to you. Thank you for supporting Homemade Food Junkie!
Smoky Parsnip Soup Recipe Notes:
Bacon combines fantastically with the parsnips, paprika and other seasonings in this recipe. The smoked Gouda is the icing on this cake! Just a nice bit of extra smokiness floating over the top of those deeper flavor notes in our Smoky Parsnip soup. Dave had to have a second bowl. I love that!
Here's how to make Smoky Parsnip Soup:
On medium heat in a deep skillet add bacon and cook until done, drain fat. (Reserve 1/8 Cup bacon for garnish if desired)
Add parsnips, garlic, ginger and onion. Stir often until veggies are tender and golden brown.
Reduce heat to low. Add remaining spices and broth.
Simmer until the soup is aromatic and thoroughly warmed(don't boil). blender to a puree.
Serve immediately
Garnish with smoked paprika, shredded Smoked Gouda cheese and reserved cooked bacon
Here is the printable Recipe: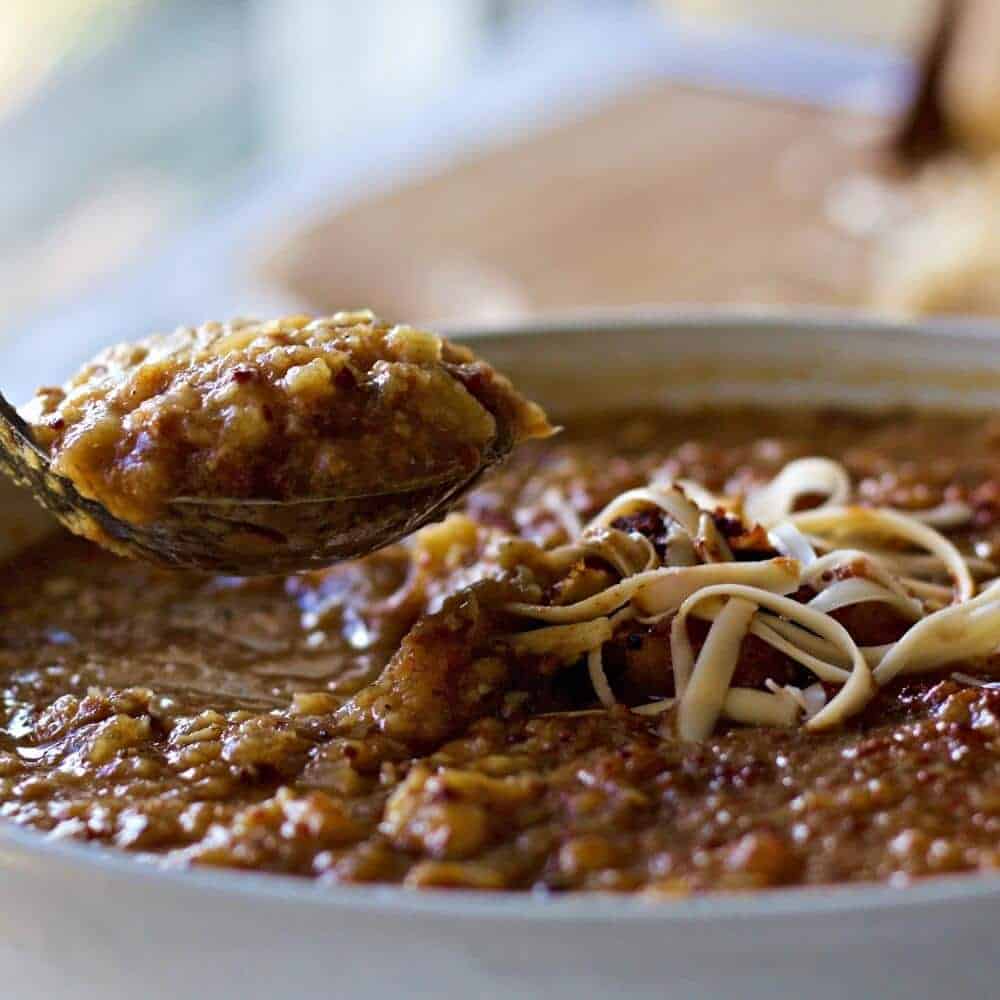 Ingredients
6 Cups peeled parsnips-cut into 1 inch chunks
1 large onion- diced
1/4 lb. bacon-chopped into 1 inch chunks
3 large garlic cloves-diced
1 inch piece of fresh ginger-peeled, minced and smashed
1 tsp. smoked paprika (more to taste and for garnish)
1 quart chicken broth
1/2 Cup Smoked Gouda Cheese-shredded for garnish
Instructions
On medium heat in a deep skillet add bacon and cook until done, drain fat.
Add parsnips, garlic, ginger and onion. Stir often until veggies and tender and golden brown.
Reduce heat to low. Add remaining spices and broth.
Simmer until the soup is aromatic and thoroughly warmed(don't boil). blender to a puree.
Serve immediately
Garnish with extra bacon and shredded Smoked gouda Cheese as desired
Pin it:
Loosely based on Allrecipes.com