Inger's single ingredient Caramel spread makes a thick, rich and deliciously, sweet Gluten free caramel spread! This caramel defines gooey goodness and is SO easy to make! You can even use your crock Pot!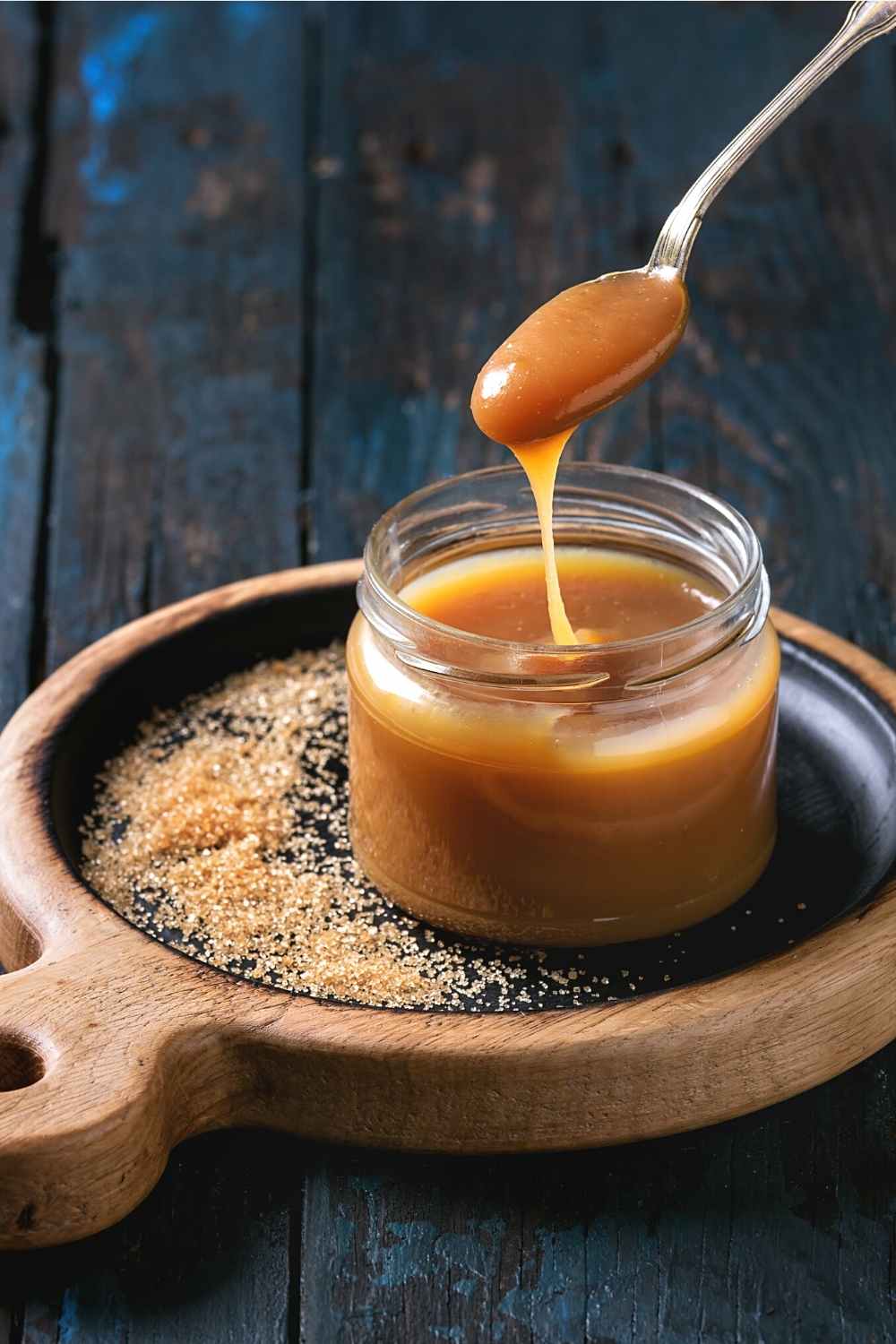 According to our friend, Inger Svendsen; Caramel is used in Norway as a normal bread spread! (Like Nutella in Australia). They spread it on toast like we do butter. Inger missed her homeland's traditional caramel spread when she immigrated to the United States many, many years ago.
It's too expensive to have Norway's "HaPå" spread mailed over here; so Inger figured out how to make her own U.S version. This is her method of turning sweetened condensed milk into a luscious thick caramel spread she remembers and loved from her childhood in Norway.
Inger and Susie sent us the history of the original Norwegian "HaPå" spread Inger was raised on.
The Norwegian HaPå spread is a commercial variant that is thicker and less sweet. The name is an abbreviation of "Hamar" where it originally was made and "Pålegg"(spread). "Ha på" literally means "put on" as a reference to putting it on a slice of bread. HaPå originated during the Second World War when, due to the scarcity of supplies, housewives would boil Viking-melk (a type of condensed milk) to a very similar type of spread. After the war the production was commercialized and continues to this day. -Wikipedia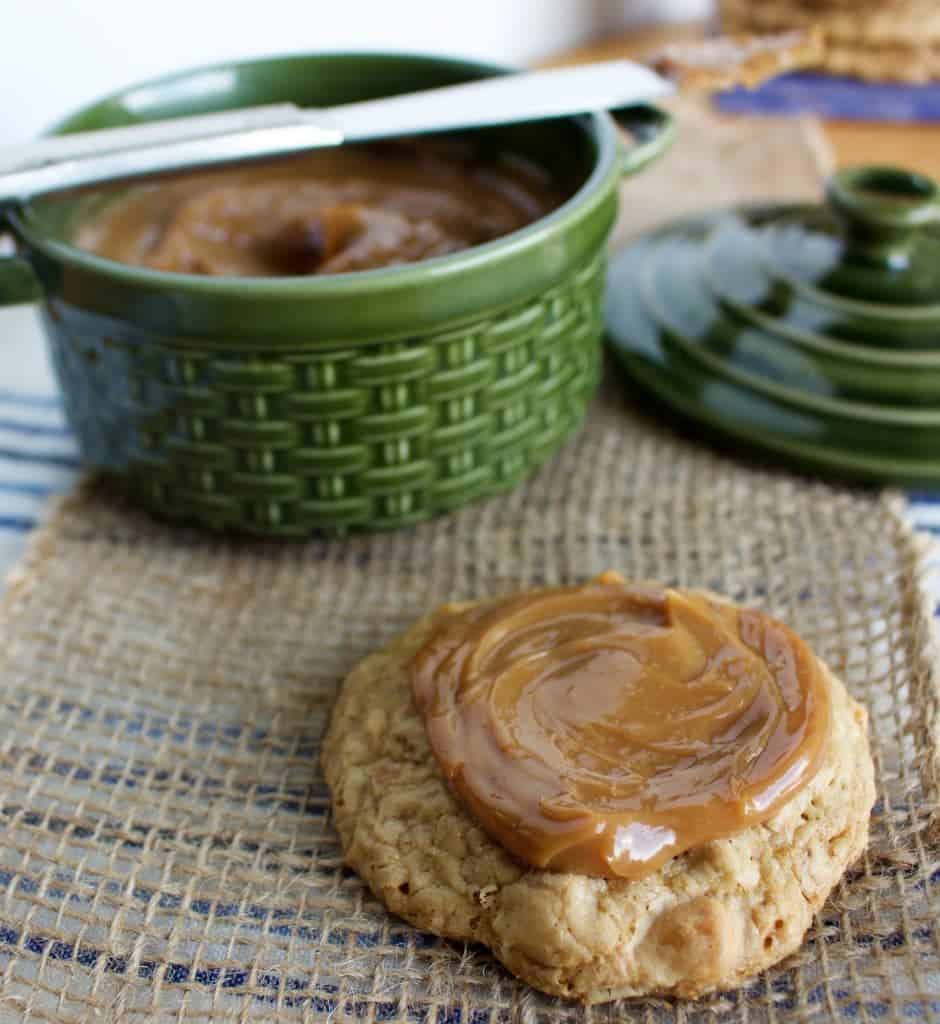 Delicious on my 5 grain Butterscotch cookies!
I've been keeping an eye out for caramel sauce recipes for a while because I REALLY like caramel ON ice cream as a topping, and IN my homemade Caramel Toffee Bits ice cream recipe!…and maybe in several others ways too.
Kayti tried making a different, more complex, homemade caramel sauce recipe for her Coffee Cupcakes with Salted Caramel Sauce. That fail ended in a quick run to the grocery store for a caramel sauce rescue in a jar! I have looked at several recipes for making caramel sauce and they seem a little tough. Like you have to watch the sauce or it burns and crystallizes. That's what happened to Kayti and so Inger's recipe is perfect for us! Easy and delicious! I'm so happy she shared her recipe with us!
Here's how Inger makes her Single Ingredient Caramel Spread:
Susie photographed her every step!
Inger Making Single ingredientCaramel Spread. Step 1: Put the de-labled cans on the stove to simmer.
4 hours later, Inger's ready to remove the cans from heat. Cool to room temperature before opening the cans. Enjoy!
This single ingredient Caramel Spread will be finding it's way into my kitchen recipes in lots of ways. My sister Susie is a serious choc-o-holic and she says this caramel is very, very similar to that of the Cadbury easter egg's caramel center. "Sweet, thick, and oh my, delicious", in her own words. After making a batch or two of my own; I can tell you, I agree. That just opens all kinds of doors in my head for the holiday goodies.
This caramel spread is really too thick to be used as a sauce. It's more spreadable, like peanut butter; than a thinner store bought sauce that pours out of a jar. Sounds perfect for layering onto dessert bars and cakes!
Susie looked up Inger's recipe a while back and found that in Argentina it's called Dulce de leche. It is also versatile – use it as a dip for apples, graham crackers or or pretzels. It makes a yummy topping for ice cream, cheesecake or pound cake. You can also stir into milk shake. For breakfast it makes a delicious crepe filling, or you can put it on pancakes or waffles. It's also perfect to drizzle over sliced bananas or grilled pineapple.
For pouring, drizzling and slurping purposes;
Just add a little water and stir it in thoroughly. That creates a dynamite caramel sauce for drizzling over ice cream and other indulgent adventures.
So easy to make this delicious spread from a can of sweetened evaporated milk! Who knew?
Note: The can says don't heat the can!
Inger has done it for decades and I did it in my own kitchen twice with no ills results. The second time I finally noticed the can said not to reheat it. I took the can out of the pan, let it cool, cut the lid off and set it back in the pan. Then I reheated it and let it simmer for the allotted time. It set up fine with no lid. (I'm assuming the problem is the pressure in the can could conceiveably build and the can could burst.) With no lid this process still works but you will have to keep the pot open and the lid will need to be cut off the can right at first. It's easier maybe to pour the milk into another container, if you're concerned about heating the can, and then heat it that way.
Lol I can feel a crock pot recipe being born right here!
And By Golly I am happy to report I invented this crock pot method because I'm lazy, and because of the warning on the can label not to heat the can; and it works perfectly! No cans to worry about. Just pour the milk into a waterproof container, use a plate or lid to keep the condensation off the milk as it cooks. Check it after 4 hours and it should look like the darker, firmer picture below. If it's still milky, keep cooking another couple of hours.
Set the milk into a waterproof container, and set a lid on it. cover the crock pot and turn it onto high for 4 to 6 hours.
Yield:

14 servings
Inger's Single Ingredient Caramel Spread
Total Time:
5 hours
10 minutes
Ingers single ingredient Caramel spread makes a thick, rich and deliciously, sweet Gluten free caramel spread! This caramel defines gooey goodness and is SO easy to make! You can even use your crock Pot!
Ingredients
1 14oz. can sweetened condensed milk
Instructions
Peel off the label and place can in a medium pot
Fill the pot with water, until can is completely covered by the water
Set on high until the water comes to a full boil
Turn down the heat to a slow simmer
Continue to simmer for 3.5-4 hours
Remove the can from pot and allow it to cool to room temperature
Open the cans and enjoy
ALTERNATE CROCKPOT METHOD:

Pour the milk into a waterproof container, and place into a crockpot. Fill with water until the container is submerged to the level of the milk inside the container. Place a lid on the container of milk. Put the lid on your crockpot and set on high for four hours. Continue to cook until the caramel is dark and firmly set.
Nutrition Information
Yield
14
Serving Size
1
Amount Per Serving
Calories

123
Total Fat

3g
Saturated Fat

2g
Trans Fat

0g
Unsaturated Fat

1g
Cholesterol

13mg
Sodium

49mg
Carbohydrates

21g
Fiber

0g
Sugar

21g
Protein

3g
RECIPE NOTES:
This sauce is thick when finished, like a spread. I did make it in half the time once. It was thinner, as I wanted it for my purpose, and caramel colored, but the flavor was milky:(
I recommend finishing it completely, as Inger directed. To make a sauce, add water and mix to desired consistency. It will have the deep caramel flavor without the milkyness!
Try heating it up and cooling it in the fridge for various consistencies as well.
This spread will hold at at least a month, in an airtight container in the fridge. I have also left it on the counter for days at a time with no ill affects!