Let Caramel Toffee bits Ice Cream melt in your mouth with a delicious bit of crunch in a caramel vanilla ice cream base. We are seriously devoted to this frozen treat!
This post contains affiliate links. Thank you for supporting Homemade Food Junkie!
This Caramel Toffee Bits invention may be the best ice cream I have made yet, and I have made some EXCELLENT ice cream recently.
This flavor came about because of Inger; 0ur Norwegian friend in WestPort. She gave us the recipe for Five Of Hearts Waffles that are so pretty; made in the proper waffle iron. My sister, Susie sent me a new recipe by Inger a while back and I've been too distracted by life to get it posted.
I recently made Inger's recipe for homemade caramel spread and…I finally got brave enough to try it out as an ice cream condiment. It's REALLY good!! Especially when you add some Heath English toffee crunchy bits in with it. It reminds me of my old favorite ice cream flavor, Butter Brickle.
I'm still working on the ribboning effect. I'm discovering that getting those swirls of sauce in the ice cream is done after the ice cream is made and during the packing process before the final freeze. I haven't opted to do this yet; so mine is just mixed into the ice cream and blended throughout.
I love the way this ice cream sets up. It remains creamy in the freezer, even after days in there! this is perfect because I HATE ice cream that is so hard my scoop can't get through it without ejecting it all over my kitchen. This scoops firmly but with an almost custard creaminess that plays nice with my kitchen floor!
I'm having a blast playing with my new Cuisinart ice cream maker. The cute red one with a freezer bowl so I don't have to churn it by hand. I really like that part. The other part I like is that I'm now brave enough to try a few of my own creations out in it and so far they are REALLY good!
Here is my dream machine! I love it!

It's so hot here right now! We are not used to heat in June. We hardly get heat at all in the summer; except this summer we are have a lovely hot spell that has NO end in sight! I'm really enjoying this heat and ice cream!
You'll notice the ice cream looks a bit melty in the dish. Trying to take pictures of ice cream in this heat is currently beyond my meager camera skills (I take too long and ice cream can't wait). I promise to get better pictures when the weather cools down. For now….you get the idea! Enjoy playing in your ice cream and let me know how you like it!
Caramel Toffee Bits Ice Cream Recipe: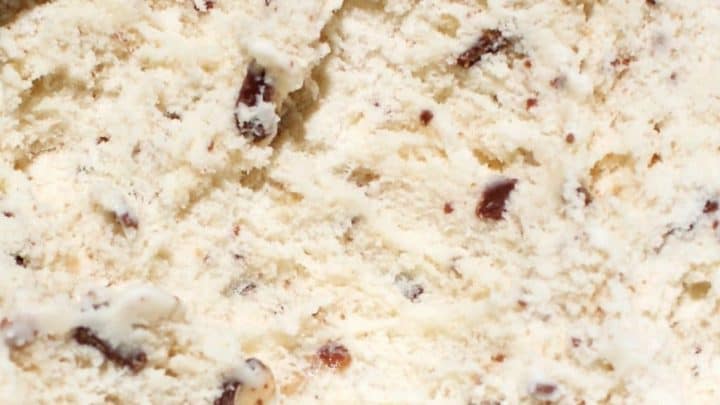 Yield:

16 servings
Caramel Toffee Bits Ice Cream
Total Time:
3 hours
20 minutes
Let Caramel Toffee bits Ice Cream melt in your mouth with a delicious bit of crunch in a caramel vanilla ice cream base. We are seriously devoted to this frozen treat!
Ingredients
1/3 Cup heath toffee bits
2 Tablespoons caramel sauce
1 Cup half and half
2 Cups heavy cream
3/4 Cup granulated sugar
1 Tablespoon vanilla extract
Instructions
In a medium bowl, mix the half and half, heavy cream, sugar and vanilla together.
Stir thoroughly with a whisk or hand mixer until the sugar is THOROUGHLY dissolved. You may place this in the fridge for several hours of overnight or use it right away.
Follow the directions for your ice cream maker.
About five minutes before the ice cream is completely mixed pour in the Heath Toffee bits.
After the toffee bits are thoroughly distributed add the caramel sauce into the ice cream in small ribbons.
Mix until the ice cream is done according to your ice cream maker instructions.
Store in an airtight container in your freezer until it reaches your desired hardness.
Keeps well a week in your freezer.
Nutrition Information
Yield
16
Serving Size
1
Amount Per Serving
Calories

190
Total Fat

14g
Saturated Fat

9g
Trans Fat

0g
Unsaturated Fat

4g
Cholesterol

42mg
Sodium

40mg
Carbohydrates

16g
Fiber

0g
Sugar

15g
Protein

1g
The flavor is perfect with the Heath English Toffee bits! Inger's Caramel Sauce makes a divine drizzle over the top!
Looking for other ice cream flavors? try these!