Caramel Toffee Bits Ice Cream melts in your mouth with a delicious bit of crunch in a silky caramel vanilla ice cream base. This homemade ice cream with toffee bits is made with high quality ingredients for superior flavor and a creamy consistency that you only get from homemade.
This ice cream is easy to make and can be enjoyed as a soft serve, or hard texture depending on your preferences.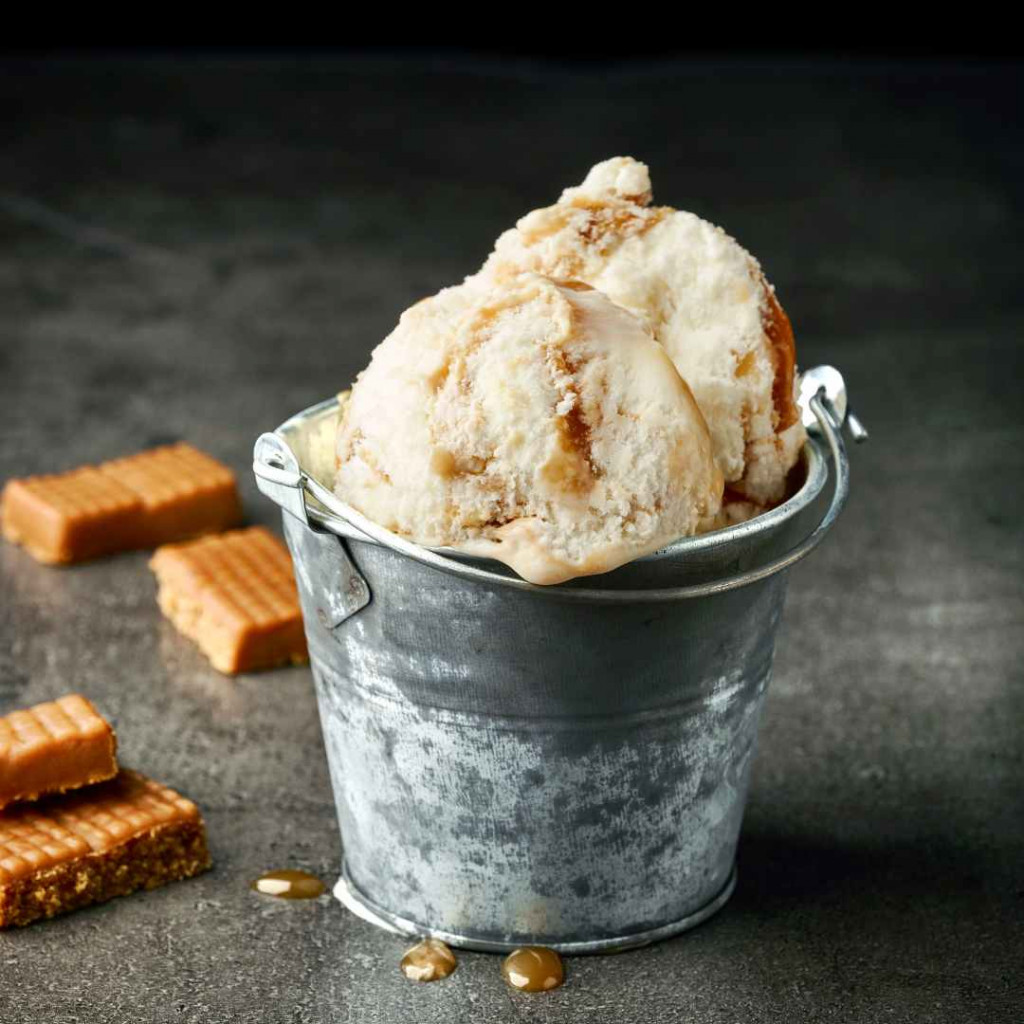 What ingredients do we need to make Ice Cream?
Homemade ice cream is actually a very easy recipe and a simple process. A basic vanilla ice cream is made with milk, sugar, cream, and vanilla extract. Everything is blended together and finished in an ice cream maker, or by hand.
Once you have a vanilla ice cream you can add additional flavors, candies, toppings, and condiments to build an entirely new ice cream experience. This recipe is a vanilla ice cream with Heath toffee bits and caramel to create a creamy butter toffee ice cream.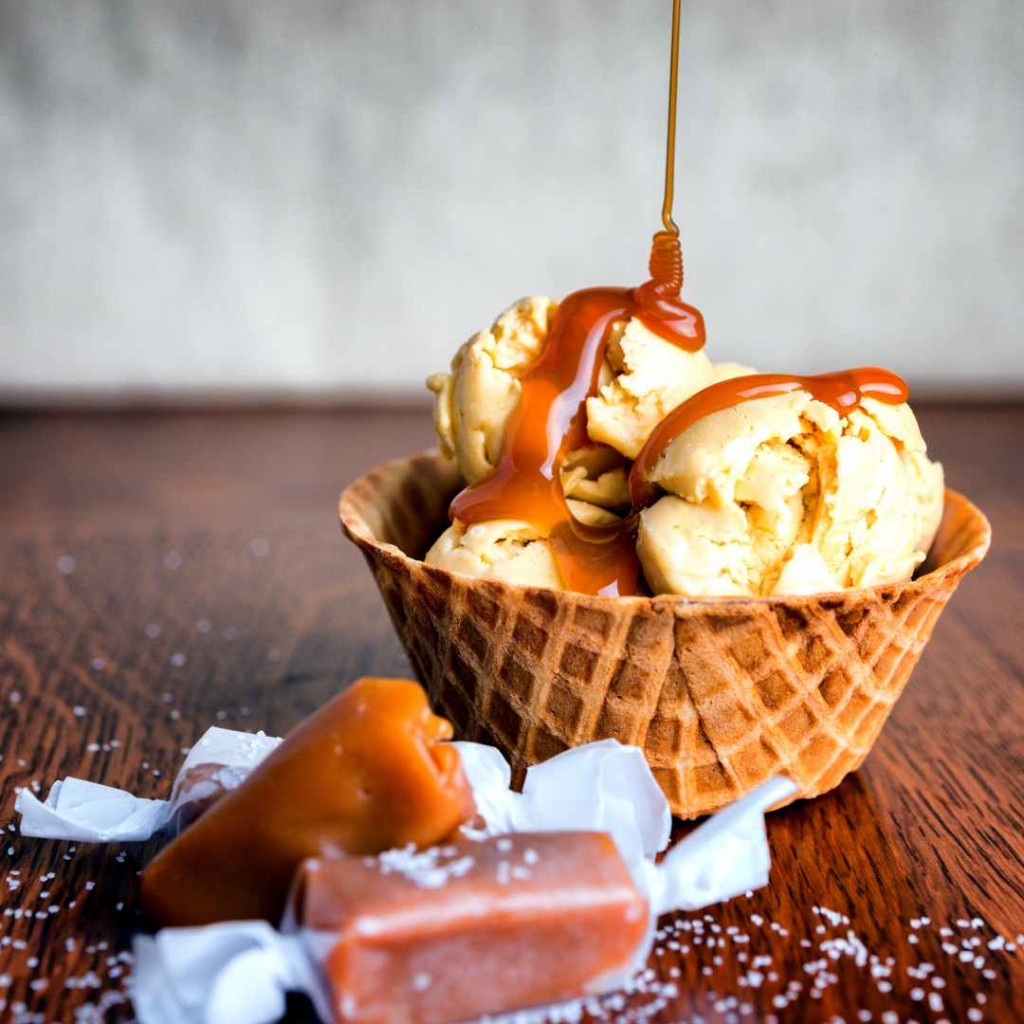 What is the most important ingredient in Ice Cream?
Milk is the main ingredient in ice cream, and it is definitely the most important. Milk fat is what creates the smooth and creamy texture of the ice cream, so be sure to use a good quality high fat milk for the best ice cream consistency.
What is the best caramel for Ice Cream?
A fresh, good quality caramel can't be beat when you are looking to top your ice cream. Caramel is a very basic recipe and doesn't take long to make on your own if you're up for it. A homemade caramel is what we recommend for the best flavor and highest quality.
We have two delicious homemade caramel recipes including Inger's recipe for a single ingredient Homemade Caramel Spread. It makes a delicious topping for ice creams, especially when you add some Heath English Toffee Crunchy Bits candy. It reminds me of my old favorite ice cream flavor, butter brickle.
Are homemade Ice Cream Makers worth it?
Homemade ice cream makers are a fantastic kitchen tool to invest in if you are looking to make your own ice cream regularly. They are inexpensive, easy to use and clean, and don't take up a lot of space. There are a lot of options to choose from depending what you are looking for.
We have a Cuisinart Ice Cream Maker and couldn't be happier with it. It is easy to use, quiet when it's in use, and very easy to clean up. It's easy to customize your ice cream recipe and create a variety of delicious, homemade frozen desserts.
Click the link to explore our favorite ice cream maker. This is an affiliate link which supports our blog. Thank you!
What is the secret to creamy Ice Cream?
Making the creamiest, silky smooth ice cream is a process learned through experience and following some simple steps to ensure success. We are sharing a list of recommendations and techniques for you to follow to get the best Caramel Toffee Crunch Ice Cream.
Chilling your ice cream maker base. Having a chilled base will help your ice cream churn and come together quickly which reduces crystallization and yields a silky, creamy product.
Prioritize fats for a creamier cream. Boosting butterfat will result in a thicker, silkier ice cream partly because the fats act as a barrier to the sugars crystallizing which makes ice cream grainy.
Adding liquid sweeteners like honey, maple syrup, even corn syrup will help sweeten the ice cream without adding a grainy texture that granulated sugars do.
Follow recipes exactly until you're ready to play around with experimentation. Chill time and execution are crucial in attaining the very best homemade ice creams. Be patient and follow the steps for the best result.
Caramel Toffee Bits Ice Cream Recipe:
This is a simple vanilla base ice cream that has caramel blended in. The flavor is perfect with the Heath English Toffee Bits! Ingers Caramel Sauce makes a divine drizzle over the top!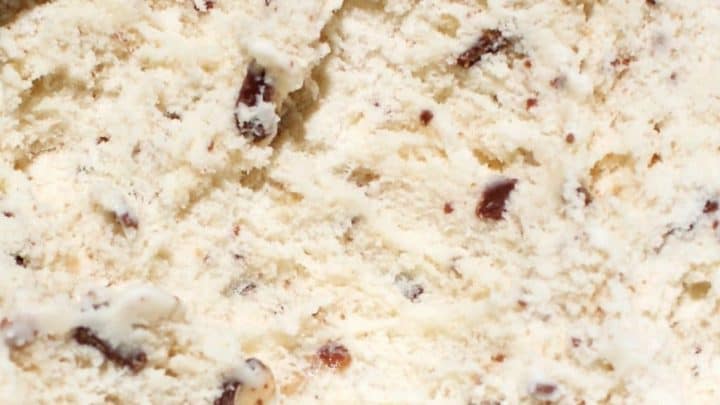 Yield:

16 servings
Caramel Toffee Bits Ice Cream
Total Time:
3 hours
20 minutes
Let Caramel Toffee bits Ice Cream melt in your mouth with a delicious bit of crunch in a caramel vanilla ice cream base. We are seriously devoted to this frozen treat!
Ingredients
1/3 Cup heath toffee bits
2 Tablespoons caramel sauce
1 Cup half and half
2 Cups heavy cream
3/4 Cup granulated sugar
1 Tablespoon vanilla extract
Instructions
In a medium bowl, mix the half and half, heavy cream, sugar and vanilla together.
Stir thoroughly with a whisk or hand mixer until the sugar is THOROUGHLY dissolved. You may place this in the fridge for several hours of overnight or use it right away.
Follow the directions for your ice cream maker.
About five minutes before the ice cream is completely mixed pour in the Heath Toffee bits.
After the toffee bits are thoroughly distributed add the caramel sauce into the ice cream in small ribbons.
Mix until the ice cream is done according to your ice cream maker instructions.
Store in an airtight container in your freezer until it reaches your desired hardness.
Keeps well a week in your freezer.
Nutrition Information
Yield
16
Serving Size
1
Amount Per Serving
Calories

190
Total Fat

14g
Saturated Fat

9g
Trans Fat

0g
Unsaturated Fat

4g
Cholesterol

42mg
Sodium

40mg
Carbohydrates

16g
Fiber

0g
Sugar

15g
Protein

1g
Follow Us:
We enjoy meeting you on our social networks. Follow us on Facebook, Pinterest, Instagram . Tag us with your pictures of our recipes and comment on how it went for you. We would love to see what you do with them.
We often like, comment and share your posts of our recipes on our daily Instagram stories.
Ask questions and rate the recipe in the comments section below. Please share what you did with this recipe. We are always looking for more and better ways to make homemade food. Other cooks love your ideas!
Recent Posts: