Blueberry Coconut Lime pops delight the palate with a divine blend of sweet and tart. Put your mouth around one of these for a refreshing, healthy icy treat. These popsicles are Low-Sodium, Vegan, Vegetarian, Dairy-Free and Gluten-Free. Kid designed and approved!
Aliyah, my eight year old granddaughter, created the concept of Blueberry Lime popsicles.
That's right. Aliyah has been in my kitchen again. Look what she came up with this time. Homemade Popsicles for her sweet tooth. Yummy!
When the kids visit us they know eating healthy fruits and vegetables goes with the territory. We do healthy food for kids (and everyone else too) at this grandma's house.
Aliyah is my kitchen side kick when she visits. And she is AMAZINGLY creative and increasingly skilled in the kitchen.
Blueberry Coconut Lime Pops Recipe:
These frozen fruit bars are a delightful blend of sweet ripe blueberries with just a pop of lime and coconut. Blueberry Coconut Lime Pops are so refreshing. Getting kids to eat healthier summer treats just got easier.
We put our heads together about how the recipe needed to be done. She started squeezing limes. I went down to the freezer for our last package of frozen blueberries.
While the blueberries defrosted I checked out some recipes for a basic proportion of lime to blueberries. And then…we played!
The great thing about developing recipes with kids is they are so creative…and honest. So when you have a fail…(I might have, in the past). There is no mistake about it. Today we had a spectacular success!
I decided to use coconut milk for an extra bit of rich flavor. Lime, coconut and blueberries are so good together! You can substitute water for the coconut milk if you are not striping your fruit bars.
The Layers:
This popsicle recipe can be made a solid blue color or you may go that extra mile and create a two layer red white and blue dessert. The red is your popsicle stick in this case.
I did not do three layers but you can. I give you directions for three layers later in this post.
Aliyah and I were only interested in the coconut layer with blueberries. this time.
The Popsicle Molds:
I found the popsicle molds you see in this post at WalMart. They both worked great.
I have some popsicle mold ideas linked from Amazon in the printable recipe card and below.
Making Blue Popsicles.
Stir everything into a pot on the stove per directions.
When the berries pop and it all dissolves together.
cool it in your fridge or freezer to room temperature.
Puree the cooked mash (I used a blender) An immersion blender would also work.
Load up your molds.
Put in your popsicle sticks.
Freeze until solid (about 2 hours)
Sweeteners:
Aliyah and I sweetened the coconut milk for the coconut milk stripe to taste with table sugar. (beware when a eight year old gets hold of the sugar bowl)
The sweetness factor is all to taste. Feel free to adjust the sugar content to your taste. Likewise if you wish you may add 1/4 tsp. vanilla or almond flavoring to the coconut milk layer.
Substitute sweeteners suggestions:
1-2 Tablespoons honey or pure maple syrup
OR use a sugar-free sweetener like one of these:

Truvia
xylitol
erythritol
Two Layer White And Blue Option:
The two layer pops are blue and white. I had red white and blue popsicle sticks. The shape of the popsicle molds made them look Like rockets. 🙂
To add in the coconut milk stripe follow the instructions below. This is for a two layer popsicle for your 4th of July party. Or anytime!
White and Blue Popsicles
Aliyah and I only did the two layers pictured. Here's how we made our pops.
Fill your molds halfway.
Freeze the half filled molds for about a half hour until soft set.
Then pour in your alternate flavor stripe.
Set the popsicle stick into the mold.
Freeze until hard.
Blueberry Coconut Lime Pops turned out so tasty. I'm so proud of Aliyah. She is a creative genius!
Notes and Tips:
I worried that the attached sticks in my mold would present a problem. They were NOT a problem because at 30 minutes they still remove easily and the alternate stripe freezes around them really well when they set.
These little pop rockets are ready to launch! Right into your little ones hands
For Three Stripes: Red White and Blue.
It's wise to have extra molds on hand. If your adding stripes you will increase the volume and the number of popsicle molds needed for sure. Or you will have to reduce the fruit amounts to properly fill you molds.
Red white and blue three layer stripes. Strawberries will make a good red layer for these fruit popsicles. DO THIS LAYER FIRST if you want the red at the top.
Puree 1 1/2 Cups or so of FROZEN strawberries and add 1 Tablespoon sweetener. (cane sugar, maple syrup or other to taste)
Pour 1 Tablespoons or so into your popsicle mold so it's about a generous quarter way up your mold.
Freeze for 30 minutes or so.
Now Add the white layer of coconut milk to slightly over half full.
Put in your wooden sticks if using.
Freeze the pops another ten minutes or until they are soft set.
Finally pour in the blueberry layer.
Freeze about two hours to fully harden your popsicles.
Your mold size and shape will determine how much puree you need to properly fill the molds.
BE SURE TO LEAVE HEADROOM at the top of your mold when you pour the last layer. When the popsicles freeze they will expand.
Aliyah was licking the pan while I was loading the molds. She heartily approves of our impromptu healthy treats.
Printable Recipe: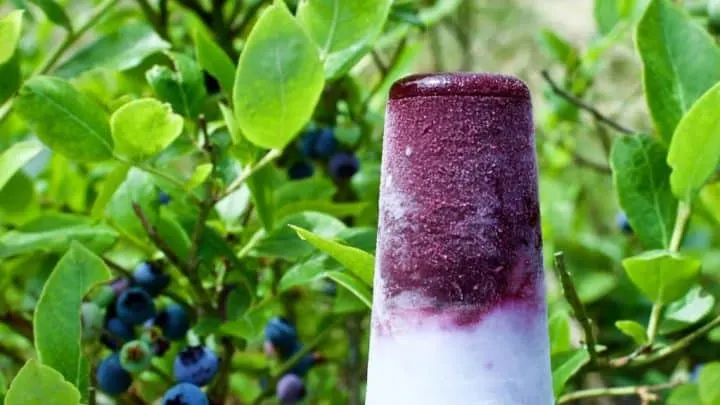 Yield:

12 popsicles
Blueberry Coconut Lime Popsicles
Total Time:
2 hours
20 minutes
Blueberry Coconut Lime homemade popsicles delight the palate with a divine blend of sweet and tart. Put your mouth around one of these for a refreshing healthy treat. These popsicles are Low-Sodium, Vegan, Vegetarian, Dairy-Free and Gluten-Free.
Ingredients
3 cups fresh blueberries (or 3 cups frozen blueberries, thawed)
3/4 cup sugar (to taste)
1/2 cup coconut milk (*extra if striping the popsicles)
1/3 cup lime juice-fresh squeezed
Instructions
Simmer blueberries, sugar, and coconut milk in a 1 1/2-2qt saucepan, stirring occasionally, until blueberries burst and collapse, 3-5 minutes.
Puree with lime juice in a blender until smooth.
Adjust sugar to taste if desired. Or use sugar substitute.
For the Solid Color Popsicles:
For popsicle molds:
Fill to the fill line on your mold and freeze until hard, about 1 to 2 hours.
Serve or keep frozen several weeks.
Wooden stick mold directions:
Pour into molds and freeze until slushy, about 45 minutes
Insert sticks and continue to freeze until completely hardened at least 3 hours.
Store in Freezer up to several weeks
To Add The Stripe :
Fill the molds to level for first stripe,
Freeze about 30 minutes.
Pour in second flavor and freeze until hard.
For three stripe use the wooden stick molds.
Notes
*For the optional coconut milk stripe just pour as much sweetened coconut milk as desired for the striping
Recommended Products
As an Amazon Associate and member of other affiliate programs, I earn from qualifying purchases.
Nutrition Information
Yield
12
Serving Size
1
Amount Per Serving
Calories

109
Total Fat

2g
Saturated Fat

2g
Trans Fat

0g
Unsaturated Fat

0g
Cholesterol

0mg
Sodium

2mg
Carbohydrates

23g
Fiber

2g
Sugar

20g
Protein

1g
This recipe is included in 22 Stunning Frozen Fruit Bars and Popsicles to keep you cool
recipe inspiration: Food.com