Blueberry Coconut Lime pops delight the palate with a divine blend of sweet and tart. Put your mouth around one of these for a refreshing, healthy icy treat. These popsicles are Low-Sodium, Vegan, Vegetarian, Dairy-Free and Gluten-Free. Kid designed and approved!
Aliyah, my eight year old grand daughter, created  the concept of Blueberry Lime popsicles. That's right; Aliyah has been in my kitchen again. Look what she came up with this time!
We put our heads together about how the recipe needed to be done. She started squeezing limes. I went down to the freezer for our last package of frozen blueberries and while it was defrosting I checked out food.com for a basic proportion of lime to blueberries; and then…we played!
The great thing about developing recipes with kids is they are so creative!…and honest! So when you have a fail…(I might have, in the past). There is no mistake about it. Today we had a spectacular success! I decided to use coconut milk instead of water for an extra bit of rich flavor. Lime, coconut and blueberries are so good together!
Making these is easy. Just stir everything into a pot on the stove per directions. When the berries pop and its all dissolves together; cool it down. Puree it (I used my blender), and load up your molds. I found these molds at Wal-Mart. I tried two different kinds and they both worked great! I have some popsicle mold Ideas for you from Amazon linked below, or choose your own for a signature look:)
The coconut milk and blueberries are naturally sweet, so not a lot of sugar is necessary. The sweetness factor is all to taste; so feel free to adjust the sugar content to your taste.
It's also easy to add in the coconut milk stripe if you want them to look like festive rockets for the fourth of July! Aliyah and I sweetened the coconut  milk we were using for the coconut milk stripe, to taste (beware when a eight year old gets hold of the sugar bowl!)
Just fill your molds half way or how ever full you desire and freeze them for about a half hour. Then pour in your alternate flavor stripe. and freeze until hard. I worried that the attached sticks in my mold would present a problem. They were NOT a problem because at 30 minutes they still remove easily and the alternate stripe freezes around them really well when they set.
Now if you do THREE stripes, then you will need the wooden stick type molds.
You will need 3- 8 hole plastic stick attached molds OR
12 wooden popsicle sticks, and molds if you do one color.
This all very approximate so have extra molds on hand. If your adding stripes you will increase the volume and the number of popsicle molds needed for sure!
Aliyah was licking the pan while I was loading the molds. She heartily approves of our final result!
Blueberry Coconut Lime Pops Printable Recipe:
Blueberry Coconut Lime Popsicles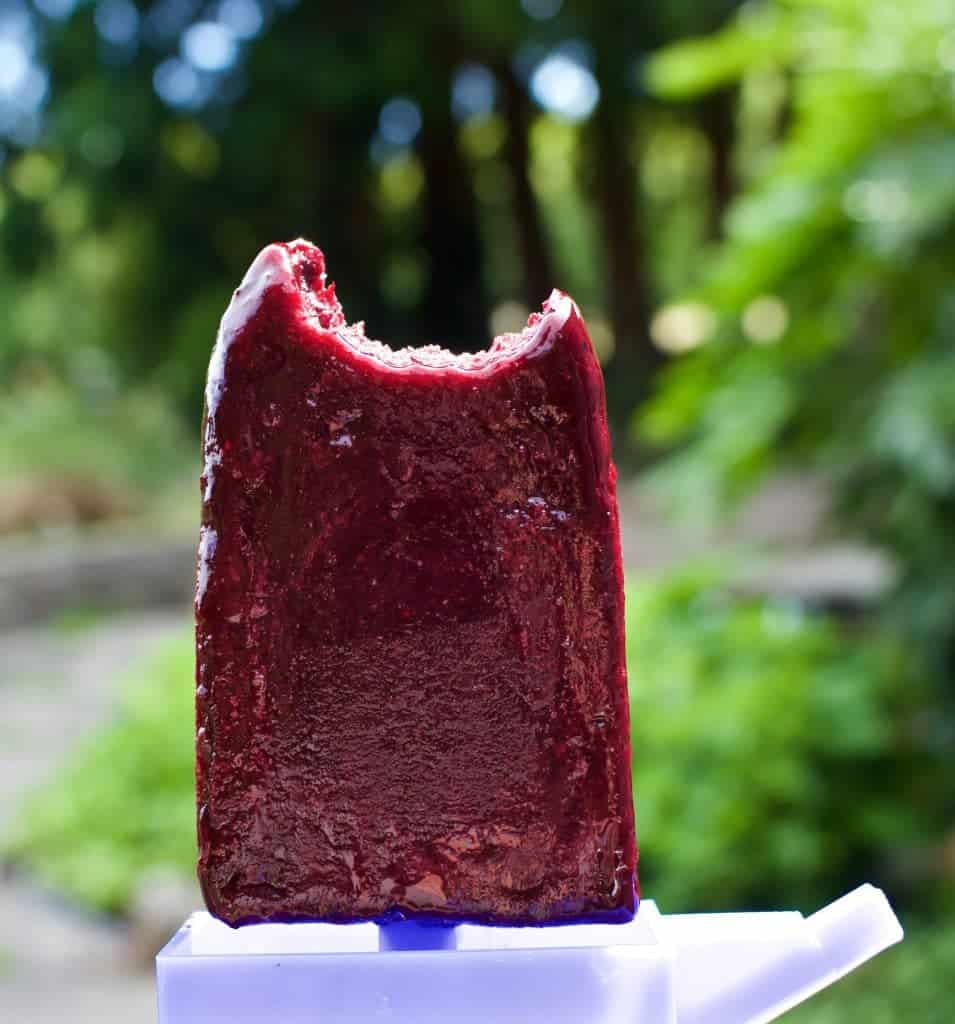 Ingredients
3 cups fresh blueberries (or 3 cups frozen blueberries, thawed)
3/4 cup sugar (to taste)
1/2 cup coconut milk (or water)
1/3 cup lime juice-fresh squeezed
(For the optional coconut milk stripe just pour as much sweetened coconut milk as desired for the striping)
Instructions
Simmer blueberries, sugar, and coconut milk in a 1 1/2-2qt saucepan, stirring occasionally, until blueberries burst and collapse, 3-5 minutes.
Puree with lime juice in a blender until smooth.
Adjust sugar to taste if desired.
For plastic molds fill to the fill line and freeze until hard, about 1 to 2 hours.
Wooden stick mold directions:
Pour into molds and freeze until slushy, about 45 minutes.
Insert sticks and continue to freeze until completely hardened, at least 3 hours and up to 1 week.
IF YOU WANT TO STRIPE THEM:
Fill the molds to level for first stripe, then freeze about 30 minutes.
Pour in second flavor and freeze until hard.
For three stripe use the wooden stick molds
This recipe is included in 22 Stunning Frozen Fruit Bars and Popsicles to keep you cool
recipe inspiration: Food.com