This dinner is all about the generosity of friends. We received this package of frozen side striped shrimp a while ago from our alaskan friends. If you have been following this blog you know…we had NO idea how to cook it. We didn't know how to prepare it either. It sounded pretty scary. Popping off heads and deveining…intimidating indeed! So it lounged around in our freezer until this week.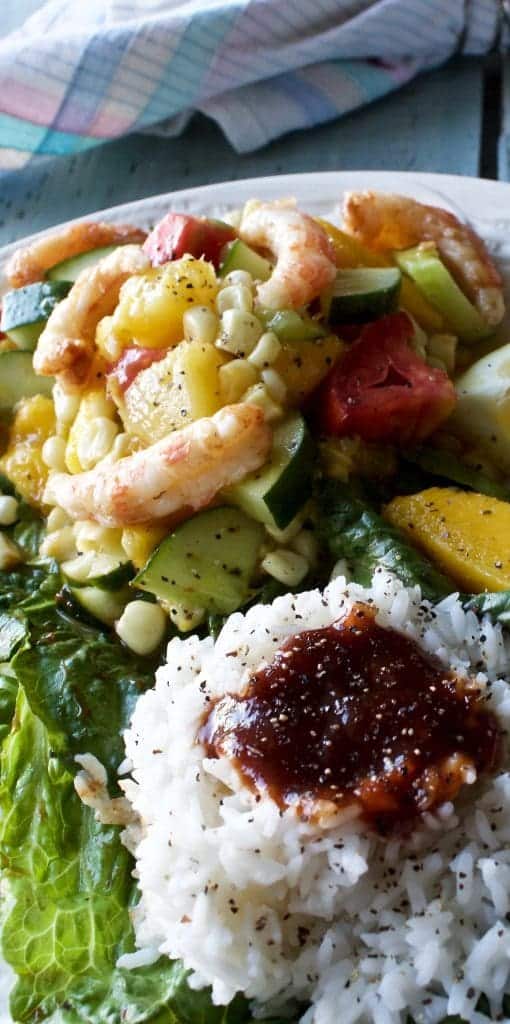 We do have seafood lovers in this crowd. Our son, Evan, is all about shrimp. And his birthday is coming up, and my husband's birthday is today! So…time to get brave and step up! Well, I honestly tried VERY hard to get Kayti and Brian to make this meal. In the end, we collaborated on it. Kayti did the shrimp prep, sweet girl that she is. And she found it not too bad; the shrimp came deveined and already "popped", so to speak. Lucky us!
I invented this barbecue marinade with some help from Sweet Baby Ray's Sweet and Spicy Barbecue sauce. I added in some extras with it and the result was that we ALL Loved the flavor of this grilled shrimp. And when I like shrimp…that is just about a miracle!
The mango salad came together out of what I had on hand. Fortunately I found quite a bit of produce at hand that worked beautifully in this meal. Go ahead and play a bit with your salad additions. The major ingredients are the mangos, avocado, and pineapple. I added in two of our large cucumbers from the greenhouse, and some Roma tomatoes for color. The frozen corn was great in this as well!
Grilled Shrimp Mango Salad Recipe:
This is a slightly sweet salad. Adding the organic white rice cooked in coconut milk put another level of completeness to this meal. You could eliminate the rice if you're having a light lunch and make this meal lower in carbs as well!
We did learn one thing you need to know, if you're a shrimp newbie like me. PEEL the shrimp BEFORE you grill it for easy eating. We looked it up and Side Striped Shrimp does not require peeling before hand. But the shell did adhere to the meat and make it a bit of messy work to eat our lovely grilled shrimp. Live and learn!
Here's The Printable Recipe: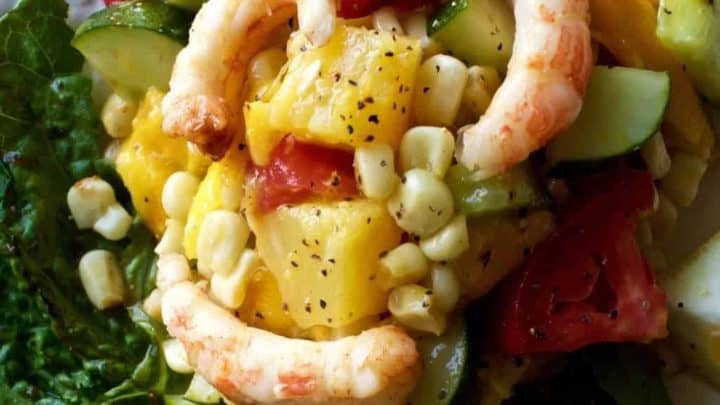 Yield:

8 servings
Grilled Shrimp Mango Salad
Beautifully grilled with a Sweet and spicy barbecue marinade; Side Striped shrimp from Alaska make a gorgeous High-​Fiber, Low-​Sodium, Dairy-​Free, Gluten-​Free summer meal in Grilled Shrimp Mango Salad.
Ingredients
2 Cups barbecue sauce
1 fresh lemon
1 fresh lime
1 tsp. chipotle seasoning
1 tsp. onion powder
20 shrimp, peeled and deveined
3 mangos
1 large avocado
2 Cups frozen corn
3 roma tomatoes
2 Cups pineapple chunks
2 Cups cucumber, chopped
1 head romaine lettuce
2 Cups uncooked white rice
4 Cups coconut milk
Instructions
Prep and marinate:
Whisk all the barbecue sauce ingredients together in a medium bowl.
In a large bowl put the peeled and deveined shrimp
Pour enough sauce to coat the shrimp when mixed together. Stir until shrimp is well coated. Cover and refrigerate 2 hours. Reserve the remaining sauce for basting.
Prepare the salad by peeling the mangos, avocado and pineapple. Cut them into one inch or smaller chunks. Place in a large salad bowl.
Cut the tomatoes and cucumbers into small bite sized chunks and place in the salad bowl with the other ingredients.
Place corn cold into the salad bowl.
Mix all the ingredients together until the mangos and pineapple chunks make a saucy coating over the other ingredients. Refrigerate covered.
Cooking:
Boil the rice in the coconut milk and simmer for 20 minutes or until the rice is tender.
Meanwhile heat the grill to medium heat (about 350 degrees) when heated grill the shrimp until opaque, about 2 minutes.
Cool the shrimp and rice
To assemble the salad:
Lay the romaine leaves on a large plate
Either add the rice directly into the salad and mix thoroughly, OR put the rice next to the salad and top it with some dipping barbecue sauce.
Lay the shrimp on the salad. Enjoy!
Nutrition Information
Yield
8
Serving Size
1
Amount Per Serving
Calories

760
Total Fat

30g
Saturated Fat

22g
Trans Fat

0g
Unsaturated Fat

5g
Cholesterol

26mg
Sodium

1063mg
Carbohydrates

119g
Fiber

9g
Sugar

54g
Protein

14g
Pin it: