Our Grilled Shrimp Mango Salad is a light and nutritious recipe that can be enjoyed as a main meal, or a side dish alongside your favorite seafood dinner. Made with grilled shrimp, fresh veggies including cucumber, corn, and tomatoes it is filling and delicious.
We have added pineapple chunks and fresh mango for a scrumptious natural sweetener that compliments the shrimp wonderfully. Enjoy it with a side of coconut rice and you have yourself a complete meal that is high in protein and healthy carbs.
This grilled shrimp mango salad can be made with or without the bbq sauce. We enjoy the depth of flavor that it brings, but if you are looking to reduce calories, keep it lighter in flavor, or save on carbs it can be prepared as a simple seasoned grilled shrimp salad. The accompanying ingredients will bring plenty of flavor.
The coconut milk rice is also optional but we find it a filling and pleasant side to the grilled shrimp mango salad. The coconut flavor pairs well with all of the ingredients, and gives the rice a tender texture that helps to break up the raw veggies.
How should I grill shrimp?
Grilling shrimp is a quick and easy feat. With a little prep work you can have scrumptious grilled grilled shrimp mango salad that brings a slight smoky flavor to dance with the sweet flavors of the pineapple and mango. Here is how you grill shrimp.
Wash, peel and devein the shrimp
Season lightly with salt and pepper and allow to marinate in the sauce
Heat the grill to 375 degrees or medium heat
Using tongs place the shrimp directly on the grill grates
Raw shrimp will cook quickly, usually 2-3 minutes
Turn the shrimp when they easily release from the grill grates to sear both sides
Shrimp is done when it turns a pale pink with a slight opaque hue to the flesh
What do you season shrimp with?
Shrimp is a light seafood option with a relatively mild flavor that does not require much in the way of seasoning, however, it can be dressed with a wide variety of spices and sauces. Here is a list of ways you can season and dress shrimp for a grilled shrimp mango salad.
Salt and pepper with a light dusting of paprika
BBQ sauce for a smoky, sweet finish that pairs well with the citrus fruits
Coat the shrimp in shredded coconut for a crispy finish
Drizzle the juice of citrus fruits like lemon and lime for a bright flavor
Cilantro, parsley, and dill all compliment shrimp well
Assorted veggies like fresh tomatoes, cucumber, onion, celery, and corn
Fresh fruits like pineapple, mango and peach
Enjoy with a fresh cilantro lime rice rather than the high calorie coconut milk rice
Does coconut rice taste like coconut?
Making rice with coconut milk will yield a soft, creamy texture and a deliciously rich rice. While you can taste the flavors of the coconut milk, it is mild and more of a slightly sweet profile.
Grilled Shrimp Mango Salad Recipe
This is a slightly sweet grilled shrimp salad with mango and avocado salad. Adding the organic white rice cooked in coconut milk put another level of completeness to this meal. You could eliminate the rice if you're having a light lunch and make this meal lower in carbs as well!
Whisk together your sauce and set aside
Wash and devein the shrimp, peel the shells off
Cover the prepared shrimp in a light coating of the sauce and refrigerate for 2 hours to marinate
Wash and chop the veggies for your salad
Assemble the salad, stir and refrigerate
Cook your white rice with coconut milk
Grill the shrimp and set aside
On the plate arrange a helping of the salad, a scoop of rice, and a few of the grilled shrimp
Serve and enjoy
What can I serve with grilled shrimp mango salad?
This light seafood salad can act as a single lunch option if you are looking to reduce calories, or as a side for your next bbq or summer dinner party. Here are some options that you can serve with this grilled seafood salad.
Grilled Shrimp Mango Salad Printable Recipe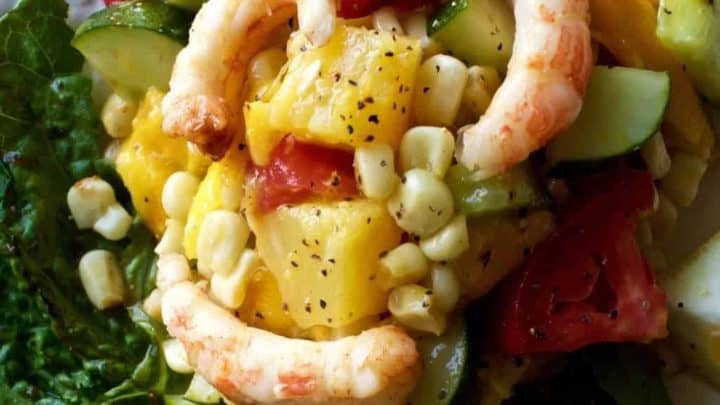 Yield:

8 servings
Grilled Shrimp Mango Salad
Beautifully grilled with a Sweet and spicy barbecue marinade; Side Striped shrimp from Alaska make a gorgeous High-​Fiber, Low-​Sodium, Dairy-​Free, Gluten-​Free summer meal in Grilled Shrimp Mango Salad.
Ingredients
2 Cups barbecue sauce
1 fresh lemon
1 fresh lime
1 tsp. chipotle seasoning
1 tsp. onion powder
20 shrimp, peeled and deveined
3 mangos
1 large avocado
2 Cups frozen corn
3 roma tomatoes
2 Cups pineapple chunks
2 Cups cucumber, chopped
1 head romaine lettuce
2 Cups uncooked white rice
4 Cups coconut milk
Instructions
Prep and marinate:
Whisk all the barbecue sauce ingredients together in a medium bowl.
In a large bowl put the peeled and deveined shrimp
Pour enough sauce to coat the shrimp when mixed together. Stir until shrimp is well coated. Cover and refrigerate 2 hours. Reserve the remaining sauce for basting.
Prepare the salad by peeling the mangos, avocado and pineapple. Cut them into one inch or smaller chunks. Place in a large salad bowl.
Cut the tomatoes and cucumbers into small bite sized chunks and place in the salad bowl with the other ingredients.
Place corn cold into the salad bowl.
Mix all the ingredients together until the mangos and pineapple chunks make a saucy coating over the other ingredients. Refrigerate covered.
Cooking:
Boil the rice in the coconut milk and simmer for 20 minutes or until the rice is tender.
Meanwhile heat the grill to medium heat (about 350 degrees) when heated grill the shrimp until opaque, about 2 minutes.
Cool the shrimp and rice
To assemble the salad:
Lay the romaine leaves on a large plate
Either add the rice directly into the salad and mix thoroughly, OR put the rice next to the salad and top it with some dipping barbecue sauce.
Lay the shrimp on the salad. Enjoy!
Nutrition Information
Yield
8
Serving Size
1
Amount Per Serving
Calories

760
Total Fat

30g
Saturated Fat

22g
Trans Fat

0g
Unsaturated Fat

5g
Cholesterol

26mg
Sodium

1063mg
Carbohydrates

119g
Fiber

9g
Sugar

54g
Protein

14g
Follow Us:
We enjoy meeting you on our social networks. Follow us on Facebook, Pinterest, Instagram . Tag us with your pictures of our recipes and comment on how it went for you. We would love to see what you do with them.
We often like, comment and share your posts of our recipes on our daily Instagram stories.
Ask questions and rate the recipe in the comments section below. Please share what you did with this recipe. We are always looking for more and better ways to make homemade food. Other cooks love your ideas!
Recent Posts: