Do you have an air fryer? Make an Air fryer baked potato! Seriously, they are so good and simple to make. The crispy, salted baked potato jackets provide a worthy vessel for the delicious fluffy baked potato filling.
Load that creamy filling up with all your favorite toppings. Or, if you are a potato purist, enjoy the flavor of an excellent baked potato with just butter and salt.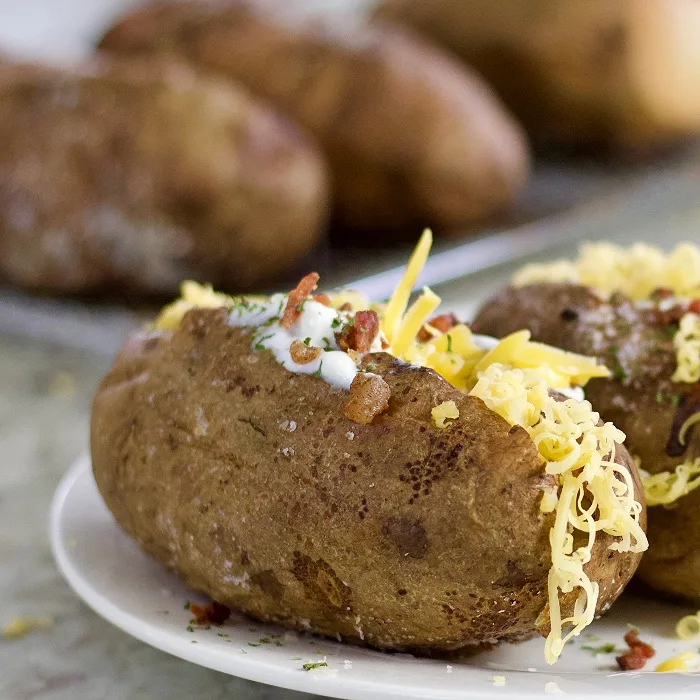 We have the Gourmet 9 slice air fryer from Target. This toaster oven style air fryer makes 6 large baked potatoes at a time. Smaller air fryers will bake two to four potatoes at a time.
My air fryer cooks small casseroles, baked apple crisp, my sweet potato casserole, and other desserts and sides while my oven is full of the main course. Or my big oven is off while the air fryer is making dinner all alone. It's so handy.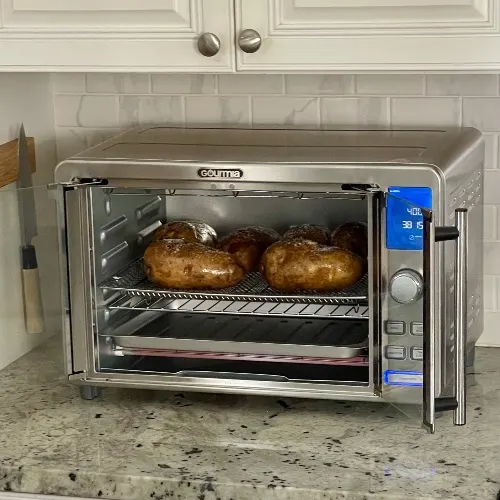 Air fryers can help keep cooking costs and baking times low.
Why Bake Potatoes In An Air Fryer?
Potatoes bake in air fryers bake better than in conventional ovens. It's convenient and Air fryers baked potatoes cook as fast as in a conventional oven or even a bit faster. And that convected hot air is constantly swirling around your spuds giving them hot even high heat.
This results in a Baked Potato that is cooked evenly. Potatoes cooked in air fryers don't require covering with foil or piercing. Air fryers baked potatoes have crispy jackets with no foil.
However, it is absolutely safe to use foil in your air fryer, So…
If you want a tender oiled, salty jacket rather than crispy, pierce the potato and cover it in tinfoil before baking. This will steam the potato and keep the jacket moist and tender. But it may slow down your potato baking times.
Air fryer Baked potatoes is another one of those recipes that frees up your oven space, or replaces your large oven.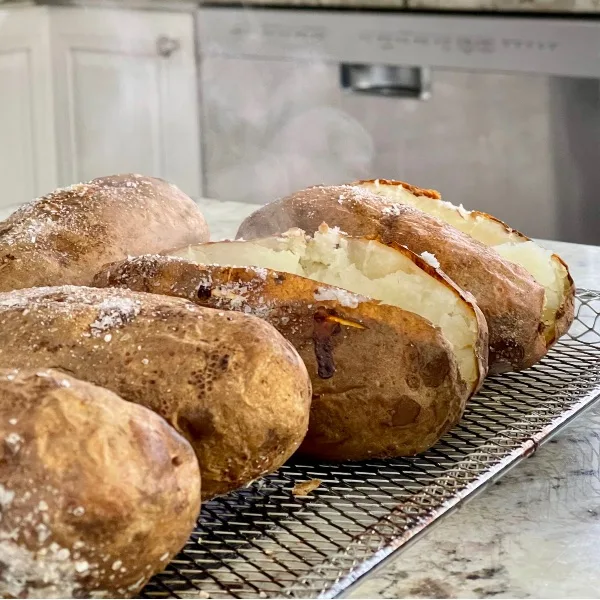 With our large capacity Toaster oven style air fryer we can bake 6 large russet potatoes at once. The results are Better than an oven baked potato.
If you have a small air fryer like this Ninja best selling air fryer on Amazon it will make excellent baked potatoes in smaller batches.
Questions:
What Type of Potato Makes the Best Baked Potato? Russets are the best choice for baking due too their high starch and low moisture content. This combination in a potato ensure a fluffy, light baked potato filling that is extremely pleasing to the palate.
What size baked potato is Best for baking? All sizes of Russet potatoes will bake well. If you are looking for a meal replacer go Large. That means…over 3.5 inches in diameter. You're likely to have a range of sizes in your oven at the same time since appetites in families vary. The baking times will need to be adjusted to accommodate the potato sizes.
How to time different baking potato sizes in the same batch:
We recommend you set the timer for the smallest potato you are baking. Halfway though the baking time, open the air fryer and pierce each potato to determine how close it is to done. Turn the potatoes over, salt as desired, and set the timer for the smallest potato in the oven. As the smaller potatoes complete baking set the time for the larger remaining spuds.
Do you have to pierce the potatoes? Air Fryer baked potatoes baked with oil and salt and not covered in aluminum do not require piercing.
As the spuds bakes air escapes into the oven so the potato will not explode as it cooks. And you get that characteristic air fryer baked potato with a crispy crust and creamy center.
IF you want a tender moist skin on your baked potato you will need to cover the spud in foil after oiling and salting it. Pierce the foil wrapped potato so the air can escape during baking.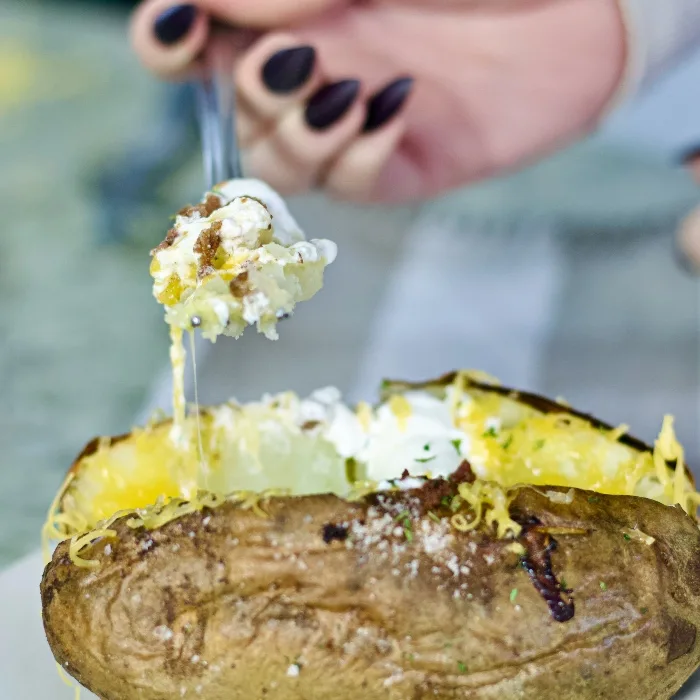 What are Good Toppings For Baked Potatoes?
Ready for a baked potato bar for dinner? Bake the potatoes in your air fryer.
Make Air Fryer Baked potatoes a side dish or complete meal by simply changing up the toppings you use on them.
Potato bars are also great party food. Make a potato bar and offer toppings in separate dishes with small tongs and spoons. You can theme your party to whatever cuisine you desire.
In the table below are popular topping ideas.
Potato Bar Topping ideas:
Notes on toppings:
Butter
Herbed Compound butters, plain butter,
or your favorite butter substitute.
Salt
kosher, Pink Himalayan salt,
or any other that you prefer. both large and small grind have their uses.
Pepper
Large Grind or small as desired
Cheese
Sharp cheddar, Mozzarella, Jack Cheese, Pepper Jack Cheese, Goat cheese, Jarlsberg, parmesan.
Cheese are normally served shredded and sprinkled over the top of the potato. Although Cubed or sliced cheeses can work.
Meats
Bacon, Chili Con Carne, ground beef, pulled pork, shredded Chicken,
Veggies
Mexican street corn, sliced avocados, chopped tomatoes,
PEPPERS: roasted peppers, sliced or minced Jalapeño,
STEAMED VEGGIES: broccoli, corn, green or yellow pole beans,
Onions: Grilled or Caramelized Onions
Olives
Sliced or whole. These can be black, Kalamata, or your favorite green olive depending on the type of flavor profile you are shooting for.
Sour Cream
Or try a good quality plain Greek yogurt instead of sour cream.
Fresh Herbs
Chives, cilantro, oregano, rosemary,
Tortilla chips
Crushed or whole.
These can be served over top of potato or the potato can be placed on a bed of chips.
Adding your favorite baked potato toppings can make this recipe a complete meal. There are SO many ways to top a baked potato made in the air fryer. What an easy side or yummy, fun dinner.
How do you enjoy your baked potato? What are your favorite fillings for air fryer baked potatoes? Tell us in the comment section below.
How to Bake Air Fryer Baked Potatoes: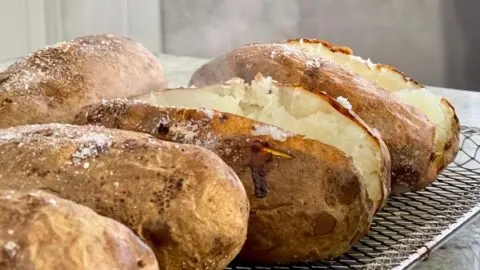 Yield:

6 large baked potatoes
Air Fryer Baked Potatoes
Total Time:
1 hour
10 minutes
Air fryer baked poatoes have crispy jackets and amazingly creamy potato filling. No tinfoil necessary. You don't even have to pierce them before baking if you'd rather not.
Once baked, these potatoes are ready to serve with butter and salt. OR add you favorite toppings. Make a potato bar dinner for a meatless meal. These potatoes are so delicious and filling. Your family will look forward to this simple meal or side dish.
Ingredients
6 large russet potatoes
1/2 Cup (approximately) avocado or other high heat oil
1/2 cup kosher salt (or other large grain salt) for jackets
Instructions
Prep:
Heat air fryer to 400 degrees F.*
Wash and dry potatoes
Method:
Apply oil all over each potato with your hands or a baking brush. You don't want too much. Just an even coating
Sprinkle salt to the top half of the potatoes (or all over the jacket if you don't mind some salt falling off in your air fryer)..
Pierce the spuds now if desired**.
Load the oiled, salted potatoes onto your air fryer tray.
Bake for 30 minutes. turn the potatoes over and salt the underside as desired.
Complete the bake. The potatoes are done when you can easily pierce them without resistance. Bake times will vary dependng on the size of your potatoes.***
Remove from heat and serve immediately.
Notes
What impacts Ideal Baking Temperatures?
*Like all ovens, air fryers have differences. Read you air fryer instruction manual for best temperatures for baking potatoes if any are listed. The number of potatoes you bake and the size will determine the ideal temperature for your air fryer. 400 degrees F. is a good general temperature.
Should Air Fryer Baked potatoes be pierced?
**Piercing the spuds is optional but may help the heat penetrate the potato a bit. Unpierced potatoes will bake without exploding the air fryers since the air can escape as they bake.
What affects Baking times?
***Bake times on the potatoes depend on the size of your air fryer, number of potatoes you are baking, and the potato sizes you are baking. We are using a Gourmia 9 slice Air Fryer. This air fryer will make six large baked potatoes at a time.
Best baking Potatoes:
Russets are the best potato for baking but other varieties can be baked successfully. Yukon Gold is a good second choice for air fryer baking. However, you will need to take into account the yukon gold spuds are softer than russets and will bake differently.
Should Air Fryer baked potatoes be covered in foil?
Tinfoil is absolutely safe to use in air fryers. However, covering your trays or the potatoes themselves will alter the baking times and the baked potato outcome.
If you prefer soft steamed potatoes rather than the traditional crispy jackets, cover the oiled potato with foil and peirce the foil covered potatoes so they can release steam.
Expect the baking time to lengthen a bit (5 to 10 minutes) since the heat exchange is reduced due to the foil covering the spud.
When baking a variety of potato sizes:
We recommend you set the timer for the smallest potato you are baking. Halfway though the baking time, open the air fryer and pierce each potato to determine how close it is to done. Turn the potatoes over, salt as desired, and set the timer for the smallest potato in the oven. As the smaller potatoes complete baking set the time for the larger remaining spuds.
Nutrition Information
Yield
6
Serving Size
1
Amount Per Serving
Calories

311
Total Fat

3g
Saturated Fat

0g
Trans Fat

0g
Unsaturated Fat

2g
Cholesterol

0mg
Sodium

42mg
Carbohydrates

64g
Fiber

7g
Sugar

3g
Protein

8g
The number of calories you consume depends on how large the potato is, the fillings you choose, and wether you eat the potato jacket. This calculator assumes you are eating the jacket too.
Follow Us:
We enjoy meeting you on our social networks. Follow us on Facebook, Pinterest, Instagram . Tag us with your pictures of our recipes and comment on how it went for you. We would love to see what you do with them.
We often like, comment and share your posts of our recipes on our daily Instagram stories.
Ask questions and rate the recipe in the comments section below. Please share what you did with this recipe. We are always looking for more and better ways to make homemade food. Other cooks love your ideas!
Recent Posts: