An easy way enhance the flavor of meals is to add your own flavorful herb and compound butters. Making compound butter is an easy process. Proper use of herb butters at the table or in recipes makes everyday cooking taste like gourmet fine dining.
Compound butters and herb butters are delicious. We Include three recipes and favorite herb combinations for your favorite dishes in our recipe card at the bottom of this post.
You can use kitchen herbs you grow yourself indoors or Outdoors in your pollinator garden for your herb butters. If you don't grow your own herbs, Buy organic fresh herbs from your local farmers market. Even dried herbs from the store turn regular butter into a delicious gourmet style herbed butter.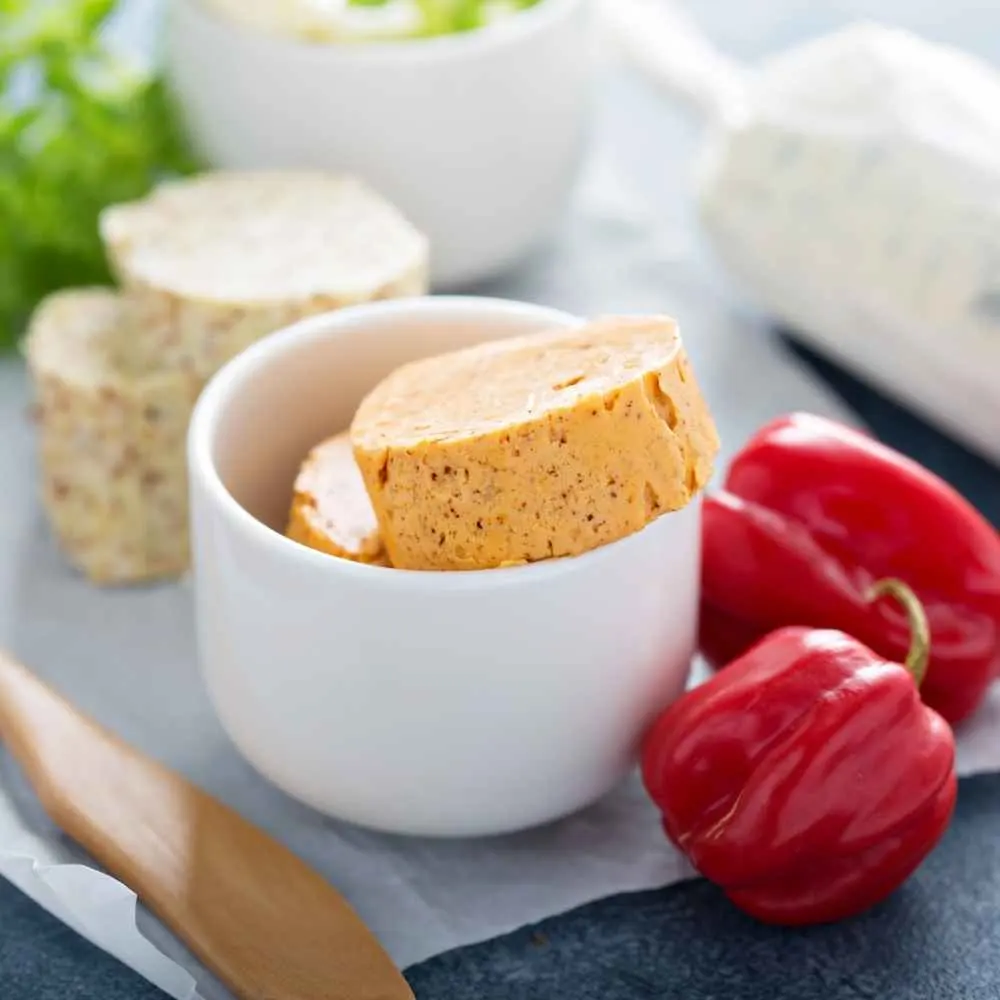 What is Compound Butter? Compound butter, or Herbal compound butter, is like herb butter but may have more ingredients than just herbs added into it. Added ingredients, like lemon juice or dried spices can enhance your butter flavor even more than blending herbs and butter alone.
Forming Flavored Butters:
Both Herb and compound butters, once mixed, are simple to form into rolled logs by hand. To keep your flavored butters fresh, stretch wax paper or plastic wrap around the roll. Stretch it tightly to keep air out and then store them in your fridge.
You can also press compound butter into butter molds you purchase. like this Polish wooden butter mold I found on Amazon. Serve your butter at the table beautifully. It's a nice touch for special occasions.
For small amounts or single use size molds, try candy molds or ice cube trays.
Once the compound butter is mixed and formed, chill it an hour or so and then serve it. A butter slicer is handy for cutting your hand made butter logs into even pieces for serving and measuring.
How to Make Herb Butter:
What is Herb Butter? Herb butter is a combination of butter and herbs mixed together and used to enhance the flavors of recipes. The butter may be either salted or unsalted. The herbs can be fresh, frozen or dried.
Herb butter, like compound butter, can be spread on bread, meats, potatoes or other vegetables. Drop a pat of herb butter into a homemade soup base, add it to your favorite bread recipes, or use herb butter as a flavorful fat in sauté skillet meals.
What is homemade herb butter made of ? Herb butter is a combination of herbs, or one herb, blended into butter. You can use either salted or unsalted butter. Herb butter is usually only herbs and butter with no extra additions.
It is quite simple to make herb butter. Here's the Process:
Soften butter and mix it together with dried, fresh or even thawed frozen herbs. Let the butter sit for an hour or more to blend the flavors and form the butter, and serve.
Fresh Herbs will need to be washed and dried. After drying the herb leaves will need to be stripped from the stems before mixing them into butter. Otherwise the butter will have tough, sharp, even woody parts that you really don't want to eat.
The leaves can be chopped and bruised quickly and easily in your food processor or minced by hand with a sharp knife.
The butter can be either salted or unsalted.
Mix the prepared herbs into room temperature butter either by hand or with your food processor.
Once your butter is made form it any way you like and chill it for immediate use or long term storage.
herb butter will last at least a month and up to 2 months in the fridge if properly covered in plastic wrap.
For longer term storage of up to 6 months, freeze it rolled in plastic wrap and stored in ziplock labeled bags.
What gives you the best flavor of herb butter?
Fresh herbs will give you the best flavor to fuse into butter. And the butter will absorb more flavor from the herbs over time. So make the butter several hours to a day ahead to really merge the flavors of your herb butter.
How to Use Herb Butter:
So many uses for herb or compound butters. Here's a few ways to use flavored butters.
Spread it on your grilled sandwiches and paninis for a delicious change up in your favorite sandwiches flavor profile.
herb butters enhance cooked vegetables like potatoes, corn, carrots and other mildly flavored root veggies. Kohlrabi comes to mind.
Drop a pat of herb butter on Leafy greens like Swiss chard, spinach and boy choy.
Enhance Beef, chicken and pork with herbal butters.
Add delicious flavor to breads. Herb butters can be spread on bread at the table, or spread on bread and baked, grilled or roasted in the oven. See our cheesy bruschetta garlic bread if you need a recipe to get you started.
Add a pat of herbal butter to stir fries and when sautéing meats to give the meats and vegetables a deeper flavor.
herb butters can replace regular butter when making omelets and frying eggs.
These are just a few ideas to get you started. Tell us how YOU use your herb butters?
Garlic Herb Butter:
Garlic is the most commonly used herb for enhancing butters. Garlic is a strong flavored herb that easily permeates butter and compliments almost any savory food. It's great on steak, chicken, pork, bread and fish. It also adds amazing flavor to stir fries and pestos.
Garlic butter is amazingly good all by itself. Or as a base for other herbs you want to add in with it.
Butter mixed with chopped, sliced or roasted fresh garlic is a popular, simple herb butter to make and has many culinary uses.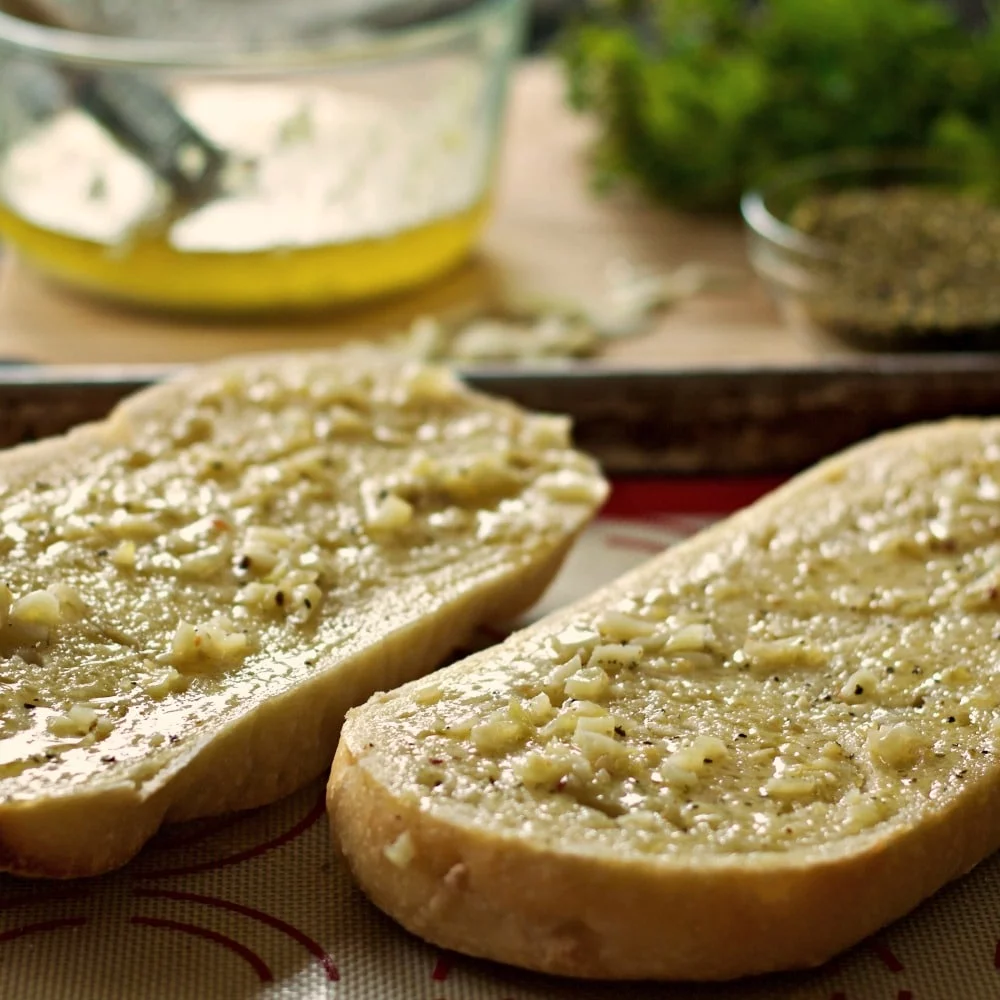 Garlic Herb Butter Recipe: Garlic herb compound butter is a snap to make. Just crush the garlic, mix it with room temp butter and let it sit until the aroma and flavor is infused throughout the butter. For even MORE flavor you can roast the garlic before mixing it with the butter. This will enhance and deepen the butter garlic flavor.
Dried herb butter is also simple to make. My easy Cheesy Garlic Bruschetta bread uses dried bruschetta herbs mixed with the butter to flavor the French bread. Any fresh or dried herb that works with savory dishes will go well with garlic butter.
Herb Butter for Steak:
Sage, thyme, oregano, rosemary and other fresh herbs will work well with garlic to make fantastic blends for steak, roasts and other meats.
We've included a recipe for herb butter for steaks and other meats. Feel free to adjust the recipe to suit yourself. Many great herb combinations work well with various meats.
Play around with your favorite herbs and try them in our recipe.
Herb butter For Turkey:
Herbal blends for poultry include a wide range of herbal flavors you can add into your compound butters. Roasted Turkey and roasted chicken can both benefit by basting your bird occasionally as it goes through the roasting process.
Herb butters add flavor to your Thanksgiving turkey or roast chicken. Herbs often used for turkey and chicken include sage, thyme, rosemary, and oregano.
Rubbing the cavity of your turkey or chicken with compound butters helps keep the bird flavorful, juicy and tender, either stuffed or unstuffed.
Herb Butter For Fish:
As with most homemade cooking, you choose the herbs you enjoy. This is YOUR gourmet herb butter for fish so make it exactly like you want.
This means you have to know what you like. It may take some experimentation to come up with your perfect compound butter for fish. We have a recipe in our recipe and to get you started.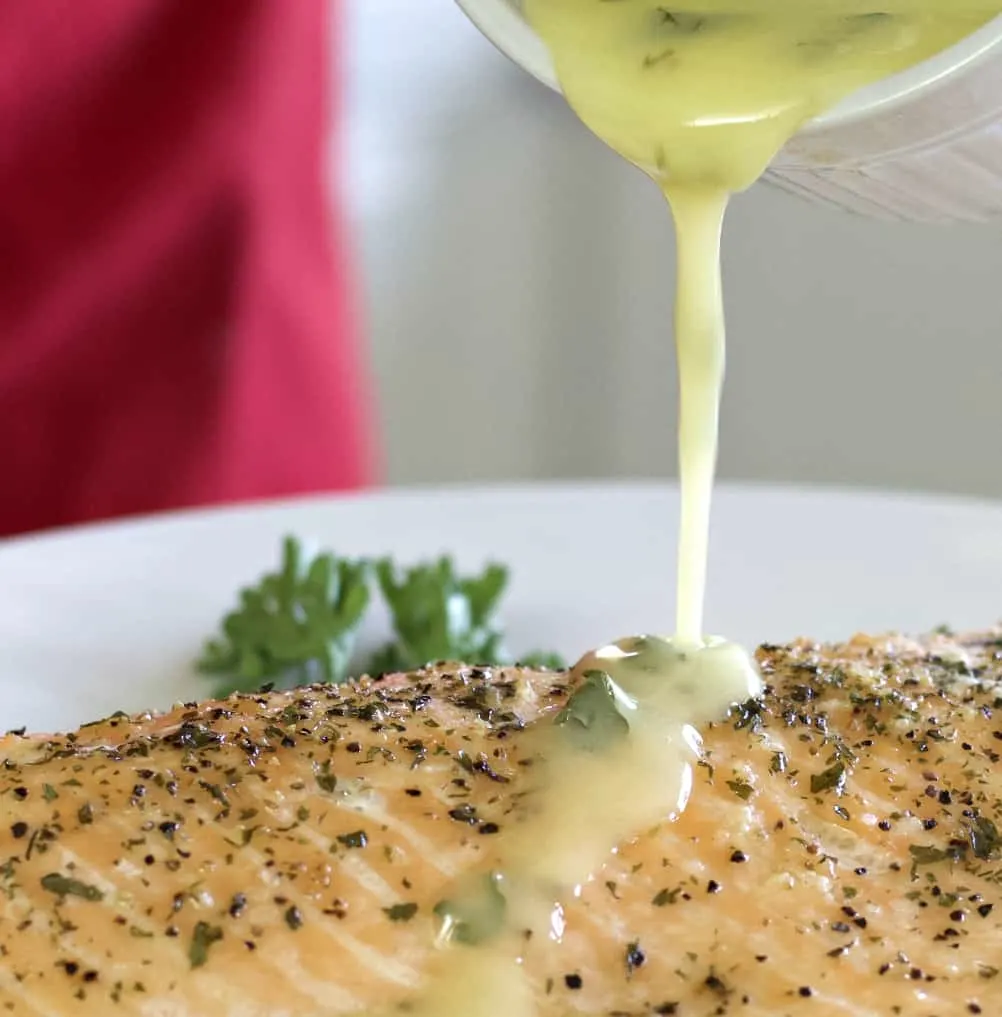 Popular Herbs for Various Fish and Seafoods:
There are many herbal flavors in the world of fish and seafood. Here's a table of herbs and the type of fish they will likely compliment.
Herbs That Go with Fish:
HERB / FISH
SALMON
Mahi
MAHI
WHITE FISH
SHELL FISH
TROUT
FISH SOUP/
CHOWDERS
THYME
X
X
X
X
X
X
BASIL
X
X
X
X
X
X
GARLIC
X
X
X
X
X
X
DILL
X
X
X
X
X
X
TARRAGON
X
X
X
X
X
X
SAGE
X
X
X
ROSEMARY
X
X
X
PARSLEY
X
X
X

X
X
X
MINT
X
X
X
X
X
X
MARJORAM
X
X
X
X
LEMON BALM
X
X
X
X
X
X
BAY LEAF
X
X
X
X
CHIVES
X
X
X
X
Please share with us any herbs or herb blends you find useful with your fish and seafood that can be made into herb butter. We enjoy learning from our cooks. So does the Homemade Food Junkie community. 🙂
Here is my easy Lemon butter sauce recipe for fish. It wonderful with fresh chopped herbs added in. For a compound butter for fish try all these herbs in different blends for your favorite fish.
Can Herb Butter be Frozen?
Can you freeze herb butter? You sure can. Freezing fresh herbs can be done in several ways, including in butter. Check out my post on how to freeze herbs here.
Can Compound Butter with Herbs be frozen? Yes compound butter IS just another name for herb butter. You can freeze herbs, herbal blends and butter together to make your favorite herb butter. They freeze well up to 6 months.
Ice cube trays make good single serving forms for freezing herb butter. These small herb butter pats are easy to drop onto a skillet or into soups, stews or chowders. To make them spreadable, allow the butter to thaw to room temperature.
There is no end to the uses for frozen herb butter. This is a great way to preserve extra herbs from the garden. It is also a handy way to put by your favorite herb butter blends and keep them close at hand.
Herb butter recipes:
Here are three reliable compound herb butter recipes. They are easy to make and store and freeze well as directed.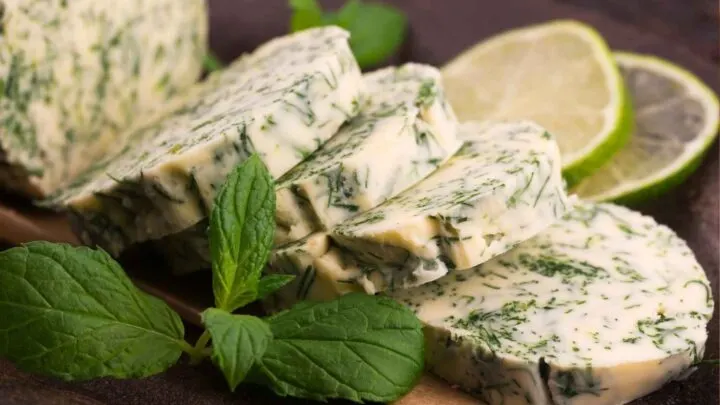 Yield:

1/4 Cup
Herb and Compound Butter Recipes
Total Time:
1 hour
10 minutes
Herb and compound butters are simple to make in whatever quantity you need at the time. OR make your favorites and store them long term in the freezer. Here are three reliable compound butter recipes.
Ingredients
Lemon Garlic butter:
1 stick (1/4 Cup) softened or melted butter. salted or unsalted
1 Tablespoon lemon juice (about half a fresh lemon squeezed)
1 clove crushed fresh garlic-minced
Herb Butter For Steaks:
1 stick (1/4 Cup) softened butter-salted or unsalted
1 Tablespoon fresh parsley leaves-no stems (substitute sage, thyme, chives, rosemary or oregano as desired)
1 1/2 Tablespoon minced fresh garlic
1/8 tsp. salt (if using unsalted butter)
1/8 tsp. pepper
Compound butter For Turkey:
2 sticks butter-any kind
1 Tablespoon fresh rosemary leaves
1 Tablespoon fresh thyme
1 Tablespoon fresh parsley-(any kind will work flat leaf may be easier to work with)
4 cloves fresh garlic
1 teaspoon sea salt (1/2 teaspoon for salted butter)
1/2 teaspoon black pepper
1/2 teaspoon other spices as desired. This is optional (suggested cajun, cayenne, chicken seasoning)
Instructions
Prep:
For all of these butter recipes, use room temperature butter. Either salted or unsalted butter is fine.
Prepare fresh herbs by washing and gently patting them dry.
Remove the leaves from the stems of the herbs and chop the herb leaves fine.
Lemon Garlic Butter:
This is a good compound butter for white fish or salmon. You can melt the butter if you prefer so it is easy to pour over the fish at cooking or use it as a condiment over your hot cooked fish at table.
Mix together the softened butter, lemon juice and garlic until it is completely mixed. This can be done by hand or in your food processor.
Chill an hour to allow the flavors to blend.
Warm the butter to melting for easy pouring over fish before baking.
Serve chilled to add a pat to melt over hot cooked fish.
Herb Butter for Steaks:
This butter can be adjusted easily for several uses. Steaks, roasts, potatoes, breads and lots of other dishes benefits from a simple blend of butter, garlic and your favorite herb. Parsley is always a reliable add in as it is mild. but any herb that compliments your meal can be substituted.
Mix together the softened butter, garlic and herbs.
Form into desried shape for serving and chill an hour or more.
Serve.
Compound Butter For Turkey:
This butter recipe will work well for roasted chicken as well.
mix all ingredients together.
Use herbed butter as a baste or rub for chicken and turkey both on the outside and in the bird cavity.
Notes
As noted you substitute herbs as desired in these recipes. If you are substituting dried herbs for fresh herbs or frozen herbs use more dried herbs. Add about 50% more dried herbs to get the same flavor as freshly chopped herbs.
Compound butters are easily formed into logs and keep well in the fridge in plastic wrap for a month or two if well covered.
For long term storage, put the plastic wrap covered butter in ziplock freezer bags and freeze up to 6 months.
Use your compound butter in recipes like the pan fried chicken in the video below to add supurb flavor to everyday meals. Enjoy!
Nutrition Information
Yield
8
Serving Size
1
Amount Per Serving
Calories

46
Total Fat

4g
Saturated Fat

3g
Trans Fat

0g
Unsaturated Fat

1g
Cholesterol

11mg
Sodium

71mg
Carbohydrates

2g
Fiber

0g
Sugar

0g
Protein

0g
Follow Us:
We enjoy meeting you on our social networks. Follow us on Facebook, Pinterest, Instagram . Tag us with your pictures of our recipes and comment on how it went for you. We would love to see what you do with them.
We often like, comment and share your posts of our recipes on our daily Instagram stories.
Ask questions and rate the recipe in the comments section below. Please share what you did with this recipe. We are always looking for more and better ways to make homemade food. Other cooks love your ideas!
Recent Posts: