This dairy free Easy Apple Crisp is a simple dessert that everyone will love. Fresh spiced apple slices baked under a sugared oat crumble and made with coconut oil for a healthy, natural flavor that compliments this treat beautifully.
We enjoy all desserts, but we are especially fond of crumbles and fruit crisps as they are satisfying and so simple to make. They are great recipes to include young children in, as they can help mix and assemble with minimal mess. There is nothing better than a fresh baked crisp topped with homemade whipped cream or a scoop of vanilla ice cream.
We are sharing all of our tips for baking the very best Apple Crisp, from the best apples to use, to the texture and type of toppings, as well as little tips to enhance the flavor and present the most beautiful apple oat dessert.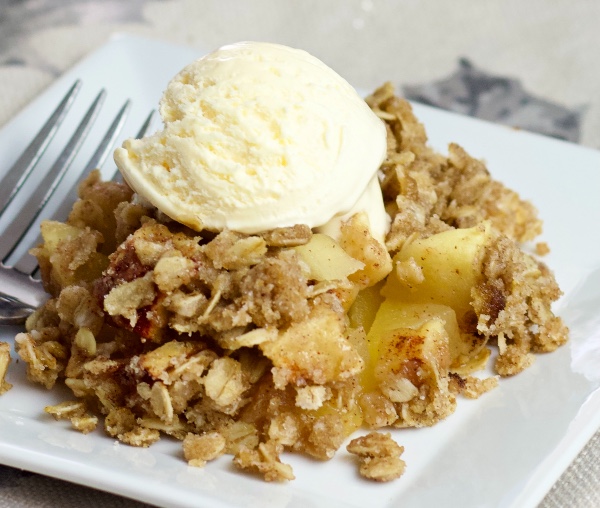 If you are looking for more ways to create apple desserts, try our homemade Applesauce, Apple Pie and fluffy Apple Spice Muffins. We grow our own apple trees and are in no shortage of apple recipes and treats.
What is the difference between Apple Crisp and Apple Crumble?
Crisps and crumbles are largely the same dessert, save for the difference in their toppings. Both desserts are made with fresh fruit and spices, baked under a rustic sugared toppings for a sweet treat that is warm and comforting.
Crips are made with either an oat or nut sugared topping, while crumbles are traditionally made with more of a streusel style topping consisting of butter, flour and sugar.
If you are looking to make some substitutions, or bake this recipe with more natural ingredients we have a list of substitutions for you to try.
We used coconut oil but butter is traditionally used in crisps, you can use the same amount for either ingredient.
2 Tablespoons of molasses can be used in place of the brown sugar for this recipe.
Frozen apples will work in this recipe, just be sure to drain the frozen apples so they don't get too mushy.
Maple syrup is a great natural sweetener that you can use in place of the granulated white sugar.
If you want a healthier finisher for your crisp than Homemade French Vanilla Bean Ice Cream or whipped cream, Homemade Greek yogurt makes an excellent protein rich topping and you can drizzle with honey if you like.
What apples are best to use for an Apple Crisp?
When it comes to baking, apples of the tart and crisp variety are always the best choice. They will hold up to the baking with losing their texture, they will also balance out the sweet ingredients beautifully. Granny Smith, Honey Crisp or Golden Delicious are all top choices for apple crisps, you can also use Fuji or Jonagold.
How do I keep my Apple Crisp from getting mushy?
If you struggle with mushy apple crisps or crumbles, the culprit is almost always too much sugar or sweetener. Apples themselves will present a natural sweetness that you don't want to mask, and adding too much additional sweetener can melt and pool causing a wet, unpleasant consistency.
Apple selection is also an important factor when baking. Sweeter, softer apples that contain higher amounts of sugar will often times 'melt down' to more of an applesauce consistency, so be mindful of the variety of apple you use.
Once your crisp is baked be sure to store it properly to prevent the topping from becoming soft and mushy. Allow it to cool completely and then cover it tightly with a lid or plastic wrap and place in a cool, dark area of your kitchen. Moisture will soften the oat topping so keeping it dry is the best method to ensure a crisp topping for days.
Yield:

9 servings
Apple Crisp with Oats
Apple Crisp with oats is crunchy sweetness over fresh ripe apples all baked together for a tasty fall or winter treat.
Ingredients
5 medium tart apples, cored and sliced
1/3 Cup firmly packed brown sugar
2/3 Cup granulated sugar, divided
1/2 Cup All-purpose flour
3/4 Cup regular oats
1/2 Tablespoon cinnamon
1/2 Cup melted coconut oil
1/3 Cup water
Instructions
Preheat oven to 375 degrees and oil baking pan
Prepare apples by coring and slicing
Arrange sliced apples in oiled 8x8 square baking dish
Sprinkle 1/4 Tablespoon cinnamon and 1/3 Cup granulated sugar evenly over the apples
Combine the remaining sugars, remaining cinnamon, flour and oats; stir in the melted coconut oil
Spread mixture over the apples
Pour water evenly over the top
Bake at 375 degree oven for 30 minutes
Notes
Substitutions for Apple Crisp:
If you are out of something here are a few ideas:
Butter can replace the coconut oil. Use the same amount.
If you are out of brown sugar use 2 Tablespoons molasses.
Fresh or frozen apples will both work in this recipe. Just be sure to drain the frozen apples so they don't get too mushy.
Want to sweeten without white sugar? Try pure maple syrup.
Toppings include ice cream, whipped cream or homemade greek yogurt with cinnamon on top.
Nutrition Information
Yield
9
Serving Size
1
Amount Per Serving
Calories

297
Total Fat

13g
Saturated Fat

10g
Trans Fat

0g
Unsaturated Fat

1g
Cholesterol

0mg
Sodium

4mg
Carbohydrates

44g
Fiber

4g
Sugar

30g
Protein

2g
Follow Us:
We enjoy meeting you on our social networks. Follow us on Facebook, Pinterest, Instagram . Tag us with your pictures of our recipes and comment on how it went for you. We would love to see what you do with them.
We often like, comment and share your posts of our recipes on our daily Instagram stories.
Ask questions and rate the recipe in the comments section below. Please share what you did with this recipe. We are always looking for more and better ways to make homemade food. Other cooks love your ideas!
Recent Posts:
Adapted from: Southernfood.About.com