Fresh Apple Spice Muffins are great for breakfast, snacks and grab food anytime. These homemade muffins have real apples, walnuts and fresh ginger to make a delicious and healthy grab food anytime of day. No boxed mixes compare to these.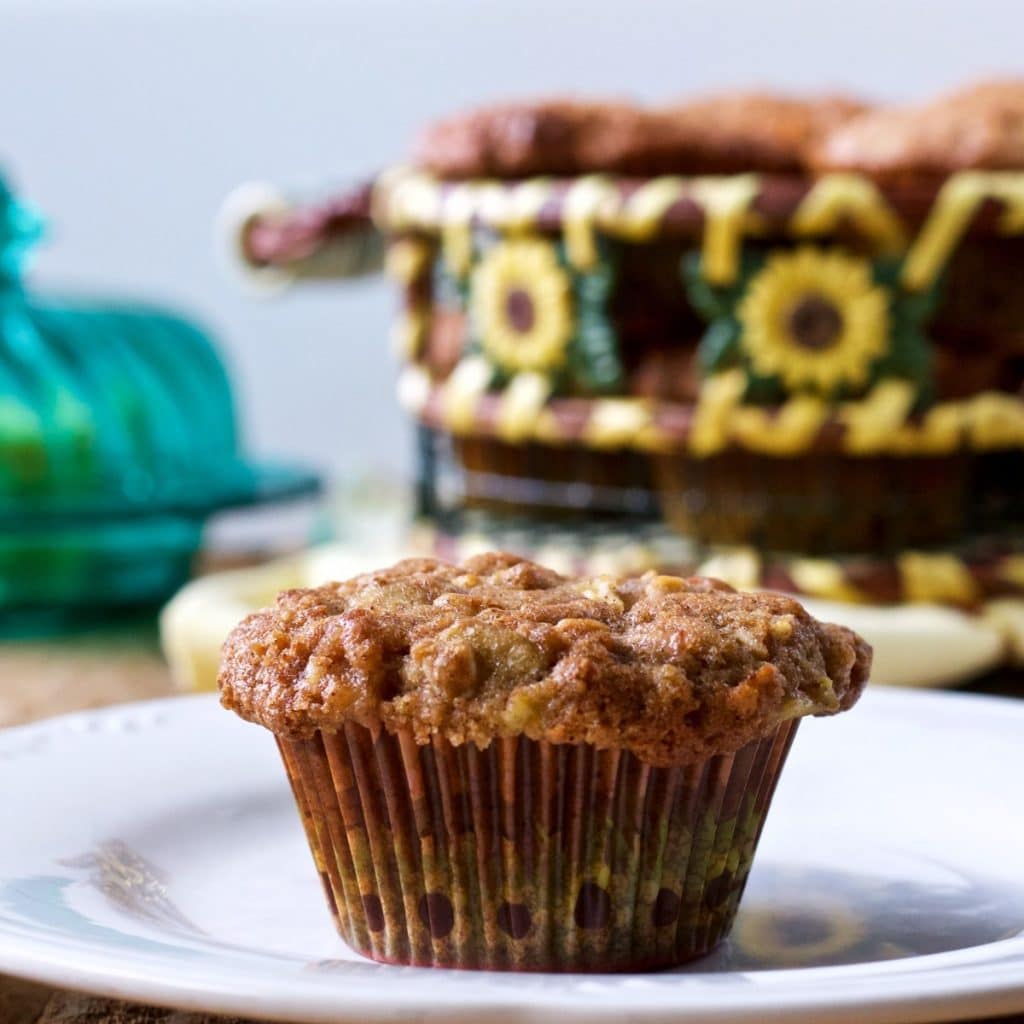 We love these handy grab foods for a quick breakfast or snack. I usually cook them in season. It's Fall now so apples are in my kitchen and I'm baking for breakfast.
This recipe is very much an apple cinnamon muffin with the lovely addition of fresh ginger root to pick up the Fall flavors and give you healthy fresh spiced flavors.
More Muffin Recipes:
If you're looking for more delicious ways to start your day these homemade recipes are all fantastic.
I found this recipe one morning when I wanted to make a homemade breakfast. The power went out so I was forced to look one up in my old recipe books. It's a keeper.
We are grateful today to have our power humming along again. It doesn't take long to learn just how dependant we are on our power and internet.
This recipe came out of an old church cookbook my Grandma Cash gave me in the 1980s.
I found it strange to use a recipe in a book. I've been cooking for years off my laptop. The old cookbooks are mostly sitting unused.
My electronic life has somewhat robbed me of the little treasures in these old books. It's so easy to get used to living online.
The recipe book I finally chose is a collection of my Grandma Cash's old church member's favorite recipes. I spent all morning revisiting the joy of browsing cook books.
Most of the people who contributed are long passed now. But they left little foodie gems for us to find and enjoy. I'm happy to pass this one on today. Of course, I tweaked it a little.
Fresh Apple Spice Muffins Recipe:
Perfectly done with real apples, cinnamon, walnuts and fresh ginger root. These healthy muffins make a great for breakfast, snack and grab food anytime.
TIP: This muffin recipe requires some chopping. Use a food processor to do that for you if you like.
OR use a food corer and chopper like I did. (remember no electricity today) Prepare your apples LAST or they will go quickly brown. ( soak them in lemon juice if you chop them ahead to keep them from oxidizing.)
Ingredient Notes:
The fresh ginger root offers SO much better flavor than the expired (at least mine always is) container of dried ginger powder in the cupboard.
Fresh ginger root also has food value that an old can of dried cannot. Read our article on the 10 natural Benefits of Ginger and try the fresh!
I use coconut oil in this recipe. I LOVE the flavor coconut oil offers baked goods so I use it pretty much all the time for baked goods like this.
If your not a fan of coconut oil try avocado oil. It's VERY healthy heart friendly and has NO flavor. So it makes a good substitute for coconut oil.
The Method:
This is a simple mix and stir basic muffin recipe once the apples, nuts and ginger are chopped. you are going to love the fresh apple spiced flavor in these muffins. They make a fantastic breakfast muffin.
TIP: Fill the tin holes evenly so they get done at the same time.
This is my old war horse muffin tin. It has made delicious homemade recipes for us since all my kids were babies. Now the grandkids enjoy my homemade baking along with us.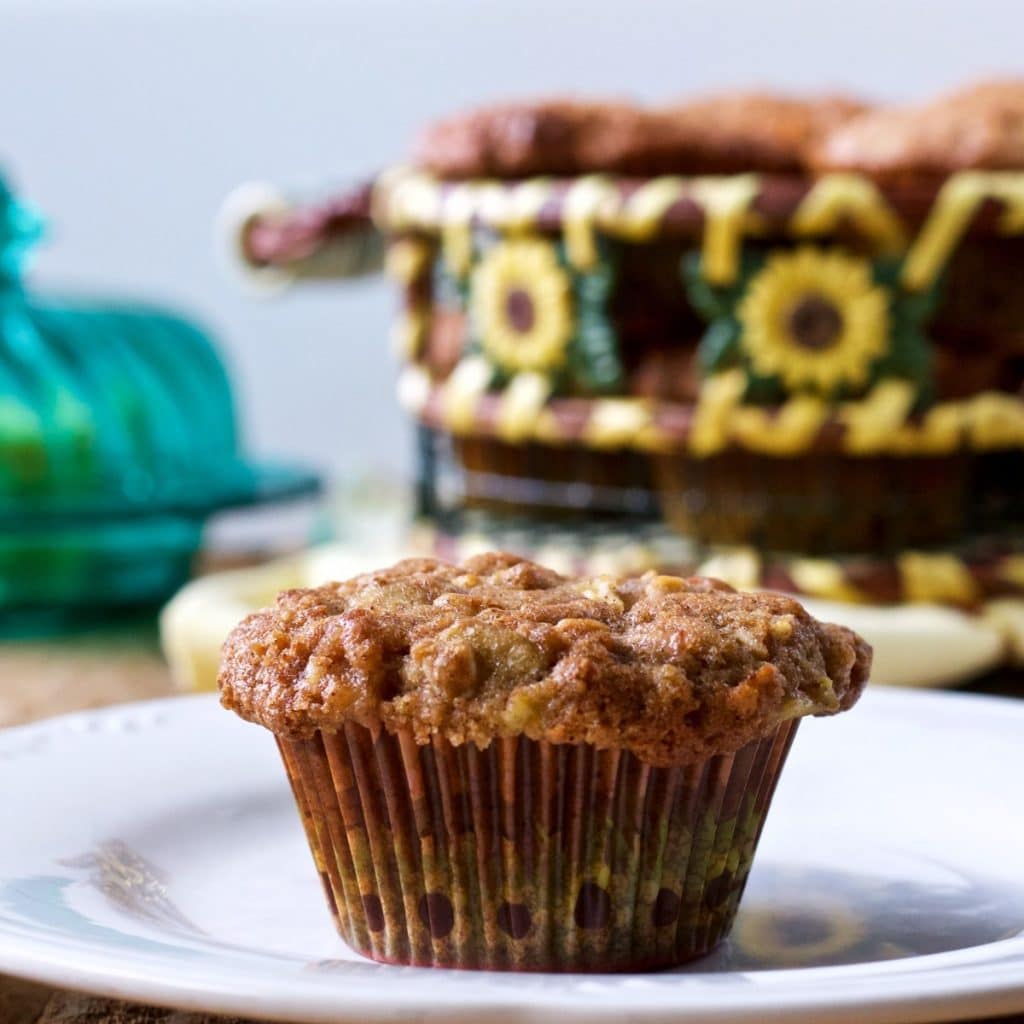 This fresh apple muffins recipe is easy to make with Intense fresh Flavor you will never find in a box. Give them a try!
Freezing Instructions:
put the muffins in a ziplock freezer bag and suck all the air out (Use a straw if necessary)
OR vacuum pack them
Label and freeze up to two months
Defrost on the counter at room temperature.
Microwaving will dry these muffins out so it's not recommended. However you may add some butter to a defrosted split muffin and heat it 10 seconds or so in your microwave.
Your Printable Recipe Card: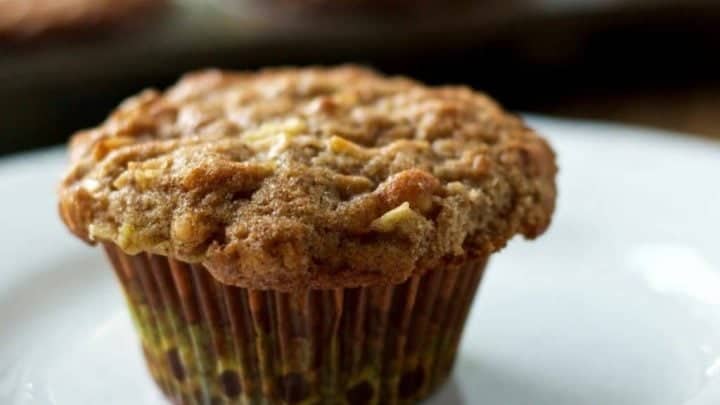 Yield:

12 muffins
Fresh Apple Spice Muffins
Fresh apple spice muffins. Make these incredible muffins from scratch with real apples, walnuts and fresh ginger. No boxed mixes compare to these. Great for breakfast, snacks and grab food anytime
Ingredients
1 1/4 Cup all purpose flour
3/4 Cup sugar
1/2 Cup chopped walnuts
1/4 Cup instant oats
2 Tsp. baking powder
1/2 tsp, salt
2 tsp. cinnamon
1/2 tsp. fresh ginger-minced fine
1/2 tsp. nutmeg
2 eggs
2 Cups chopped apples
1/2 Cup coconut oil
1/4 Cup water
Instructions
Preheat the oven to 400 degrees F
Oil your 12 hole muffin tin with coconut oil
Chop walnuts and ginger in a food processor or just use a large knife to mince them fine.
In a large mixing bowl, mix all your dry ingredients together.
In a small bowl, beat the eggs.
Pour egg mixture, all at once, into the flour mixture, stirring until just moistened.
Core and chop the apples fine.
Stir the apples, ginger, oil and water into the dry ingredients.
Fill the muffin holes evenly so they get done at the same time.
Bake for about 18 minutes. The muffins are done when the top is slightly brown and a few small cracks form on the top of the muffins.
Cool slightly and then remove from the muffin tin by circling each tin hole with a sharp knife and popping them out from underneath.
Cool them on a rack until cool enough to eat.
Serve with butter, jam or all alone.
Notes
These muffins will hold several days if stored in a airtight container.
To freeze:
Put the muffins in a ziplock freezer bad or vacuum pack. Remove the air from your bag. Seal label and freeze up to two months.
Recommended Products
As an Amazon Associate and member of other affiliate programs, I earn from qualifying purchases.
Nutrition Information
Yield
12
Amount Per Serving
Calories

302
Pin this Recipe:
Source: 'Seasoned with Love Cookbook' from the first United Methodist Church, circa 1985. Contributor is Nancy Davis