Fresh Apple Spice Muffins are great for breakfast, snacks and grab food anytime. These homemade muffins are made with real apples, walnuts and fresh ginger to make a delicious and healthy pastry.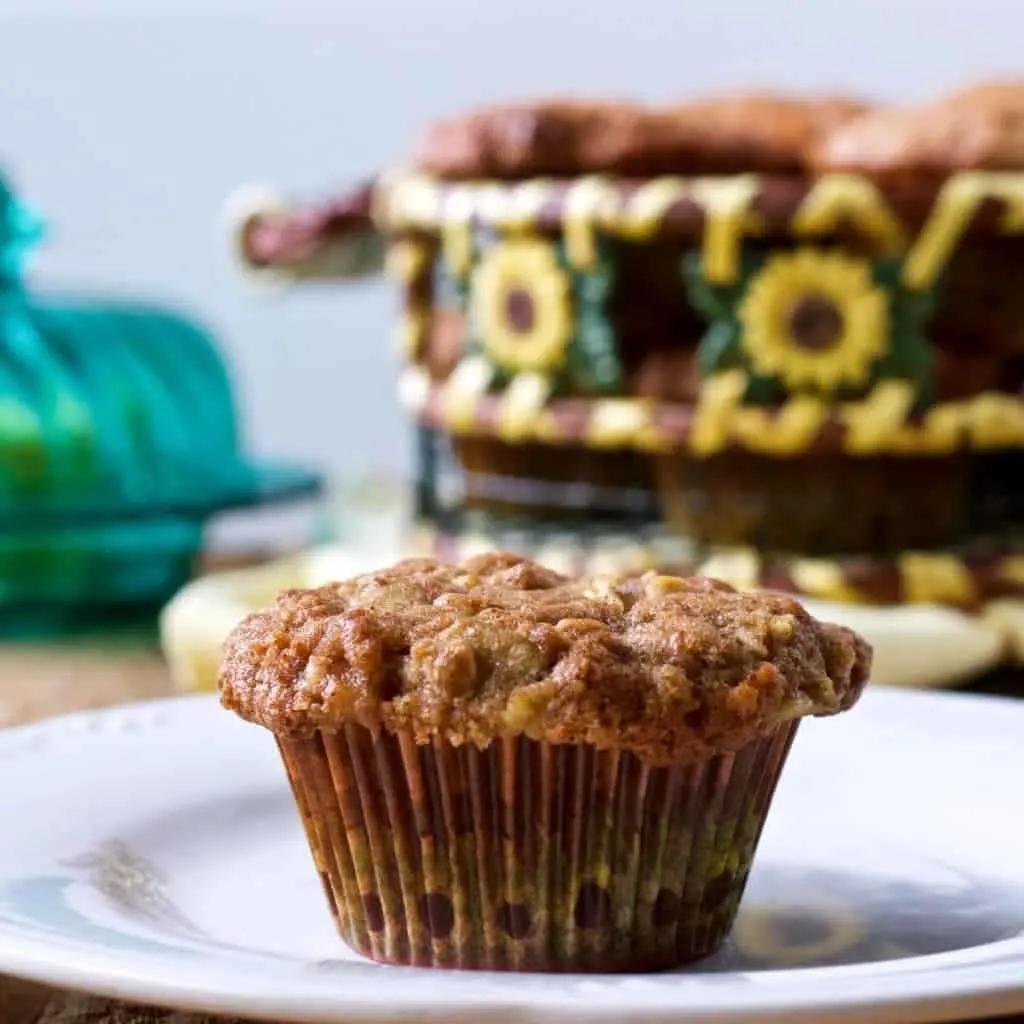 This recipe is very much an apple cinnamon muffin with the lovely addition of fresh ginger root to pick up the fall flavors and give you healthy fresh spiced flavors.
Watch our complete tutorial for making these Apple Spice Muffins
More Muffin recipes for you to try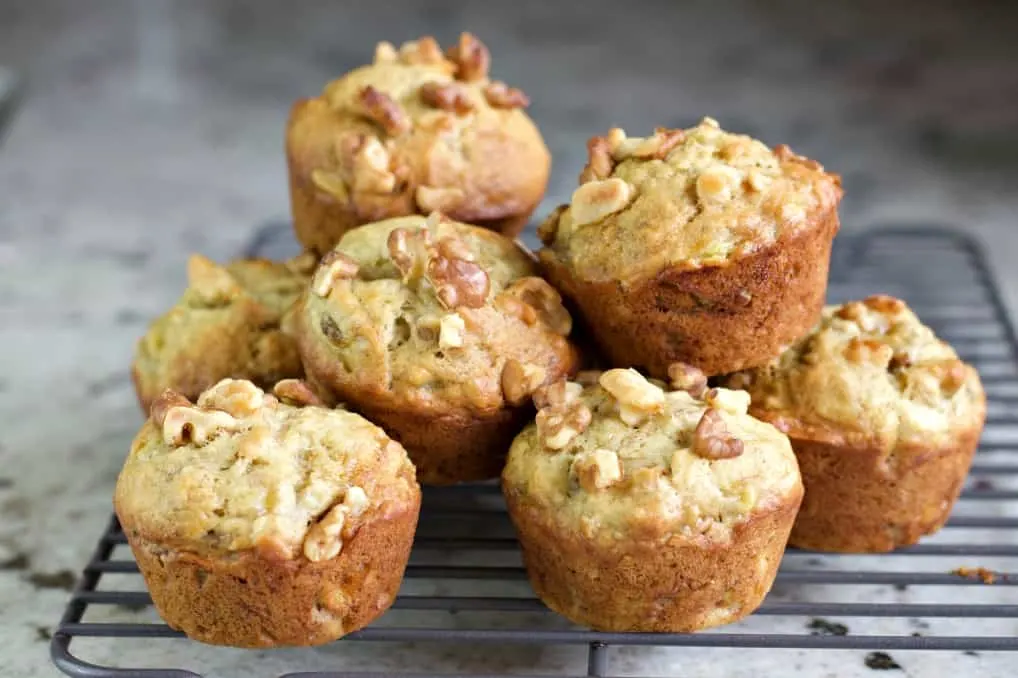 What makes Muffins light and fluffy?
Because muffins are baked goods, the same tips and techniques that you would use for cakes and similar pastries apply. Make sure your eggs, butter, milk and oils are all at room temperature. Warmed ingredients will mix and combine better, it will also help to prevent over mixing which will result in flat, dense muffins.
Using full fat ingredients like butter, whole milk, even Greek yogurt or sour cream will also create fluffy and light muffins because the fat molecules expand and rise.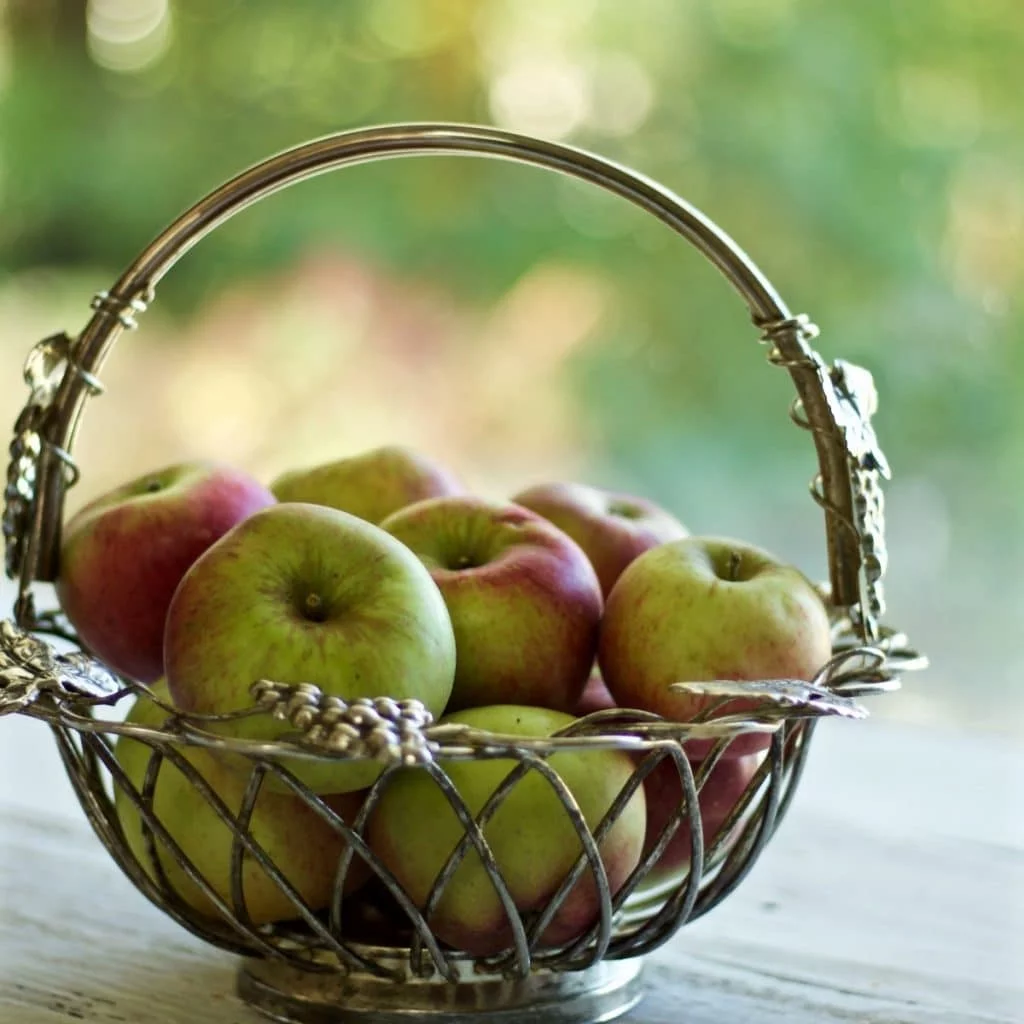 What are the best apples for baking?
When selecting apples for baking you want crisp, firm, sweet and slightly tart. Apples need a strong texture and lower sugar content to hold up during the baking process. Here is a list of some of the best apples to use when baking.
Braeburn apples are crisp with a strong apple flavor. They wont get mushy when baked and pair well with strong spices like ginger, nutmeg, and cinnamon
Cortland apples have a good balance of sweet and tart. They don't brown and soften when you are prepping them.
HoneyCrisp apples are by far the most popular apple in America these days. With a sweeter profile and crisp texture, they are a great choice to use in most baked desserts.
Granny Smith apples are popular in pies for their tart crispiness. They bring balance to sweet pastries with a strong apple flavor and firm consistency.
Golden Delicious apples have a mild flavor and are often used as a secondary 'filler' apple in desserts. They have a good texture for baking and help to bulk up baked goods without competing in flavor.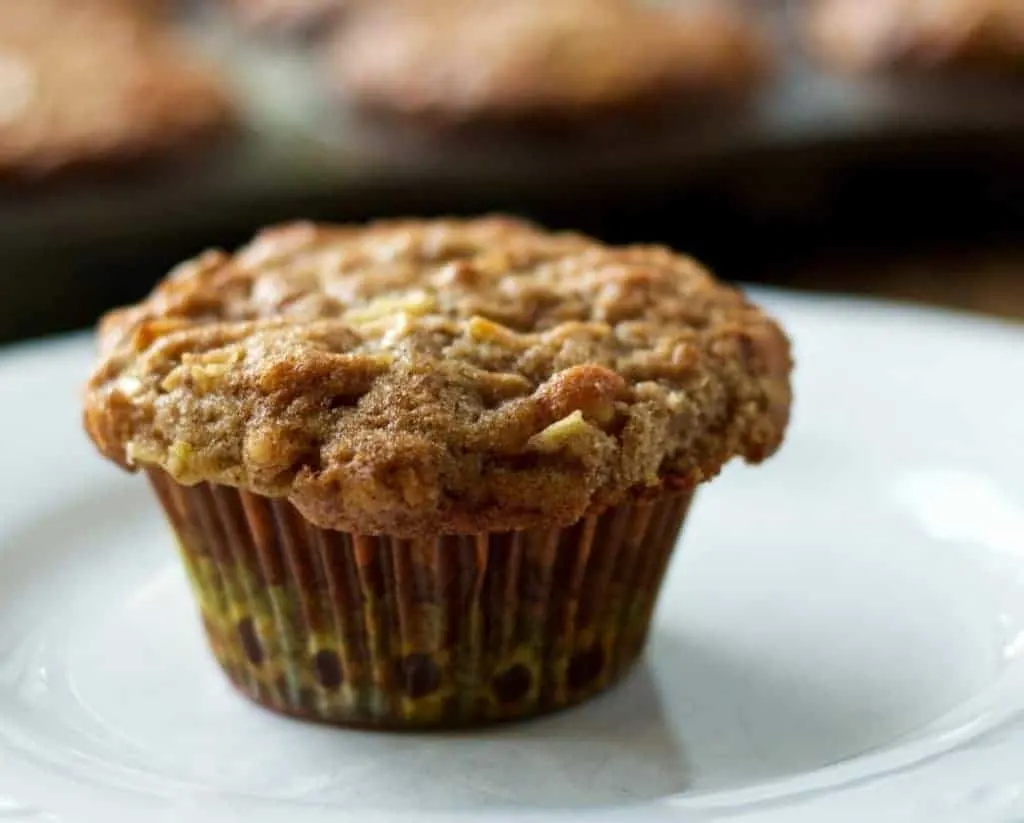 Should you let Muffin batter rest before baking?
It is recommended to allow your muffin to rest whenever possible. As the batter rests, the starches in the flour will absorb more of the liquid in the batter. This helps the muffins swell and rise when baking, giving you a lighter texture and fluffier muffin.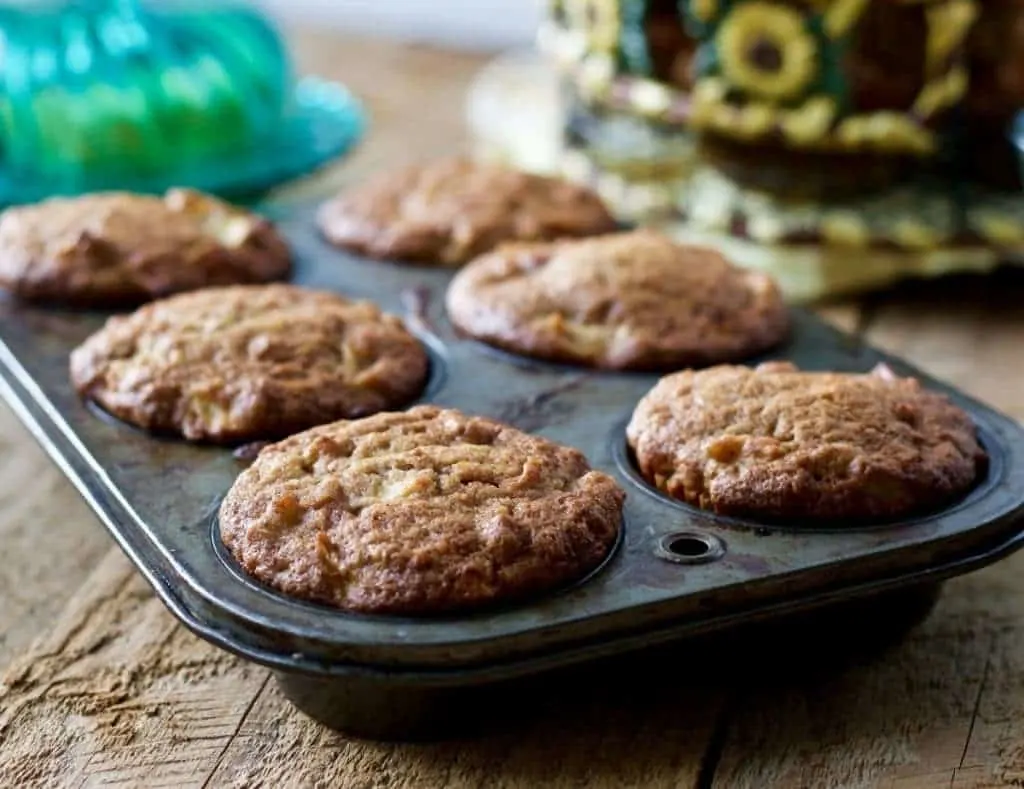 Perfectly done with real apples, cinnamon, walnuts and fresh ginger root. These healthy muffins make a great for breakfast or snack option.
What is the best oil to use for Muffins?
The use of oils in our foods need to be carefully considered. Low quality vegetable oils are problematic for many of us, causing inflammation and a host of other health issues.
Coconut oil is a fantastic baking oil because it can be safely heated and adds a pleasant flavor that compliments sweeter dishes and baked goods.
Avocado oil is another great option to use when cooking and baking. It has a high heat point and is flavorless which many prefer. Both of these oils are our top choice to use. Be sure to look for brands that are closely regulated in their processing practices, organic and aren't cut with fillers.
Fresh Apple Spice Muffins Recipe
TIP: This muffin recipe requires some chopping. Using a food processor will be the easiest method for chopping the apples. If you don't have access to a food processor use a food corer and chopper.
Prepare your apples last or they will go quickly brown. Soak them in lemon juice if you chop them ahead to keep them from oxidizing.
Ingredient Notes
Fresh ginger root offers amazing flavor. Fresh ginger root also has food value that dried ginger cannot offer. Read our article on the 10 natural Benefits of Ginger.
We use coconut oil in this recipe. We love the flavor coconut oil offers baked goods. If you're not a fan of coconut oil try avocado oil. It's very heart friendly and has no flavor, so it makes a good substitute for coconut oil.
The Method
This is a simple mix and stir basic muffin recipe once the apples, nuts and ginger are chopped. You are going to love the fresh apple spiced flavor in these muffins. They make a fantastic breakfast muffin.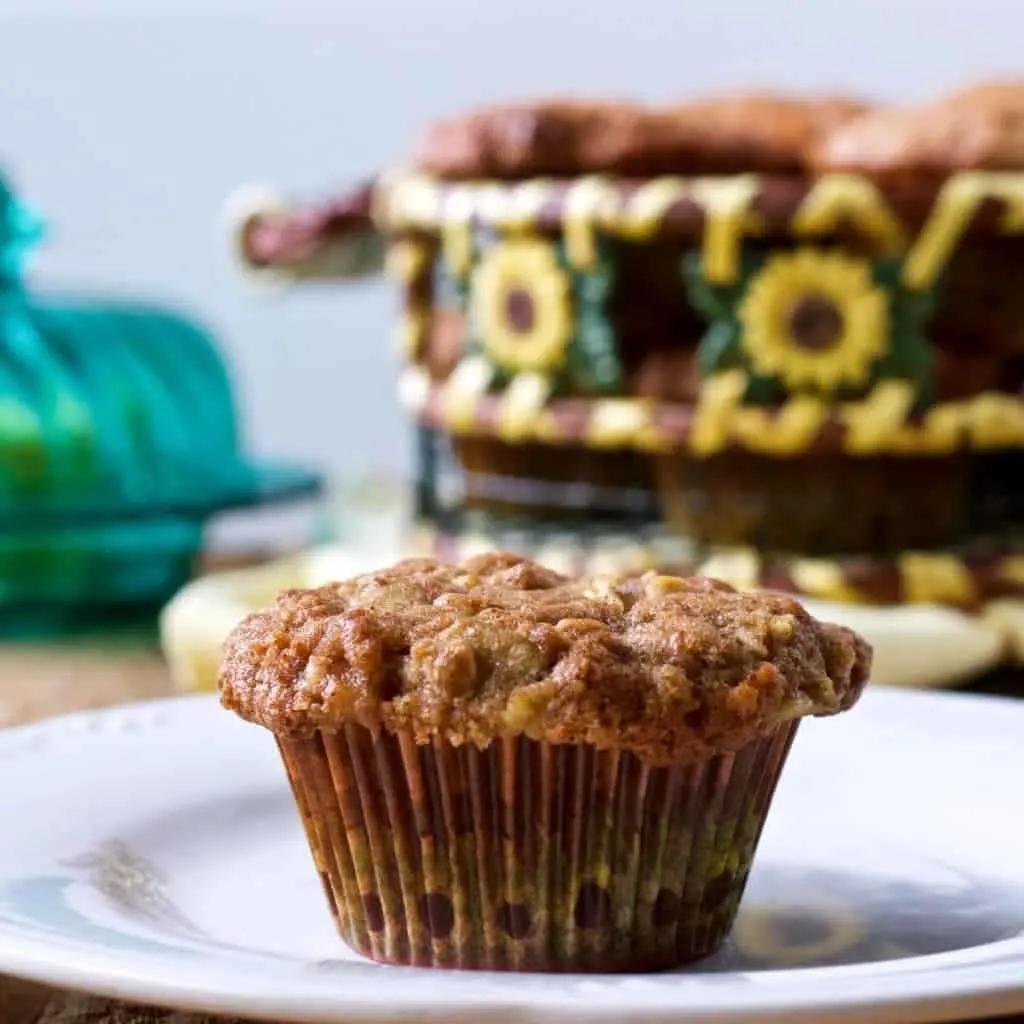 This fresh apple muffins recipe is easy to make with fresh flavor you will never get from a box mix.
What's the best way to freeze Muffins?
Bake muffins and allow them to cool completely
Place the muffins in a ziplock freezer safe bag and remove all of the air
Label and freeze up to two months
Defrost on the counter at room temperature
To rewarm these muffins we recommend warming in the oven. Microwaving will overheat and dry out the muffins.
Your Printable Recipe Card:
Yield:

12 muffins
Fresh Apple Spice Muffins
Fresh apple spice muffins. Make these incredible muffins from scratch with real apples, walnuts and fresh ginger. No boxed mixes compare to these. Great for breakfast, snacks and grab food anytime
Ingredients
1 1/4 Cup all purpose flour
3/4 Cup sugar
1/2 Cup chopped walnuts
1/4 Cup instant oats
2 Tsp. baking powder
1/2 tsp, salt
2 tsp. cinnamon
1/2 tsp. fresh ginger-minced fine
1/2 tsp. nutmeg
2 eggs
2 Cups chopped apples
1/2 Cup coconut oil
1/4 Cup water
Instructions
Preheat the oven to 400 degrees F
Oil your 12 hole muffin tin with coconut oil
Chop walnuts and ginger in a food processor or just use a large knife to mince them fine.
In a large mixing bowl, mix all your dry ingredients together.
In a small bowl, beat the eggs.
Pour egg mixture, all at once, into the flour mixture, stirring until just moistened.
Core and chop the apples fine.
Stir the apples, ginger, oil and water into the dry ingredients.
Fill the muffin holes evenly so they get done at the same time.
Bake for about 18 minutes. The muffins are done when the top is slightly brown and a few small cracks form on the top of the muffins.
Cool slightly and then remove from the muffin tin by circling each tin hole with a sharp knife and popping them out from underneath.
Cool them on a rack until cool enough to eat.
Serve with butter, jam or all alone.
Notes
These muffins will hold several days if stored in a airtight container.
To freeze:
Put the muffins in a ziplock freezer bad or vacuum pack. Remove the air from your bag. Seal label and freeze up to two months.
Recommended Products
As an Amazon Associate and member of other affiliate programs, I earn from qualifying purchases.
Nutrition Information
Yield
12
Amount Per Serving
Calories

302
Follow Us:
We enjoy meeting you on our social networks. Follow us on Facebook, Pinterest, Instagram . Tag us with your pictures of our recipes and comment on how it went for you. We would love to see what you do with them.
We often like, comment and share your posts of our recipes on our daily Instagram stories.
Ask questions and rate the recipe in the comments section below. Please share what you did with this recipe. We are always looking for more and better ways to make homemade food. Other cooks love your ideas!
Recent Posts:
Source: 'Seasoned with Love Cookbook' from the first United Methodist Church, circa 1985. Contributor is Nancy Davis