Steel Cut Oats prepared with maple syrup, apples, and pecans makes a delicious and filling breakfast. The apples and pecans are sautéed in maple syrup and coconut oil for a healthy topping that warms you through.
Can you eat Steel Cut Oats raw?
Steel Cut Oats are a stronger oat than rolled oats, because of this it's not recommended to eat them raw. If oats are consumed without cooking there is a risk of intestinal build up resulting in indigestion and constipation.
These oats can however, be enjoyed cold. Our overnight steel-cut oats recipe shows you how to prepare these hearty oats the night before to save you time in the morning. They can be eaten cold or hot depending on your personal preferences.
What do you eat with Steel Cut Oats?
Like all oatmeals, steel cut oats can be enjoyed with a wide variety of toppings, added ingredients, and spices. We are sharing our favorite ideas for how to enjoy steel cut oats below.
Serve with a side of fresh fruit
Top with almond or peanut butter
Sweeten with honey, pure maple syrup, or brown sugar
Mix in homemade jams, jellies, and marmalades
Finish with a splash of heavy cream or whole milk
Sprinkle cinnamon, nutmeg, or cocoa on top
Top with sliced almonds, pecans, or crushed walnuts
Are Steel Cut Oats gluten-free?
All oats are naturally gluten free making them a great option for nearly anyone to add to their diet. Steel cut oats are high in fiber and can help control blood sugar levels, assist with diabetes prevention, and keep you fuller longer because they are a healthy carb source.
Is there an instant Steel Cut Oatmeal?
There is! Quaker makes an instant steel cut oatmeal that can be prepared in 3 minutes if you are looking for a quick, easy meal option. These packets have 45 grams of whole grain per serving and a deliciously satisfying nutty flavor.
What apples should I use on my Steel Cut Oats?
Jonagolds, fuji, honeycrisp or other types of baking apples will work in this recipe. They have a crisp, strong texture that can withstand the cooking process without becoming mushy.
What are the best Steel Cut Oats
Finding a good quality Steel Cut Oat is just as important as finding other high quality foods. Here is a list of brands that have a strong reputation of good quality products with minimal added ingredients.
Bobs Red Mill
One Degree Organic Foods
McCanns
Bakery On Main
Steel Cut Oats Nutrition
They are very healthy additions to your diet. Because of the way they are processed they are even minimally healthier than regular oats.
The texture of the steel cut is quite different that regular rolled oats. The Steel cut makes oats springier and chewier with a slightly nutty flavor.
What are the benefits of Steel Cut Oats?
Sf Gate has a great article on this healthy food. According to Livestrong all oats are full of protein, fiber and various vitamins and minerals.
The low glycemic index of steel cut oats is such that they help you feel full a long time. This helps manage body weight
Decreases Heart disease risk by lowering cholesterol
Aides Diabetes prevention through the low glycemic index and high fiber. Healthy fiber and carbs in your diet is important. They regulate your body in many ways.
Blood pressure control: Compounds contained in the oats help control blood pressure.
How long do Steel Cut Oats last?
Steel cut oats can last 3-5 years when properly stored. Always keep oats in an airtight container and store in a dark, cool room.
More Steel Cut Oat Recipes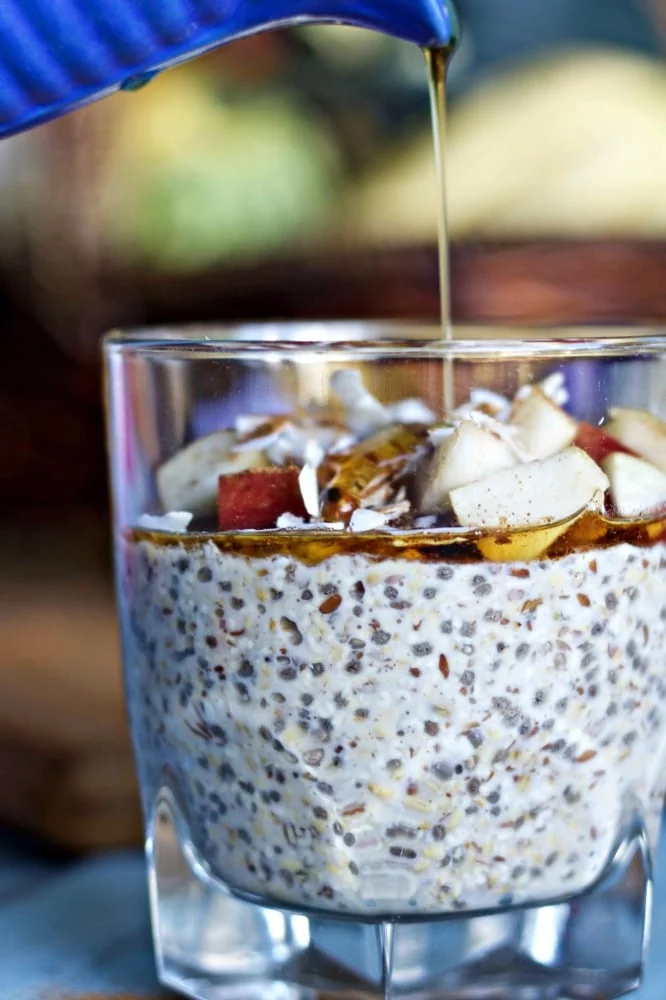 Let us know how you like the Irish oats compared to rolled oats. They are very different mouth feel when cooked and have a nutty flavor.
A Steel cut oat does take longer to cook than a regular rolled oat (Unless you are using instant, like I am), but they give you a less gelatinous result.
How to Cook Steel Cut Oats with Toppings
This is an easy recipe to make. And takes only about 15 minutes cooking time with quick oats. It's a nice hot filling way to start your day.
Put the oats into boiling water and turn it to simmer.
Throw the coconut oil in the fry pan, add the apples, pecans, and maple syrup.
Let it cook on low while the oats are simmering.
Serve when the oats are cooked and the toppings are done.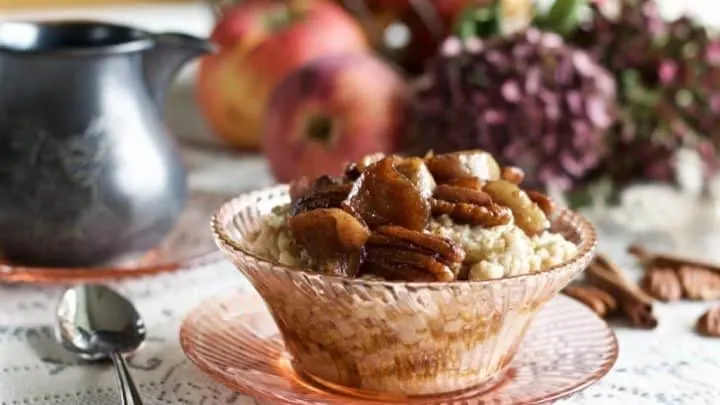 Yield:

4
Steel Cut Oats Recipe with Toppings
Steel Cut Oats with Maple Syrup, Apples, and Pecans. Start with Steel Cut Oats simmered to perfection. Top it with apples and pecans sauteed in brown sugar, maple syrup and coconut oil. Serve this healthy breakfast with warmed Maple syrup.
Ingredients
2 Cups water
Dash salt
1/2 Ripe Fuji apple
12 Whole Pecans
1 Tablespoon coconut oil
3 Tablespoons Maple Syrup
2 Tablespoons Brown Sugar
Instructions
Put the water in a 1 quart pan and set it on high to boil.
Put an 8 inch frying pan on medium heat and melt the coconut oil in it.
Chop the apple into one inch pieces
When the water boils, stir in the salt and oats and reduce the heat to simmer for 7 to 10 minutes.
Add the pecans, apples, brown sugar and maple syrup to the frying pan and reduce heat to low.
Cook the oats and apple mixtures until done to your liking. The apples should be soft and the oats should be as thick as you care for.
Place one cup of oats in four 1/2 cup serving dishes and top with the apple mixture to taste. Add extra syrup as desired
Serve with Maple syrup on the side.
Notes
This recipe is easy to double for more servings. It's also good cold in my opinion.
Recommended Products
As an Amazon Associate and member of other affiliate programs, I earn from qualifying purchases.
Nutrition Information
Yield
4
Serving Size
1
Amount Per Serving
Calories

136
Total Fat

7g
Saturated Fat

3g
Trans Fat

0g
Unsaturated Fat

3g
Cholesterol

0mg
Sodium

47mg
Carbohydrates

20g
Fiber

1g
Sugar

17g
Protein

0g
Follow Us:
We enjoy meeting you on our social networks. Follow us on Facebook, Pinterest, Instagram . Tag us with your pictures of our recipes and comment on how it went for you. We would love to see what you do with them.
We often like, comment and share your posts of our recipes on our daily Instagram stories.
Ask questions and rate the recipe in the comments section below. Please share what you did with this recipe. We are always looking for more and better ways to make homemade food. Other cooks love your ideas!
Recent Posts: