Steel Cut Oats with Maple Syrup, Apples, and Pecans. Start with  Steel Cut Oats simmered to perfection.  Top it with apples and pecans sauteed in maple syrup and coconut oil. Serve this healthy breakfast with warmed Maple syrup! Try this Low-Sodium, Vegan, Vegetarian, Dairy-Free, Gluten-Free breakfast any day of the week. It's ready in less than 15 minutes!
Toast and coffee is our usual weekday breakfast. I may have mentioned a time or two that I'm not a morning person. Springing out of bed is achieved lately only to avoid a potty training disaster with our new puppy, Carson.
Carson is our 4-month-old rescue pup from Texas. They grow them tough in the south. Carson Picked up Parvo in his travels and one TOUGH lung infection! He kicked that Parvo last week, in itself a miracle. Kayti came over every day and we pretty much syringed the little guy through with Pedialyte and Lots of drugs and homeopathic aids, round the clock. The lung infection is still working him over.
The lung infection is still working him over. Nonetheless,we expect him to get over that eventually, hopefully without lung scarring. In the meantime, he's growing and learning; lately about appropriate chew toys and potty training. He's snuggly and sweet. We adore our Lil Carson. UPDATE: Carson did get over his medical issues completely. We are very grateful!
My poor overworked hubby, Dave is getting some pretty nice breakfasts lately. I sort of feel sorry for him. He's such a work horse for us! With all the construction jobs he's on and the work around here he needs good food to keep him going! That means protein and nutrients.
I've been making him lots of eggs and bacon breakfasts like bacon and egg croissant sandwich, fried potatoes and eggs, Pumpkin Spice Pancakes with Bacon Apple Pecan topping, and today I made him this bowl of delicious healthiness.
The inspiration for this recipe is a 5-gallon bucket of apples sitting on the kitchen floor looking forlorn. Dave picked them for me from our trees. You know I have to use them!
This week I made him my apple pie cheesecake, and this breakfast that uses an apple. Apples always go in his lunch… and I still have a ton of them! so, My thinking cap is on. I have enough frozen apples. Maybe it's time to use the Food dryer.  Long ago, I used to make dried apple cinnamon chips… I'll keep you posted on that.
WHY STEEL CUT OATS?
All oats are excellent for you so if you don't have steel cut just use regular rolled oats. You may want to stock up on steel cut oats though. They are very healthy additions to your diet! Because of the way they are processed they are even healthier than regular oats!
Personally, I like the steel cut oats in granola , Irish Oat Bread and this recipe, even smoothies! They do take longer to cook than regular oats (Unless you are using instant, like I am), but they give you a less gelatinous result.
Here are a few reasons why you'll want to add steel cut oats into your diet on a regular basis. Sf Gate has a great article on this healthy food! And, according to Livestrong , Steel cut Oats are Full of protein, soluable and insoluable fiber, and various vitamins and minerals.
This translates into powerful benefits for your health.
The low glycemic index of steel cut oats is such that they help you feel full a long time. This reduces the desire for inappropriate foods which helps manage body weight
Decreases Heart disease risk by lowering cholesterol
Aides Diabetes prevention through the low glycemic index and high fiber
Blood pressure contol:  Compounds contained in the oats help contol blood pressure.
And they taste great! I love this breakfast!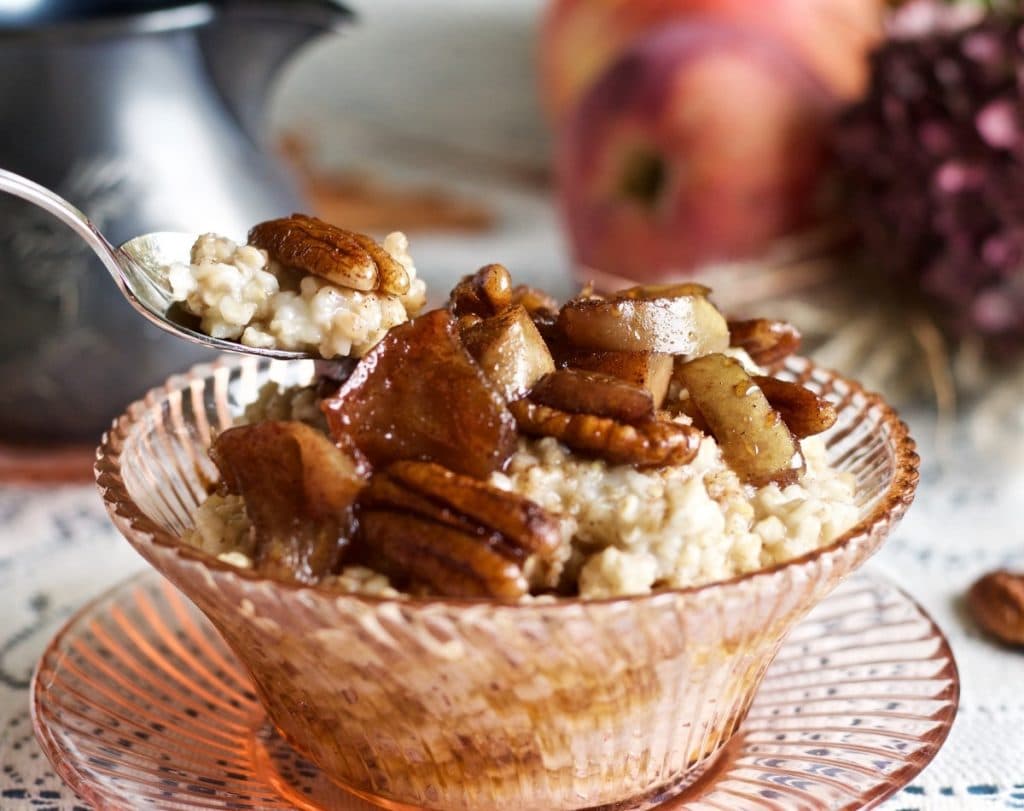 Recipe Notes for:
Cooked Steel Cut oats with Maple Syrup, Apples and Pecans
This is an easy recipe to make. Don't let it intimidate you.
Start the oat water, heat the frying pan to medium and chop up the apple.
Put the oats into the boiling water and turn it to simmer.
Throw the coconut oil in the fry pan, add the apples, pecans, brown sugar and maple syrup.
Let it cook on low while the oats are simmering. Whole process from first thought to the serving bowl is about 15 minutes. Your family will thank you! This filling nourishing breakfast will get them off to a great start; and they will love it!
[tweetthis display_mode="button_link"] Try this Vegan, Vegetarian, Dairy- Free, Gluten- Free breakfast. It's delicious and ready in less than 15 minutes![/tweetthis]
And I DID make homemade Apple Chips. They are delicious!
Steel Cut Oats with Fried Maple Pecan Apples
Ingredients
1 Cup Instant Organic Steel Cut Oats (I'm using Bob's Red Mill)
2 Cups water
Dash salt
1 Ripe Fuji apple
12 Whole Pecans
2 Tablespoons coconut oil
3 Tablespoons Maple Syrup
2 Tablespoons Brown Sugar
Instructions
Put the water in a 2 quart pan and set it on high to boil.
Put an 8 inch frying pan on medium heat and melt the ooconut oil in it.
Chop the apple into one inch pieces
When the water boils, stir in the salt and oats and reduce the heat to simmer for 7 to 10 minutes.
Add the pecans, apples, brown sugar and maple syrup to the frying pan and reduce heat to low.
Cook the oats and apple mixtures until done to your liking. The apples should be soft and the oats should be as thick as you care for.
Place one cup of oats in four serving dishes and top with the apple mixture to taste. Add extra syrup as desired
Serve with Maple syrup on the side.
Pin it: