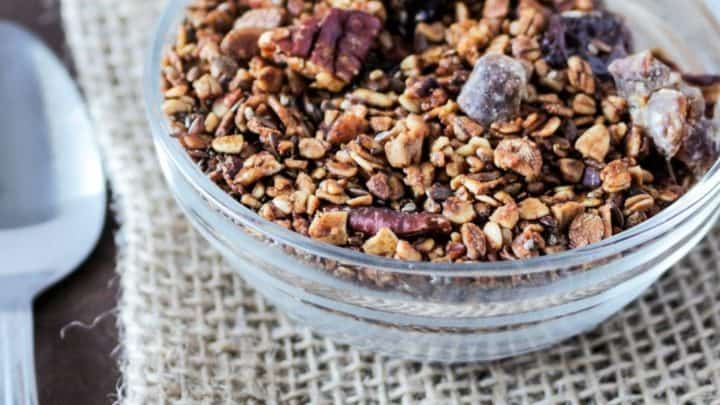 Yield:

36 servings
Steel Cut Granola
Crunchy, Homemade, steel cut granola delivers a medley of healthy ingredients for a high-​fiber, low-​sodium, vegetarian, dairy-​free and gluten-​free breakfast. Make it yourself for a powerhouse nutrition boost!
Ingredients
4 Cups steel cut oats
1/2 Cup whole flax seed
1/2 Cup Chia seed
1/4 Cup coconut oil
1/2 Cup maple syrup
1/2 Cup water
1/4 Cup honey
2 Tablespoons cinnamon
1 Tablespoon pure vanilla extract
1 Cup chopped pecans
1/4 Cup dates, chopped
1/4 Cup cherries, dried
Instructions
Preheat oven to 325 degrees
Mix oats, flax, chia seeds and chopped pecans with the cinnamon in a large bowl.
In an 8 cup microwaveable bowl put the coconut oil, maple syrup, water and honey.
Microwave one minute. Stir the mixture until the coconut oil is completely melted. Add the vanilla and stir.
Add the wet ingredients into the dry and stir well. At this point you may add more oats if it's too wet. Steel cup oats do not absorb water like regular oats do. Feel free to adjust the oats and water until you are satisfied with your consistency.
Bake for 20 minutes on a greased baking sheet and stir the granola. Bake another 20 minutes and stir again. The granola is done if it is browned slightly and dry. It will continue to dry as it cools so don't over bake it!
Remove from oven and pour it back into your big bowl. Add the dates and cherries and mix it well.
Store it in an airtight container after it has completely cooled.
This granola should stay fresh several weeks in an airtight container
Nutrition Information
Yield
36
Serving Size
1
Amount Per Serving
Calories

152
Total Fat

7g
Saturated Fat

2g
Trans Fat

0g
Unsaturated Fat

4g
Cholesterol

0mg
Sodium

3mg
Carbohydrates

21g
Fiber

4g
Sugar

6g
Protein

4g
Crunchy, Homemade, steel cut granola delivers a medley of healthy ingredients for a high-​fiber, low-​sodium, vegetarian, dairy-​free and gluten-​free breakfast. Make it yourself for a powerhouse nutrition boost!
Making homemade granola is a creative way to experiment with different flavors, and textures in healthy ingredients. I enjoy creating my own granola. You will find several of my recipes for steel cut oat breakfasts linked at the bottom of this post. I also linked my homemade Greek yogurt recipe and a few other ideas for you fellow granola fans. I even made a fantastic bread with steel cut oats!
My husband and I recently found Bob's Red Mill organic steel-cut oats. You can follow the affiliate link to Amazon if you need to order them. Of course, we found them at Costco. The challenge now is learning how to use them!
Steel cut oats are not like regular oats. Steel cut oats are smaller but fairly chewy, thicker, and denser. They have a very different texture than regular oats. I made an apple crisp with them and… I won't be blogging it. Regular oats win that recipe contest! I intend to continue using regular oats in cookies and other light treats. I love the texture of rolled oats and they are good for us; so why not?
Why steel-cut instead of regular oats?
The advantage of steel-cut oats over regular oats are many, nutritionally speaking. Steel cut oats are not cooked and processed as rolled oats are. Just chopped in steel blades. Steel cut oats are higher in fiber and benefit diabetics and people with high cholesterol,(like me!) by lowering the overall glycemic levels in your system and clearing out the gastric system really well. My daughters learned that these amazing oats also boost mother's milk production enormously! Steel Cut Oats also provide protein, iron and other valuable nutrients we all need. I'll be learning other uses for them. They do make a dynamite granola!
What other goodies are in this granola?
This Steel Cut granola is chock full of deliciously healthy foods. I've added chia seeds for even more fiber, antioxidants, healthy fat and minerals. Pecans, flax, coconut oil all have healthy fats, trace elements, antioxidants and help with digestibility. Maple syrup is lower on the glycemic index than processed white sugar. I love the flavor of Pure organic Maple Syrup. A scrumptious, nutritious way to start the day!
Steel Cut Granola Recipe notes:
Overall, this Steel Cut granola is a whopper of a healthy meal topper! This recipe is built for 36 one Tablespoon servings. Just one Tablespoon over your favorite smoothie bowl or yogurt add quite a nutritional punch to your breakfast. Use more if you like, of course!
Right now, as I'm writing this I'm also enjoying a late night, steel-cut granola parfait with pineapple chunks, banana and homemade Greek yogurt. Delicious!
If you're a granola lover like me; go take a look at these recipes!