Crunchy, homemade, Steel Cut Granola delivers a medley of healthy ingredients for a high ​fiber, gluten free breakfast. Made with steel cut oats, pure maple syrup, chopped pecans and dates, dried fruits, and finished with cinnamon and vanilla. We love our steel cut granola in yogurt parfaits, over sliced fresh fruits, or mixed in with a scoop or two of peanut butter.
Steel cut granola is hearty and slow to digest giving you hours of energy and loads of nutrients. You can easily customize this recipe to fit your preferences and dietary needs.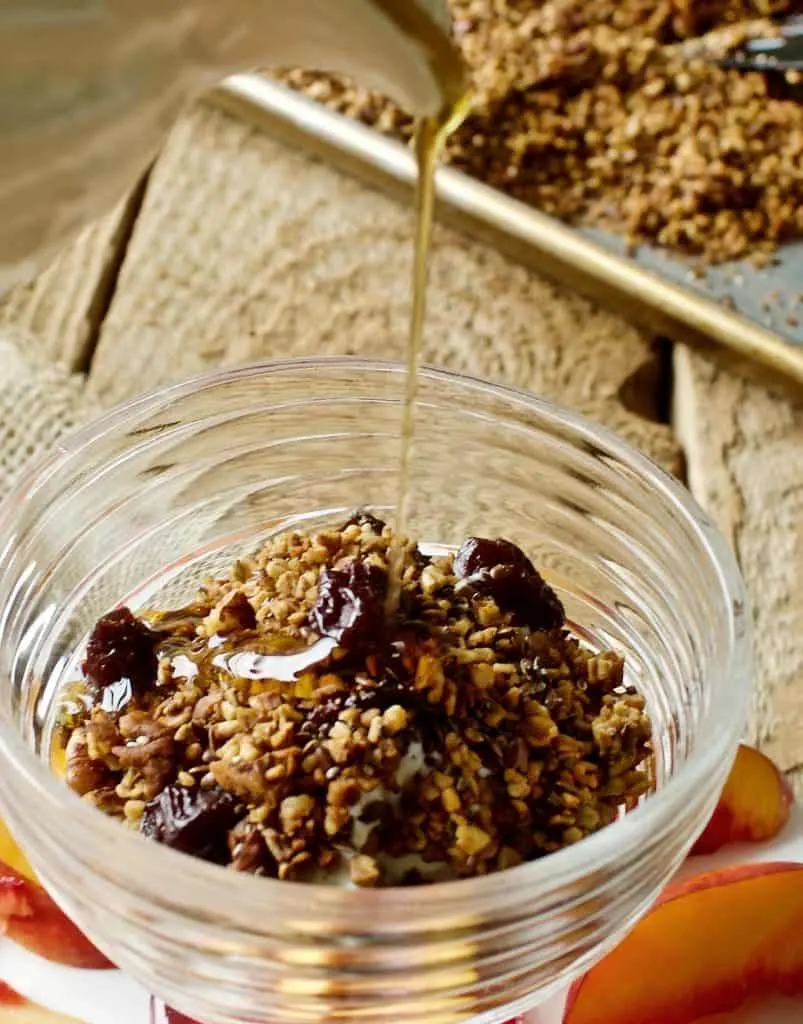 Making homemade granola is a creative way to experiment with different flavors, and textures in healthy ingredients. You will find several of our recipes for steel cut oat breakfasts linked at the bottom of this post. We also have a fantastic bread with steel cut oats!
Bob's Red Mill organic steel-cut oats are available to us and we use them often. This is a great brand, and the strong oats have risen in popularity due to their rich flavor, heartier texture and long satiation.
Steel cut oats are not like regular oats. Steel cut oats are smaller and fairly chewy, thick, and dense. They have a very different texture than regular oats.
What is the difference between steel cut oats and regular oats?
The advantage of steel cut oats over regular oats are many, nutritionally speaking. Steel cut oats are not cooked and processed as rolled oats are. Just chopped in steel blades. Steel cut oats also provide protein, iron and other valuable nutrients we all need.
They do need to be cooked as they have a strong, gritty texture that many find unpleasant. Our steel cut oat granola recipe bakes the grainy oats to give a rich, flavor filled experience.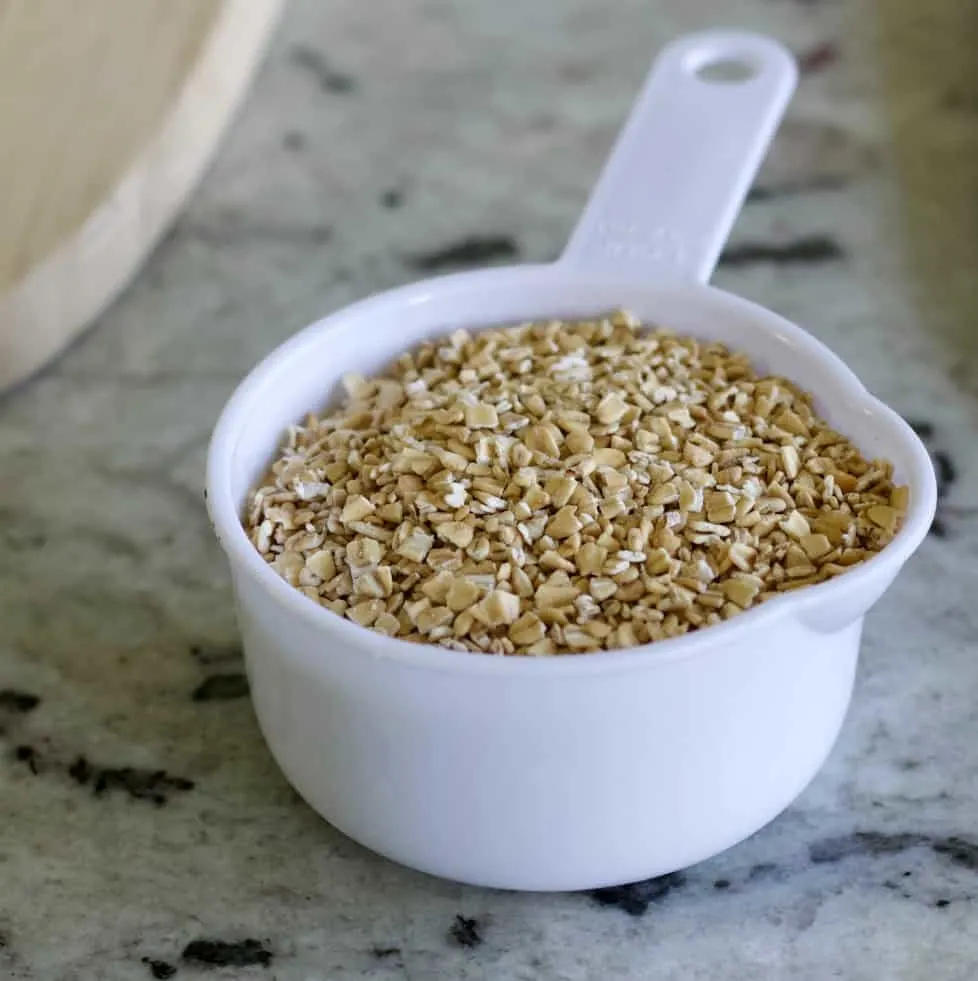 What can I add to steel cut granola?
This steel cut granola is full of chia seeds for even more fiber, antioxidants, healthy fat and minerals. The pecans, flax, coconut oil all have healthy fats, trace elements, antioxidants and help with digestibility. While pure maple syrup sweetens the granola with natural, healthy sugars.
Vanilla extracts, dried fruits, and cinnamon compliment the mixture and deepen the flavor of the rich oats and nuts. You can change up the dried fruits you use, the nuts, and the seeds; or omit them all together to give you a simpler granola that is still nutritious and delicious.
Steel Cut Granola Recipe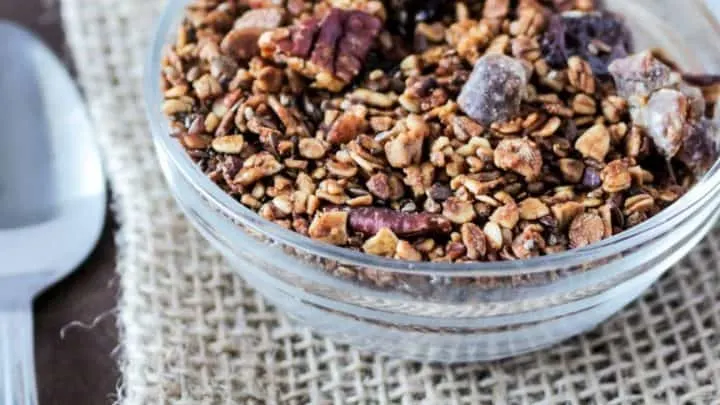 Yield:

36 servings
Steel Cut Granola
Crunchy, Homemade, steel cut granola delivers a medley of healthy ingredients for a high-​fiber, low-​sodium, vegetarian, dairy-​free and gluten-​free breakfast. Make it yourself for a powerhouse nutrition boost!
Ingredients
4 Cups steel cut oats
1/2 Cup whole flax seed
1/2 Cup Chia seed
1/4 Cup coconut oil
1/2 Cup maple syrup
1/2 Cup water
1/4 Cup honey
2 Tablespoons cinnamon
1 Tablespoon pure vanilla extract
1 Cup chopped pecans
1/4 Cup dates, chopped
1/4 Cup cherries, dried
Instructions
Preheat oven to 325 degrees
Mix oats, flax, chia seeds and chopped pecans with the cinnamon in a large bowl.
In an 8 cup microwaveable bowl put the coconut oil, maple syrup, water and honey.
Microwave one minute. Stir the mixture until the coconut oil is completely melted. Add the vanilla and stir.
Add the wet ingredients into the dry and stir well. At this point you may add more oats if it's too wet. Steel cup oats do not absorb water like regular oats do. Feel free to adjust the oats and water until you are satisfied with your consistency.
Bake for 20 minutes on a greased baking sheet and stir the granola. Bake another 20 minutes and stir again. The granola is done if it is browned slightly and dry. It will continue to dry as it cools so don't over bake it!
Remove from oven and pour it back into your big bowl. Add the dates and cherries and mix it well.
Store it in an airtight container after it has completely cooled.
This granola should stay fresh several weeks in an airtight container
Nutrition Information
Yield
36
Serving Size
1
Amount Per Serving
Calories

152
Total Fat

7g
Saturated Fat

2g
Trans Fat

0g
Unsaturated Fat

4g
Cholesterol

0mg
Sodium

3mg
Carbohydrates

21g
Fiber

4g
Sugar

6g
Protein

4g
Follow Us:
We enjoy meeting you on our social networks. Follow us on Facebook, Pinterest, Instagram . Tag us with your pictures of our recipes and comment on how it went for you. We would love to see what you do with them.
We often like, comment and share your posts of our recipes on our daily Instagram stories.
Ask questions and rate the recipe in the comments section below. Please share what you did with this recipe. We are always looking for more and better ways to make homemade food. Other cooks love your ideas!
Recent Posts:
Here are some more of our best granola recipes!