Large, sliceable soft buns made from scratch. Fill these low-sodium, dairy-free homemade slider buns with your favorite fillings for a smash hit finger food on game day or for any tailgate party.
Sliders are fun grab and eat finger food. They should hold their own with juicy fillings. Have you ever eaten a slimy dissolving slider bun full of delicious juicy filling?
Have a filling almost to your mouth and the roll fell apart? That won't happen with these homemade slider buns.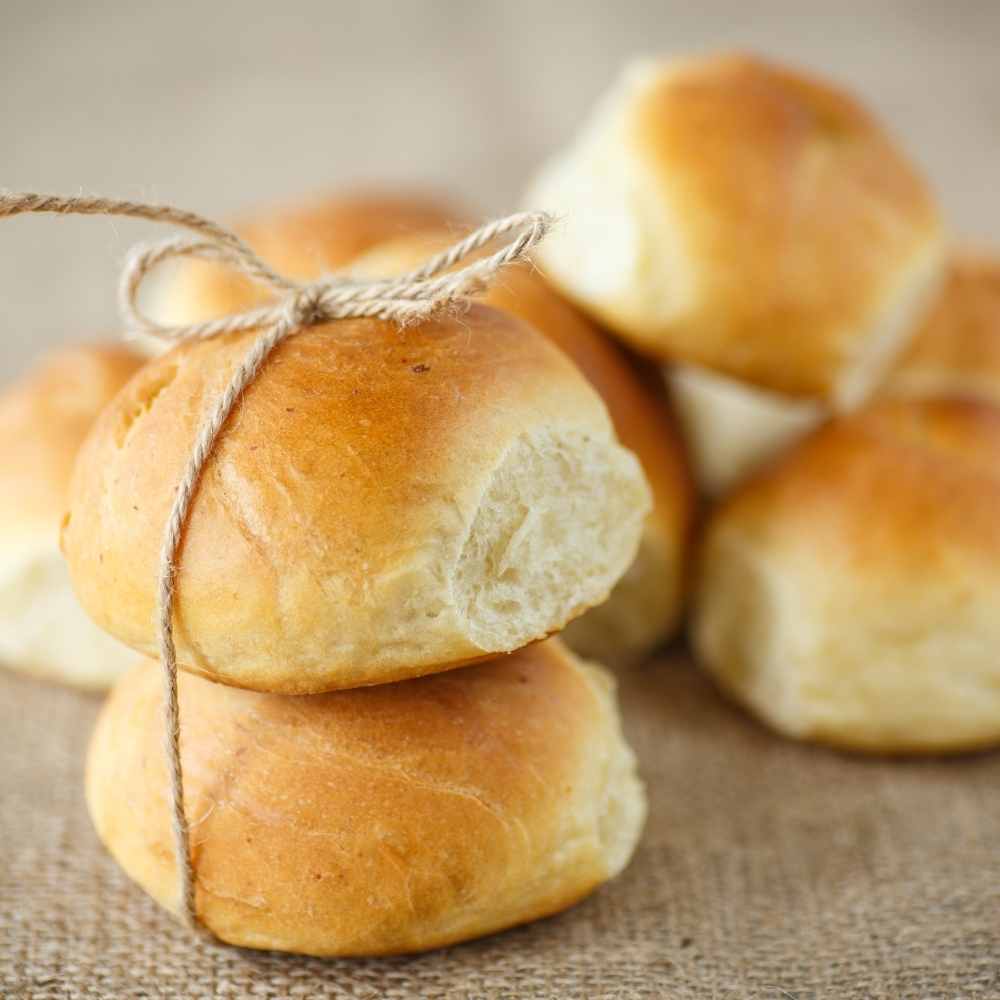 These rolls stand up to the juice. They stand up to the hand. Serve these rolls at your party or for a quiet dinner at home.
Recipe Notes on Homemade Slider Buns:
This recipe makes 24 large slider buns. If you want to tame the size of these big bears, plan on an extra 12 hole muffin tin. That would give you 36 small to medium buns.
I made these sliders to encompass an easy crock pot pulled pork filling. You will want to cut the recipe in half if you want fewer smaller buns.
The rolls worked really well in the extra-large size because the filling was rough textured and juicy. I think the Super Sized buns are perfect for the super bowl. The tops look like helmets. 🙂
This recipe is easy, even if you've never made buns before, from scratch. If you feel like you need a tutorial on homemade bread baking I give more detailed bread making instructions in my homemade Whole Wheat Bread Instructions.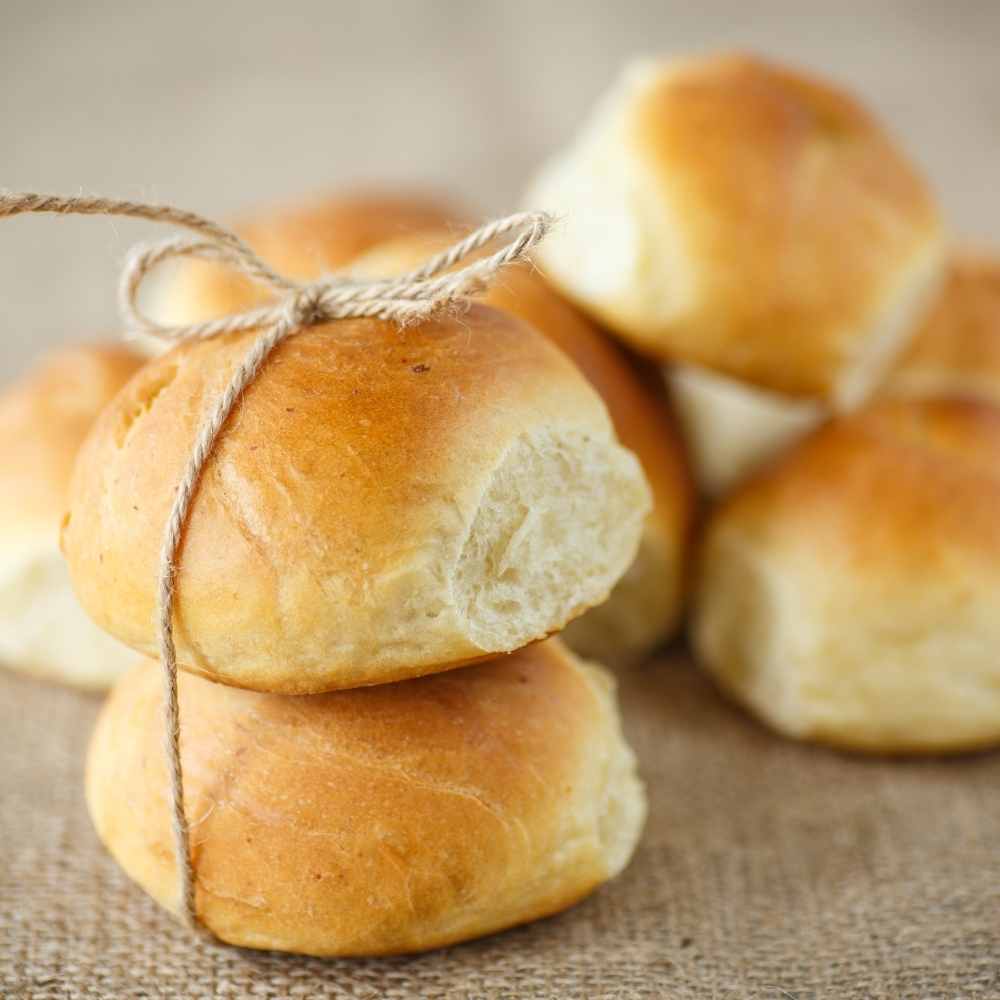 Tips:
I recommend you use a stand mixer for this roll recipe. Then you will have a truly easy fuss free experience.
If you mix the dough until it is properly stretchy and resilient a little oil on your hands is all you need for rolling the balls of dough.
If the dough is heavy and sticky, it may require more kneading. Make sure you thoroughly oil the muffin tin holes so the buns don't stick.
I use one cup of whole wheat flour to give these buns a grainier texture and more presence as a bun. If you prefer a smoother texture and lighter roll use all purpose bread flour for this recipe.
To make an egg white glaze:
If you want a shiny top on your buns, whisk an egg white with a tsp. of water and a dash of salt.
Use a pastry brush to brush a light coat of egg white onto the bun tops before baking. This will give the buns a shiny top like you see on my homemade dinner rolls.
These buns are also great for homemade soups as dippers! Put butter and your favorite jam inside for a quick snack. Enjoy this easy to make homemade bun.
Yeast Baking without salt:
Be aware that salt affects yeast activation. If you reduce the salt you should also reduce the yeast by the same percentage.
Another option: If you need low sodium use 1 tsp. of sugar, honey or maple syrup in place of the salt.
Then use the amount of yeast called for in the recipe. Sweeteners also help the dough rise.
Your Printable Recipe Card:
Yield:

24
Homemade Slider Buns
Total Time:
2 hours
10 minutes
Easy to make and bake your own homemade slider rolls. These are great for your heavy fillings like pulled pork. They are very popular at parties and work well for home meals too.
Ingredients
2 Tablespoons active dry yeast
2 Cups hot water
2 Tablespoons honey
4 Tablespoons melted coconut oil
2 eggs
1 Cups Whole wheat flour
4 Cups all purpose flour
Instructions
Prep:

Preheat oven to 400 degrees
For the large buns-Oil 24 holes of muffins tins- oil 36 holes for medium sized buns
fit a standing mixer with a dough hook.

Making the Bun dough:
Add the yeast, hot water(115 degrees), melted coconut oil and honey. Let sit 10 minutes.
Mix in the eggs, salt(if using) and the cup of whole wheat flour.
Add 2 cups of the white flour. Mix on high for three minutes.
Reduce the speed to low and continue mixing for 5 minutes.
Add extra flour as needed. The dough should be firm enough to clear the sides of the bowl.
The dough is done when it is resilient and stretchy.
Roll the dough out into a rectangle and divide it evenly into 24 sections.
Roll each section into a ball and place it into an oiled muffin tin hole.


Rising:
Let rise till doubled in size.(an egg white glaze may be brushed on at this time for a shiny top)

Baking and cooling:
Place in oven for 8 to 10 minutes. Rolls are done when evenly browned and when they sound hollow when you thump them. Cool in the muffin tins 10 minutes.
Pop the rolls out of the muffins with a kitchen knife(run the knife around the edge and then slide it under the roll)
cool on a rack.
Notes
If you want a bit more flavor add 1 tsp. of salt to this recipe. But it will increase the sodium to 100 mg. Without the salt these buns are low sodium.
The amount of salt in this recipe will have an impact on the rise. To activate the yeast without salt use just a bit more honey.
Nutrition Information
Yield
24
Serving Size
1
Amount Per Serving
Calories

128
Total Fat

3g
Saturated Fat

2g
Trans Fat

0g
Unsaturated Fat

1g
Cholesterol

16mg
Sodium

8mg
Carbohydrates

21g
Fiber

1g
Sugar

2g
Protein

4g
Pin it: