Light and fluffy Homemade Vanilla Cupcakes made with Greek yogurt and pure vanilla extract for a soft, spongy texture and rich flavor. This easy cupcake recipe is perfect for any occasion and can be made simple with our scratch vanilla buttercream, or dressed up for a party.
We take the classic vanilla cupcake recipe and spruce it up for added moisture and flavor, while bringing in some wholesome ingredients. You will feel great serving these mini cakes to your friends and family.
In this post we are walking you through how to bake cupcakes-step by step, and sharing our best tips and baking techniques that ensure you will have fluffy cupcakes and a dreamy buttercream every time. Let's get started!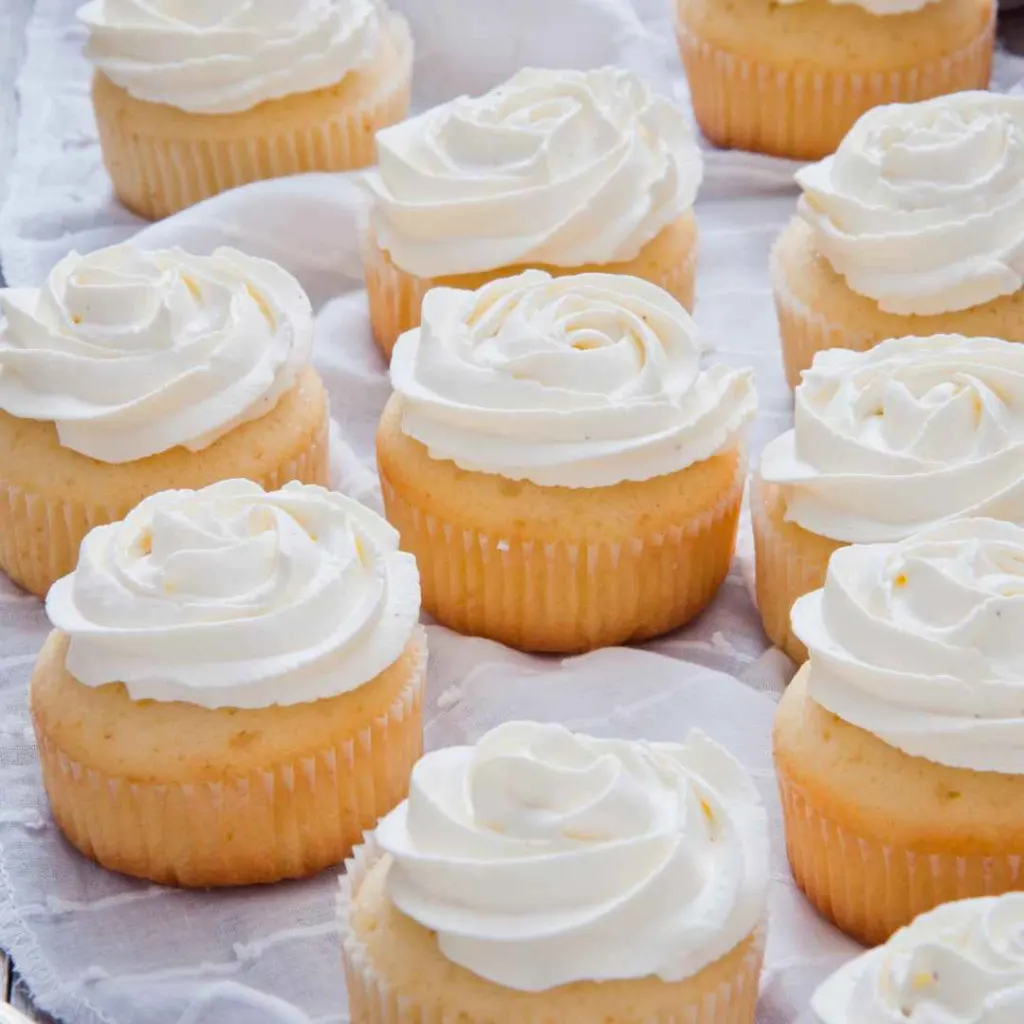 What's the secret to moist cupcakes?
Moist, fluffy homemade vanilla cupcakes are what we all want. The key to full bodied, moist cupcakes is creating air in the batter which will expand while baking. This is achieved by following a few crucial steps.
There is nothing better than a soft cake and moist crumb texture. It's easy to make the perfect cupcakes with just a few techniques and some baking secrets.
Warm ingredients are a must in the baking world
Planning ahead and setting out your cold ingredients is arguably one of the most important details when baking pastries and cakes. Butter, eggs, milk, yogurt or sour cream will all mix and combine better when they are warmed to room temperature.
Warmed ingredients will mix to a smoother consistency with fewer lumps, which in turn creates a delicate and light crumb. This will also require less mixing which will in turn, add air into the mixture with minimal time and effort.
Minimal mix time and low speed
In order to create air in the batter you need to mix the ingredients together, but you don't want to over mix. Over mixing will result in flat, dense cupcakes because the air will be beaten out of the batter. This is why warmed ingredients is so crucial. They combine faster and smoother which requires less mix time.
Mixing on a gentle low speed is also important. High speed mixing will be too harsh and will collapse any air bubbles that have been created. You also want to stop mixing when the ingredients have combined, which is again why warm ingredients matter so much.
Fresh ingredients are important to the quality of your cupcakes
Fresh ingredients will go a long way in flavor of course, but they also matter in the quality of the bake and texture of the crumb. Fresh eggs, milk, baking powder, and flour will yield a higher moisture content than old ingredients that are past their prime.
Homemade vanilla cupcakes are simple and honest, so you will notice if the flavor is lacking or the crumb is dense and heavy. They are boujee in a basic way.
Is it better to use oil or butter in homemade vanilla cupcakes?
It is thought that using oil in cakes will retain moisture for a longer period, and possibly result in a fluffier cupcake. However, butter will inevitably bring a rich flavor and creamy texture as it contains rich fats, and many argue that it yields a fluffier, lighter texture.
We use a combination of Greek yogurt and coconut oil in this 12 vanilla cupcake recipe with oil. Yogurt and sour cream are often used in cake recipes because they add fats and moisture to the batter, as well as a rich flavor that elevates the cakes.
Unrefined organic coconut oil is a wonderful cooking oil because it brings a delicate flavor to the baked goods and is a very healthy oil. Some people don't care for the coconut flavor, and if this is you just reach for a refined organic coconut oil. You will reap all of the benefits without the flavor.
How can I improve my vanilla cupcakes?
Because vanilla cupcakes with vanilla buttercream are so simple, they can quickly become lost to the fancier, more decadent recipes like rich red velvet, mocha espresso, or reeses peanut butter. The secret to the best homemade vanilla cupcakes lie in the quality of the ingredients.
Fresh, high quality ingredients make all the difference in the flavor quality and richness of the cake crumb. Using a pure vanilla extract as opposed to store bought vanilla will deepen the vanilla flavor. Fresh yogurt made with whole milk will bring a rich, creamy element to the crumb. And finally, a silky buttercream made with high quality butter and vanilla will finish them in an unforgettable way.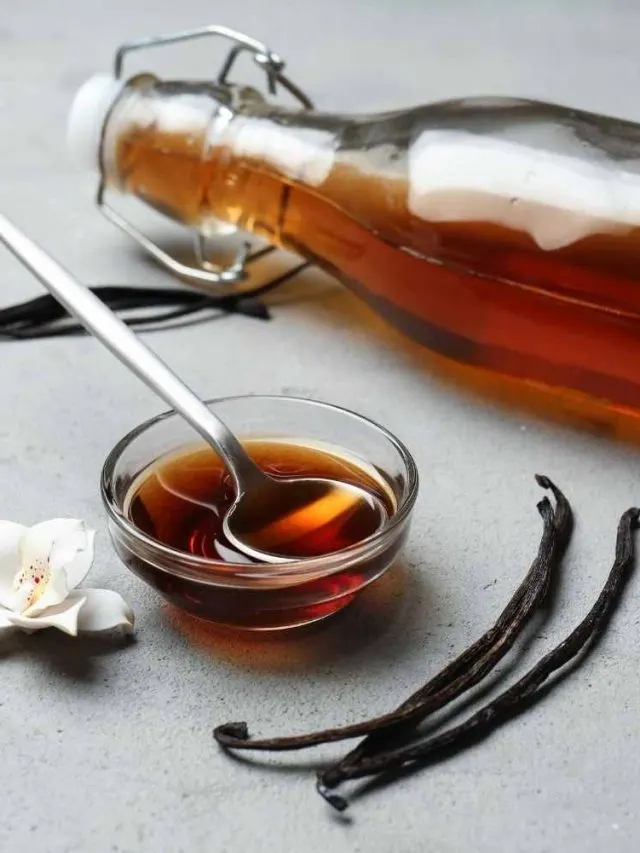 What flour is best for cupcakes?
Cupcakes are a delicate baked good where the crumb matters most. To achieve the lightest, fluffiest texture use cake flour. Cake flour is specifically made for baking desserts where the crumb and texture are at the forefront of the experience.
Cake flour is sifted to a finer grain which will yield a softer crumb. It also has a lower gluten content which helps keep the cakes lighter and fluffier. If you have to use an all purpose flour we recommend that you sift it a few times. This will get rid of any excessive lumps and will create a finer grain for your cakes.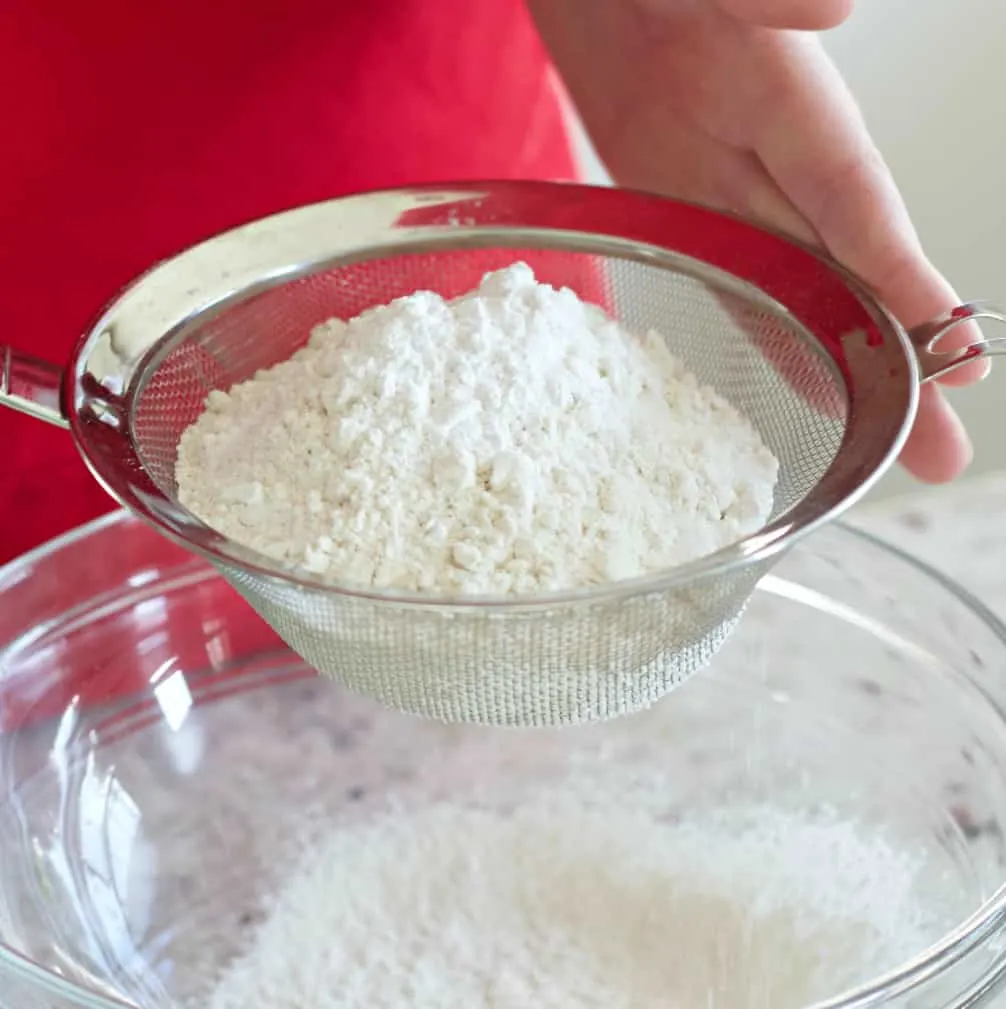 What type of frosting is best for cupcakes?
American buttercream is king in the baking world and arguably the best choice for cupcakes because it is easy to make and firm enough to stay put on top of the tiny cakes. American buttercream is made with only a few ingredients; butter, powdered sugar, whole milk, and vanilla extract. It blends together quickly and doesn't require the extra technique or finesse that Swiss buttercream demands.
In fact, it is nearly impossible to over mix this frosting. In most cases the longer you mix the fluffier it gets. It's also very simple to customize. You can add almond extract for a deeper and more complex flavor, add some food dye for a beautiful pop of color, and create any design you desire with piping bags and frosting tips.
Is heavy cream or milk better for buttercream?
Heavy cream will absolutely give you a deliciously fluffy and silk smooth buttercream. The higher the fat content, the better the buttercream. Whole milk is what we used for our homemade vanilla cupcakes, but you can absolutely swap that out for cream.
We all know that when you beat heavy cream you get whipped cream. This is because when you mix the cream you are incorporating air into the cream and transforming it into a thick texture that can eventually become butter. If you use cream, you will get a thicker, full bodied buttercream.
Can American buttercream sit at room temperature?
Generally speaking, a buttercream made with butter and/or shortening is stable at room temperature for up to 2 days. However, if you bring in heavy cream or milk, be cautious about leaving it out for extended periods of time especially in warm weather.
American buttercream will melt and breakdown in direct sunlight or higher heat so always keep it protected from direct sunlight. We recommend covering your buttercream or decorated cupcakes to prevent the buttercream from drying out and becoming crusty.
Is it better to make American buttercream a day ahead?
Buttercream is always best when enjoyed the same day it is made. The texture will be creamier and the flavor will be richer. If you do need to make your buttercream ahead of time, cover and chill in the fridge until you are ready to decorate your homemade vanilla cupcakes.
If your buttercream has been stored in the fridge be sure to let it warm to room temperature before decorating with it. Cold buttercream will be hard to work with and will not apply as smooth. It's also very important to cool the cupcakes completely before decorating with your buttercream because warm cupcakes will cause the buttercream to slide off or melt.
How can I serve homemade vanilla cupcakes?
This recipe can be easily increased for a large crowd and used as a recipe for 100 cupcakes in order to cater a large event or gathering. The recipe card is below and very easy to follow. Homemade vanilla cupcakes are a fantastic option for a large crowd because they are easy to serve and the flavor is appealing to nearly everyone.
However, if you are wanting to change up our homemade vanilla cupcakes, here are some ideas to get you going. We are also sharing ideas for how to decorate and display them
Top with fresh fruit
Use sprinkles to fit your theme and elevate the aesthetics of your party
Serve with cookies, fruits, or chocolates
Add almond extract to your buttercream to deepen the flavor
Use decorative cupcake liners to convey your theme or aesthetic
Color the buttercream to bring a pop of color
Have fun and add fruity cereals, candies, or mini cookies to the top
Use a two tone technique in your frosting to add a flair of elegance and intrigue to your cupcakes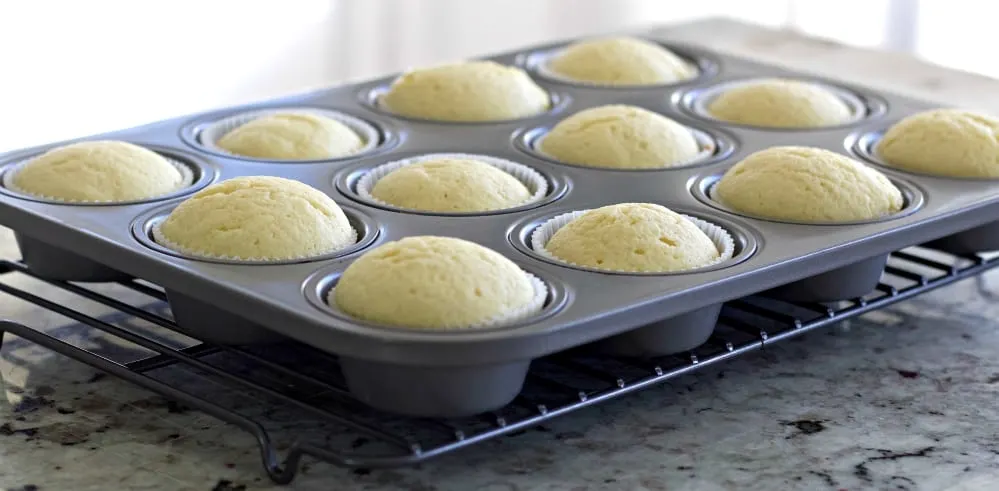 What are the best cupcake baking tools?
Cupcakes can be challenging to deal with if they are baked improperly, or if you are using low quality kitchen tools. We recommend a good quality muffin tin as this will help your cupcakes bake evenly, efficiently, and prevent sticking for easy clean up.
An ice cream or cookie scoop will ensure that you fill each tin with an even amount of batter which will also affect the bake of your cupcakes. We recommend filling each tin 2/3 full.
Stand mixers are fantastic for not only your batter, but also making your buttercream. They are efficient and can incorporate high amounts of air into the cupcake batter and frosting, yielding light and fluffy results. We love the kitchen aid mixers because they are sturdy, reliable, and available in a wide selection to fit your needs.
Looking for more cupcake recipes?
We have a large library of delicious recipes called Cupcake Corner. You are sure to find the perfect one for you. Below are some of our favorites. Click the pictures to explore these cupcakes. Don't miss the light an elegant moscato strawberry cupcakes, luscious blueberry lemon cupcakes, or our coffee cupcakes with a salted caramel buttercream. We even have a fun cake pop recipe!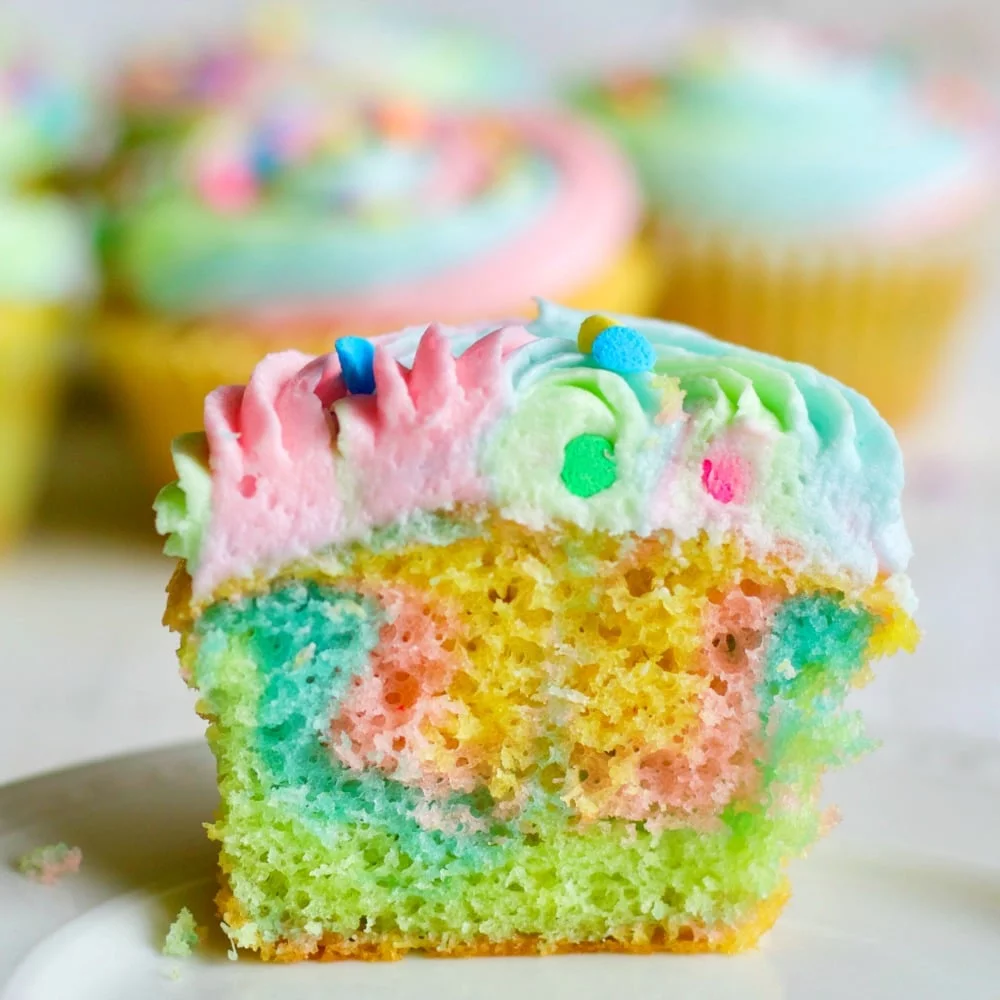 Printable recipe for homemade vanilla cupcakes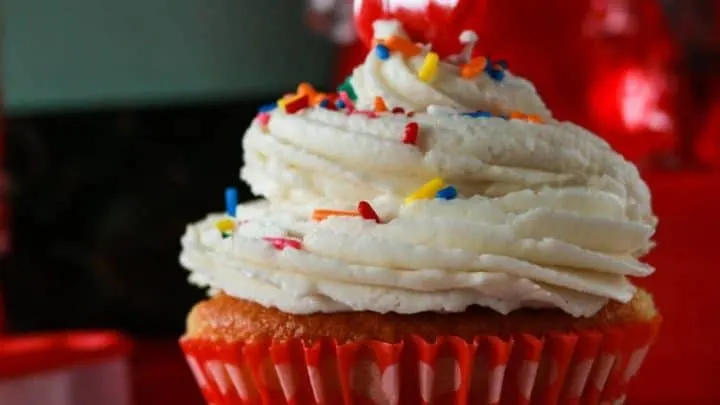 Homemade Vanilla Cupcakes
Light, fluffy, moist Homemade vanilla cupcakes made from scratch! Enjoy this simple low-sodium, low-sugar recipe made from wholesome ingredients you choose. Fill the house with vanilla aroma. Feed your family this divinely, simple treat! Kids love them. Dress these up for a Valentines party!
Ingredients
Cupcake Recipe:
1 1/4 cups flour
1 cup granulated sugar
1/2 cup Greek yogurt
1/4 cup coconut oil, melted
3 eggs
1 tablespoon Pure Vanilla Extract
1 1/2 teaspoons baking powder
Frosting Recipe:
3/4 cup (1 1/2 sticks) butter, softened
2 teaspoons Pure Vanilla Extract
3 cups confectioners' sugar
4 to 5 teaspoons milk
Instructions
Vanilla Cupcakes:
Preheat oven to 350°F.
Beat all ingredients in large bowl with mixer on low speed just to moisten.
Beat on medium speed 2 minutes.
Spoon into 12 paper-lined muffin cups
Bake 15 to 17 minutes or until toothpick inserted into center of cupcake comes out with moist crumbs.
Cool in pan 5 minutes.
Remove from pan; cool completely on wire rack
Frost as desired
Frosting Recipe:
Beat butter in a large deep bowl until light and fluffy. This will take several minutes. Do not stop beating the butter until it turns pale and velvety.
Gradually add confectioners' sugar, beating on low speed,(or you will get a face full of powdered sugar!) after each addition.
Beat in vanilla.
Add milk until you get the consistency you need.(NOTE: for decorator frosting make it dense enough to hold it's shape on a wooden spoon and not fall off the spoon when it is tilted).
Frost cooled cupcakes with Frosting as you desire. I used a decorator tip. It was easy and fun. Sprinkles are fun too if you like!
Nutrition Information
Yield
12
Serving Size
1
Amount Per Serving
Calories

331
Total Fat

8g
Saturated Fat

5g
Trans Fat

0g
Unsaturated Fat

2g
Cholesterol

50mg
Sodium

116mg
Carbohydrates

60g
Fiber

1g
Sugar

49g
Protein

4g