This homemade pineapple nut bread is a delicious vegan snack bread full of omega fats. Soft and fluffy with a wonderful flavor profile and lots of nutrition, it makes the perfect addition to your breakfast menu or as a hearty afternoon snack.
Quick breads are some of our favorite recipes to make all throughout the year. They are easy to store and provide a scrumptious option for lunchboxes, brunch tables and shareable food gifts. If you are looking for some more quick breads check out our Blueberry Banana Bread, Caramel Pecan Banana Date Bread, Cinnamon Spice Apple Bread, or Lemon Zucchini Bread.
What is pineapple bread made of?
Quick bread batters are made from butter, eggs, flour and sugar. They are dense and more cake-like than a standard bread and do not use yeast as a rising agent, rather the use of baking soda and baking powder is needed. Additions such as Greek yogurt can be used to make the bread even more moist and flavorful.
Canned pineapple chunks are added to the batter which gives this bread it's distinct flavor and soft texture.
There are ways to make quick breads healthier and even vegan, which is exactly what we have done with this recipe. We have substituted the shortening for coconut oil, replaced the eggs with flax seed and added a bit of whole wheat flour for a heartier texture. All of these substitutes produced a delicious vegan quick bread.
What makes a quick bread moist?
In order to achieve a moist quick bread that has a pleasant texture and a firm, but not dry crust, attention to detail is important. Over mixing is a common error in baking and quick breads are especially sensitive to it, be sure to mix the dry ingredients first and gently fold in the wet ingredients and nuts. Only mixing until everything is combined.
Properly measuring the ingredients is another important factor in baking a balanced bread. Be sure to follow the recipe and be careful of the bake time. Baking at a temperature that is too hight will result in an over baked crust and under done middle, while baking for too long at a low temperature can cause the loaf to become dry and crumbly.
Vegan substitutes for baking
If you are seeking to make your recipes vegan, or simply wanting to omit certain ingredients from your diet, there are many ways to do so. For this recipe we swapped out the egg by using a flaxseed substitute; this is done by combining 1 Tbs flaxseed meal with 3 Tbs of water and allowing it to sit for 5 minutes. This will replace one egg in your recipe.
If you are looking to use a healthier oil option for cooking or baking, or if the recipe calls for butter and you don't want to use butter, coconut oil is a great one to reach for. You will find that good quality coconut oils are easy to use and will add a slight flavor bump to your food, making them great for sweeter baked goods.
More Quick Bread Recipes:
All of these recipe are delicious and easy to make breads. We also have a scrumptious Pumpkin Bread!
How do you store pineapple bread?
Like all quick breads pineapple bread needs to be kept cool and in an airtight container to prevent drying out. It can be stored in your fridge for up to one week wrapped tightly in an airtight bag. Quick breads also freeze beautifully making them perfect for long term storage or gifts. Store in your freezer for 3 months tightly wrapped in plastic wrap and placed in an airtight sealed bag with the date marked and labeled.
Pineapple Nut Bread Recipe Notes:
The recipe will make one 9 x 5 inch loaf pan.
This pretty golden loaf baked perfectly in an hour in my oven. The recipe says to let this quick bread sit overnight to set up because it has a high moisture content. Be sure you allow it to cool and set completely before you cut into it.
This recipe does not have to be made with the vegan substitutions. Butter can be used in place of the coconut oil and eggs can easily be used in place of the flaxseed replacement.
You can use whatever bread flour is your favorite, we added the whole wheat flour for a bit more texture but it is not necessary if you don't have any or prefer it without.
Your Printable Recipe Card: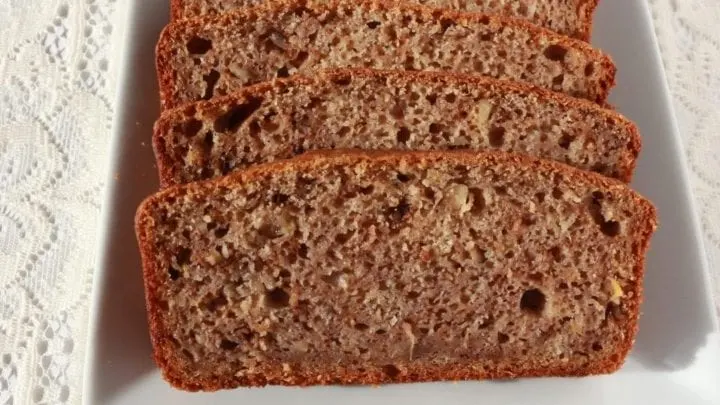 Yield:

12 slices
Pineapple Nut Bread Recipe
Additional Time:
15 minutes
Total Time:
1 hour
30 minutes
Moist, flavorful pineapple nut bread. A delicious vegan, vegetarian, dairy free, snack bread full of omega fats! This healthy bread is made with flax and coconut oil.
Ingredients
1 20 oz. can pineapple chunks (in 100 percent pineapple juice)
1/2 Cup walnuts-chopped
3 Tablespoons coconut oil-melted
1 Tablespoon flax meal
3 Tablespoons water
1 tsp. vanilla
1/3 Cup sugar
11/2 Cups all purpose flour
1/2 cup whole wheat flour
1/2 tsp. baking soda
2 tsp. baking powder
1/4 tsp.salt
Instructions
Preheat oven to 350 degrees F.

Oil one 9 x 5 inch loaf pan
Pour pineapple juice off the pineapple chunks and reserve.
Chop the walnuts in your blender until finely chopped as desired
Pour the walnuts into a large mixing bowl.
Pulse the pineapple chunks in your blender until pulped and pour over walnuts.
Add remaining wet ingredients(including the reserved pineapple juice), into the large mixing bowl and stir together.
Sift together the dry ingredients and add to the pineapple mixture. Stir until well blended.
Pour into the baking pan and let stand for 15 minutes. Then bake for one hour.
Remove from oven, remove bread from the pan and cool on a rack. Let stand covered overnight.
Slice in thin slices.
Notes
For Mini Loaves:
Bake for 28 minutes
Variation idea: Sprinkle sanding sugar on loaf top before baking to add a crusty bit of sweet to the loaf.
Nutrition Information
Yield
12
Serving Size
1
Amount Per Serving
Calories

342
Total Fat

8g
Saturated Fat

3g
Trans Fat

0g
Unsaturated Fat

4g
Cholesterol

0mg
Sodium

136mg
Carbohydrates

61g
Fiber

3g
Sugar

13g
Protein

8g
You can serve this loaf with the slices divided in half and get 24 servings. This will also cut the calories in half.
Follow Us:
We enjoy meeting you on our social networks. Follow us on Facebook, Pinterest, Instagram . Tag us with your pictures of our recipes and comment on how it went for you. We would love to see what you do with them.
We often like, comment and share your posts of our recipes on our daily Instagram stories.
Ask questions and rate the recipe in the comments section below. Please share what you did with this recipe. We are always looking for more and better ways to make homemade food. Other cooks love your ideas!
Recent Posts:
Recipe Source: Grandma Cash's recipe box