This light and crispy waffles recipe is absolutely divine, and so simple to make. With no added sugar, the waffles have a mellow flavor profile that allows your toppings to stand out. The texture is crisp and airy, much lighter than a traditional sugar and buttermilk based waffle.
Top these waffles with fresh fruit and cream, maple syrup and creamy butter, or use them as a base for a hearty sausage gravy breakfast.
In this post we are sharing our tips and tricks for cooking the very best waffles. There is a bit of finesse and skill to master when baking a breakfast pastry such as waffles, but it's well worth the effort.
Along with the skills that you need to learn, an important thing to remember is that the secrets are often in the details and ingredients of your recipes. We are breaking down the importance of understanding what exactly is in your waffle recipe, and how it will affect the type of waffles you will get.
How do you make waffles crispy?
In order to get a light and crispy waffle, you need your ingredients themselves to be on the lighter side. One of the best ways to achieve this is by swapping out buttermilk for milk. Milk has a thinner consistency which will yield a thinner, lighter batter that will inevitably make lighter, crispier waffles without sacrificing the delicious flavor that we all love.
Looking for more excellent breakfast Ideas? Check out our Breakfast Section!
Should you let waffle batter rest?
Allowing your waffle batter to rest while your waffle iron heats, roughly 10 mins, is a great trick that can help in getting a crispier exterior to your waffles. Resting the batter will allow the gluten to relax and expand, giving your waffles a softer interior texture. Cooling the batter will help the interior cook a bit slower and prevent overcooking while the exterior has a chance to get crispy.
Are waffles better with oil or butter?
Another important ingredient consideration is the use of oil or butter in your batter. Butter is a solid fat while oil is a liquid fat. If you are looking to get lighter and crispier waffles, using a high quality oil such as avocado or coconut will help thin out the batter, resulting in a lighter, crispier waffle. Butter will give you a thick, flavorful batter which will result in a scrumptious, heartier waffle; but oil is key if you are looking to enjoy that iconic crispy waffle texture.
How Much Do You Stir Waffle Batter?
Mixing your waffle batter is a very important factor that will affect the finished texture of your waffles. You want to first combine your dry ingredients, followed by the wet ingredients. Once your wet ingredients are added the batter will lighten and rise. It is very important to mix until the wet ingredients are just combined.
Over mixing your waffle batter will remove the air resulting in flatter, denser waffles. Resist the urge to break down any small lumps you may see. Once your egg whites are folded in, you do not want to continue mixing the batter.
This delicious, sustaining waffles recipe is straight from Grandma's recipe box. It is just what we would expect from her. A straight forward, no-fuss recipe for homemade waffles that are to die for! Grandma knew how to cook really good food.
Are you a sourdough cook? Try our Sourdough waffles recipe too!
How can I tell my waffles are done?
The best rule of thumb is to follow the manufactures instructions on your waffle iron, many will have a light indicator, an audible alarm or even a timer. Cook them until they are visibly brown and crisp, and easily release from the waffle iron. Generally waffles take 2-3 minutes to cook.
Why Are My Waffles So Heavy?
If you are getting heavy waffles it's most likely due to not properly lightening your batter. This skill takes some practice to master, but it is very important for the light, crispy texture that you are looking for in your waffles.
Here are a few Important tips for creating Light waffles:
First you will separate your eggs. Egg separators like these on Amazon make it simple.
The egg yolks will be mixed in with the wet ingredients, then you will whip the egg whites until they are stiff but not dry.
You are looking for a thick consistency but not peaks in your egg whites.
Once the egg whites are whipped, fold them very gently into your batter.
Do not mix the batter anymore.
Set the batter in the fridge while your waffle iron heats. This will allow the gluten in the batter to relax and expand, as well as cool slightly. This technique gives the interior of your waffles the chance to cook while allowing the exterior of your waffles time to crisp up without overcooking.
This waffles recipe is light due to beating the egg whites separately and gently folding them in. If you don't do this step, or do it incorrectly, the waffles will be heavier.
And really, this is an easy recipe for waffles. Just don't skip beating the egg whites. The results are worth it!
Light and Crispy Waffles Recipe Notes:
This classic waffles recipe will make 6 or 7 waffles.
These light and crispy waffles can be enjoyed with sweet toppings or savory. Our Savory Waffles And Gravy recipe makes a wonderfully hearty breakfast, or even a breakfast-for-dinner meal. We used this waffles recipe for the foundation. Delicious!
Remember to use a high quality oil from a trusted brand. Many oils are over processed and cut with fillers, try to find the best organic option possible.
Can you freeze This Homemade Waffles Recipe?
These waffles freeze and store beautifully! Here's how to freeze these waffles.
After you have cooked them, allow them to cool completely.
Place the waffles in a freezer safe airtight bag.
Label the bag with the date and place them in your freezer.
They will keep well for up to 2 months. Longer than that and you may encounter freezer burn or compromised flavor and texture.
To reheat simply pop them into your toaster! They will crisp and warm through beautifully. This recipe can easily be made ahead for quick breakfast options.
Crispy light Waffles Recipe printable Card:
This light crispy waffles recipe is simple and gives great waffles your family will love.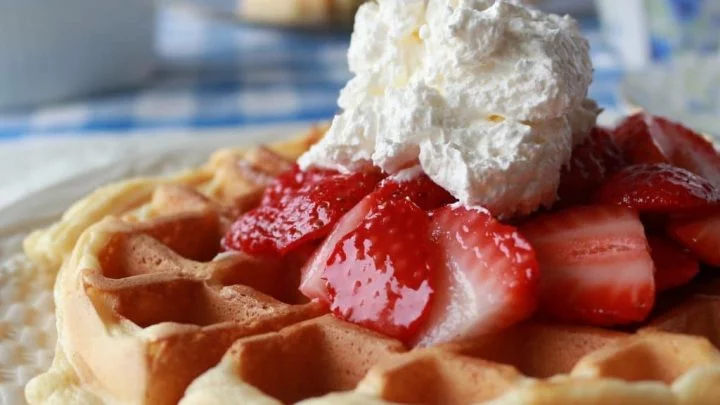 Yield:

6 waffles
CRISPY LIGHT WAFFLES
Crispy Light Waffles are sugar free waffles from my Grandma Cash's recipe collection. These vintage waffles are tasty with either savory OR sweet toppings.
Ingredients
2 Cups flour
2 tsp. baking powder
1 tsp. salt
1 Tablespoon lemon juice
3/4 Cup milk
3/4 Cup water
1/2 Cup avocado oil
3 separated eggs
Instructions
Sift together all the dry ingredients.
Beat egg yolks and add liquids
Add in the sifted dry ingredients, beating slowly with an electric mixer.
In a separate bowl:Beat the egg whites until stiff but not dry.
Fold the beaten egg whites into the batter gently. Do not overmix.
Cook on a preheated waffle iron for 3 to five minutes until done.
Nutrition Information
Yield
6
Serving Size
1 large waffle
Amount Per Serving
Calories

365
Total Fat

22g
Saturated Fat

3g
Trans Fat

0g
Unsaturated Fat

17g
Cholesterol

95mg
Sodium

604mg
Carbohydrates

34g
Fiber

1g
Sugar

0g
Protein

9g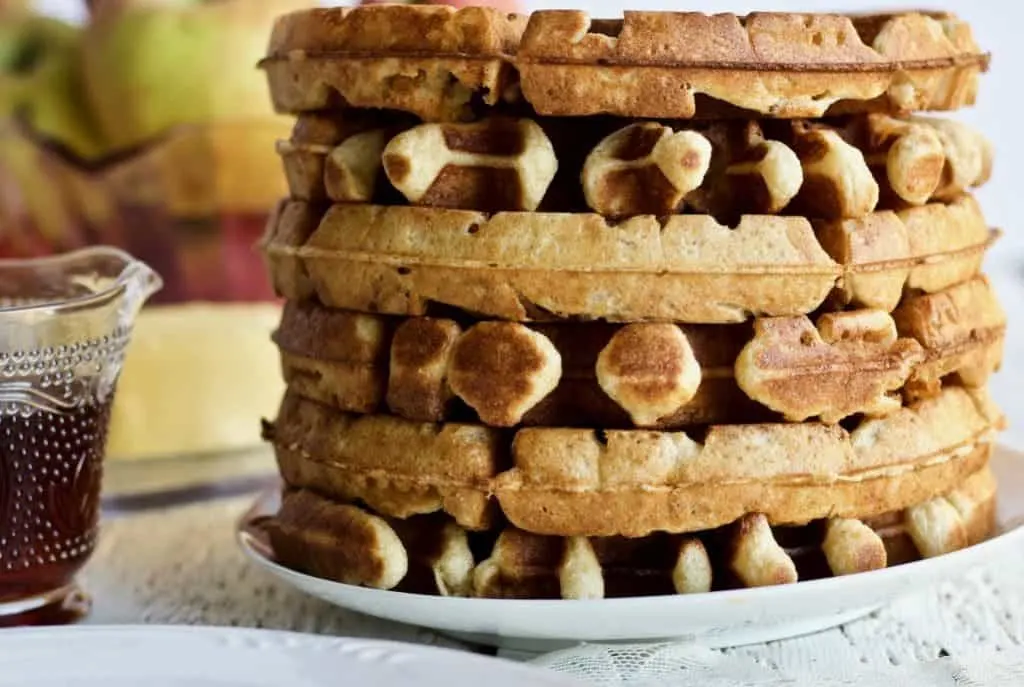 Follow Us:
We enjoy meeting you on our social networks. Follow us on Facebook, Pinterest, Instagram . Tag us with your pictures of our recipes and comment on how it went for you. We would love to see what you do with them.
We often like, comment and share your posts of our recipes on our daily Instagram stories.
Ask questions and rate the recipe in the comments section below. Please share what you did with this recipe. We are always looking for more and better ways to make homemade food. Other cooks love your ideas!
Recent Posts: