This Nutritious Breakfast Smoothie is made from an array of spectacular ingredients including spinach, strawberries, yogurt, oats, chia seeds and more for a sustaining and delicious meal replacement or post workout pick me up.
We absolutely love creating smoothies! They are fresh, delicious and very versatile. Anything from a high protein focus to a veggie and greens focused recipe you can make it happen in a smoothie. Smoothies are a great option for kids as well, they can be used in place of sweets or as an easy on the go option for a healthy nutritious snack in their day.
For this post we are building one of our favorite breakfast smoothies that we know you will love. With yogurt, oats and a hearty dose of fresh spinach and fruits it's a great way to kickstart your day.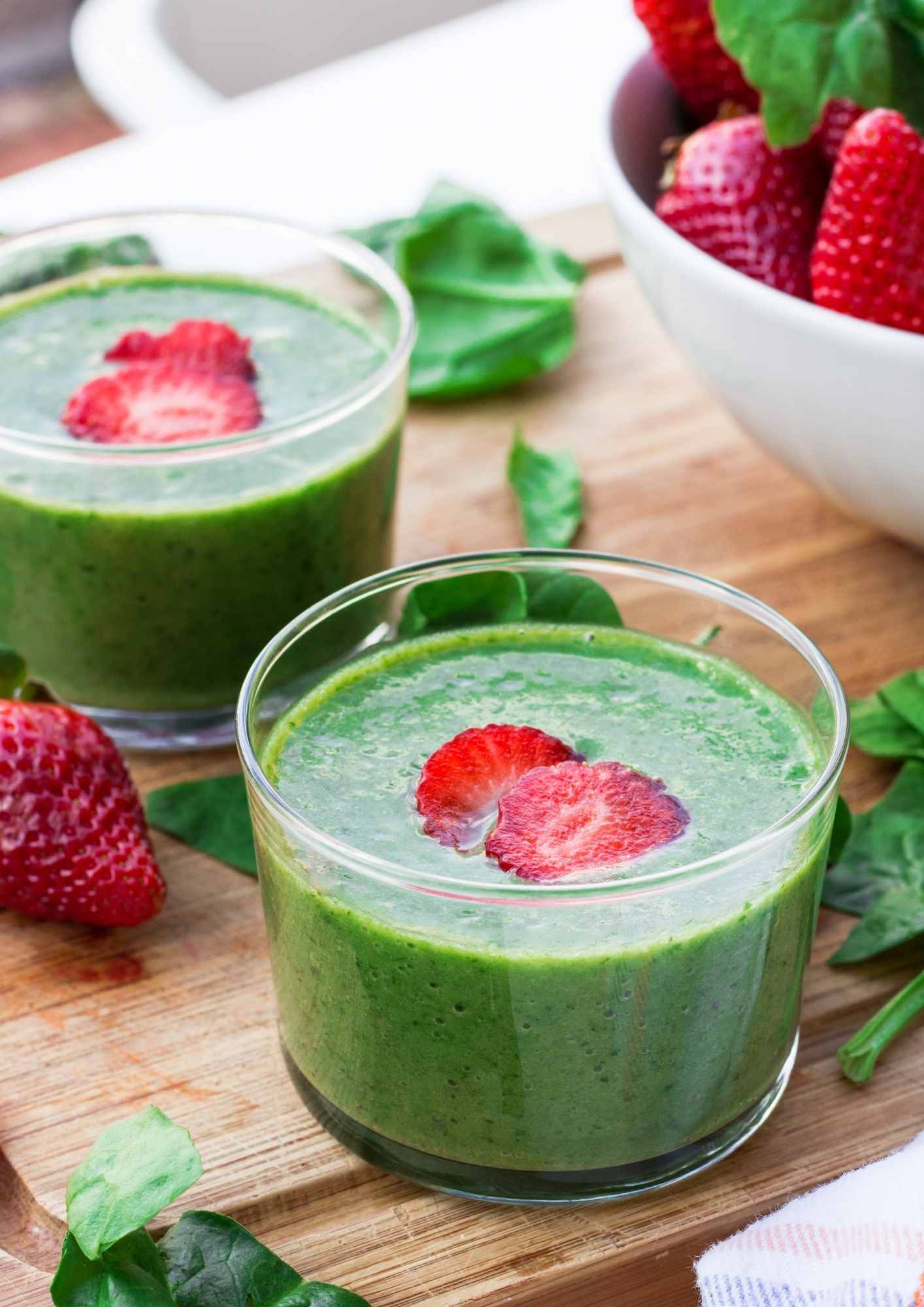 Is it healthy to have a smoothie for breakfast?
We all wonder, can it really be considered healthy to start my day with such a delicious drink? The answer is yes! Smoothies can be a very healthy way to begin your day, it all depends on the selection of ingredients your use and the portion size of your smoothie.
Smoothies can be used as a way to get your day going with supplement powders such as a protein or collagen powder simply by blending them in. You can add extra wellness supplements such as electrolyte drops or use coconut water which has natural electrolytes, spirulina powder for added greens and vitamins, flaxseed meal for additional fiber and so much more.
Smoothies can be whatever you make them and they are quick to bring together. Our family loves starting the day with fresh smoothies in a bowl topped with homemade granola, flaxseed and chia seed. It's a sustaining breakfast that everyone loves.
Our favorite blender is this Ninja Ultima Blender Plus (BL830)
, it receives outstanding reviews and the Ninja brand is loved in the wellness community.
We have several smoothie recipes you may enjoy. Take a look at Blueberry Banana smoothie antioxidant recipes, Fresh Strawberry banana Smoothie, Pina Colada smoothie and so many others. Just search smoothies in our blog search bar.
What are the healthiest things to put in a smoothie?
Okay, we all want a little guidance when it comes to recipes like this. Smoothies can be made with a nearly endless array of ingredients, but which ones are the healthiest? We are listing out some of our favorites to get you started.
Acai berries or blueberries, both are high in antioxidants
Greens like kale or spinach for lots of vitamin A, C, K, iron, folate and fiber
Flaxseed meal or oats for added fiber and complex carbs
Chia seeds for a boost of omega 3s
Avocado for a thickener that delivers healthy fats
Plain Greek yogurt for a natural protein boost
Spirulina, a natural organism that delivers protein, magnesium, vitamins B1, B2, B3 and more
Goji berries, they are high in antioxidants and vitamins A and C
Hemp seeds are another great source of protein and omega 3s as well as omega 6s
Maca powder which is known for energy and endurance support as well as hormone balance
What can I eat for breakfast with a smoothie?
Smoothies on their own are incredibly filling and sustaining, it is part of their appeal and convenience. However, if you are having a small smoothie as a way to get your supplements and vitamins in and you are looking for options that you can pair with smoothies to round out your breakfast, we have a few ideas.
Whole wheat, high fiber cereal
Eggs and toast
Crustless quiche
A bowl of oatmeal
Bran muffins
Our sugar free Greek yogurt pancakes
Potatoes with bacon and eggs
An assortment of nuts
Nutritious Breakfast Smoothie Recipe:
Our Nutritious Breakfast Smoothie is tasty and packed full of healthy ingredients with lots of fiber that help keep you feeling full!
Yield:

4 servings
Nutritious Breakfast Smoothie
A nutritious breakfast smoothie to help you kickstart your day into full gear! This Nutritionally Balanced, High-​Fiber, Low-​Sodium, Vegetarian, Gluten-​Free Breakfast smoothie is creamy and full of vitamins to get your day started in the right direction
Ingredients
1/2 Cup Almond Milk
1/2 Cup Yogurt
1/2 Cup Pineapple Juice
1 Cup Strawberries
1 Banana
1 Cup Frozen Berries
2 Cups Spinach Leaves
1/2 Cup Baby Carrots
1 Tbsp Steel Cut Oats
2 Tbsp Flax Seed
2 Tbsp Chia Seeds
8-10 Cubes of Ice
Instructions
Place all ingredients into your blender and blend away!
Blend until the consistency is to your liking
Add more liquid or ice depending on your consistency preferences
Nutrition Information
Yield
4
Serving Size
1
Amount Per Serving
Calories

185
Total Fat

5g
Saturated Fat

1g
Trans Fat

0g
Unsaturated Fat

4g
Cholesterol

2mg
Sodium

100mg
Carbohydrates

31g
Fiber

9g
Sugar

15g
Protein

8g
Follow Us:
We enjoy meeting you on our social networks. Follow us on Facebook, Pinterest, Instagram . Tag us with your pictures of our recipes and comment on how it went for you. We would love to see what you do with them.
We often like, comment and share your posts of our recipes on our daily Instagram stories.
Ask questions and rate the recipe in the comments section below. Please share what you did with this recipe. We are always looking for more and better ways to make homemade food. Other cooks love your ideas!
Recent Posts: