Our Blueberry Banana Smoothie is packed with nutrients and protein for a delicious and sustaining meal that is packed with plant nutrients, natural vitamins and antioxidants.
This healthy breakfast is low sodium, vegetarian, and naturally gluten free making it an excellent choice for a variety of different dietary needs and preferences.
Combining coconut milk, Greek yogurt, frozen blueberries and banana, your choice of protein powder, and finished with chia seeds this smoothie is a powerhouse.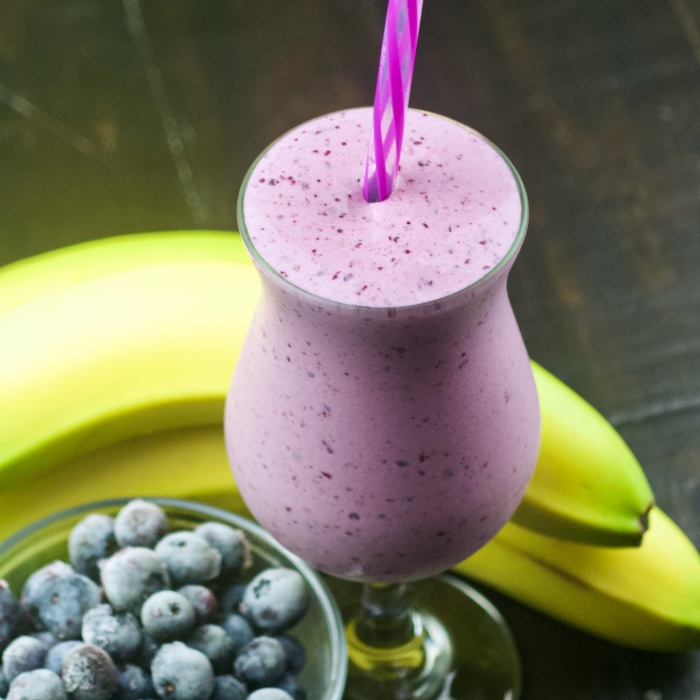 Blueberry Banana Smoothie Ingredients
Are Blueberries good in Protein Shakes?
WH foods page on blueberries describes, in detail, the health benefits of organic blueberries: Just one cup of blueberries, will support your body's health in all these ways.
A very good source of Vitamin K, C and manganese.

Heart health benefits include reducing cholesterol and improving blood vessel health. Blueberries also help regulate your blood pressure

.
Heavily loaded with Antioxidants and phytonutrients.
Blueberries help reduce the effects of mental aging.
Low glycemic function for great blood sugar affects.
Protection of the retina from oxygen and sun damage.
Help prevent breast cancer, colon cancer, esophageal cancer, and cancers of the small intestine.
Should I put Banana in my Protein Smoothies?
Bananas are an excellent and delicious fruit to include in your protein smoothies and shakes. They add natural sweetness and satisfying creaminess, they can be used as a base for nearly any ingredient combination, and are a low glycemic, high fiber fruit.
Bananas contain potassium and many vitamins and minerals.
What do Chia Seeds do for you?
Chia seeds have exploded on the mainstream scene as additions and garnishes to smoothies, yogurt parfaits, salads, and oatmeal based breakfasts. They provide an excellent source of fiber which is known to help reduce cholesterol levels and support intestinal health.
Chia seeds have 11 proven health benefits which you can read about in depth.
How do I make the best Blueberry Banana Smoothie?
The secret to a thick, creamy and delicious smoothie lies in the choice of ingredients and the balance between them. Be sure to follow the recipe for the best results. We are sharing some of our quick tips below.
Keep pre sliced, frozen bananas on hand. They are easy to add to smoothies and create a fantastic base for nearly any smoothie recipe.
Do not overfill your blender or the ingredients will not mix together as well, and could damage your blender.
Ice can be used as a calorie free filler for a creamy consistency.
Use coconut or Greek yogurt for added protein and creaminess.
If you are adding a protein powder we recommend a plain or vanilla flavored variety.
Allow the smoothie to blend for a good amount of time, this will yield a smooth texture with a lot of creaminess.
Add liquids in small amounts. Too much liquid will take away from the thick, creamy consistency.
Suggested substitutions you can try
You can use vanilla flavored Greek yogurt in place of plain. This will increase the overall sweetness of the smoothie.
You can add ice cubes into the smoothie if you would like it to be a thicker consistency.
Any milk can be used to replace coconut milk.
Use your favorite protein powder. We used Whey Protein.
Toss in either ground flaxseed or add more chia seed to boost breast milk production.
Add your powder supplements for a delicious and quick way to consume them.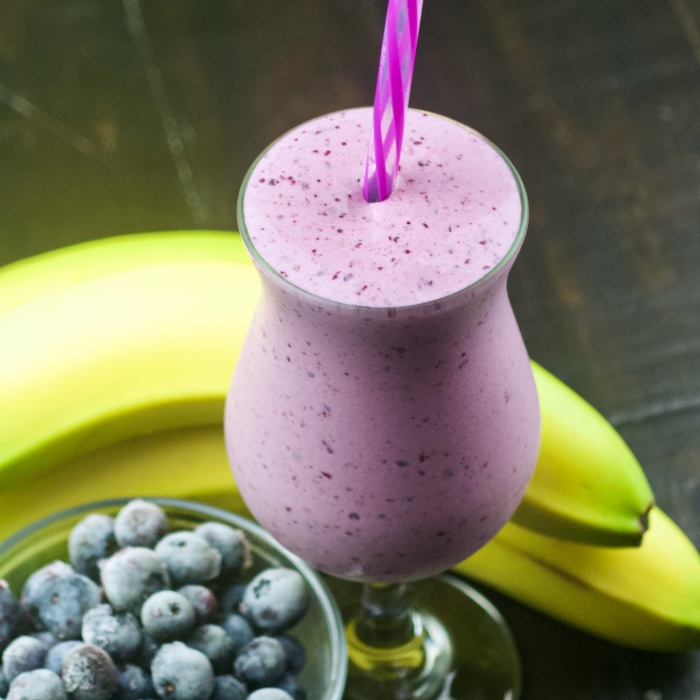 A note on lactose in this recipe:
This recipe contains Greek Yogurt. This is more digestible form of yogurt since it is strained. Straining out the whey from yogurt removes some of the lactose.
We make our own Greek Yogurt. If you do make your own yogurt you can strain out almost all of the whey.
Straining Greek Yogurt heavily until it is almost a cottage cheese consistency results in a very mild and luscious yogurt. Making your own Greek Yogurt in credibly simple to do and saves you money too.
How Many Calories In a Blueberry Banana Smoothie ?
Below you will find our complete nutritional breakdown for this recipe. This smoothie has an excellent nutritional profile.
Unless you are doing Keto this smoothie should work well for you. It has enough carbs and protein to be sustaining with a great fiber content.
Fiber will help digest the smoothie and get it through the gut in a healthy way. Leaving you feeling refreshed and energized.
Here is the Printable for this Healthy Blueberry Banana Smoothie Recipe:
Yield:

2 servings
Blueberry Banana Smoothie
Blueberry banana smoothie is packed with antioxidants and protein! This delicious smoothie offers a blend of healthy nutrients and yummy fruits. This healthy breakfast is Low-Sodium, Vegetarian, and Gluten-Free!
Ingredients
1/2 cup greek yogurt
1/2 cup coconut milk
1 cup blueberries-frozen
1/2 banana -frozen
1 tbsp protein powder-(we used whey protein powder-vanilla flavored)
1 tsp chia seeds
1 tsp lemon juice
Instructions
Freeze banana ahead of time. (I Suggest the night before and keep some handy
Put all ingredients into a blender and pulse until the smoothie is well blended.
Serve.
Notes
Substitutions and additions:
You can put ice cubes into the smoothie if you would like it to be a thicker consistency.
Add and 1 Cup tender greens for even more nutrients in this smoothie
Coconut milk only has 80 calories per serving. (any milk will work in this smoothie)
Use protein powder for the protein boost. Especially valuable for vegetarians.
RECOMMENDED FOR BREASTFEEDING: ADD 1 Tablespoon of either flaxseed or chia seed to boost milk production.
Nutrition Information
Yield
1
Amount Per Serving
Calories

254
More Great Smoothie Recipes from Homemade Food Junkie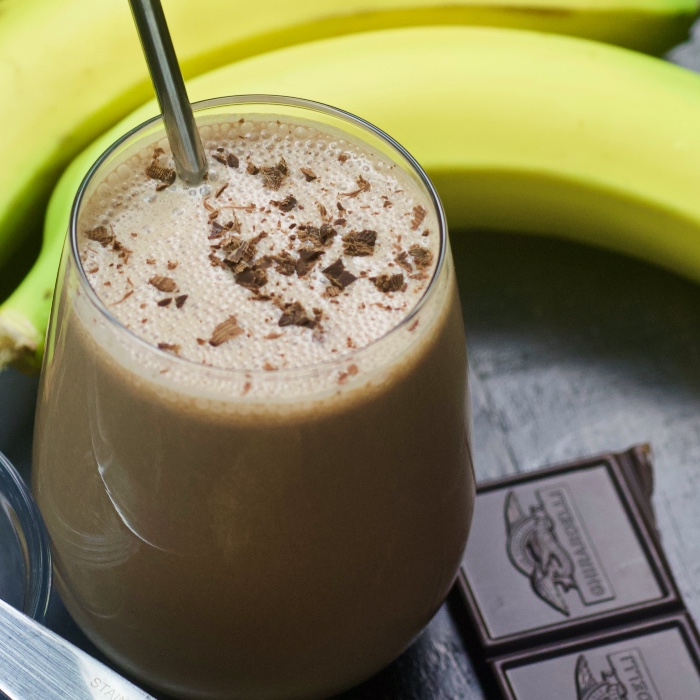 Follow Us:
We enjoy meeting you on our social networks. Follow us on Facebook, Pinterest, Instagram . Tag us with your pictures of our recipes and comment on how it went for you. We would love to see what you do with them.
We often like, comment and share your posts of our recipes on our daily Instagram stories.
Ask questions and rate the recipe in the comments section below. Please share what you did with this recipe. We are always looking for more and better ways to make homemade food. Other cooks love your ideas!
Recent Posts: