This Healthy Blackberry Smoothie fills you up with antioxidants, flavonoids, and vitamins. It's a great choice for breakfast since it has enough sustaining energy to keep you satisfied for hours.
This blackberry smoothie recipe has greek yogurt, milk and ground flax meal complement the healthy array of fruits and veggies in this pretty blackberry smoothie. This smoothie also contains healthy vegetables. The ingredients provide a generous mix of texture and flavors you will enjoy.
Green smoothies like this one are good meal replacers. This smoothie is full of good quality carbs that won't blow up your glucose intake too bad. But it will fill you up and get you going
What flavors pair well with Blackberry?
Blackberry is a delicious dark and healthy berry that pairs well with lots of different flavors. Here are a few of our favorite flavor pairings with blackberry:
Strawberry
Mango
Peaches
Banana
Lemon
Blueberry
Raspberry
Watermelon
Nectarine
Orange
Apple
Plum
Melon
Cinnamon
Cloves
Mint
Ginger
Almond
Hazelnut
Vanilla
More Delicious Smoothies: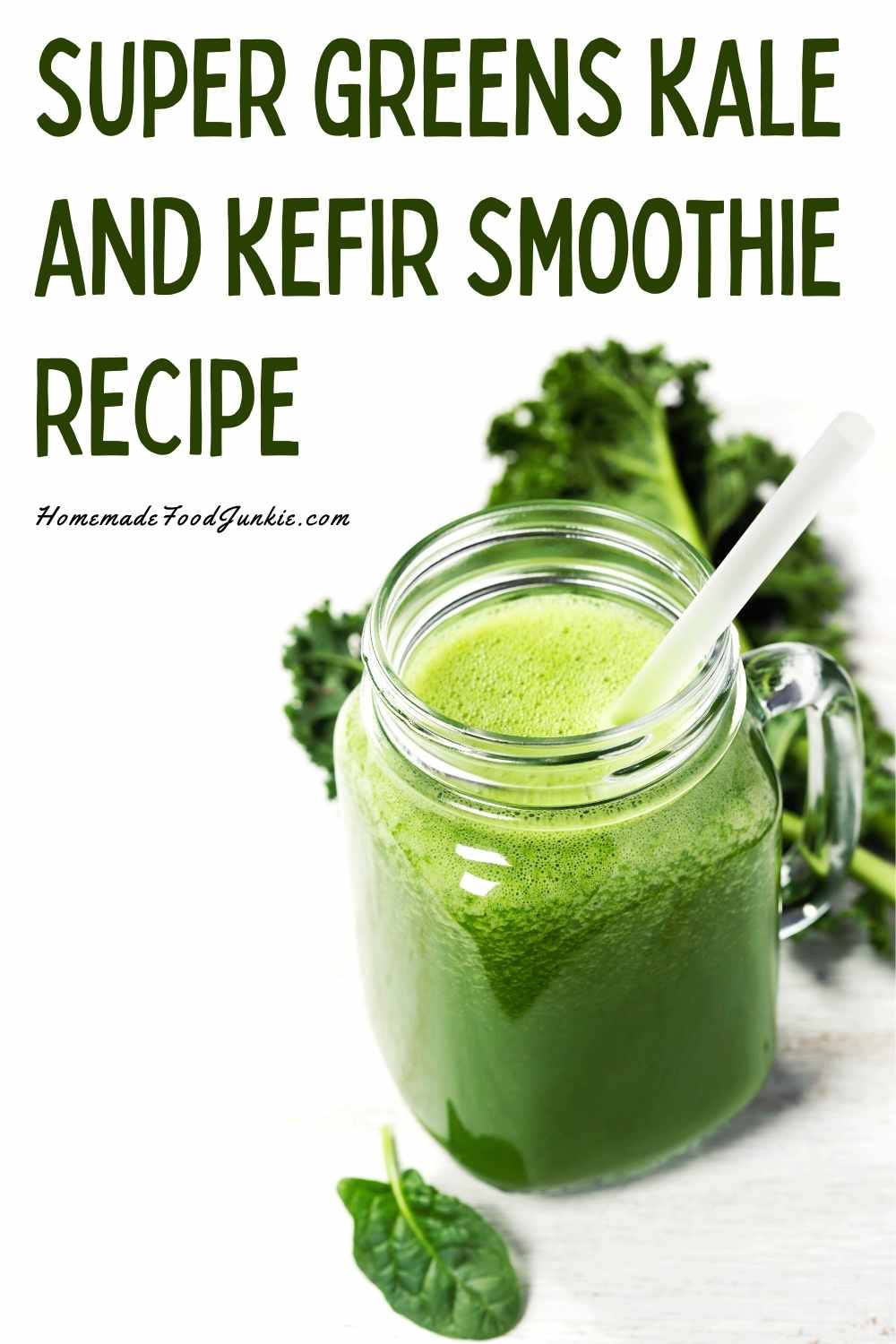 Blackberry Smoothie Recipe:
Making this smoothie is as simple as prepping a few fruits and veggies and giving your blender a whirl. It's worth the effort to make a good quality meal to start the day.
Blackberry Smoothie Ingredients:
The Berries
Blackberries work great as a base for smoothies. Blackberries have enough body, fiber and texture to fill out a smoothie. They also are naturally sweet.
Find a bag of frozen blackberries. You can use fresh if you have them. However the smoothie will have much thicker texture if you add the berries in frozen.
Blackberries are an all star superfood fresh or frozen. The health benefits of blackberries are amazing.

Organicfacts.com
Blackberries are not often bagged in the freezer section of your grocery. You may have to freeze your own from a U pick farm or farmers market.
They are outrageously expensive in tiny one cup containers at my local grocery stores. Which is annoying since blackberries literally grow like weeds in our area.
The Carbs:
Flax and steel cut oats are great carbs. They are naturally designed to keep the glucose index down and the fiber up for sugar digestibility and blood sugar control.
Blackberries and bananas are actually pretty good at blood sugar control too.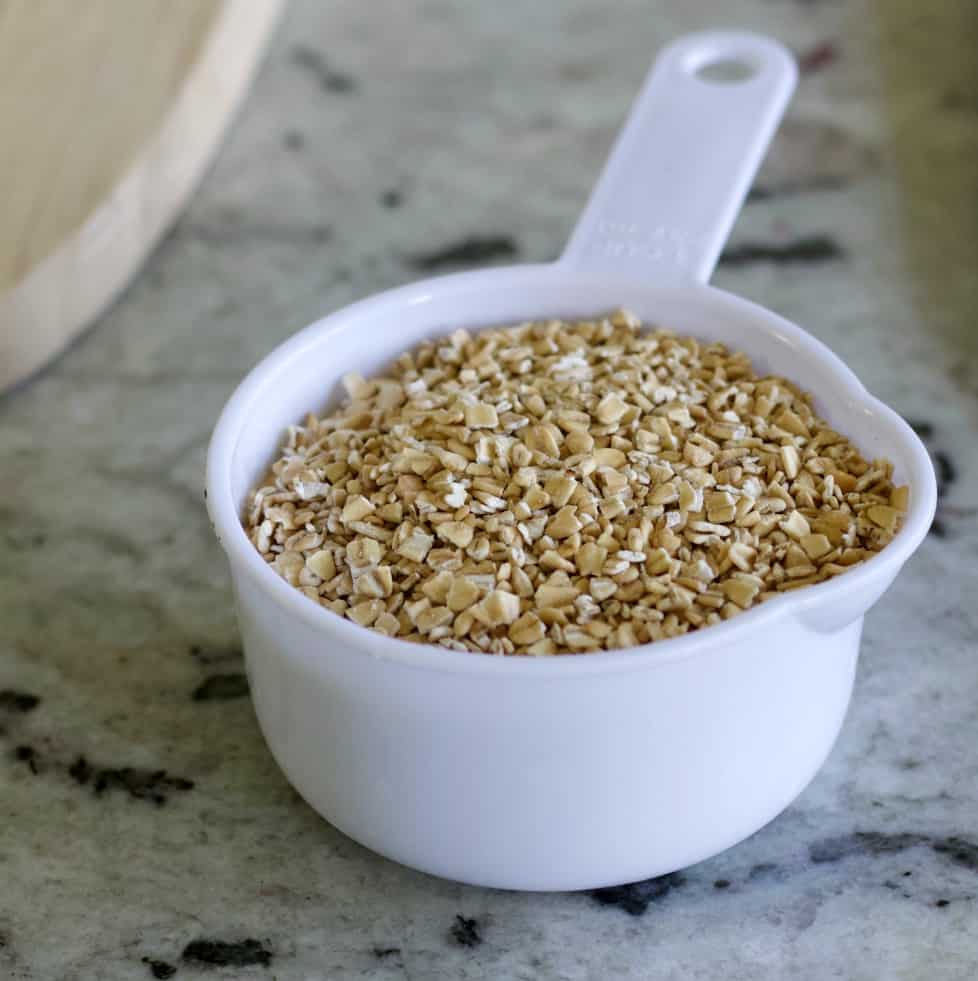 Healthy carbs and protein make this smoothie a sustaining meal replacement. I cut down the added sugars but fruit is naturally high in sugar. If you are on a strict low carb or low sugar diet smoothies may not be for you.
This smoothie is slightly sweet just from the fruits and vegetables. To lower the carbs and sugar even more, omit the maple syrup.
The Proteins:
You may choose to add your favorite protein powder and sugar free sweetener to make this a keto recipe. That is fine. Readjust the ingredients to suit your needs and tastes. It's a flexible recipe.
Using full fat Greek Yogurt and full fat milk adds lots of protein and sustaining fats which help you get through the day.
NOTE: If you are dairy free you can omit the dairy in this recipe and replace it with an almond, rice or oat milk alternative .
The Other Fruits and Vegetables:
Fresh carrots, oranges and the incredibly good for you banana add sweetness and vitamins with flavonoids. Fresh greens and yes carrots fill out this meal replacing smoothie.
This combination of fruits and vegetables gives you an array of nutrients.
About the oranges: I used cutie oranges. The extra zing of sweet tart flavor of cuties is well suited to this smoothie recipe.
You can use a navel orange or even a blood orange if you prefer. But Only use FRESH oranges. Not canned mandarins.
The carrots may seem counterintuitive for a smoothie. Do they blend up well raw? Yes. Do they give the smoothie body and a chunky texture? For sure they do.
You can leave out the carrots if you really want a finer textured morning drink. This smoothie is almost thick enough to chew with a TON of healthy fiber.
In fact, doing some chewing of your smoothie actually helps with satisfaction. Give it a try.
Spring greens are readily available year round in stores. They make a nice blended drink.
Wild spring greens like Nettles, Dandelions and blackberry shoots are full of amazing nutrients and make great additions to this smoothie recipe…not kidding. Try them!
This is a really satisfying smoothie. You will know you ingested something wonderful.
Your Printable Blackberry Smoothie Recipe Card: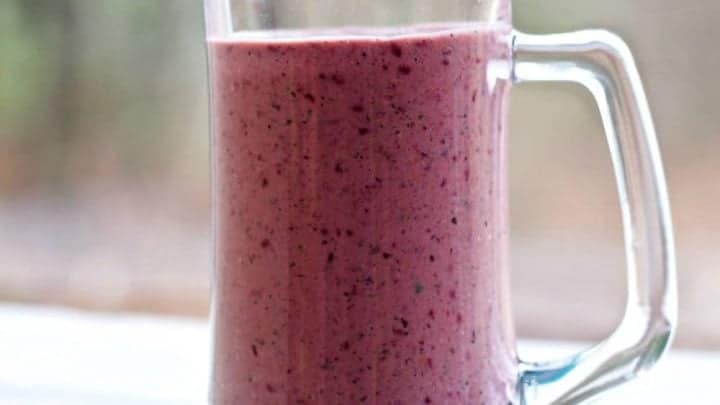 Yield:

4 servings
Healthy Blackberry Smoothie
Healthy Blackberry Smoothie fills you up with antioxidants, and vitamins.. This Gluten Free, high fiber, high protein drink is a delicious way to enjoy an easy tasty breakfast with tons of nutrients your body will love!. This thick, rich liquid breakfast is filling and delicious. Greek Yogurt, milk and ground flax meal complement the healthy array of fruits and veggies in this pretty smoothie
Ingredients
1 Cup Frozen blackberries
2 Cups Spring Greens
1 banana
3 mandarin oranges
1 large carrot
1 Tablespoon Maple Syrup
1 cup Greek yogurt
1 Cup milk
1 Tablespoon ground flax
1 tsp. steel cut oats
Instructions
Peel the banana and oranges and break apart the sections
Chop the carrot into 1/2 inch sections
Add all the ingredients to your blender and pulse until it is blended up. Adjust liquids to your desired consistency.
Nutrition Information
Yield
4
Serving Size
1
Amount Per Serving
Calories

217
Total Fat

3g
Saturated Fat

1g
Trans Fat

0g
Unsaturated Fat

1g
Cholesterol

8mg
Sodium

71mg
Carbohydrates

41g
Fiber

7g
Sugar

26g
Protein

11g
More Delicious Smoothie Recipes:
Follow Us:
We enjoy meeting you on our social networks. Follow us on Facebook, Pinterest, Instagram . Tag us with your pictures of our recipes and comment on how it went for you. We would love to see what you do with them.
We often like, comment and share your posts of our recipes on our daily Instagram stories.
Ask questions and rate the recipe in the comments section below. Please share what you did with this recipe. We are always looking for more and better ways to make homemade food. Other cooks love your ideas!
Recent Posts:
SaveSave SaveSave SaveSave SaveSave SaveSave
SaveSave
SaveSave
SaveSave