Comforting, filling, creamy, fresh strawberry banana smoothie. A perfect, high-energy, breakfast in a mug, for a busy morning. Blended with coconut milk and Greek yogurt. This smoothie is Low-Sodium, Vegetarian, and Gluten-Free!
For a quick and healthy breakfast or snack, this smoothie delivers! Delicious sweet bananas and strawberries blended with rich and creamy Greek yogurt and coconut milk. If you want to add a little extra sweetness, drop in a teaspoon of honey.
What is a Strawberry Banana Smoothie Made With?
A strawberry banana smoothie is made with strawberries, bananas, yogurt, and milk. Some people may also choose to add a little bit of honey in for extra sweetness. To make this smoothie vegan, simply swap the yogurt for vegan yogurt and milk for coconut milk.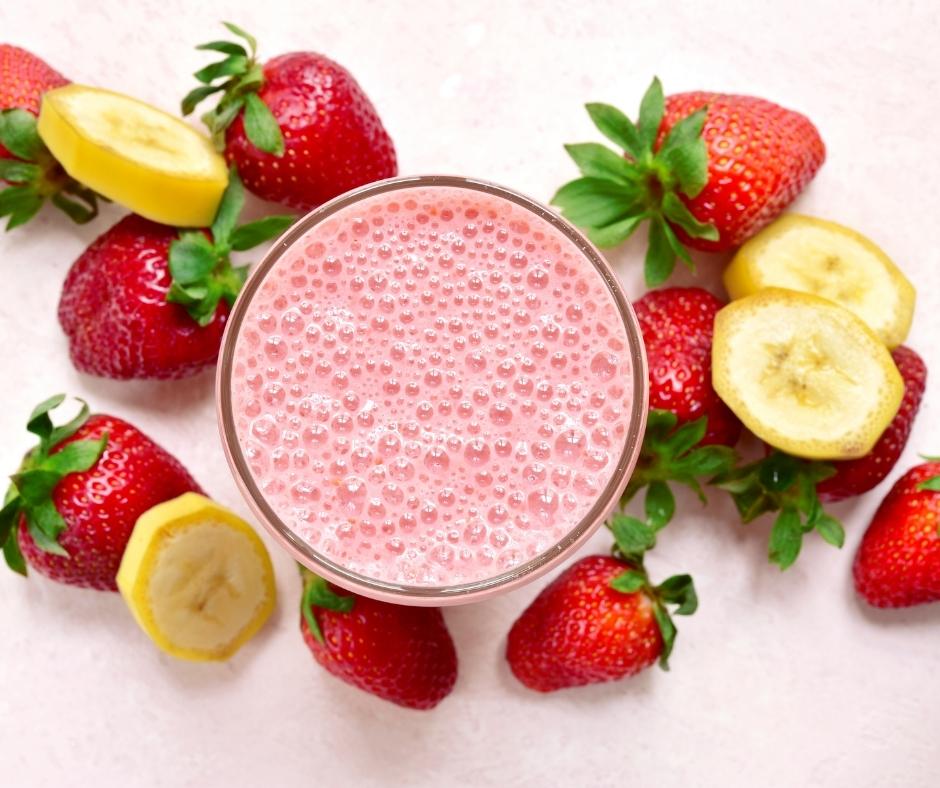 Here are a few common questions we ran across during our recipe research:
Is Strawberry Banana Smoothies Good for You?
Strawberry Banana smoothies can be made a little healthier by taking a look at the ingredients we are adding. Healthy means different things to different people. If you are watching your calorie intake, consider using a liquid that is lower in calories. Strawberries and bananas both contain vitamin c, potassium, and several other vitamins and minerals. Depending on what liquid you choose to add-in, you can pack in a lot of extra protein and calcium into the smoothie.
What Liquid is Best for Fruit Smoothies?
A few common liquids that are added to smoothies include water, milk, coconut milk, oat milk, yogurt, and juice. You can add them in different combinations depending on your taste and nutritional preferences. Milk provides a nice boost of protein and calcium. Fruit juices can sweeten up your smoothie and make it taste delicious, although the juices do add a lot of natural sugar to the smoothie.
| Liquid Ingredient | Calories (4oz Serving) | Strawberry Banana Smoothie Total Calories |
| --- | --- | --- |
| Water | 0 | 230 |
| Milk (Whole) | 75 | 305 |
| Coconut Milk (Simple Truth) | 40 | 270 |
| Oat Milk (Planet Oat) | 45 | 275 |
| Plain Greek Yogurt (The Greek Gods) | 110 | 340 |
| Orange Juice (Simply Orange) | 55 | 285 |
| Kroger No Sugar Added 100% Pineapple Juice | 60 | 290 |
How each liquid ingredient can affect calories in a smoothie
Is it Good to Drink a Strawberry and Banana Smoothie Everyday?
Drinking daily smoothies is a great way to add extra vitamins and minerals to your daily diet. To get the full benefit of various vitamins and minerals, you might want to consider switching up the fruits you add to your smoothie.
Strawberries and bananas do provide a good boost of vitamins. The biggest concern would be the amount of sugar you are intaking daily. Make sure that whatever smoothie you choose to consume fits in with your daily sugar intake and nutritional goals.
Do You Put Ice in a Smoothie?
You may add ice to any smoothie. The ice will change the consistency and temperature of the smoothie. A good practice is to add ice into smoothies made with fresh fruits to add a thicker texture. If you are making a smoothie with frozen fruit I would omit the ice. Frozen fruit will add a thick consistency to the smoothie and help bring the temperature of the beverage down. Ice is not needed when you are adding in frozen fruit. The only caveat to this would be if you wanted an extremely thick smoothie consistency.
Is it Better to Make Smoothies with Fresh or Frozen Fruit?
Is fresh or frozen fruit better for smoothies? Generally, people use frozen fruit to make their smoothies have a thick consistency and icy cool temperature. Fresh fruit works great if you want a smoothie that is a more liquid consistency. If you use fresh fruit we would recommend adding in ice to help thicken it up a little bit and cool the smoothie temperature down.
Materials Needed
Blender
Fruit Pairing Knife
Drinking Cup
Straw
We have put together a printable recipe card so you can always have the recipe with you! Just hit the print button and save the recipe for the strawberry banana smoothie drink.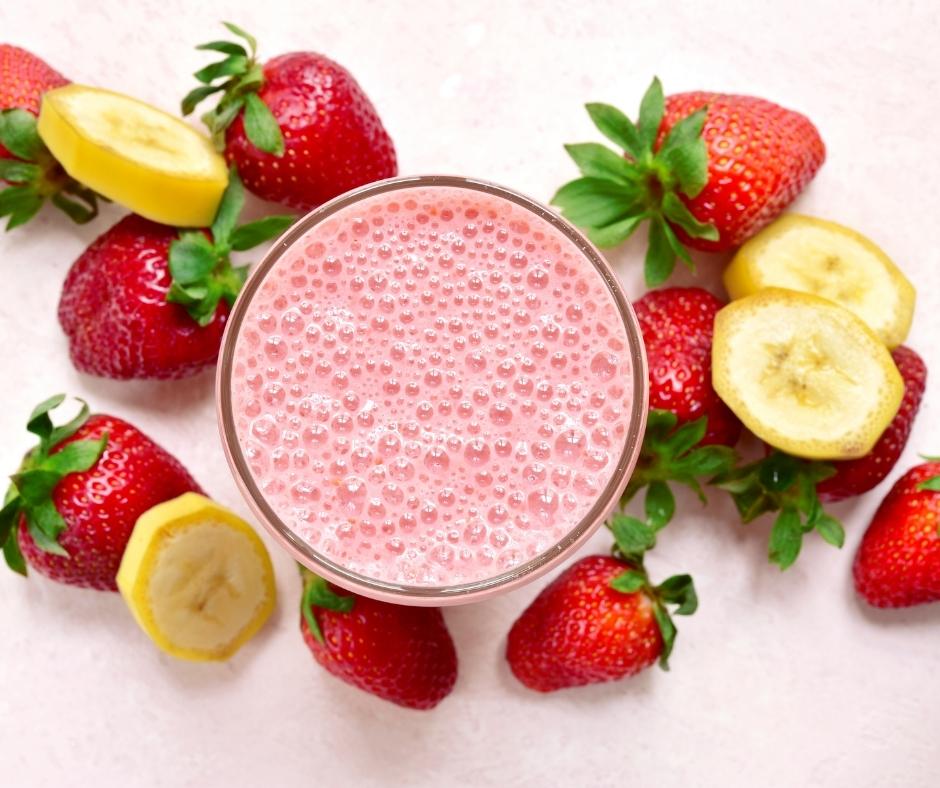 Yield:

1 Serving
Strawberry Banana Smoothie
Comforting, filling, creamy, fresh strawberry banana smoothie. A perfect, high energy, breakfast in a mug, for a busy morning.
Ingredients
1 banana (fresh or frozen)
6 strawberries (fresh or frozen)
1/2 cup fat free greek yogurt
1/2 cup simple truth original coconut milk
Instructions
In your blender, add the milk and yogurt
Place lid on the blender and pulse until smooth
Add the washed, hulled strawberries, and pulse again once.
Peel the bananas and add them into the blender in chunks. Pulse until the smoothie is blended
Enjoy!
Notes
To make this smoothie vegan, swap out the yogurt and milk for vegan yogurt and coconut milk.
Our video below shows you how to make a delicious blueberry banana protein powder smoothie.
Nutrition Information
Yield
1
Serving Size
1
Amount Per Serving
Calories

270
Total Fat

3g
Saturated Fat

3g
Trans Fat

0g
Unsaturated Fat

0g
Cholesterol

5mg
Sodium

63mg
Carbohydrates

52g
Fiber

6g
Sugar

36g
Protein

11g
More Delicious Smoothie Recipes: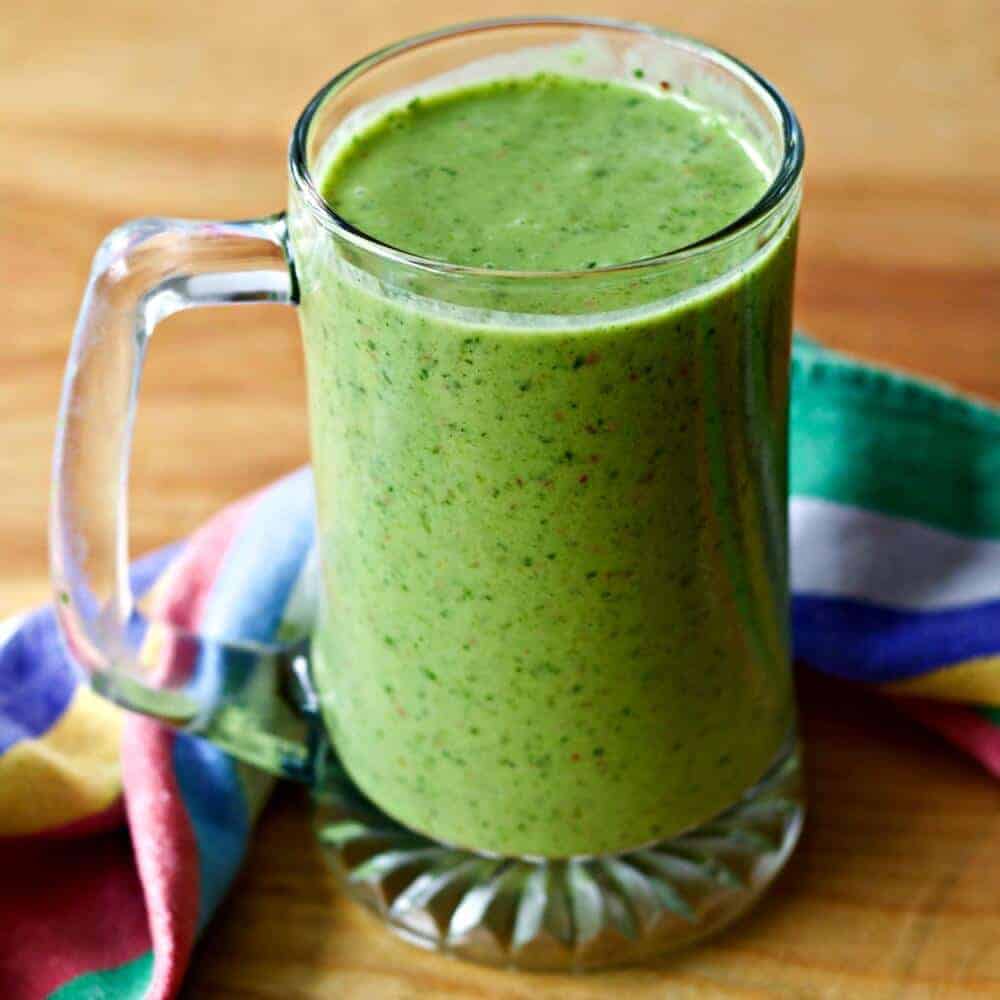 Follow Us:
We enjoy meeting you on our social networks. Follow us on Facebook, Pinterest, Instagram . Tag us with your pictures of our recipes and comment on how it went for you. We would love to see what you do with them.
We often like, comment and share your posts of our recipes on our daily Instagram stories.
Ask questions and rate the recipe in the comments section below. Please share what you did with this recipe. We are always looking for more and better ways to make homemade food. Other cooks love your ideas!
Recent Posts:
Pin it: