Fresh blueberries are a popular and delicious healthy snack. High in antioxidants, these delicious little berries are among the most popular fruit.
In North America, blueberries are in season from early June through early August. A popular past time for blueberry fans is to go blueberry picking. You can pick pounds of delicious berries at a time and the only problem you will have is eating them before they go bad. This leads to a common question.
Can I freeze fresh blueberries? Fresh blueberries can be frozen and stored for at least 6 months in the freezer. This is a great way to preserve large quantities of blueberries from harvest. Different techniques will give different results in the texture and quality of the frozen blueberries.
There are a few different methods and techniques to properly freezing fresh blueberries. We will go over all of them in this post along with covering some common questions about the process.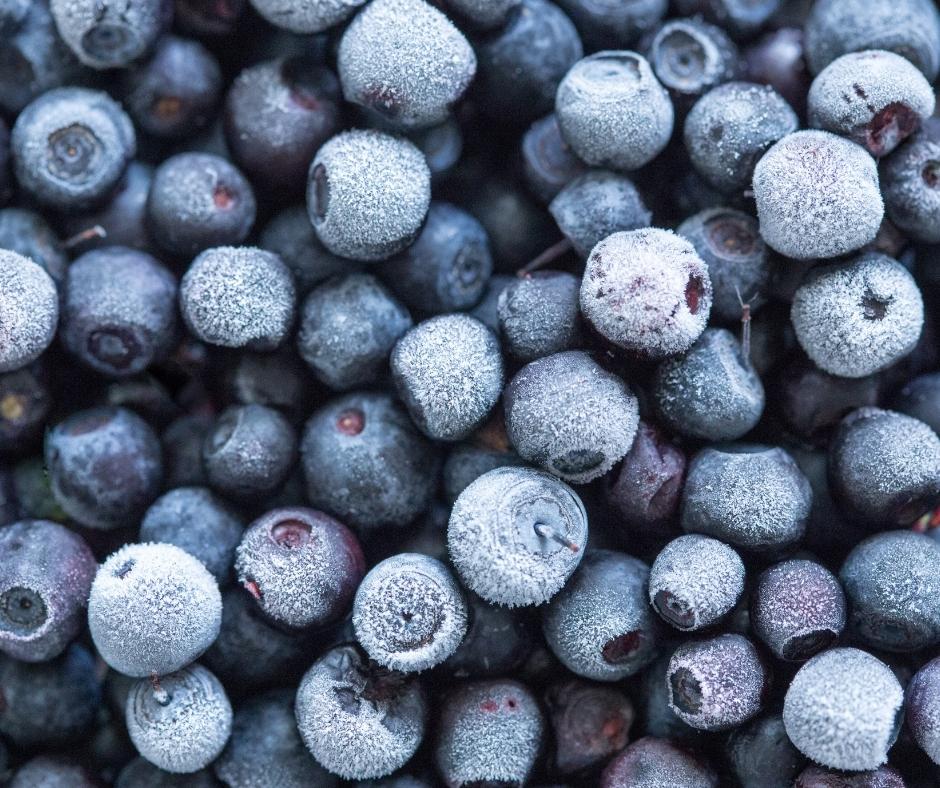 How Long can Blueberries be Frozen?
Blueberries that are properly frozen and in airtight containers can last anywhere from 6-12 months in the freezer. Proper preparation and storage containers can affect the freezing duration of the blueberries. For optimal freezer time, make sure you do not wash the blueberries prior to freezing (this removes the protective "bloom" layer and can dehydrate the blueberries). Ensure that you are freezing them in an airtight container or freezer ziplock bag.
How Long do Fresh Blueberries Last?
Properly stored fresh blueberries can last 10-12 days in the refrigerator. This is especially true for fresh picked blueberries from local farms. For best freezing results, you will want to start processing and freezing your blueberries the same day you pick them or purchase them.
Blueberries are highly perishable and begin to lose nutrients and juices very quickly after they are removed from the bushes. Washing blueberries can speed up the rotting process since you are removing the protective natural coating on the skin. For best results only wash the blueberries right before you are ready to consume them.
Should you Wash Blueberries Before Freezing Them?
Do not wash blueberries before freezing them. Blueberries naturally have a protective coating on the skins called the '"bloom." The bloom protects the berry against harmful bacteria and pests. The protective coating is also beneficial in maintaining juicy blueberries. The frozen blueberries can be rinsed before consuming after they are thawed and ready to use.
If you already washed the blueberries, lay them out flat and dry them on an absorbent cloth. Ensure the blueberries are thoroughly dried-off before trying to freeze them. If the berries are frozen with any water on them, they will freeze together and the quality of the berry will be compromised.
How Do you Freeze Blueberries Without Getting Mushy?
Unfortunately it is nearly impossible to prevent berries from becoming a little mushy after freezing and thawing. Berries will naturally lose some of the plump and round texture during the freezing process. However, there are some ways that you can minimize the mushiness as much as possible.
Ensure you are freezing completely dry berries (if they have been picked in the rain or washed, dry them off thoroughly and gently.)
Lay them on a flat tray to flash freeze. (a baking sheet works great)
Keep a close eye on the blueberries during the flash freeze, they can become freezer burnt quickly.
Once the berries are completely frozen pull them out of the freezer.
Transfer the blueberries to your preferred freezer container or bag
Label the container with the date and return the flash frozen blueberries to the freezer.
Frozen berries will not maintain the round and plump texture they had when they were fresh. Thawed berries are best used in baking, smoothies, and granolas. The frozen berries should still taste delicious and they maintain antioxidants and nutrients just fine when frozen.
Can you Freeze Blueberries in a Plastic Container?
You can freeze blueberries in plastic containers. Different containers can preserve the frozen blueberries for longer periods of time. The plastic container that the blueberries come home from the store in can be used. However, if it is not an airtight container, the frozen blueberries may become freezer burnt quicker.
For longevity when freezing blueberries, an airtight plastic container is best. Freezer ziplock bags are also a great option for storing blueberries. This is the most common way to preserve and freeze blueberries. Just be aware that whatever container you use, air tight means longer storage time.
How do you Know if Frozen Blueberries are Bad?
Frozen Blueberries going bad in the freezer is commonly due to freezer burn. Freezer burned berries often present with pockets of discoloration, and excessive ice crystal formation. The blueberries can also take on a dry and shriveled appearance. Excessive freezer burn can cause the blueberries to have a woody taste. When berries are frozen the excess water freezes and causes the blueberries to dehydrate.
Storing frozen blueberries in an airtight container will help decrease the likelihood of freezer burn. Excess exposure to air and dry frozen air speeds up the dehydration process of frozen blueberries.
Light freezer burn is usually not an issue and you can still consume blueberries that have just started to become freezer burnt. Use them up as quickly as possible if the blueberries are becoming freezer burnt.
FREEZING BLUEBERRIES: THE PROCESS
Prep:
Pick perfectly ripe berries for best nutrient and flavor value. This applies to anything you plan to freeze or otherwise preserve.
Clean pick them as much as possible. This means, as you pick them into the bucket, remove all debris and stems. This helps immensely reduce your kitchen prep time later
Bring your perfectly ripe, clean picked blueberries into your kitchen and give them another look over. There will be some stray missed bad berries, dirt, and maybe a stray bug or two.
Lay the berries on a tray and freeze them to prepare them for the bags. Make sure you keep a close eye on the berries and ensure they do not get freezer burnt.
Once the blueberries have frozen solid, remove them from the freezer.
Fill the bags
The easiest way to fill your bags is with a canning funnel.
put them into freezer bags. Or vacuum pack them if you have a sealer. I use ziplock one quart freezer bags. They are a good size for a couple of recipes for defrosted berries and are heavy so the berries will not freezer burn. You may use the gallon size if you are into big production but they may be more difficult to work with in a smaller freezer area.
Do not overfill your bags or leave extra air in them. The idea is that every bag is filled with a bit of headroom for closing the bags and pulling the air out. Air in the bags will expose the food to freezer burn.
Take out as much air out of the bags, once filled, as possible to help protect your berries in the freezer. You want the bags to appear a bit sucked in when you put them in the freezer. This assures the blueberries are exposed as little as possible to air during freezing. This is the big advantage of vacuum packing!
The method I use for removing extra air:

After filling the bag close the ziplock seal almost completely.
Gently Press the air out, until the berries are compressed but not squashed.
Then use a straw in the small opening of the partially sealed bag, and suck the air out. Close the seal while quickly removing the straw.
The main idea is to retain the integrity of the blueberries and reduce the air content in the bag as much as possible.
If a straw isn't handy I close the bag almost all the way and then suck out the air on a corner. Works great in a pinch.
Label your bags or freezer containers
Ensure that you properly label each bag or container with the date before adding them to the freezer.
Filling the Freezer
Lay the bags flat to freeze. Use a cookie sheet if necessary, I have flat surface area in my freezer right now so I just use that. It helps a great deal to maximize your freezer area and protect the bags edges if the bags are flat.
Defrosting TIP: When you defrost bags with a wet content, put the bags into bowls so they don't cause streams of leaky, defrosted water all over your kitchen!
Now the work is done. They should stay fresh in the freezer until the next growing season with this method. Enjoy your berries this winter!
Our Favorite Blueberry Recipes
We have a printable card with the steps on how to freeze your fresh blueberries. If you would like to save these instructions, simply open the card and hit the print button. A printer friendly version will automatically populate for you.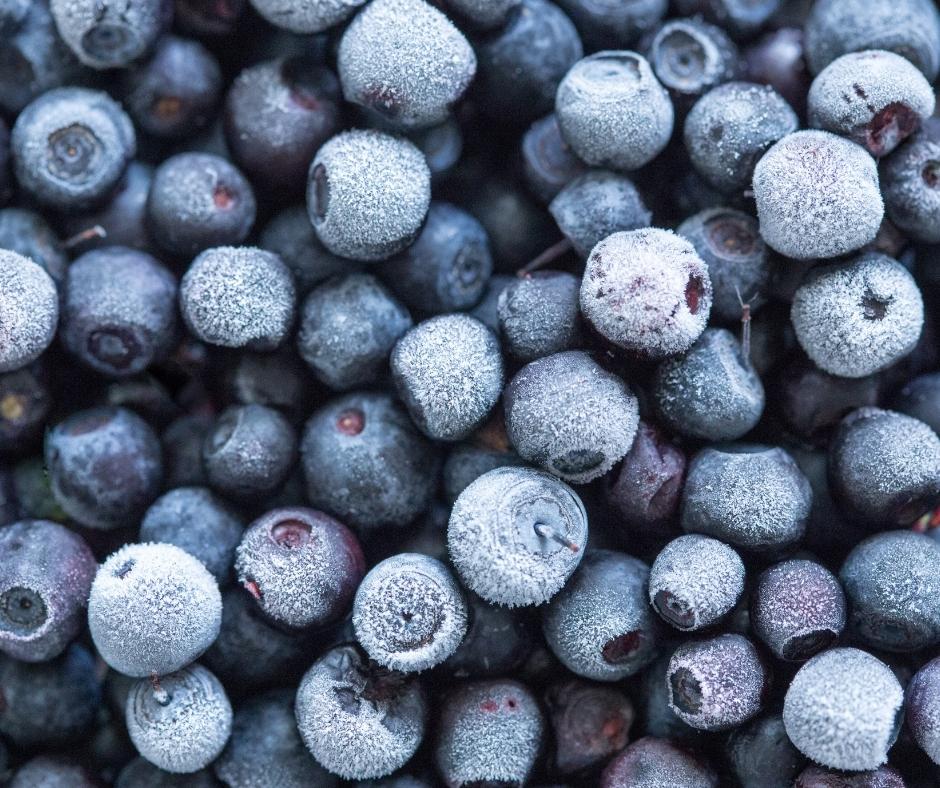 Yield:

1 Batch
Freezing Fresh Blueberries
Fresh blueberries can be frozen and stored for at least 6 months in the freezer. This is a great way to preserve large quantities of blueberries from harvest. Different techniques will give different results in the texture and quality of the frozen blueberries.
Materials
Fresh Blueberries
Airtight Freezing Container
Freezer Ziplock bags
Instructions
Hand clean fresh picked blueberries (pick off debris and stems)
Do NOT wash blueberries in water prior to freezing
Sort good quality ripe blueberries to freeze
Ensure that blueberries are completely dry and free of moisture before freezing
Lay blueberries flat on baking sheet in a single layer
Place baking sheet in freezer and freeze for 30 minutes or until completely frozen.
Remove frozen blueberries from freezer.
Choose an airtight containter to store blueberries in and gently add them to container (we use ziplock freezer bags with good results)
Label container with date and contents
Place frozen blueberries back in the freezer
Frozen blueberries should last between 6-12 months in an airtight container in the freezer.
Notes
Washing blueberries prior to freezing is not recommended.
Avoid freezer burnt blueberries by choosing a good airtight container of freezer bag.
Watch our video below on how to freeze tomatoes whole! Another great way to keep your garden harvest useable.
Follow Us:
We enjoy meeting you on our social networks. Follow us on Facebook, Pinterest, Instagram . Tag us with your pictures of our recipes and comment on how it went for you. We would love to see what you do with them.
We often like, comment and share your posts of our recipes on our daily Instagram stories.
Ask questions and rate the recipe in the comments section below. Please share what you did with this recipe. We are always looking for more and better ways to make homemade food. Other cooks love your ideas!
Recent Posts:
Looking for more ways to preserve your summer Harvest?
How to Roast peppers for the Freezer