Pour Homemade Blueberry Sauce on pancakes, waffles or ice cream. Make a yogurt parfait or blueberry cheesecake.
Blueberry Sauce is a versatile sweet topping that can be made with lower sugar options and swapped out to fit a variety of dietary needs and restrictions. Unlike a traditional syrup, this sauce uses whole fresh blueberries and maple syrup as a sweetener.
This sauce is a great way to use up extra blueberries after harvest. Keep it in the fridge and use it top yogurt, baked goods, or eat plain.
This blueberry sauce deliciously surprised me with its full bodied blueberry flavor. I used organic frozen berries we had picked fresh about a month ago. Even frozen, those berries delivered fresh, delicious blueberry flavor to the Healthy Blueberry Waffles we topped with it.
Note: This sauce with the cornstarch thickener, won't freeze well. For best results use fresh or frozen berries to make up a quick batch when you need it.Using frozen berries may require you to adjust the added water down a bit or up the cornstarch a TINY bit.
Sauce or Compote?
This blueberry sauce is technically a blueberry compote. A compote is a sauce that is made from fresh or dried fruit. The sauce is then cooked on the stove with the fruit whole (rather than chopped or pureed) with a bit of sugar. The compote will thicken up and become a delicious and thick rich blueberry compote.
How do you thicken a Berry Sauce?
Most sauces are traditionally thickened with corn starch. To thicken a sauce with corn starch it needs to be whisked together with water. Once the cornstarch and water mixture is smooth, it can be added into the sauce on the stove. Whisk the sauce and simmer until it thickens to your liking.
Alternative methods for thickening include arrowroot, wheat flour, tapioca starch, and xanthum gum. Any of these ingredients can be used as a cornstarch substitute. They may require different methods for adding them into the sauce.
Homemade Blueberry Sauce Recipe Notes:
I'm using pure, organic Maple Syrup for a sweetener. You can use honey or agave nectar, but I'm not sure of the proportions. Play around with it. This is a forgiving recipe. You can use processed sugar one to one with the maple syrup.
Maple syrup contains antioxidants and minerals and is lower on the glycemic scale than processed sugar. However, As Authority Nutrition points out, it's still full of sugar and needs to be treated as such. So let the blueberries do the lions share of sweetening. Use fully ripe, naturally sweet berries and keep the added sweeteners to a minimum!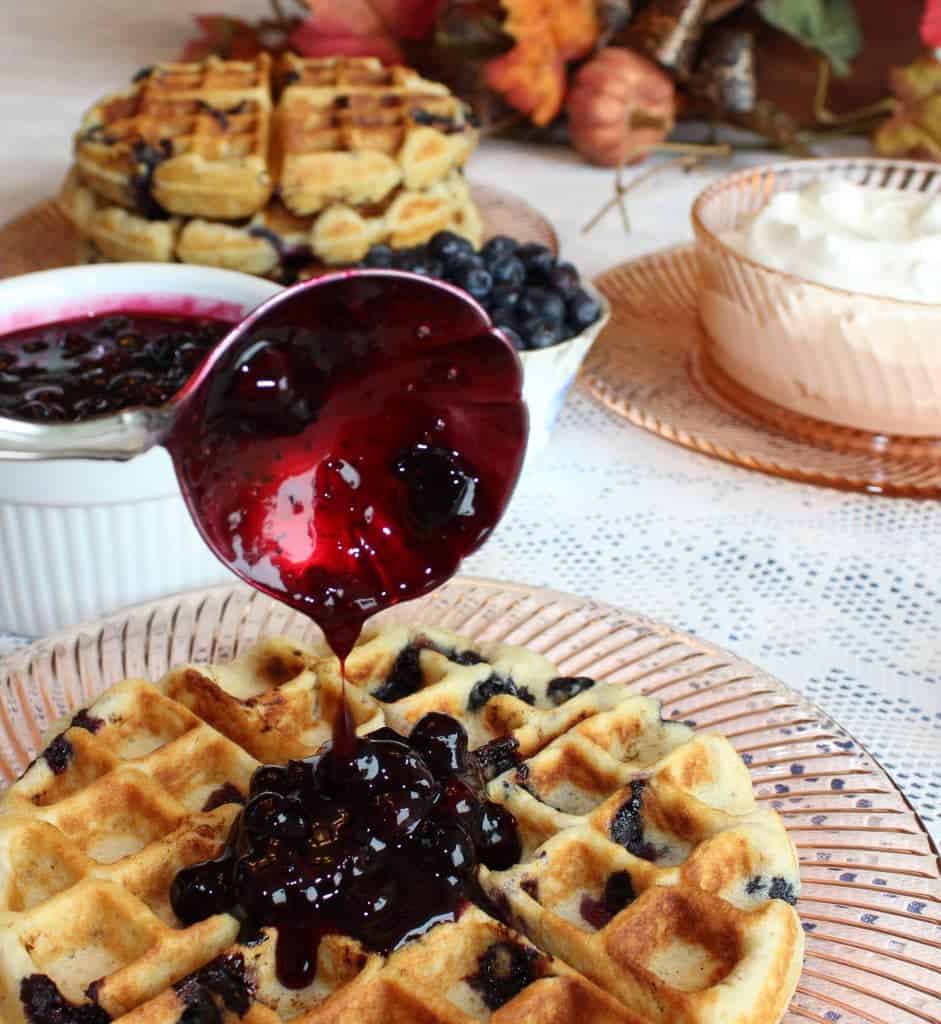 Homemade Blueberry Sauce with Maple Syrup Recipe:
Blueberry Sauce Method:
Put the blueberries and maple syrup in a 2 quart sauce pan on medium heat.
Whisk together the cornstarch and water.
Pour the cornstarch water into the blueberries and stir until it's mixed.
Cook the berries until they boil. Stir it on a low boil for about a minute until the cornstarch turns clear and the sauce thickens.
Remove from heat. Use immediately, or cool it to whatever temperature you require. Serve!
Keeps well in the fridge covered for up to a week. If the sauce solidifies, warm it in the microwave with a bit of water stirred in until you get consistency you prefer. Remember: For best results, Do NOT freeze this sauce!
Here is your Printable. BUT I remade this sauce with the maple syrup. This recipe printable is insisting on telling you to use sugar. Just substitute the maple syrup one to one. Technology is sometimes a pain!
More Delicious Recipes:
Yield:

8 servings
Blueberry Sauce with Maple Syrup
Pour Homemade Blueberry Sauce over cheesecake, pancakes, waffles, yogurt or ice cream. Make a yogurt parfait or blueberry cheesecake.
Ingredients
4 c. blueberries
1/2 c. Pure Maple Syrup, Organic if possible
1/4 Cup water
2 tablespoons cornstarch
1 tbsp. fresh lemon juice
Instructions
Combine blueberries, maple syrup, and lemon juice in a saucepan over medium heat.
Stir until combined.
Put the cornstarch into a small cup with water and whisk until smooth.
Add the cornstarch mixture into the blueberries and turn up the heat, stirring constantly.
When the sauce boils, reduce heat to medium high and stir until thickened, about 5 minutes.
Once the sauce is thickened, you may choose to leave it whole berry, or purée it in a blender to desired smoothness.
Nutrition Information
Amount Per Serving
Calories

197
Follow Us:
We enjoy meeting you on our social networks. Follow us on Facebook, Pinterest, Instagram . Tag us with your pictures of our recipes and comment on how it went for you. We would love to see what you do with them.
We often like, comment and share your posts of our recipes on our daily Instagram stories.
Ask questions and rate the recipe in the comments section below. Please share what you did with this recipe. We are always looking for more and better ways to make homemade food. Other cooks love your ideas!
Recent Posts:
Pin it: