Blueberry Lemon Breakfast Crepes are delightful for breakfast and make a scrumptious special dessert. This recipe brings together a luscious homemade lemon curd, our sweet blueberry sauce, and traditional style crepes that we all know and love.
This lovely combination of sumptuous, sweet, tangy flavors and textures create the perfect pastry experience.
In this post we will walk you through how to make the best light and airy crepe. With a little practice and some of our helpful tips, you will be making 5 star restaurant worthy crepes every time. We have included a handy printable recipe card for your convenience.
What is the secret to great crepes?
There are a few key elements to making the best crepes. One that is most often overlooked is the type of pan used, as well as the heat distribution. A good quality, heavy bottomed stainless steel pan is essential when baking crepes; you need the heat to slowly build and distribute evenly. A pan with a thin bottom will allow too much heat and possibly create hot spots. But balance is always important. If your pan is not hot enough, your crepes will stick and fall apart, so it's important to heat your pan fully which will cook your crepes perfectly.
Refrigerating your batter for about an hour before you cook it, is another technique that many find beneficial to the texture and consistency of their crepes. Allowing the batter to cool will relax the gluten that forms in flour based pastry dough. Gluten is important when baking breads and similar pastries, but not in cakes and other airy recipes. You want your crepes to be light and airy, less gluten is essential for this.
Be sure to generously butter your pan. Your first crepe may come out a tad crisp and buttery, you can either omit that one or serve it up. However, the following handful of crepes will turn out perfectly. You should be able to cook 5-7 crepes before needing to re-butter the pan and you shouldn't need quite as much butter after the initial application.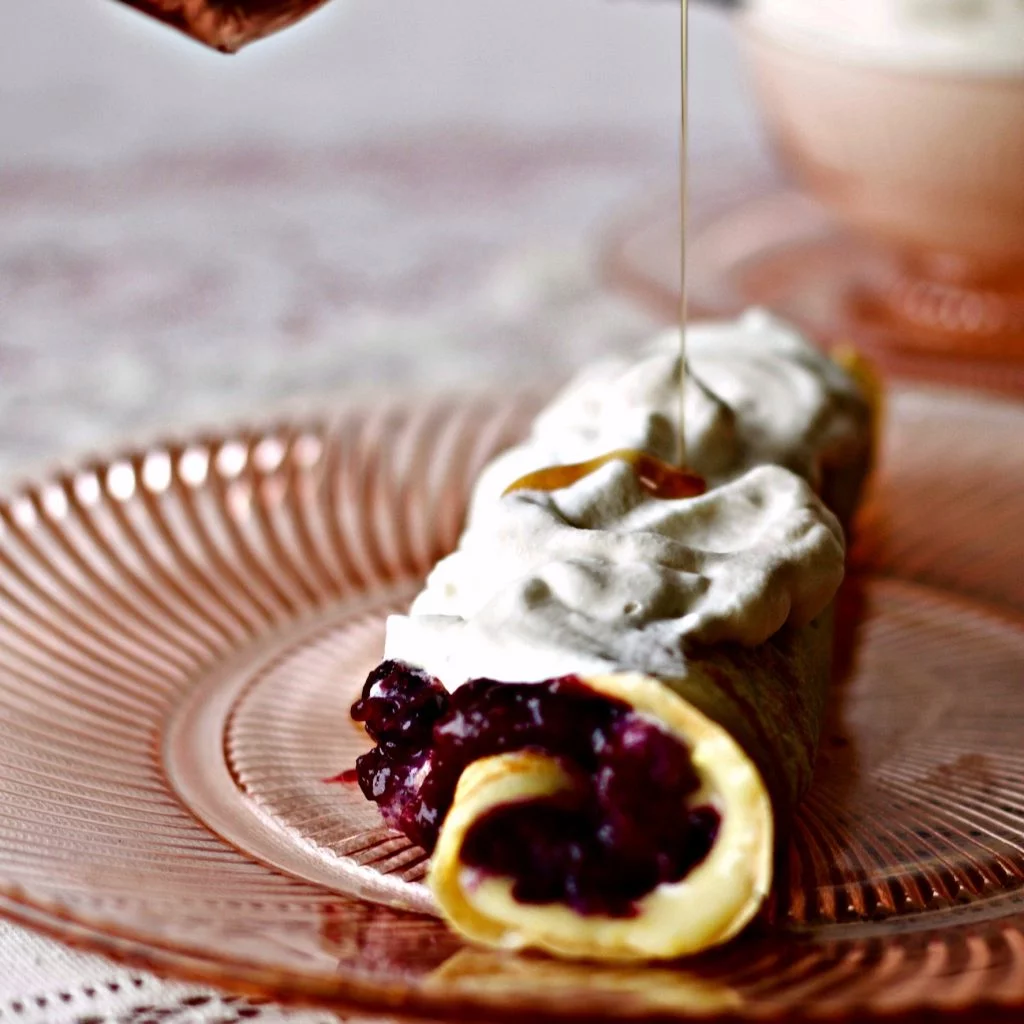 The homemade lemon curd recipe I use is a perfect accent to the sweet crepes and blueberry sauce.
Is crepe batter the same as pancake batter?
Traditional French style crepes are wafer thin, airy and delicate while American style pancakes are thick and fluffy. The main difference in these two pastries is the use of rising agents in the pancake batter, usually baking powder or baking soda; crepes do not use a rising agent in the batter. Pancake batter is also thicker in consistency than crepe batter, which needs to be a thin, pourable near liquid consistency.
There are also differences in how they are cooked and presented. Pancakes are poured onto a hot griddle in varying sizes depending on preference, they do not require the finesse that crepes do in achieving that delicate, thin body or when flipping them. Pancake batter is often times filled with ingredients such as chocolate chips or blueberries that are baked right into them. They are most often enjoyed with sweet toppings such as powdered sugar, syrup, whipped cream and fresh fruit.
Crepes are traditionally large in diameter and this is achieved by pouring the thinner batter onto a hot, buttered pan and tilting the pan in a steady circular motion to evenly distribute the batter until it achieves a very thin profile. Flipping crepes takes some skill and practice as they are much more vulnerable to breakage due to their thin body. You will also find people enjoy crepes in all forms, be it sweet or savory, they are traditionally filled and rolled with fruit sauces and creams, savory meat and veggie fillings, or with a simple dusting of powdered sugar.
What flour is best to use for crepes?
The choice of flour does matter in the baking world and the texture of your crepes will change depending what type of flour you use, so it is an important consideration. To keep crepes light and airy it is best to always use a cake flour or whole wheat pastry flour. Using an all-purpose flour will make your crepe batter heavier, which will present problems in manipulating it during the cooking process when you are working to achieve that thin, delicate profile that they are known by.
Why are my crepes chewy?
There are some common mistakes made when first learning how to cultivate the perfect crepe, the most common being too much batter poured into the pan. This will not only prevent your crepe from being thin, delicate and airy; but it will often times result in an under or over cooked crepe that is chewy and rubbery in texture.
What can I serve alongside crepes?
Crepes are a beautifully versatile pastry that can be enjoyed with sweet fillings, fresh fruit and even savory meat based fillings. No matter when or in what context you are enjoying crepes there are many ways to serve them up, and so many choices for sides to enjoy them with. Some of our favorites include
Bacon, sausage or eggs
A selection of fresh fruits
Hollandaise sauce over poached eggs
A savory chicken and mushroom filling
A banana Nutella filling with powdered sugar
Spinach artichoke and brie filled
Fried potato and gravy filled
Asparagus and sausage
Apple proscuitto and brie filled
Cream cheese and strawberry compote filled
How to Make Blueberry Lemon Breakfast Crepes:
All three of these recipes are quick and easy and can be made ahead. Several days if you want to. All you need is about 10 minutes to make each one of these recipes.
Both the lemon curd and the blueberry sauce will need to cool before serving with your crepes. Making these ahead will ensure a quick meal.
The most daring recipe of the three is the lemon curd. The recipe I use has turned out perfect each time I've used it. I refer you to its original recipe for notes on how to make it.
If you really really don't want to attempt homemade lemon curd you can purchase lemon curd.
The blueberry sauce can be made almost jam-like by just adding a bit more cornstarch in the recipe. The stickier consistency helps the sauce stay in the crepes where you want it!
For your convenience, all three recipes are included in the printable recipe card. If you find that much instruction in one place overwhelming, you may wish to make each recipe from their original post.
Lemon Curd: make this recipe as directed, ahead of time, to allow cool down and set up time.
Blueberry Sauce: Make this recipe as directed, a little ahead to allow some cool down time. Slightly increase cornstarch to thicken sauce to jam-like consistency.
Sweet Crepes: Make this recipe as directed, but substitute maple syrup for the sugar in the same amount.
Homemade Whipped Cream Recipe:
Whisk 1 Cup heavy whipped cream and 1 Tablespoon maple syrup together until the whipped cream is thick.
Dollop on as much as you like on top of the crepes! Garnish with a splash of maple syrup if desired.
Your Printable Recipe: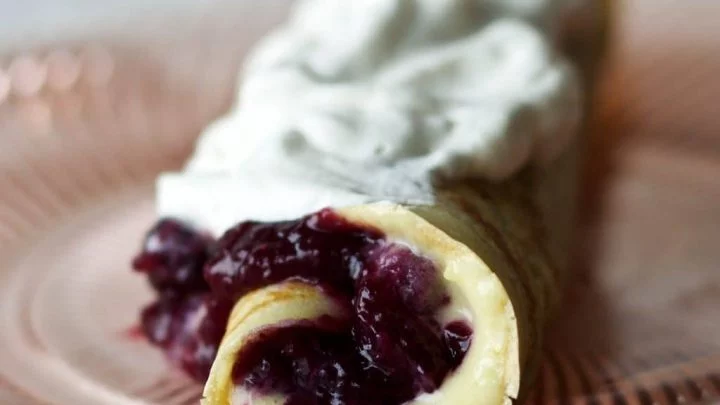 Yield:

12 crepes
Blueberry Lemon Breakfast Crepes
Three separate, easy make ahead recipes come together to create an entirely new culinary experience that I'm sure you will enjoy! Blueberry Lemon Curd Crepes are delightful at breakfast and make a scrumptious dessert.
Ingredients
Lemon curd:
1/2 cup fresh lemon juice
2 teaspoons finely grated fresh lemon zest
1/2 cup sugar
3 large eggs
3/4 stick, 6 tablespoons unsalted butter, cut into bits
Blueberry sauce:
4 Cups fresh or frozen organic blueberries
1/2 Cup Pure, organic Maple Syrup
1/4 Cup Water, adjust water amount according to preferred sauce consistency. Start with 1/4 Cup
Tablespoons Cornstarch, adjust amount as needed to attain the preferred sauce consistency. Start with 2 Tablespoons and work up to 3 Tablespoons if you want it almost jam-like
Crepes:
1 1/2 C. flour
1 Tbs. Pure, organic Maple Syrup
1/2 tsp. baking powder
1/2 tsp. salt
2 C. milk
2 eggs
1/2 tsp. vanilla
2 Tablespoons. melted coconut oil
Whipping cream topping:
1 Cup Heavy cream
1 Tablespoon maple syrup, to taste
1 tsp. pure vanilla extract, to taste
Instructions
Lemon Curd:
Whisk together juice, zest, sugar, and eggs in a 2-quart heavy saucepan.
Stir in butter and cook over moderately low heat, whisking frequently, until curd is thick enough to hold the marks of the whisk.(TIP: DO NOT BOIL OR THE EGGS WILL COOK!)
When the first bubble appears on surface, about 6 minutes; remove from heat immediately.
Transfer lemon curd to a covered bowl and chill until cold, at least 1 hour.
Curd can be chilled up to 1 week: If it lasts that long! Enjoy!
Blueberry Sauce:
Put the blueberries and maple syrup in a 2 quart sauce pan on medium heat.
Whisk together the cornstarch and water.
Pour the cornstarch water into the blueberries and stir until it's mixed.
Cook the berries until they boil. Stir it on a low boil for about a minute until the cornstarch turns clear and the sauce thickens.
Remove from heat. Cool it to room temperature. Serve!
Whipped Cream:
Pour the cream Into a deep 2 quart bowl.
Mix on high with an electric mixer until the cream forms a peak.
Add the maple syrup and mix on high until the whipped cream is thick enough to spoon over the crepes as you prefer.
Sweet Crepes:
Make the batter in your blender or whisk the ingredients in a mixing bowl.
Let the batter sit if you prefer, an hour or up to overnight in the fridge.
Or immediately pour 1/4 Cup of the batter into the center of a heated non stick 8 inch frying pan with just a teeny bit of coconut oil or butter melted in the pan.
Immediately pick up the pan and swirl the batter so it covers the bottom of the pan evenly and return to burner.
Let cook briefly until the edges firm and lighten.
Flip the crepe over with a spatula.
Cook very quickly until just done and remove to serving plate. Repeat until the batter is gone.
To Serve:
Lay the crepes on a plate and serve with the condiments all around in small bowls. Allow you guests to serve themselves as they prefer. OR plate each crepe and spread with lemon curd. Now spread the blueberry sauce lightly over the curd. Roll the crepe and top with whipping cream as desired. Heavenly!
Nutrition Information
Yield
12
Serving Size
1
Amount Per Serving
Calories

372
Total Fat

19g
Saturated Fat

11g
Trans Fat

0g
Unsaturated Fat

6g
Cholesterol

119mg
Sodium

273mg
Carbohydrates

46g
Fiber

2g
Sugar

28g
Protein

7g
Note This nutrition is only accurate if you completely consume all the sauce and lemon curd with your 12 crepes.
More Breakfast Crepes:
Here are more ways you can enjoy crepes.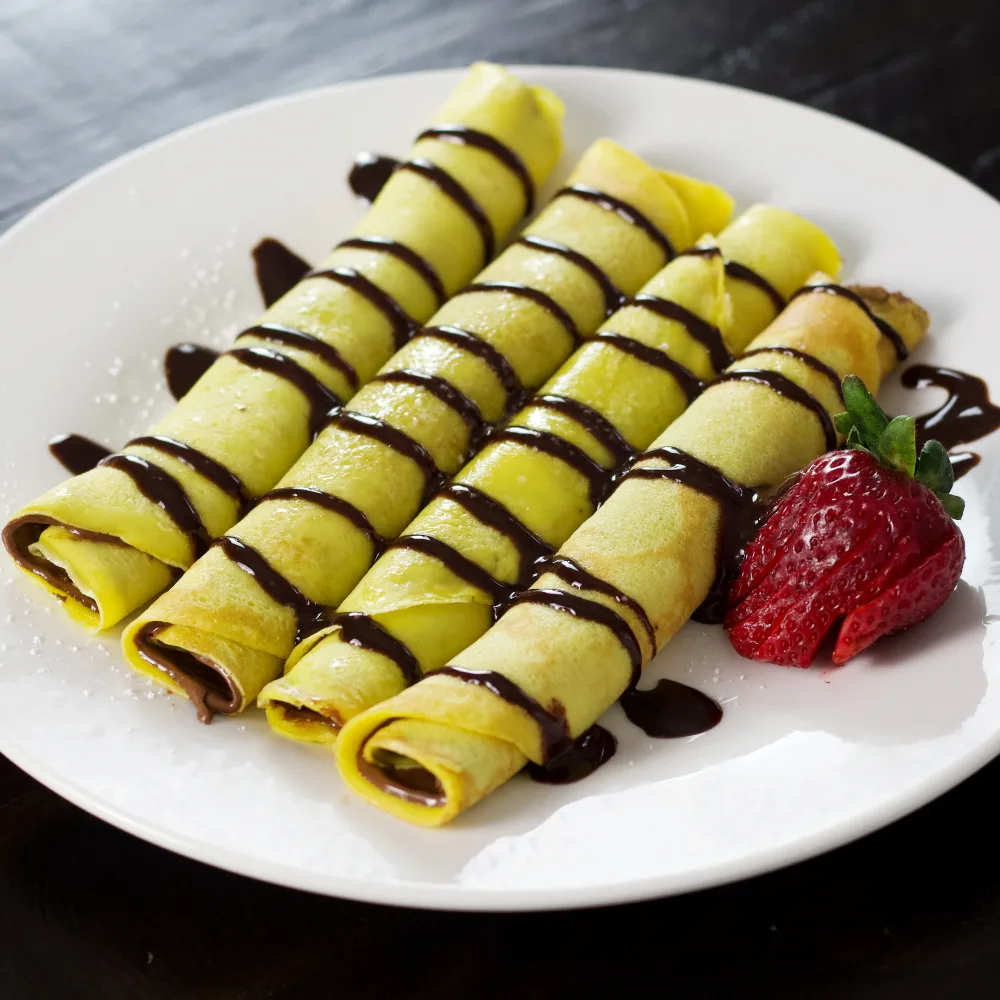 Follow Us:
We enjoy meeting you on our social networks. Follow us on Facebook, Pinterest, Instagram . Tag us with your pictures of our recipes and comment on how it went for you. We would love to see what you do with them.
We often like, comment and share your posts of our recipes on our daily Instagram stories.
Ask questions and rate the recipe in the comments section below. Please share what you did with this recipe. We are always looking for more and better ways to make homemade food. Other cooks love your ideas!
Recent Posts: