Nutella Crepes are perfect for a special breakfast or dessert crepe. lightly sweet crepes filled with decadent nutella spread make a richly indulgent experience.
This is an easy recipe that only requires a blender and a non stick skillet. And a jar of Nutella. Yum.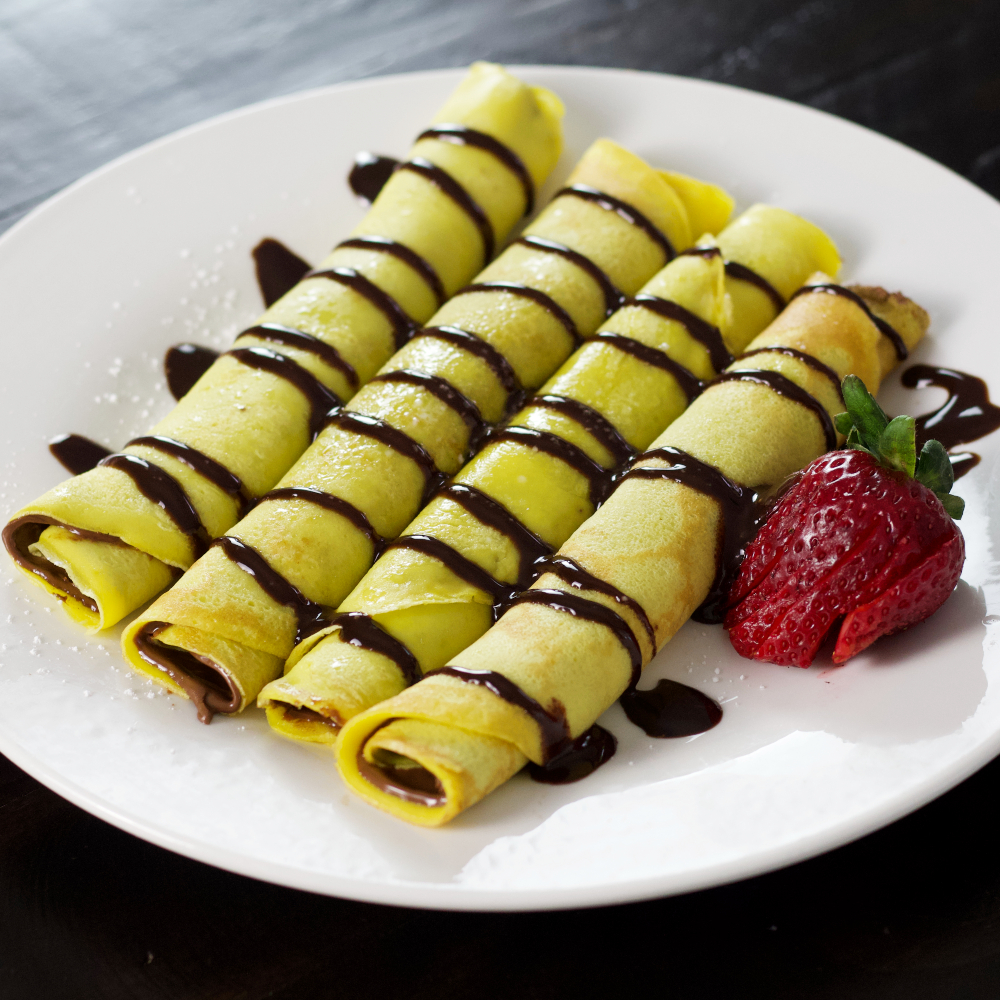 More Delicious Breakfasts
Looking for a special breakfast for just something new? Give these breakfast recipes a try.
See all of our breakfast recipes in our What's for Breakfast Section.
Sweet Crepe Recipe:
Breakfast crepes are so easy to whip up in your blender. You can save the extra batter in your fridge for up to two days.
Sure you can whisk them together in a batter bowl if you don't own a blender. But if you have one get that blender out and use it to make crepe batter.
How to make Nutella Crepes:
Once you get the ingredients whipped up the rest is also easy but may take a bit of experience to get the hang of it. Read on.
Like learning How to make omelets. Making crepes is all in the wrist. 🙂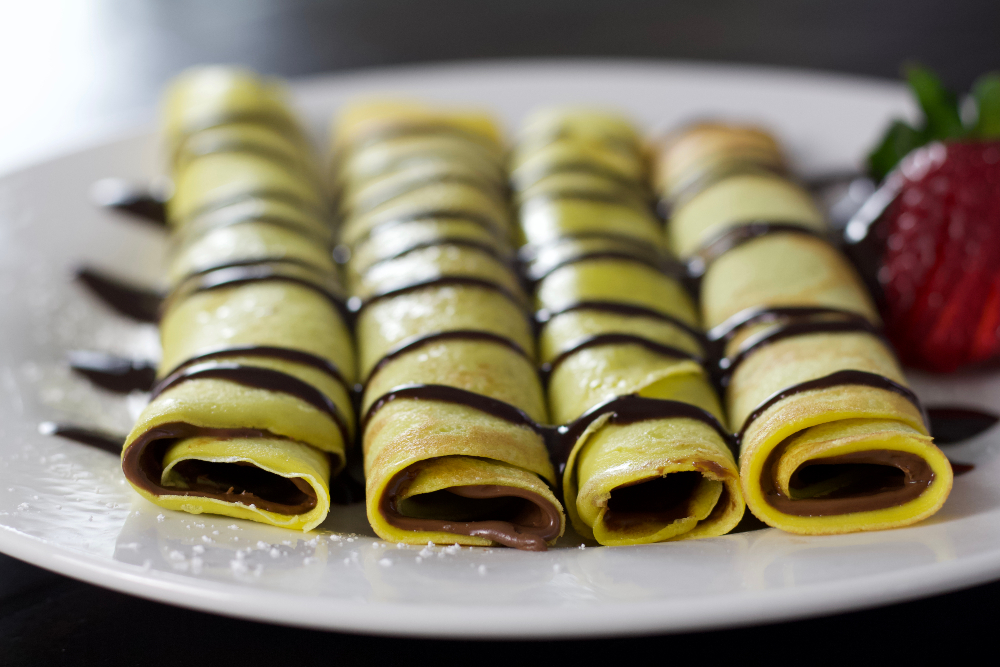 Tips on Making Crepes:
If you have never made crepes here are some things to know.
Watch the heat setting. You want the stove to be just about the same temperature to cook up eggs over easy. Just enough to melt butter but not burn it.

On my stove that is number four on the heat dial or medium low. Too hot the crepes will get too browned.
Use the correct pan. Amazon has a whole page of crepe making tools if you need them. We use an 8 inch non stick frying pan with a gently sloped side.
Your spatula also matters. You need one that will slide easily under the crepe and will release it once you flip it over without tearing.
Spreading the batter. Pour a small amount of batter in the center of the hot skillet and pick the skillet up.
Pick up the skillet and turn it to spread the batter to the edges of the skillet evenly. (watch the video)
Use your spatula to release the crepe edges from the pan as necessary.
Now slide that spatula ALL the way to the center of the crepe or further.
Flip the crepe and cook it 30 to 60 second more.
SLIDE the crepe off the pan onto your plate.
Finishing this Nutella Sweet Crepe Recipe:
To make a yummy breakfast crepe recipe. ONE word. Nutella.
It is perfect for crepes. The spread has just the correct consistency. It sticks well to the crepe so it's easy to fold or roll up.
Nutella is also one of the tastiest fillings this side of heaven. It's richly hazelnut flavors compliment the slightly sweet crepe like a dream.
You want to spread the Nutella ALL the way out to the edges of the crepe in all directions. Make sure the crepe is completely covered.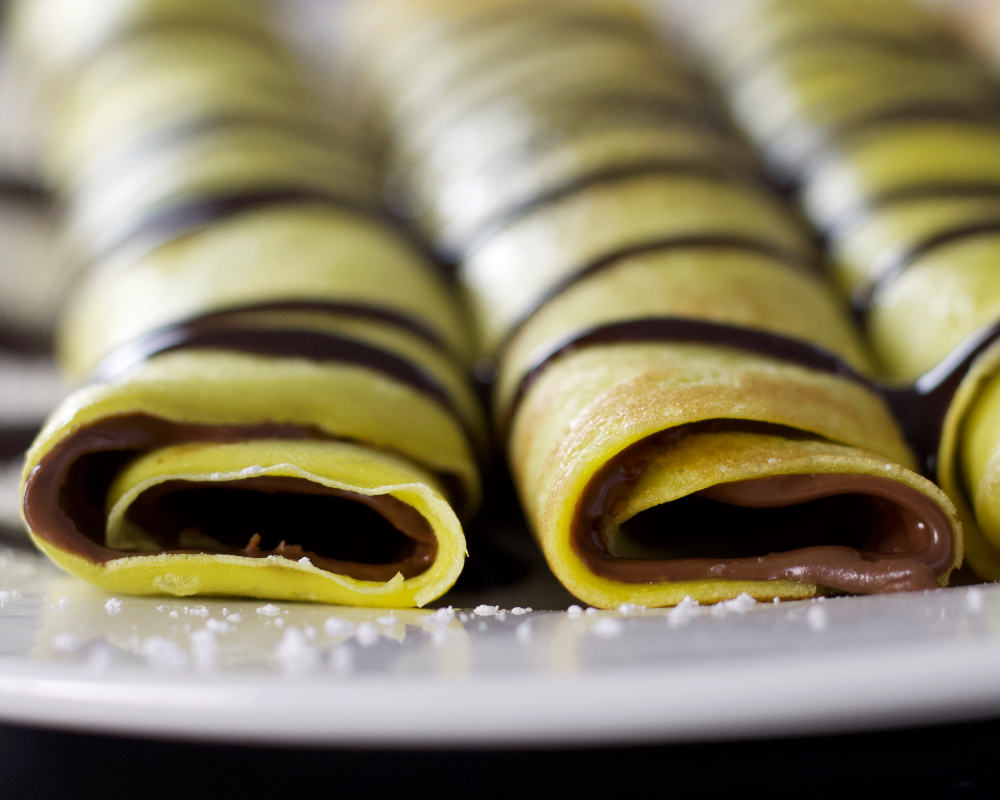 Variations:
Sliced strawberries make a wonderful Strawberry Nutella crepe.
Or make banana nutella crepes.
Just slice the fruits and lay them on the nutella on ONE half of the crepe.
Fold the crepe.
Garnishing:
You can serve Nutella crepes with a drizzle of chocolate sauce over them.
Sift a bit of powdered Sugar over the top
Add Whipped cream on individual servings.
Add a slice of fruit to provide an appealing accent
Printable Recipe Card:
Here is your printable recipe card with pictures to walk you through the process of making them.
Please also watch our video demonstration of how we make crepes and how we roll our crepes. (our method is easy peasy). For more on crepe folding read this article.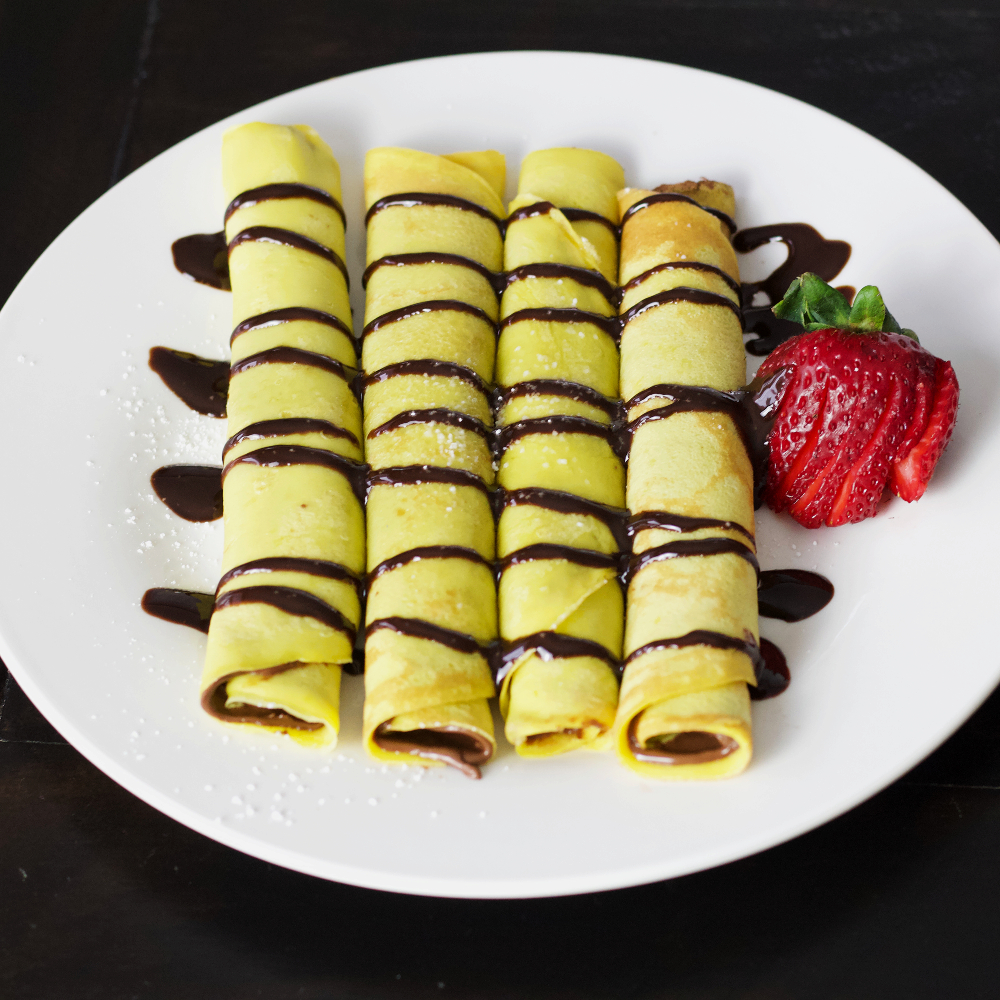 Yield:

10 crepes
Sweet Nutella Crepes Recipe
Nutella Crepes are perfect for a special breakfast or dessert crepe. lightly sweet crepes filled with decadent nutella spread make a richly indulgent experience.
Ingredients
1/2 Cup water (105 degrees F)
1 Cup milk (105 degrees F)
4 large eggs
4 Tablespoon unsalted butter (melted)
1 Cup all purpose flour
2 Tablespoons granulated sugar
1/2 tsp. vanilla extract
1/4 tsp. salt
1 Cup Nutella (as desired)
Instructions
Making and Cooking Crepes:
Add all ingredients into your blender in the order listed.
Blend until all ingredients are well blended. (Don't overdo it or you will get a lot of air in the batter).
in a non stick 8 inch frying pan (or use your crepe pan if you prefer) melt one Tablespoon butter on medium low heat.
Pour the batter in and pick up the pan.
slide the batter around JUST enough to cover the whole bottom of the pan THINLY. (see video).
Cook until the crepe is LIGHTLY browned. Slide your spatula under the crepe edge. Make sure the crepe is free of the pan all the way around.
Push your spatula all the way under the crepe to the middle.
Now turn the crepe over and cook to just set the top. (usually well under a minute).
Slide the crepe out of the pan onto your plate.
Repeat until batter is gone or store leftover batter in the fridge up to 48 hours.

Finishing Nutella Crepes:
Let crepes sit a minute to cool so they don't melt the nutella.
Spread nutella evenly and completely over the crepe face clear to edges.
OPTIONAL: If you are adding fruit to make strawberry nutella crepes or banana nutella crepes do it now. Add slices over one half on the spread crepe and fold the crepe rather than rolling it.
Fold or roll crepes as desired if using nutella only.
Garnishings:
drizzle crepes with chocolate sauce
sift a bit of powdered sugar on the top.
Add sliced fruits to the side.
Whipped cream on each serving.

Notes
Folding Crepes:

There are MANY ways to fold a crepe. Go this article for several great ideas on folding crepes.
We used the simple rolled method. It works well with this filling. And it is extremely simple to do. Watch our video to see the method.
TIP: if you roll your crepes as we did and don't want the long uneven edge
as shown in the group of crepes you can cut the edges clean as shown in the single crepe.
Nutrition Information
Yield
10
Serving Size
1
Amount Per Serving
Calories

260
Total Fat

14g
Saturated Fat

10g
Trans Fat

0g
Unsaturated Fat

3g
Cholesterol

89mg
Sodium

110mg
Carbohydrates

28g
Fiber

2g
Sugar

15g
Protein

6g