Three separate, easy make ahead recipes come together to create an entirely new culinary experience that I'm sure you will enjoy! Blueberry Lemon Curd Crepes are delightful at breakfast and make a scrumptious dessert.
I had a yen…do you ever have that? I wanted crepes! And lately blueberries and lemon have been on my mind so I talked Dave into this breakfast.
I made the lemon curd the night before in about 10 minutes and then stuck it in the fridge. Next morning, I whipped up a batch of blueberry sauce from some fresh blueberries that needed using. While they were cooling down in the fridge, I made a batch of sweet crepes. Put it all together and YES! It is really really good!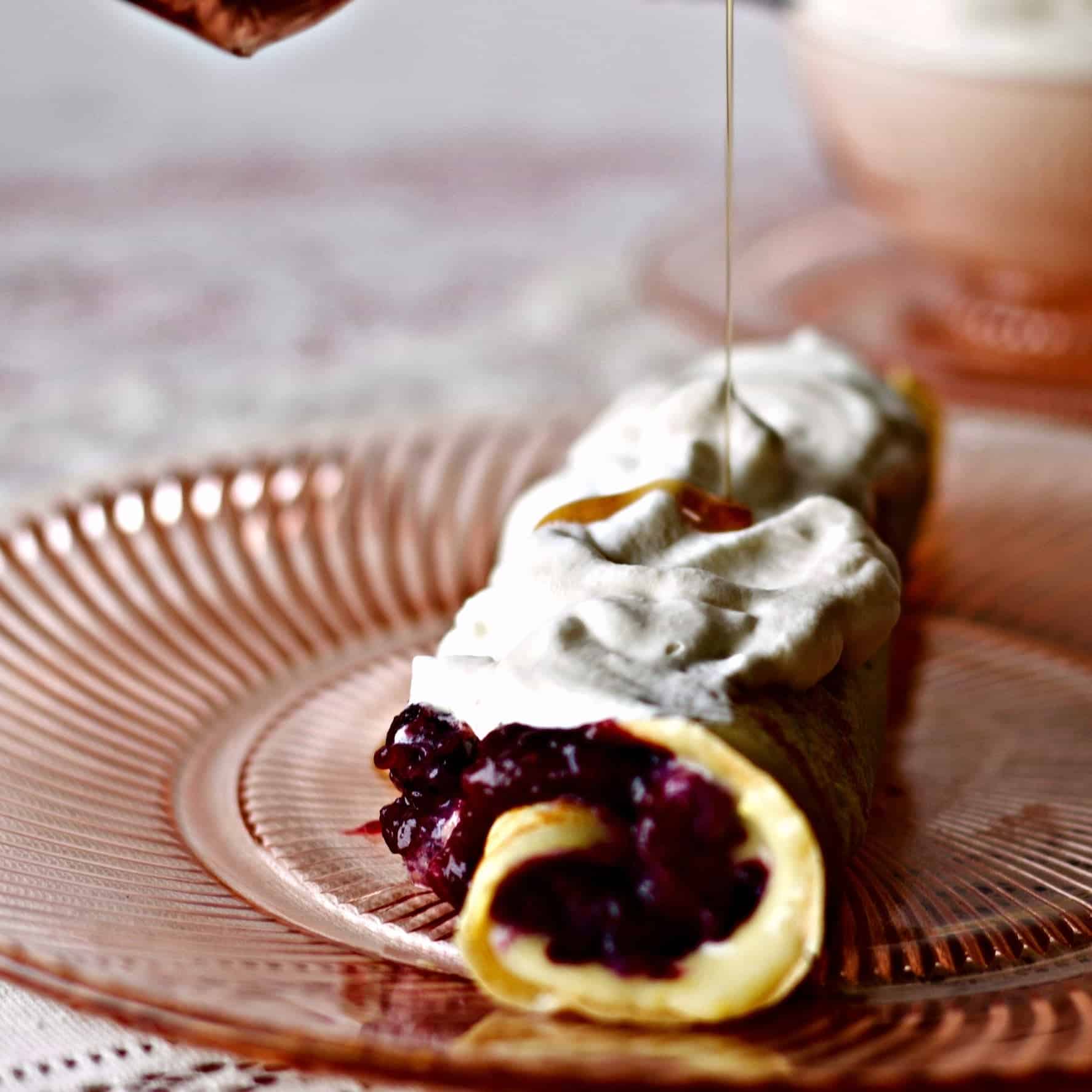 Crepes are an old childhood addiction of mine. Our neighbor, Steve, used to come over and make us crepes occasionally. Steve's crepes were a special treat for us.
Whip these sweet crepes up in your blender in about a minute! Dave and I are also passionate about blueberries! We love them in smoothies, and in about a gazillion other recipes!
The homemade lemon curd recipe I use is a perfect accent to the Sweet crepes and blueberry sauce. This is a light dish. The crepes are much less heavy than a regular pancake. Combined with the sauces the whole thing is under 300 calories! Not bad for a decadent, filling breakfast!
The result of putting all these excellent recipes together is a really terrific breakfast or dessert! Another nice thing…I used maple syrup instead of sugar in the crepes recipe, the blueberry sauce and the whipped cream.
Why? Well, organic, pure maple syrup is delicious! AND it's a bit lower on the glycemic scale than processed sugar. Maple syrup also contains antioxidants, minerals and digests great! That means your making a healthier treat (not necessarily healthy). Replacing processed white sugar with a pure, organic, healthy sweetener. How great is that!
Replacing and reducing over used unhealthy processed sweeteners is a big reason I am so committed to homemade food. Creating our own recipes allows home cooks to make healthier delicious food for their families.
This blog has lots of recipes that are designed to reduce unhealthy ingredients, because that is the way our family chooses to eat. What is even better? You take control of the amount of carby sweetness and type of sweetener your family eats.
Wean the sweet tooth by reducing even the amounts of maple syrup called for. Often it's perfectly satisfying in reduced amounts. Remember, sugar is still sugar, in whatever form. Want to really lower the sweet carbs? Try Swerve or other zero carb sweetener.
Homemade Lemon Curd Recipe:
I did make the lemon curd with sugar. Frankly, making lemon curd is almost magic to me. I don't want the magic 'spell' broken and my curd ruined, so I chickened out and kept the sugar.
Recipe Notes for Blueberry Lemon Curd Crepes:
All three of these recipes are quick and easy and can be made ahead. Several days if you want to! All you need is about 10 minutes to make each one of these recipes. The lemon curd needs cool down time. The blueberry sauce will need to cool to room temperature. Making these ahead will ensure a quick meal!
The most daring recipe of the three is the lemon curd. The recipe I use has turned out perfect each time I've used it. I refer you to its original recipe for notes on how to make it. It's easy, really! There is some cool down waiting, so make the lemon curd ahead at least an hour or so. It needs to cool to set up properly! I made mine the night before and let it set up overnight.
I made the blueberry sauce almost jam-like for this recipe by just adding a bit more cornstarch in the recipe. The stickier consistency helps the sauce stay in the crepes where you want it!
For your convenience I have copied all three recipes into the printable. If you find that much instruction in one place overwhelming, you may wish to make each recipe from their original post.
Lemon Curd: make this recipe, as directed, ahead of time, to allow cool down and set up time.
Blueberry Sauce: Make this recipe as directed, a little ahead to allow some cool down time. Slightly increase cornstarch to thicken sauce to jam-like consistency.
Sweet Crepes: Make this recipe as directed, but substitute maple syrup for the sugar in the same amount.
You will notice, I made whipped cream to go on our Blueberry Lemon Curd Crepes.
To make a batch like I did:
whisk 1 Cup heavy whipped cream and 1 Tablespoon maple syrup together until the whipped cream is thick.
Dollop on as much as you like on top of the crepes! Garnish with a splash of maple syrup if desired.
NUTRITION INFORMATION:
Your Printable Recipe: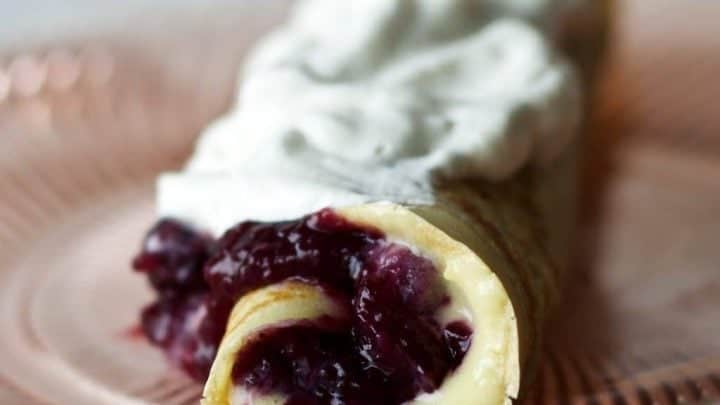 Yield:

12 crepes
Blueberry Lemon Curd Crepes
Three separate, easy make ahead recipes come together to create an entirely new culinary experience that I'm sure you will enjoy! Blueberry Lemon Curd Crepes are delightful at breakfast and make a scrumptious dessert.
Ingredients
Lemon curd:
1/2 cup fresh lemon juice
2 teaspoons finely grated fresh lemon zest
1/2 cup sugar
3 large eggs
3/4 stick, 6 tablespoons unsalted butter, cut into bits
Blueberry sauce:
4 Cups fresh or frozen organic blueberries
1/2 Cup Pure, organic Maple Syrup
1/4 Cup Water, adjust water amount according to preferred sauce consistency. Start with 1/4 Cup
Tablespoons Cornstarch, adjust amount as needed to attain the preferred sauce consistency. Start with 2 Tablespoons and work up to 3 Tablespoons if you want it almost jam-like
Crepes:
1 1/2 C. flour
1 Tbs. Pure, organic Maple Syrup
1/2 tsp. baking powder
1/2 tsp. salt
2 C. milk
2 eggs
1/2 tsp. vanilla
2 Tablespoons. melted coconut oil
Whipping cream topping:
1 Cup Heavy cream
1 Tablespoon maple syrup, to taste
1 tsp. pure vanilla extract, to taste
Instructions
Lemon Curd:
Whisk together juice, zest, sugar, and eggs in a 2-quart heavy saucepan.
Stir in butter and cook over moderately low heat, whisking frequently, until curd is thick enough to hold the marks of the whisk.(TIP: DO NOT BOIL OR THE EGGS WILL COOK!)
When the first bubble appears on surface, about 6 minutes; remove from heat immediately.
Transfer lemon curd to a covered bowl and chill until cold, at least 1 hour.
Curd can be chilled up to 1 week: If it lasts that long! Enjoy!
Blueberry Sauce:
Put the blueberries and maple syrup in a 2 quart sauce pan on medium heat.
Whisk together the cornstarch and water.
Pour the cornstarch water into the blueberries and stir until it's mixed.
Cook the berries until they boil. Stir it on a low boil for about a minute until the cornstarch turns clear and the sauce thickens.
Remove from heat. Cool it to room temperature. Serve!
Whipped Cream:
Pour the cream Into a deep 2 quart bowl.
Mix on high with an electric mixer until the cream forms a peak.
Add the maple syrup and mix on high until the whipped cream is thick enough to spoon over the crepes as you prefer.
Sweet Crepes:
Make the batter in your blender or whisk the ingredients in a mixing bowl.
Let the batter sit if you prefer, an hour or up to overnight in the fridge.
Or immediately pour 1/4 Cup of the batter into the center of a heated non stick 8 inch frying pan with just a teeny bit of coconut oil or butter melted in the pan.
Immediately pick up the pan and swirl the batter so it covers the bottom of the pan evenly and return to burner.
Let cook briefly until the edges firm and lighten.
Flip the crepe over with a spatula.
Cook very quickly until just done and remove to serving plate. Repeat until the batter is gone.
To Serve:
Lay the crepes on a plate and serve with the condiments all around in small bowls. Allow you guests to serve themselves as they prefer. OR plate each crepe and spread with lemon curd. Now spread the blueberry sauce lightly over the curd. Roll the crepe and top with whipping cream as desired. Heavenly!
Nutrition Information
Yield
12
Serving Size
1
Amount Per Serving
Calories

372
Total Fat

19g
Saturated Fat

11g
Trans Fat

0g
Unsaturated Fat

6g
Cholesterol

119mg
Sodium

275mg
Carbohydrates

46g
Fiber

2g
Sugar

26g
Protein

7g
Note This nutrition is only accurate if you completely consume all the sauce and lemon curd with your 12 crepes.
Pin it: