Bubbly champagne, chambord liqueur and a touch of grenadine combine in this delicious, classic champagne cocktail. The perfect refreshment for bridal showers, holiday events, or an elegant, winter themed toast drink.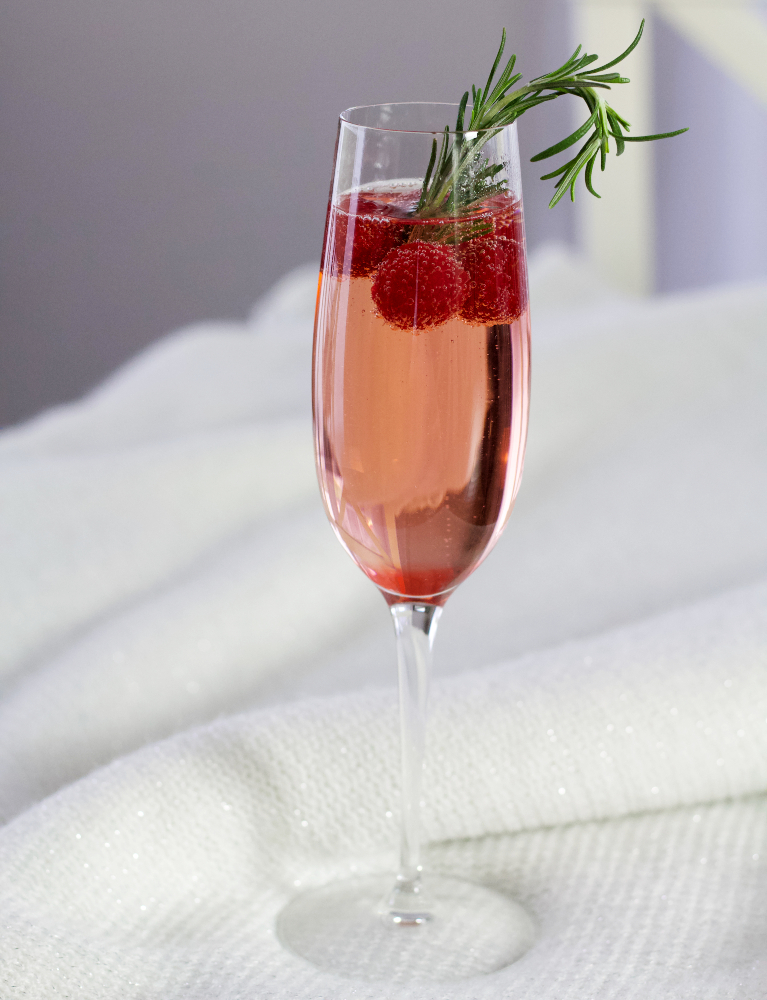 What mixes well with champagne?
Fruit juices are a popular choice to mix with champagne, we see this with the well loved mimosa using orange juice, cranberry, raspberry, peach, even apple. Chambord is a raspberry liqueur that compliments champagne beautifully. Orange flavored triple sec, also known as cointreau combines with cranberry juice for a delicious holiday flavored champagne cocktail.
An elegant after dinner or special event cocktail. Garnish it for any occasion.
What is the difference between champagne and a champagne cocktail?
Simply put, champagne is a specific sparkling wine made in the Champagne region of France. Traditionally, a champagne cocktail is made by combining champagne, a cube of sugar, twist of lemon, and a dash of Angostura bitters.
Over time we have created variations of the term with a variety of mixed champagne drinks.
More delicious champagne drinks
Champagne drinks serve beautifully for a special brunch, holiday event, or wedding shower. Here are three of our favorites. Be sure to take a look at our Limoncello Prosecco cocktail too.
How do you dress up champagne?
Champagne is a classic, simple refreshment that is popular year round and for all occasions. Here are some of our favorites ideas for how to dress up this bubbly cocktail.
Garnish with fresh fruit
Mix with Grenadine for a beautiful pop of pink
Serve with rock candy sticks
Top with cotton candy fluff
Rim your champagne flute with colored sugars
Garnish with spun sugar
Add a sugared lemon or orange peel twist
Serve with sprigs of rosemary during the holiday season
Red Raspberry Champagne Cocktail Recipe:
Try this as a winter or Christmas champagne cocktail with fresh raspberries and a rosemary sprig. The evergreen touch brings in the red and green Christmas spirit that compliments your event with beautiful elegance.
The Ingredients
The Glass
We use a tall chilled champagne flute for this drink. Champagne cocktails are best served in tall, stemmed glasses to contain the bubbles and prevent the drink from warming and going flat.
The Garnish
Our choice for garnish is red raspberries to mirror the raspberry flavor of the chambord and the additional red color added by the grenadine. The raspberries make a nice garnish without the fresh rosemary sprig, but if you are serving this for a holiday cocktail, the rosemary does make a beautiful seasonal statement.
How do you preserve the bubbles in champagne cocktails?
Champagne is a beautiful, bubbly sparkling wine and best served chilled for optimal fizz and sparkle. Here are some tips for how to preserve the fizz and punch of champagne.
Chill your sparkling wines or champagnes before serving. This slows down the gas molecules, helping to build those beautiful bubbles.
Pour your bubbly into the glass at an angle. The gentle pour will minimize the loss of bubbles.
Use a tall champagne flute to keep the surface area of your glass small. The height will contain the bubbles and the narrow shape will concentrate the carbonation.
For more on champagne bubble science check out this article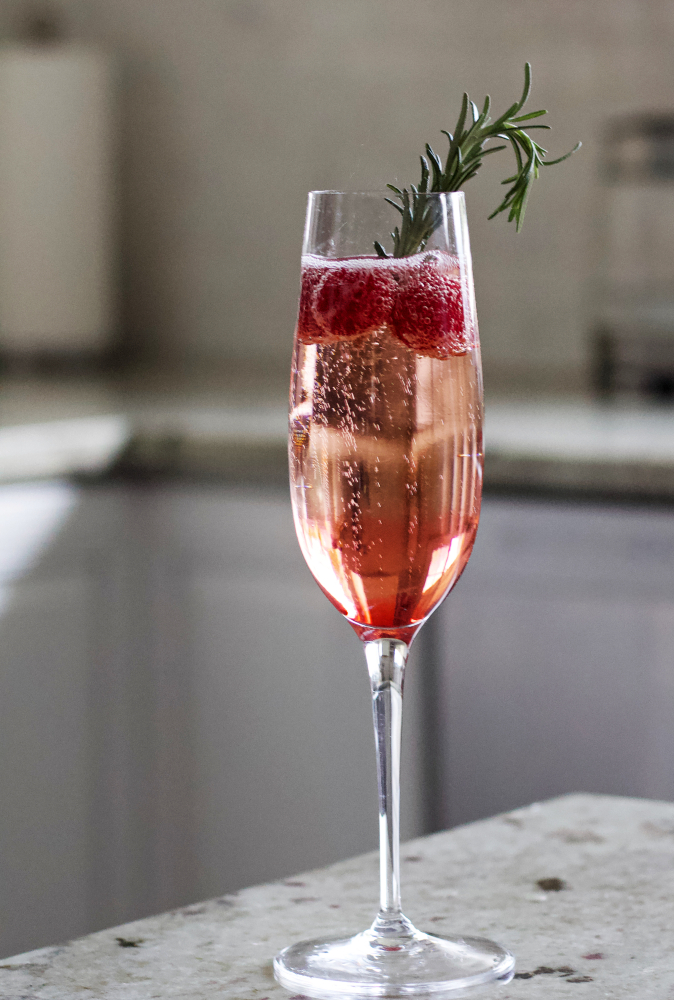 Your Printable Recipe Card:
Below is the printable recipe with a walkthrough with pictures. If you print out the recipe the pictures will not print. This is to save you ink and paper.
At the bottom of the recipe card and in the post sidebar you'll find our video recipe demonstration.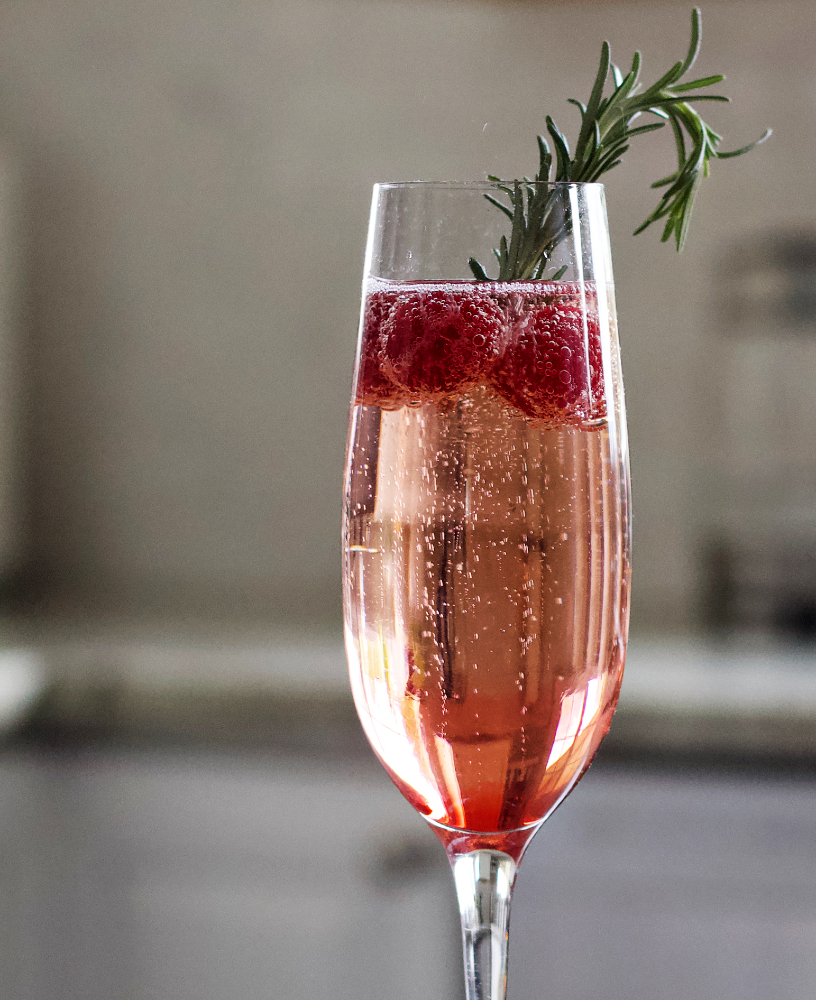 Yield:

1 Campagne cocktail
Red Raspberry Champagne Cocktail
Bubbly Champagne, Chambord liqueur with a dash of grenadine combine for outstanding color and flavor in this delicious show stopping champagne cocktail. Serve it at a special brunch, lunch or event.
Ingredients
8 oz. champagne (mini bottle)
1/4 oz. chambord
1/4 oz. Teaspoon Grenadine (a dash)
Instructions
In a tall champagne flute pour one 6 oz. bottle of champagne.
Pour in the grenadine over the back of a spoon.
Drizzle a chambord over a spoon and down into the cocktail
Plop the red raspberries on the top of the drink
Finish the drink with a stick of fresh rosemary
Notes
Suggested Garnishes:
Fresh Raspberries
1 stick fresh rosemary
chocolate heart (on side)
Nutrition Information
Yield
1 cocktail
Serving Size
1
Amount Per Serving
Calories

230
Total Fat

0g
Saturated Fat

0g
Trans Fat

0g
Unsaturated Fat

0g
Cholesterol

0mg
Sodium

14mg
Carbohydrates

13g
Fiber

0g
Sugar

8g
Protein

0g
Follow Us:
We enjoy meeting you on our social networks. Follow us on Facebook, Pinterest, Instagram . Tag us with your pictures of our recipes and comment on how it went for you. We would love to see what you do with them.
We often like, comment and share your posts of our recipes on our daily Instagram stories.
Ask questions and rate the recipe in the comments section below. Please share what you did with this recipe. We are always looking for more and better ways to make homemade food. Other cooks love your ideas!
Recent Posts: