Making your own personal Nutella recipes is a great way to enjoy this delicious chocolate tasting spread and improve the flavor and nutrition of the recipe at the same time.
This recipe is a healthier alternative to commercial Nutella, as it features raw or roasted hazelnuts, cocoa powder, vanilla extract, granulated or powdered sugar, salt, and coconut oil. We include several ways to improve the health profile of this Nutella recipe too.
By making your own Nutella, you can control the quality and quantity of ingredients, making it a delicious and nutritious spread for your whole family to enjoy.
Whether you're looking for a sweet treat to enjoy with your morning toast or an indulgent snack for your afternoon coffee break, this homemade Nutella recipe is sure to delight your taste buds and satisfy your cravings.
Is Nutella a Healthy Spread?
Commercially made Nutella is not considered a particularly healthy spread due to its high sugar and calorie content. Nutella is made primarily from sugar, palm oil, and hazelnuts, with a small amount of cocoa powder and skim milk added for flavor.
Here's the Nutrition label for Commercial Nutella: One serving of Nutella (2 tablespoons) contains approximately 200 calories, a whopping 21 grams of sugar, and 11 grams of fat, including 3.5 grams of saturated fat. While hazelnuts are a good source of healthy fats and fiber, the sugar and fat content in Nutella are quite high.
Is Homemade Nutella Healthier?
Making your own hazelnut spread at home using natural ingredients like roasted hazelnuts, cocoa powder, and a small amount of honey or maple syrup to sweeten will improve the nutrition considerably.
Our recipe as written will bring down the sugar from 21 grams to 7 grams. That's a huge drop from the commercial Nutella. Here is the nutrition label for our recipe.
Serving Size 2 Tablespoons, Calories 188, Total Fat 15 grams, Saturated Fat 3 grams, Trans Fat 0, Unsaturated Fat 12 grams, Cholesterol 0mg, Sodium 49 mg, Carbohydrates 10 grams, Fiber 2 grams, Sugar 7, Protein 3 grams.
As you see it is lower in sugar and has no emulsifiers, or preservatives like the commercial brands. However it still is high in calories and fat. Coconut oil is much healthier fat than palm oil. Our recipe is also diary free.
Can you make Nutella even healthier? Of course. Here are some options you may enjoy.
Healthier Versions of this Homemade Nutella Recipe:
With a few tweaks you can develop your own Nutella spread that more closely focuses on the health concerns you have. By making these simple adjustments, you can create a healthier homemade Nutella that you can feel good about indulging in.
Sugar-free Nutella: Instead of using regular sugar, you can use a sugar substitute such as Stevia or monk fruit sweetener. This will reduce the calorie and sugar content of the Nutella.
Dark chocolate Nutella: You can use dark cocoa powder or dark chocolate chips instead of regular cocoa powder to make a healthier version of Nutella with more antioxidants and less sugar.
Vegan Nutella: To make a vegan Nutella, you can use maple syrup or agave nectar instead of honey and replace the coconut oil with a vegan butter or margarine.
Nut-free Nutella: If you or someone in your household has a nut allergy, you can substitute the hazelnuts with sunflower seeds, pumpkin seeds, or roasted chickpeas to create a delicious and nutritious Nutella alternative.
Low-fat Nutella: You can reduce the amount of coconut oil used in the recipe to make a lower-fat Nutella. However, keep in mind that this may also affect the texture and creaminess of the Nutella.
Taking Off the Skins:
Removing the skins of the Hazelnuts is definitely the biggest challenge with this recipe. And it can be time consuming.
is it really necessary to remove the skins from the hazelnuts? It's Not absolutely necessary to remove the skins from the hazelnuts when making homemade Nutella. BUT. Keep in mind…
The skins have a slightly bitter taste that can affect the flavor of the final product. Leaving the skins on will also give you a grainier finished product.
It's up to you. If you choose not to remove the skins from the hazelnuts, your homemade Nutella may be grainier, have a slightly darker color and a slightly more pronounced nutty flavor, but it should still be tasty and enjoyable.
Purchasing hazelnuts already roasted and skinned will save time and effort. To avoid removing the nut skins yourself, you can purchase pre-roasted and skinned hazelnuts from Amazon at the link. These nuts are pre roasted, have no skins and they are unsalted.
Here are a few tips to make removing the skins yourself easier:
Roast the hazelnuts: Properly roasting the hazelnuts first will help loosen the skins and make them easier to remove. Simply spread the hazelnuts on a baking sheet and roast them in the oven at 350°F for 10-15 minutes, or until the skins start to crack and the nuts are lightly browned.
Use a towel: Once the hazelnuts are roasted, let them cool for a few minutes, then transfer them to a clean kitchen towel. Fold the towel over the hazelnuts and rub them together vigorously to loosen the skins. Some skins may not come off, and that's okay – a few left on won't affect the taste or texture of the Nutella.
Use a colander: Another method is to place the roasted hazelnuts in a colander with wide mesh and shake it around until most of the skins fall off.
Soak the hazelnuts: If rubbing the hazelnuts in a towel doesn't work, you can try soaking them in hot water for 1-2 minutes. Drain the water, then rub the nuts together in a towel to remove the skins.
By using these tips, you should be able to remove most of the skins from the hazelnuts without too much trouble.
What is the Most Popular Way to Eat Nutella?
One of the most popular ways to eat Nutella recipes is spread on bread, bagels, rolls, croissants or toast. This simple and satisfying combination of Nutella and bread or toast is a quick and easy way to enjoy the delicious, chocolatey flavor of Nutella any time of day.
Other popular ways to eat Nutella include using it as a dip for fruit or pretzels. Add it your favorite smoothies or milkshakes. Or use it as an ingredient in desserts such as cakes, cookies, and brownies.
Nutella recipes are also used as topping for pancakes, waffles, or ice cream. Or even eaten straight from the jar with a spoon. Believe it or not, Nutella can even be used in savory dishes, such as as a topping for pizza or as a glaze for roasted meats.
How to Store Homemade Nutella:
Nutella recipes made at home contain natural ingredients and no preservatives. So they are more susceptible to spoilage than commercial Nutella, which is made with preservatives.
Store it Cold:
To store homemade Nutella, it's best to keep it in an airtight container in the refrigerator. The container should be tightly sealed to prevent air and moisture from getting in, which can cause the Nutella to spoil or develop off flavors.
Storing homemade Nutella at room temperature for long periods of time is not recommended. Unlike commercial Nutella, Homemade Nutella can spoil or develop harmful bacteria when left out for too long at room temperature.
Keeping natural Nutella in the refrigerator slows down the growth of bacteria and extends its shelf life. Storing Nutella in the refrigerator also helps to maintain its texture and flavor. Cold storing prevents the oil and sugar from separating or crystalizing.
If you prefer to serve the Nutella at room temperature, you can let it sit out for a few minutes to soften before you use it. But store it properly in the refrigerator in between uses to ensure that it stays fresh and safe to eat.
Homemade Nutella can typically be stored in the refrigerator for up to two weeks, although the exact shelf life may vary depending on the freshness of the ingredients used and how the Nutella was prepared.
Freezing Nutella:
For longer storage you can also freeze it. To freeze your Nutella, transfer it to a freezer-safe container and store it in the freezer for up to three months.
Before using refrigerated or frozen Nutella, be sure to let it come to room temperature for a few minutes to soften it up. This will make it easier to spread and ensure that you get the full flavor and texture of the Nutella.
Yield:

12-2 Tablespoon servings (1 1/2 Cups)
Homemade Nutella Recipes
Ingredients
2 cups hazelnuts (raw or roasted)
1 1/2 tbsp vanilla extract
1/4 cup cocoa powder
1/3 cup sugar (powdered works best)
1/4 tsp salt
2 tbsp coconut oil (melted)
Instructions
Roast hazelnuts at 350 F for 15 minutes on a baking sheet.
Remove from oven when browned and skins crack.
Place hazelnuts in a towel )or colander) and rub or shake the nuts together until skins fall off. You wont get them all off.
Put hazelnuts in food processor and whir them until they are a nut butter consistency. This may take a few minutes.
Add remaining ingredients into the food processor.
Blend until the consistency of Nutella is smooth liquid (about 5-8 minutes). It will still be slightly grainy.
The nutella will set up to a thicker consistency as it cools.
Store Nutella in airtight container in the fridge up to two weeks.
Nutrition Information
Yield
12
Serving Size
2 Tablespoons
Amount Per Serving
Calories

188
Total Fat

15g
Saturated Fat

3g
Trans Fat

0g
Unsaturated Fat

12g
Cholesterol

0mg
Sodium

49mg
Carbohydrates

10g
Fiber

2g
Sugar

7g
Protein

3g
What can I do with my Nutella?
Nutella is a delicious and versatile spread that can be used in an endless number of Nutella recipes. We think these Nutella recipes will work well with homemade Nutella. But you may have to adjust the sugar to taste, since they were developed for commercial Nutella.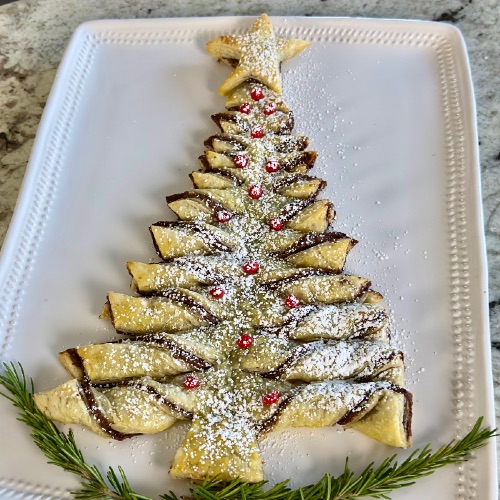 More Delicious Sweets:
Mo matter what you're fancy we have sweets for you. Many of these recipes calling for chocolate can be adapted for Nutella instead. Enjoy!
Follow Us:
We enjoy meeting you on our social networks. Follow us on Facebook, Pinterest, Instagram . Tag us with your pictures of our recipes and comment on how it went for you. We would love to see what you do with them.
We often like, comment and share your posts of our recipes on our daily Instagram stories.
Ask questions and rate the recipe in the comments section below. Please share what you did with this recipe. We are always looking for more and better ways to make homemade food. Other cooks love your ideas!
Recent Posts: