Greek yogurt parfait is an amazing greek yogurt recipe. It's so delicious and healthy. What a great way to feed your family.
I have been making this greek yogurt dessert for our family for decades now. Our kids devoured homemade yogurt as children with little or no sweetener. Just a bit of fruit preserves or fruit sauce and homemade granola.
Then along came the grandkids and another generation of toddlers were weaned onto this amazingly healthy food. I am not kidding. Kids LOVE homemade plain greek yogurt recipes. It's so rich and creamy they eat it without sugar or flavorings.
You can make your own Greek yogurt in the traditional stove top method, crock pot or in your instant pot. It's so easy and saves you money too.
Put it together in minutes. With no cooking required.
Is a Greek Yogurt Parfait Healthy?
Greek Yogurt Parfaits can be healthy depending on the ingredients of the parfait. Generally speaking less sugar will make these parfaits a bit healthier. Using Plain Greek yogurt instead of sugar laden flavored yogurts will make it healthier. Don't add extra sugar in the parfait. Choose fruits that have a lower sugar content if that is important to you.
Honey has around 17 grams of sugar per tbsp. If you want a lower sugar and healthier option, avoid adding too much honey on top. Granola also contains sugar and carbs. Look for healthier granola options that do not contain excess sugar to keep this parfait healthier.
What Fruit can I use in a Greek Yogurt Parfait?
There are lots of different options for fruit that can be used in a parfait. Here are a few of our favorite fruit options to add in a Parfait:
Strawberries
Blueberries
Raspberries
Blackberries
Huckleberries
Pomegranate Seeds
Bananas
Kiwis
Nectarines
Peaches
Pineapple
Cantaloupe
Honey Dew Melon
Mango
Papaya
Mint Leaves (for garnish)
Is a Parfait good for weight loss?
Parfaits can be a great addition to add into any weight loss plan. Greek Yogurt is high in protein and can keep you full for hours. Berries and fruit are also a great way to add vitamins and extra nutrients into your diet plan. Just make sure you are vetting your ingredients if you are trying to stay within a certain caloric intake or sugar and carbohydrate goal.
Parfaits can have hidden calories and sugar. Carefully examine ingredients to ensure the fit into your fitness goals/plan. Granola can have extra sugar. The greek yogurt should be plain if you are trying to cut down on sugar.
Greek Yogurt Parfait Recipe:
Cool, sweet and slightly crunchy. Greek yogurt parfait makes an excellent breakfast, light meal or snack. Homemade Greek yogurt, with fresh berries or berry sauce with a homemade granola sprinkled throughout. Delicious and nutritious.
There is lots of protein and nutrients in Greek yogurt. Homemade Granola offers fiber and sustaining carbs. Any kind of fresh fruits are wonderful in this recipe. Just swirl it all in a cup, bowl or mini mason jar. Add any fruit sauce or fresh fruit preserves you desire.
Try changing out the fruits for variety. Homemade fresh raspberry sauce, Blackberry sauce, Blueberry sauce, homemade Lemon Curd, and Strawberry Rhubarb sauce all are great in this recipe.
All berries and fruits are amazingly good for you. If you don't have a berry patch handy, stop by a local berry stand or farmer's market. We eat this parfait with peaches too. Try it with kiwi and avocado.
And if you want something new give figs a shot. Everything goes well with plain greek yogurt.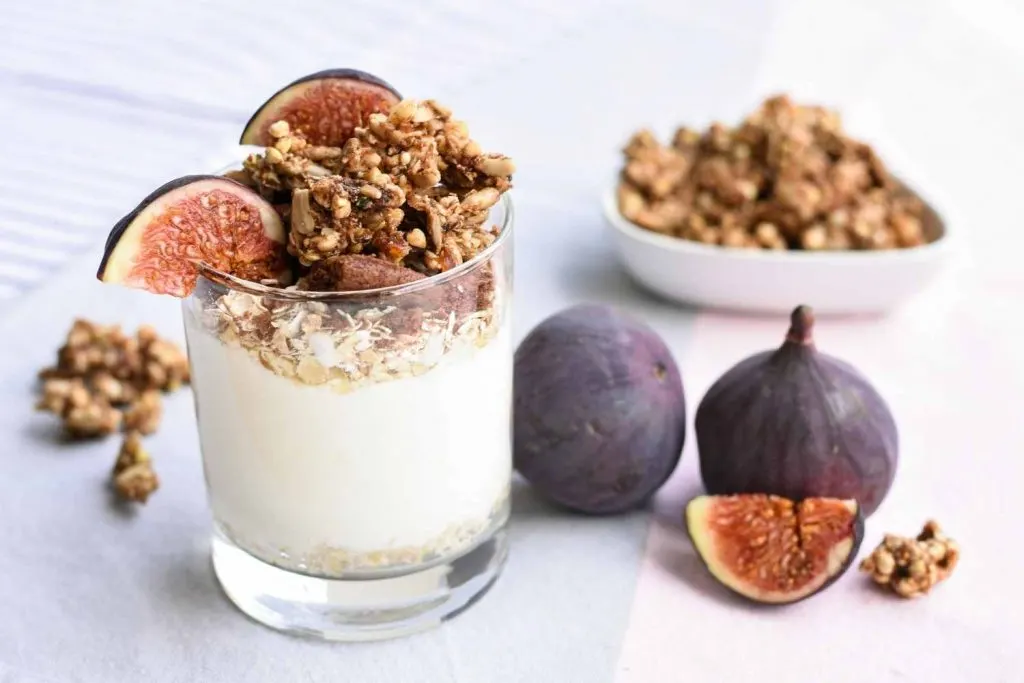 If you have an Instant pot you HAVE to try making yogurt in it. Then strain it to the thickness you enjoy. So easy! You will never go back to store bought once you taste your own. Simple, yummy and inexpensive. I love that.
Make your own fruit sauces, granola and Greek Yogurt to save money and give you control over your recipes. Make it homemade and make it how you like it!

Homemade Food Junkie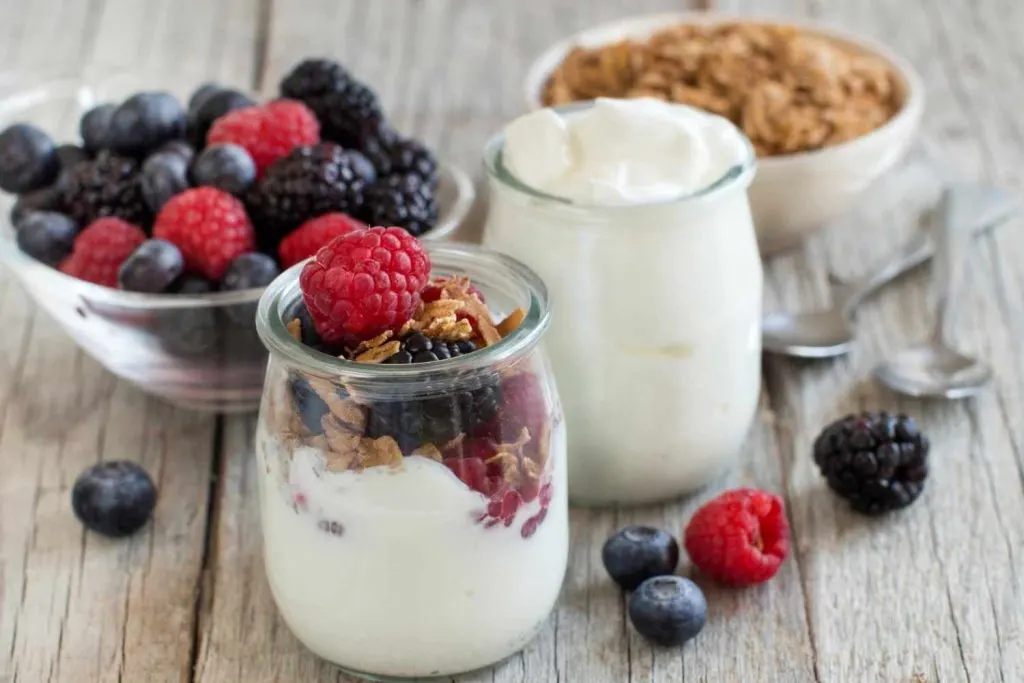 Let's put the parts together:
Homemade Greek yogurt and homemade granola are your kitchen helpers.
Homemade Greek yogurt is an excellent thick creamy base for this dessert. Strain it thick!
There are several recipes for homemade granola on this blog. All of them have graced a Greek Yogurt parfait for our family at some point.
Add a healthy fruit or fruit sauce. These parfaits are great with low sugar jam, or any fresh fruit, low sugar canned fruit or fruit sauce. I have a recipe for blackberry sauce in my blackberry crumble bars recipe that is excellent for this parfait.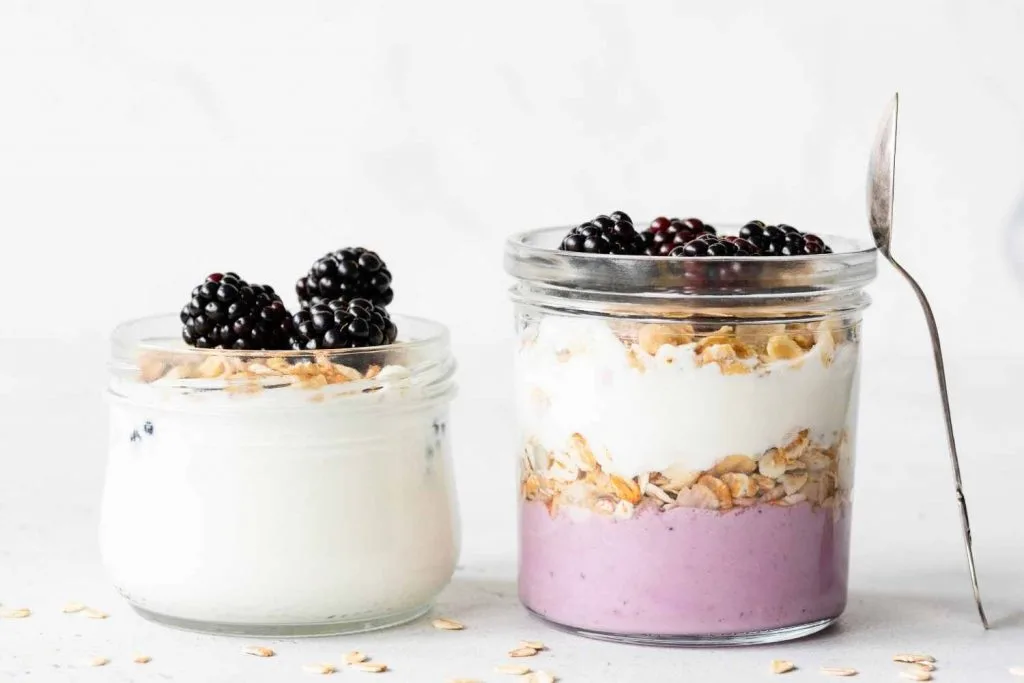 Adjust this plain Greek yogurt recipe to suit yourself. The other best part of making your own Greek Yogurt, granolas, and berry sauces is that you can save quite a bit of money over the course of time.
Better, healthier and cheaper! And your family will love it.
Here's the printable Recipe: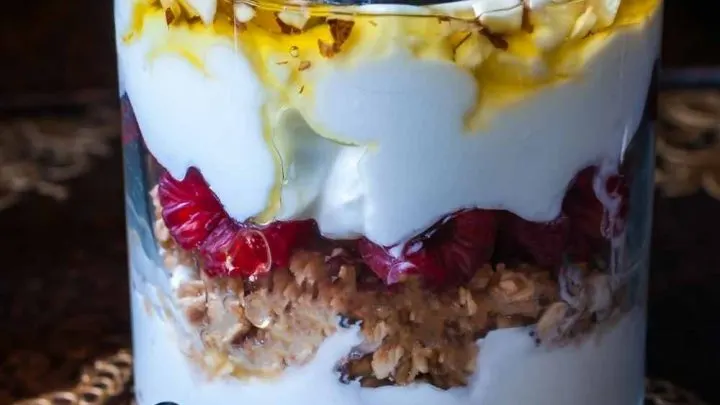 Yield:

1 serving
Greek Yogurt Parfait
Ingredients
4 Tablespoons fresh fruit of your choice
Instructions
Make a Layer of plain greek yogurt into the bottom of your parfait glass or jar.
Pour granola, sauce and fruit over the yogurt.
Add another layer of yogurt over the berries and granola.
Top with more berries, sauce and granola.
Notes
Greek yogurt parfaits can be made in any way you want with whatever fruit, sauces or granola you have on hand.
Nutrition Information
Yield
1
Serving Size
1
Amount Per Serving
Calories

166
Total Fat

4g
Saturated Fat

1g
Trans Fat

0g
Unsaturated Fat

3g
Cholesterol

6mg
Sodium

45mg
Carbohydrates

18g
Fiber

2g
Sugar

11g
Protein

14g
Follow Us:
We enjoy meeting you on our social networks. Follow us on Facebook, Pinterest, Instagram . Tag us with your pictures of our recipes and comment on how it went for you. We would love to see what you do with them.
We often like, comment and share your posts of our recipes on our daily Instagram stories.
Ask questions and rate the recipe in the comments section below. Please share what you did with this recipe. We are always looking for more and better ways to make homemade food. Other cooks love your ideas!
Recent Posts: