Dark Chocolate Chip Cookies made with rich, dark chocolate and sweet cookie dough; adding depth to the flavors of the traditional chocolate chip cookies we all love. This traditional recipe is easy to make and we are sharing our tips for how to get the softest, fluffiest cookies you could imagine.
The dark chocolate chips bring a balance to the iconic Chocolate Chip Cookie with a creamy, deep chocolate note that everyone loves. These cookies also store and freeze well when stored properly, so make a double batch to share with friends, or store in your freezer for another day.
Cookies are probably our favorite homemade dessert and we have so many cookie recipes on the blog you will love. Here are just a few of our favorite Chocolate Chip Cookie recipes.
You can replace the milk chocolate chips with dark chocolate chips in any traditional cookie recipe that calls for regular chips.
Dark chocolate, or bittersweet chocolate contains 70% or more cocao, anything less would be considered semi-sweet chocolate, milk chocolate or otherwise. Dark chocolate is an excellent choice for cookies as it brings a deep, rich chocolate flavor without adding to the sugar content of the recipe.
Dark chocolate is also higher in antioxidants, but it depends on the quality of the brand. Many companies do not source their chocolate ethically and it can be made with lower quality cocao cut with fillers.
Cookies, although simple enough, do take some care and consideration in order to make the very best fluffy and soft cookies. Common cookie making problems include flat, dense, underdone and sometimes tough cookies which no one wants. To keep your cookies light and fluffy make sure you follow these tips.
All ingredients including the eggs and especially the butter, need to be warmed to room temperature. This allows for optimal creaminess and prevents over mixing the dough.
Cream the butter, sugars and eggs first. This is important to ensure the right texture for your cookies.
Follow the recipe measurements exactly. Don't add extra sugars, butter or flour to your recipe, this can yield dense, dry or flat cookies.
Only mix the dry ingredients until just combined into the wet ingredients. Over mixing will take the air out of the dough, break down the structure of the dough, and will likely lead to tough cookies.
Use an ice cream or cookie scoop to measure out the dough onto the baking sheet. Uniform size is important to ensure even baking, if your cookies are inconsistent in size some will be over done and dry, while others will be raw in the middle.
Don't bake your cookies at a high temperature. Lower temperatures are ideal for cookies which will allow the middle to bake without over baking the edges and tops of your cookies.
Can I freeze my baked Chocolate Chip Cookies?
Cookies can freeze very well for 3-4 weeks when stored properly. You can also freeze the raw cookie dough if needed. Cookies are a great dessert to share because they can be stored and transported easily.
To freeze raw cookie dough simply make your dough, roll it into a disc shape and wrap it tightly in plastic wrap. Cover the wrapped dough with tinfoil, label the dough and mark with the date. Frozen cookie dough can be kept for up to one month. To use, remove it from the freezer allowing it to thaw until it has reached a workable consistency.
To freeze baked cookies allow them to fully cool and place them in a single layer on parchment paper. Place them on a flat, level surface in the freezer until they have frozen. Once the cookies are frozen, gently move them into a freezer safe airtight bag. Place the bag into a freezer safe container to prevent them from getting broken in the freezer. Label them and include the date.
When you are ready to eat them, remove the cookies from the freezer and transfer them to the fridge until they have thawed. To warm the cookies place them on a parchment lined baking sheet and warm them in the oven at 325 degrees F for 8-10 minutes or until they are warm to the touch.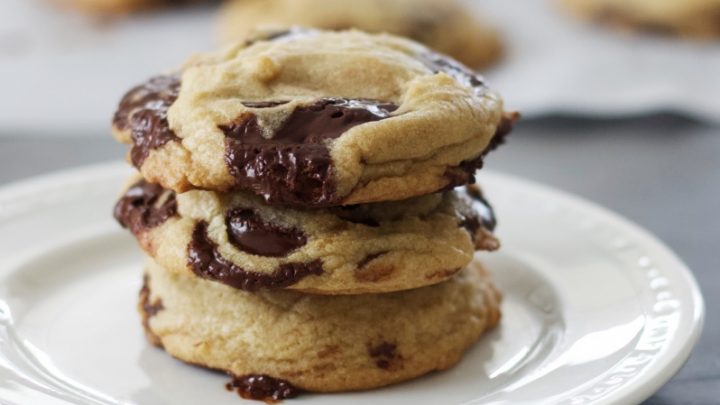 Yield:

36 cookies
Deliciously Dark Chocolate Chip Cookies
Choc full of delicious organic dark chocolate chips. These cookies have lots of antioxidants for high energy carbs that count positively in the health column.
Ingredients
3 Cups flour
1/2 tsp. salt
1 tsp. baking soda
1 cup granulated sugar
1 Cup brown sugar
1 tsp. vanilla
2 eggs
1 Cup butter, softened
1 Cup chopped nuts (optional)
Instructions
Preheat oven to 350 degrees F.
Gather your ingredients
In a larger bowl, Add granulated sugar, butter, and brown sugar.
Beat together until creamy.
Add one egg and blend it in. Now add the second egg and blend it in as well. Blend in the vanilla now.
Whisk together flour, salt, and soda in a small bowl.
Pour the flour mixture, in small additions, into the wet ingredients.
Mix after each addition until all the dry is used.
Stir in the nuts (if using) and chocolate chips.
Drop by tablespoons (or use a cookie scoop) onto an un-greased cookie sheet about 2 inches apart.
Bake for 10 minutes until lightly browned. (this may vary in your oven)
When slightly browned remove from oven and let rest for a few minutes on the cookie sheets.
Remove to cooling racks.
Notes
Use dark chocolate chips with over 70% dark chocolate for the best flavor and to get the health benefits of dark chocolate.
We used the large size chocolate chips but you can also use the regular sized dark chocolate chips. These can also be made with dark chocolate chunks if you want that big melty chocolate cookie.
Nutrition Information
Yield
36
Serving Size
1 cookie
Amount Per Serving
Calories

171
Total Fat

8g
Saturated Fat

5g
Trans Fat

0g
Unsaturated Fat

3g
Cholesterol

25mg
Sodium

115mg
Carbohydrates

23g
Fiber

1g
Sugar

14g
Protein

2g
Follow Us:
We enjoy meeting you on our social networks. Follow us on Facebook, Pinterest, Instagram . Tag us with your pictures of our recipes and comment on how it went for you. We would love to see what you do with them.
We often like, comment and share your posts of our recipes on our daily Instagram stories.
Ask questions and rate the recipe in the comments section below. Please share what you did with this recipe. We are always looking for more and better ways to make homemade food. Other cooks love your ideas!
Recent Posts: