Peanut Butter Oatmeal Cookie recipe with Chocolate Chips is richly sweet, chewy and satisfying. Your family will love these sustaining peanut butter cookies.
Peanut Butter Chocolate chip cookies are favorites here. I've put chocolate chips in pretty much every one of our peanut butter cookies recipes at one time or another.
Chocolate and rich creamy peanut butter flavor are an unbeatable team. Add the oatmeal and that cookie is a masterpiece.
More Peanut Butter Cookie Recipes:
We LOVE peanut butter cookies. Here are a few of our favorites. If your a sourdough baker be sure to also try our sourdough Peanut Butter Oatmeal Cookies. So good!
The oatmeal adds a pleasing flavor that's reason enough to add it in. But using rolled oats also adds chewy texture and sustaining fiber.
Now your taste buds are happy. These little indulgences make fantastic snacks. Kids buzz through a batch of these in a hurry if you don't lock the cookie jar.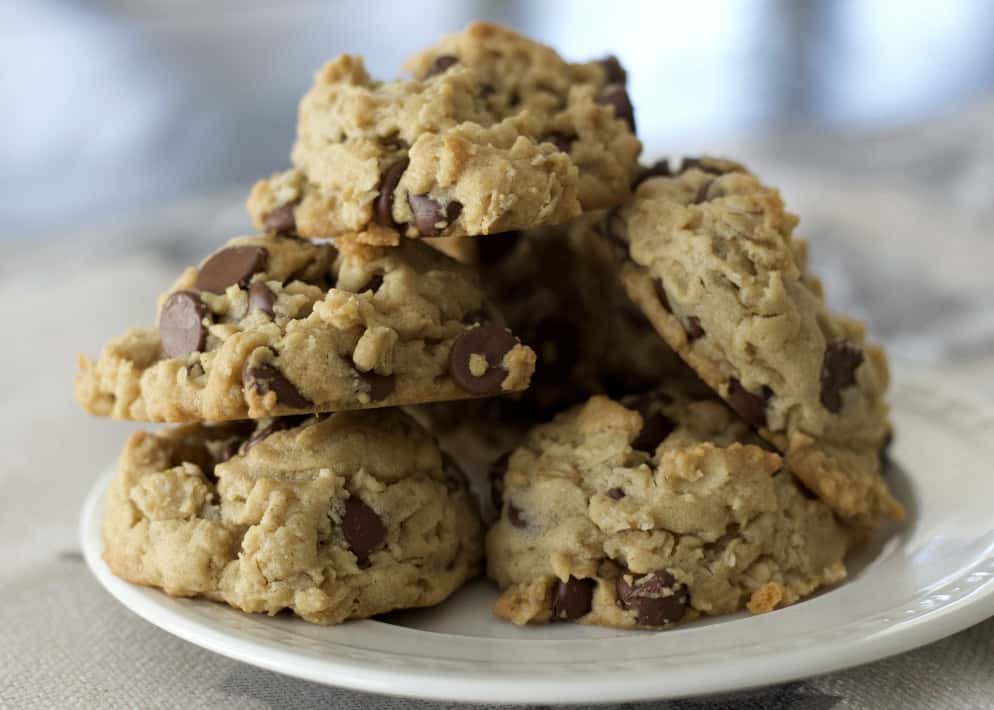 These goodies are a wonderful choice for baking ahead. They freeze well like a chocolate chip cookie recipe and are just as well loved at parties and events.
Peanut Butter Oatmeal Cookies Recipe:
Here are all the ingredients needed for this recipe. We are using regular milk chocolate chips. If you prefer dark chocolate chips they will work fine in this recipe.
Tips For Making these Cookies:
We recommend Creamy peanut butter. The cheap store brands I have tried work fine. Crunchy has a bit too much texture for this recipe. Stick with creamy.
Do NOT use a natural peanut butter for this recipe. I don't know why but the natural style peanut butters cause the cookies to be dry and crumbly. Not what we are going for here at all.
Use old fashioned oats. They will create a better texture and flavor by far than quick oats.
Use room temperature eggs and butter for best results.
In our video demonstration you will see we use a stand mixer. You can also use a hand held mixer at least until you get all the whisked dry ingredients mixed. Then stir in the oats and chocolate chips.
And yes a large wooden spoon, large bowl and LOTS of muscle will work fine to make this recipe. 🙂
The baking time will vary slightly depending on your oven. The cookies are done when they are lightly browned. I recommend you babysit the first batch to be sure the cookies don't over bake.
Storing and Freezing:
Store in a cookie jar once completely cooled. They will hold well for up to five days.
For Longer storing refrigerate in a airtight container.
These cookies stand up great to freezing once thoroughly cooled and set up.
Freeze them flat so they don't crumble.
You can freeze them solid right on your baking sheet. Then remove the cookies to a freezer bag with all the air sucked out.
Or layer the cookies in a freezer container with an airtight lid. Place parchment between the layers for easy thawing and removal.
Thawing:
Thaw at room temperature for quick thaw.
Do NOT microwave these cookies to thaw or you will have a mess.
For slower thawing set your freezer container right in the fridge and let sit several hours to all day.
Helpful Products:
Jenaluca Scoops. This is a beautiful set of three scoops. Would make a lovely gift for your favorite foodie. I use the middle size for cookies.
Silicone Sheets are so handy for baking cookies. The cookie bottoms won't stick to the pan or burn.
Your Printable Recipe Card: