The beautiful Vampire's Kiss adds an elegant touch to your Halloween drink menu. Enticing, and deceptive…like a Vampire's kiss.
This is a bubbly sweet vodka drink with Chambord raspberry liqueur and champagne . Add in Cranberry juice and Grenadine to intensify that Vampire gorgeous red.
More Halloween Haunt Drinks:
Halloween drinks should be fun but tasty. Try these in your favorite spooky settings to add mystery, color and fun to your Halloween party table. Or any time!
Edible glitter and changing up the garnishings will make these versatile drinks fun for everyone.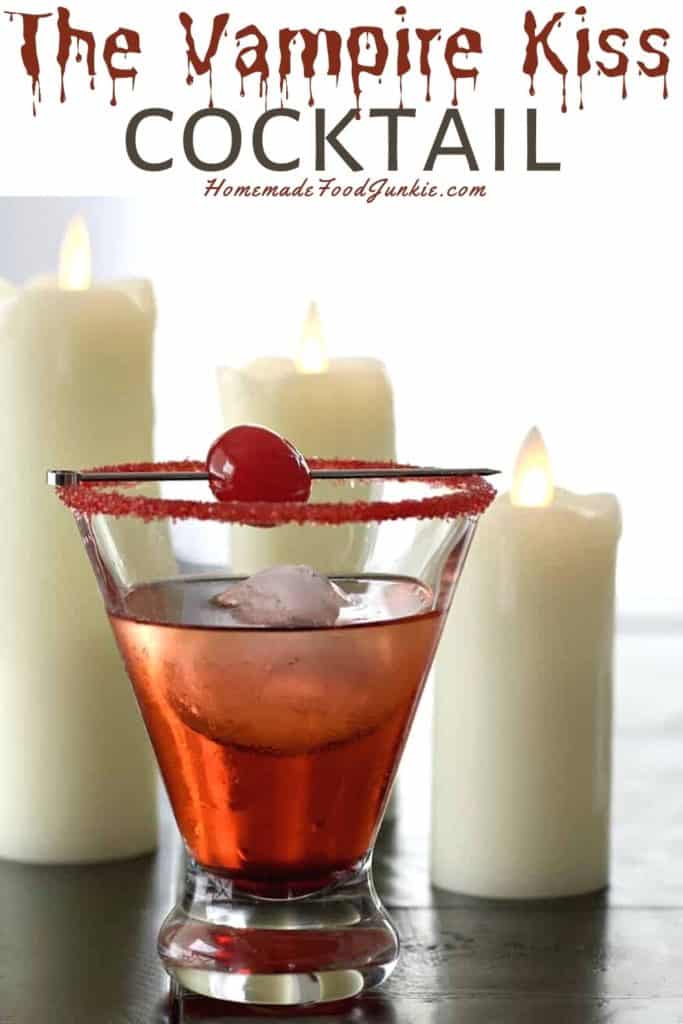 More Garnishing Ideas:
The Vampire's Kiss can be put into many settings. it's all about presentation.
This beautiful Champagne red drink is PERFECT for a Halloween wedding with the red rim, large cube of ice and the cherry suspended on top.
This Red cocktail adds to both the drama and romance of a themed wedding. This could also go Goth with the proper spooky backdrops and garnishings.
You can also serve this up at Valentine's day. Just add hearts.
Turning it into a Vampire Drink with Darker Sinister Vibes: Or a Sillier campy feel…
Use Black sanding sugar instead of red.
Use This large Black pick straight down in the glass with the cherry pierced through to represent a staked heart.
Add a skeleton ice cube to the glass. Or go full cemetary vibe with these spooky cubes.
For some flash and swirl try edible glitter. You only need a tiny bit swirled in the drink to bring in a gorgeous yet mysterious look.
If you want to go Campy try to find a set of teeth to hang on the side of the glass. Dollar store maybe?
Fun Halloween Glasses:
We used a stemless martini glass. You can go even more elegant with a stemmed Martini or this Nick and Nora coup glass (Sans the ice).
Here's a few fun Halloween themed Halloween glasses.
What You Need:
Once you've chosen your glass and garnishings here are the essential ingredients to make the Vampire's Kiss Cocktail.
We chose these brands and love the flavor blends. You can substitute but the flavors may change a bit.
Your Printable Recipe Card: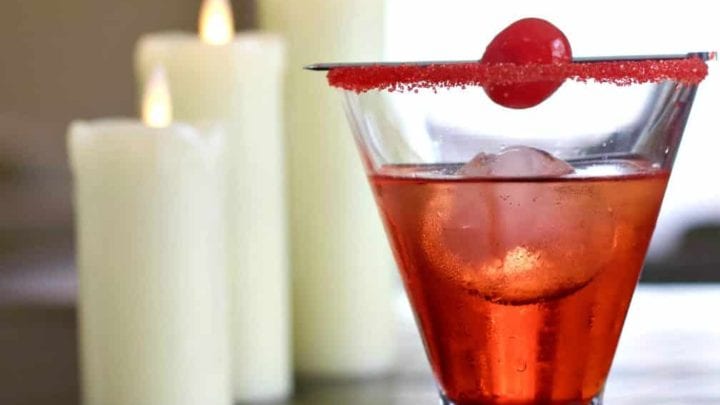 Yield:

1 cocktail
Vampire's Kiss Halloween Drink Recipe
The beautiful Vampire's Kiss adds an elegant touch to your Halloween drink menu. Enticing, and deceptive...like a Vampire's kiss.
Ingredients
For the Vampire Kiss Drink:
1 1/2 oz. Vodka (Titos)
1 oz. raspberry Liqueur (we chose Chambord)
1/2 oz. cranberry juice (we used sweetened)
1 1/2 oz. Champagne (our choice Barefoot bubbly)
For rimming the cup:
Grenadine-(as needed)
Red sanding sugar-(as needed)
Garnish:
Instructions
Prep:

Chill your glass at least 30 minutes in the fridge or 15 minutes in the freezer.
For best presentation use a large round ice cube in a stemless martini glass.
Rim the Glass:
pour grenadine to cover a small flat plate the diameter of your glass rim.
Pour the sanding sugar on a SEPARATE plate of equal size to cover the plate liberally.
Invert your chilled glass into the grenadine forming a red rim of syrup on your glass.
Invert the wet rimmed glass into the sanding sugar until the sugar clings well to the syrup forming a red rim.

Make the Vampire Kiss:
Set out the rimmed glass and carefully lay the large round ice cube in the glass bottom.(do not disturb the rim).
Measure and pour the vodka, Chambord, cranberry juice into the rimmed glass.
Add the champagne next.
Finally drizzle the grenadine over the back of a spoon onto the large round ice cube. for the bloody Vampire Kiss effect. 🙂
Garnish:
a maraschino cherry suspended on a pick over the glass. A stainless pick will give you a bit of the stake in the heart vibe. A WOODEN long pick will really look like a vampire killer. 🙂
The large ice cube really helps reduce dilution of the drink. I highly recommend them.
Notes
This a pretty and tasty sweet red drink you can enjoy all year. And at various special events. Halloween wedding? This drink is perfect!
The garnishing can be changed to follow your party theme. This would also make a great santa drink(try a white rimmed glass) or romantic Valentines cocktail with hearts on a pick.
Substitutions:

We gave you the brand we use so you can exactly reproduce the flavor blend we enjoy. If you're not that picky or want to change it up here are some ideas for using what you have on hand.
Use your favorite vodka
Any Raspberry Liqueur will replace the chambord.
The cranberry juice may be sweetened like we used. OR unsweetened if you wish to increase the grenadine for a deeper color. you can also reduce the sweetness of this drink by using an unsweetened cranberry juice.
Use a true champagne for the best results. Not a sparkling wine.
Nutrition Information
Yield
1
Serving Size
1
Amount Per Serving
Calories

227
Total Fat

0g
Saturated Fat

0g
Trans Fat

0g
Unsaturated Fat

0g
Cholesterol

0mg
Sodium

6mg
Carbohydrates

18g
Fiber

0g
Sugar

15g
Protein

0g