This quick and easy Halloween veggie tray adds a healthy option to your halloween party.
Create this cute skeleton veggie tray for halloween with a plastic glow in the dark skeleton, an indelible marker, a tray and your favorite veggies.
Kids LOVE this fun, friendly and cheerful Halloween party tray.
They will gobble up those veggies to uncover that cute skeleton.
Keep your party food menu simple with Halloween finger foods like this.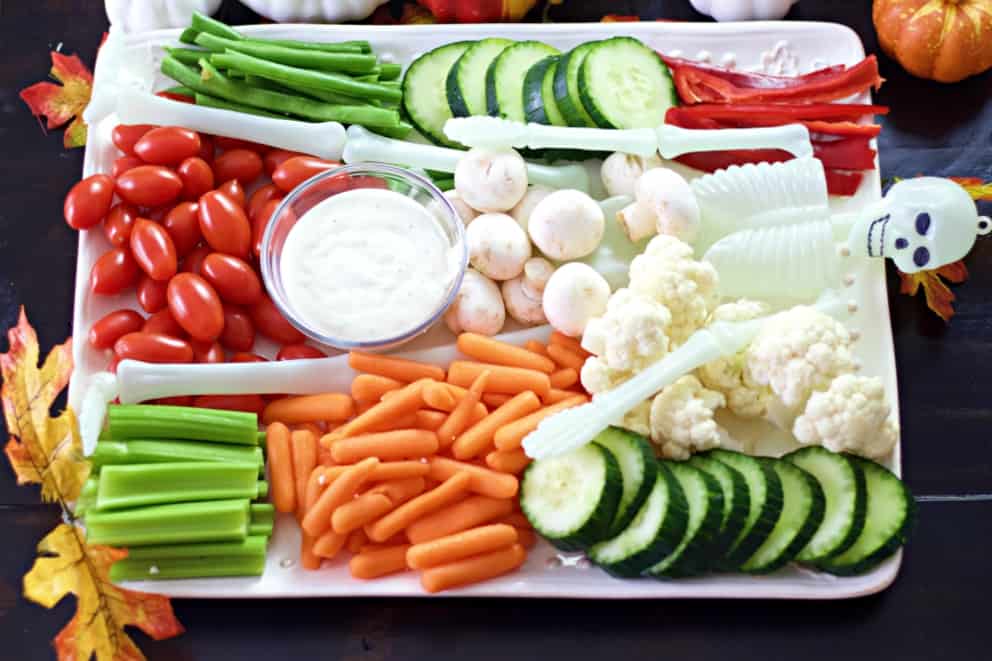 Halloween themed food needs to be easy. Everyone wants to get dressed up and show off outfits and do things.
More Fun Halloween Food ideas:
These family friendly treats are all fun Halloween party foods. Have the kids help make them. You might also like our Halloween Graham Cracker House food craft for kids. It's a great group craft and they can eat it!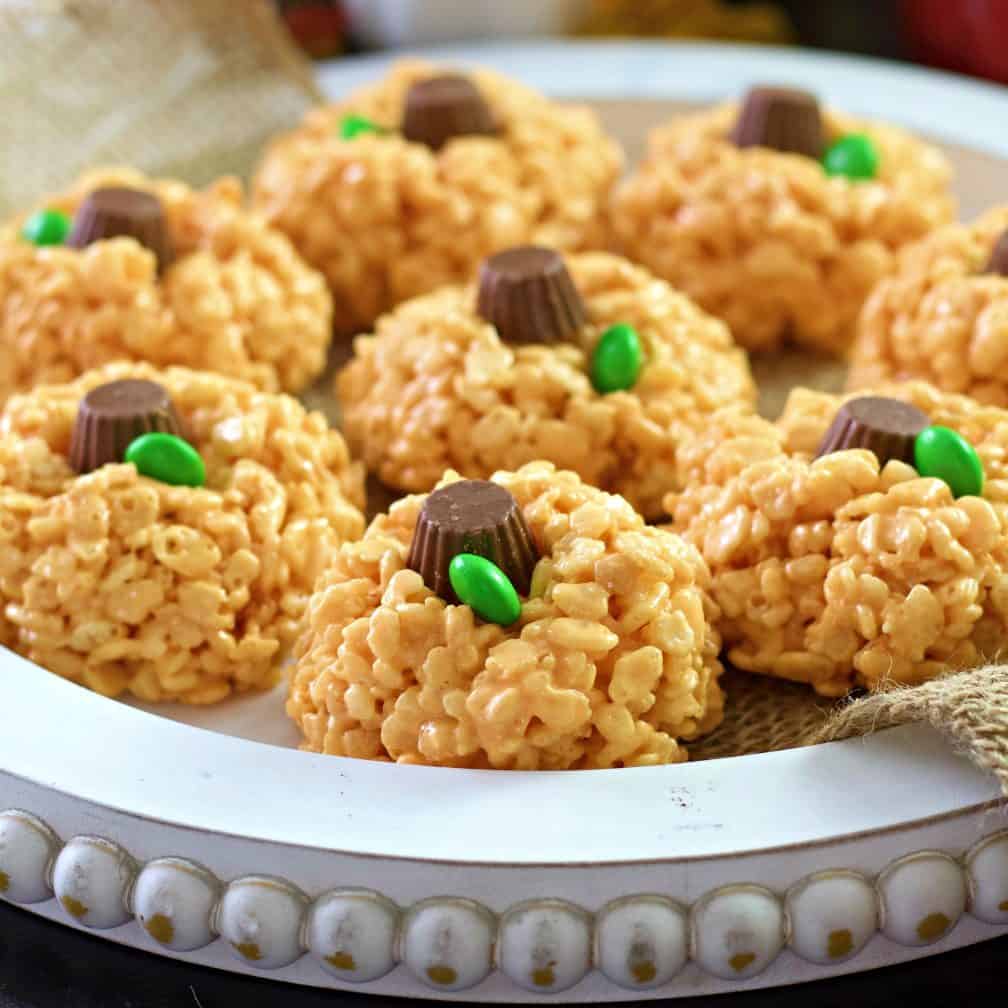 Skeleton Veggie Tray:
We don't focus too much on healthy snacks at halloween. However, a veggie tray is a good way to include some nutrients into this candy laden day. Surprisingly kids LOVE snacking on veggies from this tray.
The Skeleton:
I used a dollar store skeleton I had kicking around in my Halloween decor. I have found SO many ways to use it over the years.
You can always find plastic skeletons on the cheap. If you need to order online here is a two pack of glow in the dark skeletons from Amazon.
My seven year old grandson unearthed our cheerful skeleton from the veggie tray and immediately adopted him. Our skeleton friend now lives in Danes bedroom. 🙂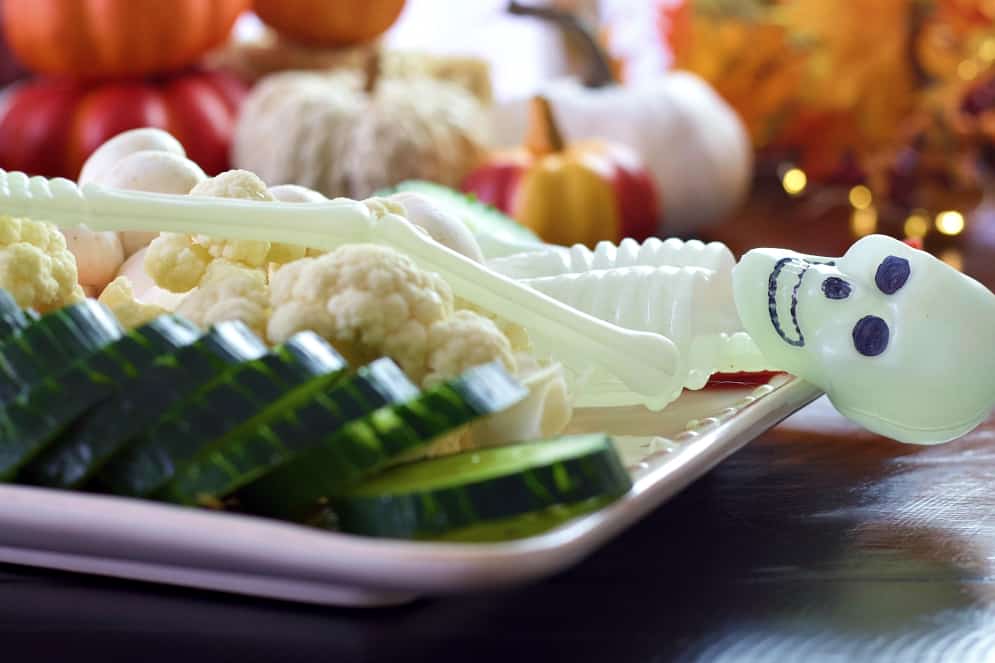 This skelton is glow in the dark. I used a black indelible ink marker to fill in the impressions on his face. You can decorate your skeleton to be more scary or keep him cheerful and friendly like I did.
Making the Halloween Veggie Tray:
We used a large white platter for our veggie tray. Here's a white tray that will work well too. Any harvest tray will make a cute veggie tray.
Anything you have will work for a tray including a baking sheet lined with tin foil and covered in fake Halloween leaves, romaine lettuce leaves or even artfully arranged corn husks.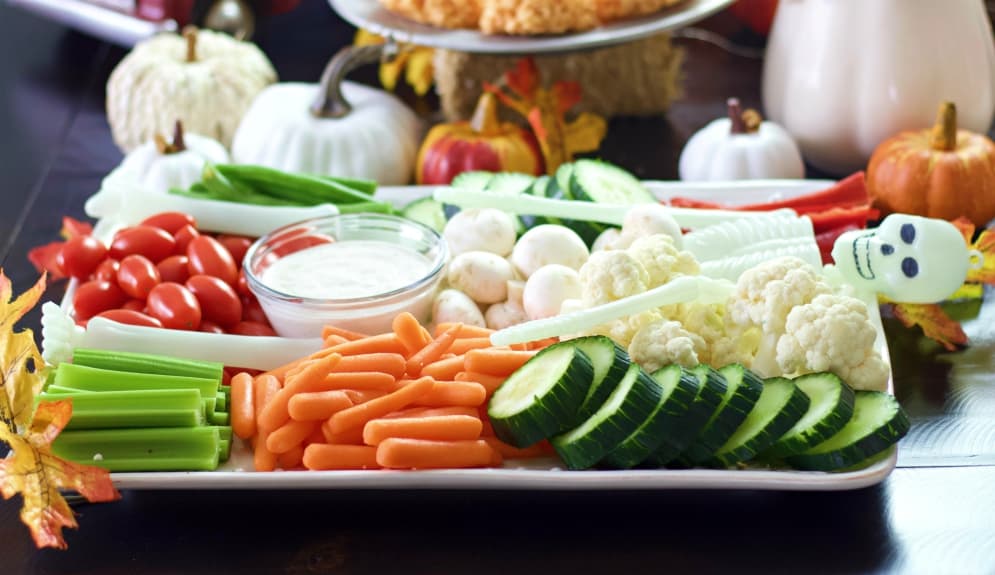 If you want to buy a fun halloween tray of about the right size Amazon has a whole page of ideas for you.
Once you have your skeleton on board the tray just load it up with vegetables you love.
In the printable recipe card I include more veggie ideas for you. Pretty much use what what you like. I do suggest you choose things that can be added quickly without a lot of prep.
Cherry tomatoes, whole button mushrooms, baby carrots all can be dumped on after washing.
The ranch dressing I used came from a bottle. Use whatever dressing you enjoy. Blue cheese, Thousand Island or any creamy dressing will work well if your party crowd likes them. We find ranch to be a popular choice.
Your Printable Recipe Card:
Yield:

10 servings
Easy Skeleton Veggie Tray
A glow in the dark plastic skeleton can quickly turn your veggie tray into a family friendly Halloween veggie tray. This is so easy and well loved by kids.
Ingredients
1 cucumber
12 oz. baby carrots
12 oz. grape tomatoes
1/2 Head cauliflower
1 pint button mushrooms
25 green beans
2 stalks celery
1 red bell pepper
1 Cup Ranch Dressing
Instructions
Prep the tray:
With an indelible marker create a face for your skeleton by filling in the impressions as you desire. (You can also outline other features per your preference)
If you prefer you can lay autumn leaves or lettuce leaves on the tray.(I didn't)
Lay the skeleton on a party tray of about the same length so the head and feet are visible on the ends.
Prep the veggies:
Wash the veggies and let dry.
Cut the cauliflower into large florets.
Chop the celery into 4 inch log lengths.
Slice the pepper long ways.
Run a fork down the sides of your cucumber to add interest. Now slice into medallions.

Assemble the Tray:

Arrange the prepared vegetables and dip on and around your skeleton as you like.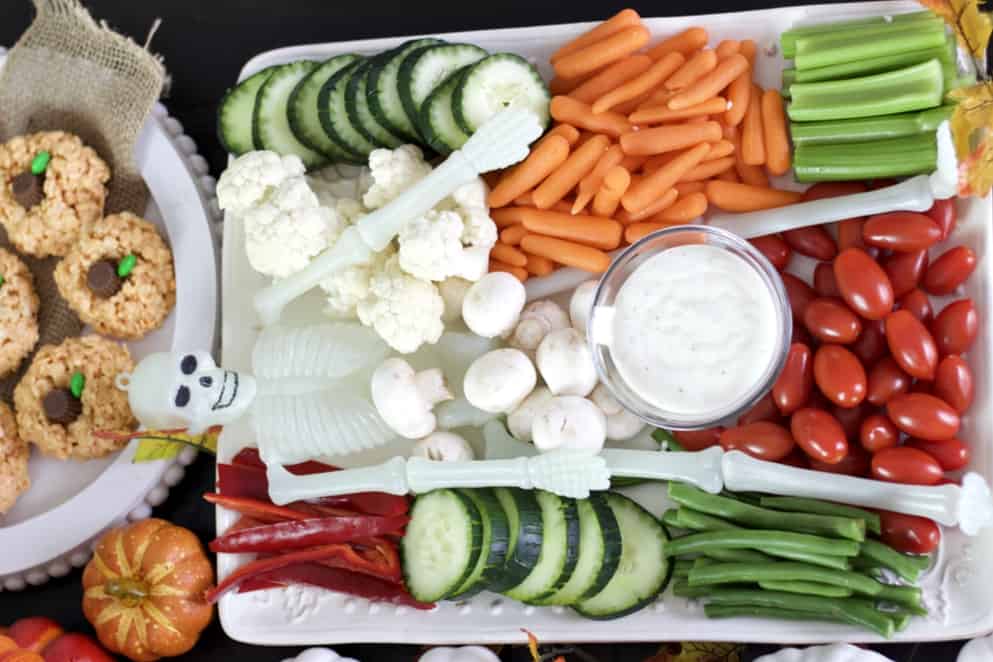 Notes
More ideas:

There are endless ways to do a Halloween veggie tray. This is an easy Halloween appetizer and it is healthy. You can use whatever skeleton you find. Mine came from the dollar tree. It will glow in the dark.
More great veggies to choose:
You know your crowd and what they like. Choose your favorites. Need Ideas? Here's a few more:
Sugar Snap peas
asparagus spears
artichoke hearts
Broccoli florets
olives
Nutrition Information
Yield
10
Serving Size
1
Amount Per Serving
Calories

253
Total Fat

12g
Saturated Fat

2g
Trans Fat

0g
Unsaturated Fat

9g
Cholesterol

6mg
Sodium

260mg
Carbohydrates

35g
Fiber

13g
Sugar

17g
Protein

8g