Pudding Dirt Cups make a fun party treat that is wildly popular with kids, makes the perfect food craft for birthday parties, and can be prepared to fit a variety of different party themes. From spooky Halloween themes with gravestones, to construction themed birthdays, garden parties or a simple cookie and pudding layered dessert; these treats are the perfect addition to your dessert lineup.
Made with your choice of pudding, crushed cookies, candies to fit your theme, and any additional ingredients of your choice. Add some cool whip, brownie chunks, caramel drizzle, peanut butter, even cereal! These can be as fancy or simple as you want them to be.
What is Dirt Pudding made of?
The traditional Dirt Pudding recipe is simple and delicious, made from chocolate pudding and layered with crushed chocolate cookies to resemble dirt. Typical garnishes are usually gummy worms or non edible plastic flowers, however, they are popular on the Halloween scene as grave scenes.
Watch the video to see how easy these are to make
How do I make the best Dirt Cups?
Follow the instructions on your pudding box and measure all of the ingredients exactly as called for. Too much liquid or over mixing your pudding will result in a weak, runny consistency that won't hold it's shape as well for layers and stabilizing decorations.
If you prefer, you can make your own pudding from scratch which will allow you more control over the quality of ingredients. It takes the 'ease' out of this recipe, but homemade is always superior and it really isn't that difficult.
DIY Graham Cracker Haunted Houses are another fun holiday treat to do with kids. It's entirely open ended and such a fun food craft activity!
Can you use heavy whipping cream in Instant Pudding?
Yes, if you are looking for an extra thick and strong consistency heavy cream can be substituted for whole milk when making pudding. This is ideal for pie fillings, layered desserts, or when you need the pudding to support candies and decorations. It will also deepen the flavor quite a bit!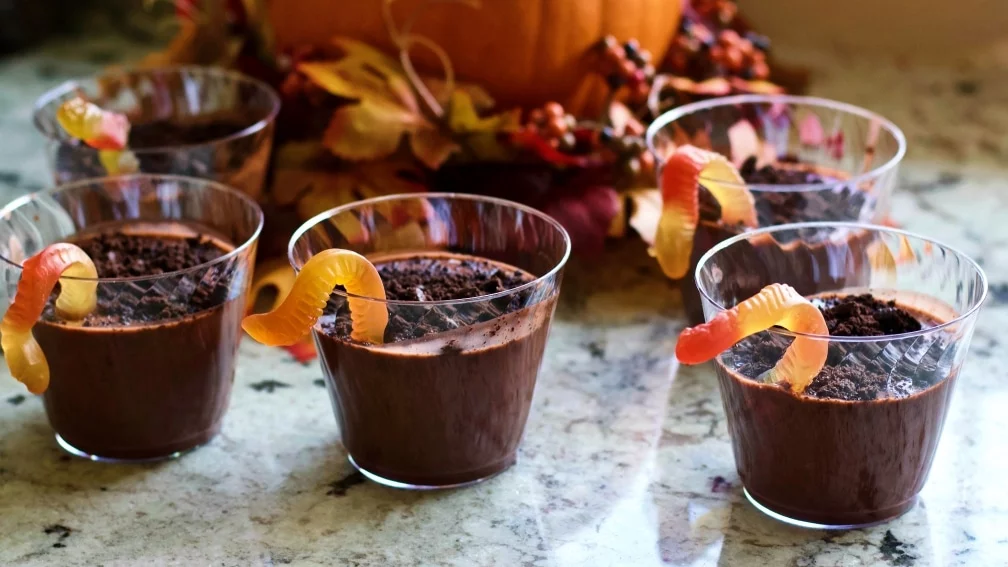 How long does it take Pudding to thicken and set?
Instant pudding will begin to thicken after a few minutes of stirring, and will continue to thicken and set as it cools. For pudding to set completely it's best to cover and set in the fridge for 1-2 hours. Once it has fully set it is ready to be used in your dessert as a delicious base or layered with creams, cake bits and cookies.
Ideas for Dirt Cup Pudding dessert combinations
Traditionally, Dirt Cups are made with chocolate pudding to give that look. However, many combinations of puddings and ingredients can be used to make this style of dessert in various forms and themes. We are sharing some ideas below for you to try out!
Vanilla pudding with white cake bits and fresh fruit
Vanilla pudding with crushed Nilla Wafers and bananas
Lemon pudding and whipped cream with crushed vanilla cookies
'Cookies and Cream' cups
'Birthday Cake Cups' with vanilla pudding, cream and sprinkles
'Caramel Apple Trifles' made with diced candied apples, pecans and caramel
Butterscotch pudding with cool whip, crushed graham crackers and baking chips
Chocolate pudding with brownie chunks, chocolate ganache and crushed peanuts
Peanut butter pudding with Reeses, cool whip and caramel drizzle
'Cereal and Milk' cups with vanilla pudding, cool whip and fruit loops cereal
This nutrition label is for the full sugar option.
Yield:

6-1/2 cup servings
Dirt Cups
Dirt Cups are a quick and easy party treat with LOTS of great options. Use these fun desserts for age parties or Halloween events. Kids and grown ups both love them. Need sugar free? It's easy!
Ingredients
1 6 oz. chocolate INSTANT pudding (I used Jello brand both regular and sugar free for my party)
6 to 12 gummy worms
6 chocolate cookies (I used oreos but any crushable chocolate cookie will work)
Instructions
In a medium mixing bowl, whisk the pudding and milk together
Pour evenly into the plastic cups, leaving 1/2 headroom for the crushed cookies and worms.
Crush the cookies into crumbles (you can use your food processor, rolling pin or large wooden spoon for this.
Spread the cookie crumble over the pudding.
Set one gummy worm (or more if you prefer) into the pudding and let it drape over your cup for effect.
Notes
These cups can be made ahead BUT the cookies will absorb the moisture of the pudding and go somewhat soft.To keep your cookies crunchy crush the cookies ahead and put them in an airtight bag. At serving pour the crumbles over the pudding and add the worm. Serve!
Nutrition Information
Yield
6
Serving Size
1 dirt cup
Amount Per Serving
Calories

361
Follow Us:
We enjoy meeting you on our social networks. Follow us on Facebook, Pinterest, Instagram . Tag us with your pictures of our recipes and comment on how it went for you. We would love to see what you do with them.
We often like, comment and share your posts of our recipes on our daily Instagram stories.
Ask questions and rate the recipe in the comments section below. Please share what you did with this recipe. We are always looking for more and better ways to make homemade food. Other cooks love your ideas!
Recent Posts: