How to make Dirt Cups!
Dirt Cups with crushed chocolate cookies and gummy worms make a REALLY fun, quick and easy party treat. These are popular for 'Older Than Dirt' age parties or Halloween parties and can be easily changed up to suit your theme.
Watch the video to see how easy these are to make. Kids can do this too!
I have made these pudding cups with green pistachio pudding and drew Monster faces on the outside of the transparent plastic cups for Halloween one year. This pudding cup party food idea can have many different looks, flavors and additions to suit the occasion.
Let your imagination go wild. Kids and adults all love these yummy party desserts in whatever version works for your special event theme. Space aliens, ghosts (white pudding with drawn face or ghost topper) dogs, cats…whatever.
BTW DIY Graham Cracker Haunted Houses are another fun Holiday treat to do with kids. It's entirely open ended and so fun!
Dirt Cups with gummy Worms are cute at an 'Older than Dirt Party'
I made these dirt cup pudding treats for a DOUBLE (yep two of em!) 80th birthday party celebration. Both my mom and my mom in law turn 80 close together this year so we decided to do our family celebration all at once.
My Mom in law is a snow bird and will be in Arizona for her actual birthday. She enjoyed her 80th birthday celebration a bit early but at least she got one!
Grown ups and kids all like dirt cups!
I made these dirt cups with the kids in mind but thought some of the grown ups might like them too. They did! But…several of our adults are special dieters. Low carb (NOT happening here unfortunately) and sugar free.
I made half of these dirt cups with sugar free pudding. You can tell the sugar free cups. They are exactly the same kind as the full sugar pudding cups but easily recognizable since they are a little lighter in color.
I like that actually. No need to worry about a mistake when handing them out. So, even my diabetic partiers enjoyed this indulgence.
Maybe you have kids OR adults with special diets. The links I found will not address them all. However, it's a start. Parties are notoriously difficult to make food for these days. It all depends on how severe the allergies or metabolic problem are and how many options you can place on your menu.
These pudding cups can be upgraded to "Healthier" by choosing from the options I have linked below. NOTHING is going to make this party food healthy. But if you want to reduce the artificial ingredients I searched out all natural gummy worms and sugar free chocolate cookies on Amazon.
Sugar free Instant pudding is easy to find in your local grocery store or just buy through our affiliate links. I didn't find sugar free gummy worms locally. Sugar free gummy bears are much more readily available but tough to work into this treat:)
If you know of other healthier choice options for this treat please share your ideas in our comment section below this post. We always enjoy a good conversation about ways to make a treat fun. And we love new ideas about reducing artificial ingredients and sugar in party foods. Especially where kids are involved.
This nutrition label is for the full sugar option.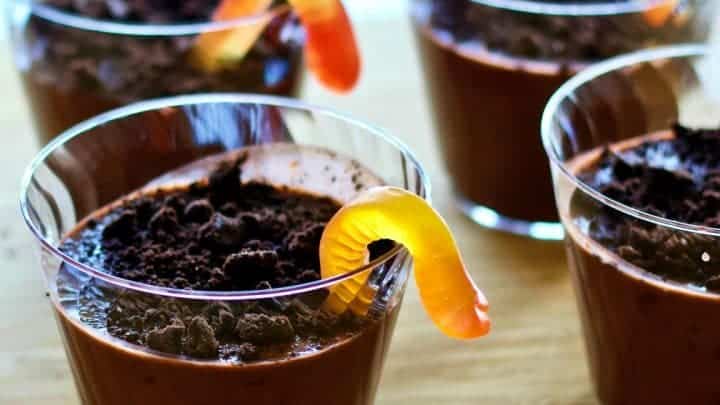 Yield:

6-1/2 cup servings
Dirt Cups
Dirt Cups are a quick and easy party treat with LOTS of great options. Use these fun desserts for age parties or Halloween events. Kids and grown ups both love them. Need sugar free? It's easy!
Ingredients
1 6 oz. chocolate INSTANT pudding (I used Jello brand both regular and sugar free for my party)
6 to 12 gummy worms
6 chocolate cookies (I used oreos but any crushable chocolate cookie will work)
Instructions
In a medium mixing bowl, whisk the pudding and milk together
Pour evenly into the plastic cups, leaving 1/2 headroom for the crushed cookies and worms.
Crush the cookies into crumbles (you can use your food processor, rolling pin or large wooden spoon for this.
Spread the cookie crumble over the pudding.
Set one gummy worm (or more if you prefer) into the pudding and let it drape over your cup for effect.
Notes
These cups can be made ahead BUT the cookies will absorb the moisture of the pudding and go somewhat soft.To keep your cookies crunchy crush the cookies ahead and put them in an airtight bag. At serving pour the crumbles over the pudding and add the worm. Serve!
Nutrition Information
Yield
6
Serving Size
1 dirt cup
Amount Per Serving
Calories

361
Pin it: