DIY Graham Cracker Haunted Houses. Looking for a fall craft the whole family can enjoy? Try this endlessly creative craft. It's loads of fun to do with kids.
I had the pleasure of doing this craft with my three local grand girls! We started at the dollar store choosing candy; always a good start to a day with kids. Then they patiently waited while I made the frosting and set the craft up. I had never made royal icing before and had my fingers crossed it would be sticky enough to work.
In fact I have never done this craft before. All my past attempts at 'Gingerbread-type houses were from kits. This year I REALLY REALLY wanted to make a Halloween haunted house from scratch. I did this craft with the kids to test out the frosting. Yay! The frosting worked great on their little houses.
It's so fun to let kids do free-form crafting like this. After the house was glued and set up, I loaded the frosting into quart freezer bags and cut a tiny part off one corner. I loaded up my muffin tins with candy and let them have at it!
Two year old Camilla was locked into her high chair and fed copious amounts of candy, grahams and icing. She loved the craft!
DIY Graham Cracker Haunted Houses: The Process for the kids
Four year old Mylaina had a blast decorating her pumpkin patch and adding a few doo dads on the house.
Then she directed, as Grandma finished covering the house in candy, at the wave of Lainy's magical finger! Mylaina wanted her house totally covered in candy with a scary monster chimney. She told me after it was finished, it was so scary she couldn't look at that monster!
Now, Aliyah, our seven year old, did her house all by herself! She even constructed her house!
Aliyah went for an elegant, minimalist look, complete with a witch chimney and candy corn spikes on the roof line!
They loved styling their houses and eating the leftovers. Great way to spend an afternoon with the kids. This is both a process craft and something fun the kids can create, show off and eat.
We proudly, and carefully ("slow down on those corners grandma and watch the bumps!") transported the Haunted houses on their boards in my car's trunk to the girl's home. They were so excited to show off their haunted houses to their parents. I sent extra frosting and candy for repairs. Thankfully, The houses transported without mishap.
Here's the details For DIY Graham Cracker Haunted Houses:
For the base: I repurposed a wooden puzzle board for one Haunted House and a book for the other.

I covered them both in heavy duty tin foil .
To decorate the tin foil I used Halloween motif napkins and taped them onto the tinfoil.

To construct the house: You'll need about one sleeve of graham crackers per house.

We used 6 grahams per house.
I used a serrated steak knife to cut the house gable ends. The template I used came out of my head. I had to piece the sides together to make mine work. The thing is; different brands of grahams are shaped differently, so you'll have to put on your engineers hat and figure it out.
Just make sure the angles on the two gable ends match! So use the first gable as a template for the second one.

We made a pumpkin patch with candy next to the houses. Cemeteries would also be a cute idea with skeletons and ghosts.
The frosting was the glue for everything on the boards. The royal icing (recipe below) worked great!

It did need about an hour set up time on the houses after construction and before decorating.
I gave the houses another hour to set-up after decorating the houses when the project was complete.

Candy decorations recommendations:

Candy corn, pumpkins, licorice vines of all colors, skittles and Mike N Ikes. Scary eyeballs, monsters, witches hats and other Halloween motif candy as desired.
Here are a few ideas for Halloween motif items that may help you set the stage. I even found some really thin cutting boards for the bases. If you purchase from our affiliate links we may receive a small commision at no extra charge to you. Thank you for supporting Homemade Food Junkie.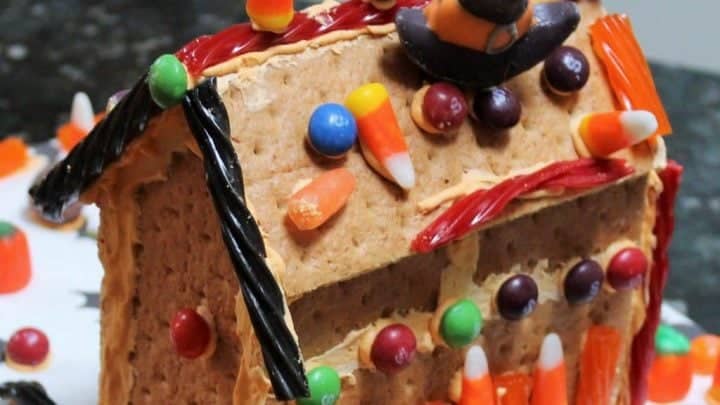 Yield:

4 houses
DIY Haunted Graham Cracker House Royal icing Recipe
An easy homemade icing glue for this DIY Haunted Graham Cracker Project and any gingerbread house you may want to tackle.
Ingredients
3 Large egg whites
43/4 Cups Powdered sugar
1/2 tsp. Cream of Tartar
Instructions
In a large bowl, beat egg whites and cream of tartar with electric mixer at medium speed.
Add powdered sugar in small amounts, mixing well on high speed after each addition.
Beat on high speed 4-5 minutes until mixture thickens.
Cover and Refrigerate until ready to use.
Stir icing to loosen it up before use.
Pin it:
Frosting Recipe Source: geniuskitchen.com