Watch Us Make Carrot Tarragon Soup in the Instant Pot.
Carrot Tarragon Soup makes a delicious lunch or side dish. This healthy carrot soup recipe is gluten free and full of highly nutritious ingredients. Adaptations for vegan included. It's all so easy in your instant pot!
Our foodie friend Miss Karen contributed her Carrot Tarragon soup recipe. We love sharing delicious recipes from all of our foodie friends.
Miss Karen has contributed several amazing recipes. We have posted her Root Beer Float Cookies, Mini S'more Cookies recipe, and her Pineapple White Chocolate Macadamia Nut cookies. If your looking for great party treats or family snacks we highly recommend her cookies.
Miss Karen contributed this Carrot Tarragon Soup Recipe quite a while ago. Now that our garden fresh rainbow carrots are coming into the kitchen I HAD to get it made. So Kayti and I enjoyed a day in her kitchen with this fantastic and EASY recipe.
Carrot Tarragon soup has a beautiful flavor. It is Especially yummy when made from the freshest organic garden grown carrots you can find. I'm not being snotty, snooty or full of myself when I say local in season carrots are worth finding. Just. worth It.
This carrot soup recipe is a wonderful way to use up your amazing garden harvest carrots. Especially if your carrots get a bit kinky, if you know what I mean. The uglies make perfect soup.
My sister in law Brigitte (A fellow foodie. Try her German Cabbage Rolls for a special treat!) came and pulled carrots in our garden with Dave last week. She said "They SMELL like carrots" (and taste divine) She buys her carrots in the grocery and was amazed at the difference.
Your farmers markets, friendly neighborhood gardener, your own back yard or a food co-op with locally sourced (if possible) flavorful carrots like these rainbows add a HUGE flavor boost to this soup. Just Sayin. You can use any ole carrots to make this soup.

Carrot Tarragon Soup Recipe:
If you've never made carrot soup it may surprise you that it's sweet. The carrots and orange, especially the organic fresh ones will be even a bit sweeter and more full of flavor. The Tarragon adds a great counterpoint to this sweetness as does the garlic and onions. I threw a bit of ginger in my soup because I like the added bite. So I put it in as an optional ingredient for you 🙂
Karen's original recipe is made on the stovetop and I made mine in my instant pot. So I've included both recipe instructions for you in the printable recipe card.
This is an incredibly easy recipe to make your own. I chose to make a double batch in the instant pot so I used two quarts of chicken broth and increased the carrots. I adjusted the rest of the ingredients to taste. Easy peasy.
Let us know how you enjoy this carrot soup. We love it for lunch or a light side or dinner with a hearty salad. Delish!
To Make this soup Vegan or Vegetarian:
Easily done with the following alterations:
Replace the chicken broth with a good low sodium vegetable broth
Replace the butter (if vegan) with avocado or coconut oil
Garnish with full fat coconut milk instead of heavy cream for vegan
We garnished this soup with fresh tarragon leaves and heavy cream for fun. This soup can be eaten without any extras or with whatever non dairy milks you have on hand.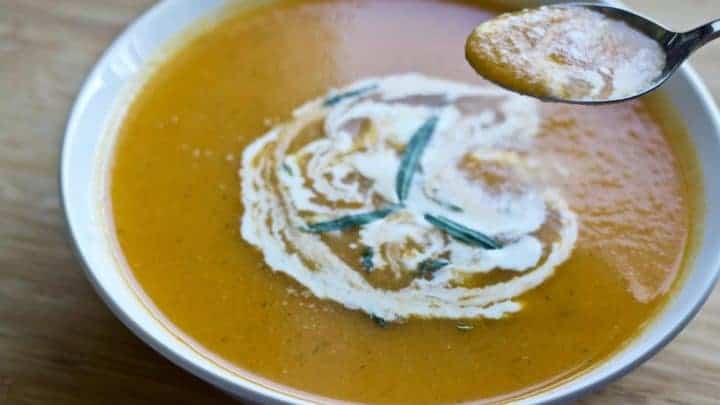 Yield:

7 cups
CARROT & TARRAGON SOUP
Carrot Tarragon Soup makes a delicious lunch or side dish. This healthy carrot soup recipe is gluten free and full of highly nutritious ingredients.  Adaptations for vegan included. It's all so easy in your instant pot!
Ingredients
2 MEDIUM SIZED ONIONS
3 CLOVES OF GARLIC, minced
2 TBSP. BUTTER (or coconut oil for vegan)
1 ½ LBS. CARROTS, peeled and sliced
2 (14½OZ.) CANS of LOW SODIUM CHICKEN BROTH (or vegetable broth for vegan)
½ tsp. DRY TARRAGON (or more - to taste) OR fresh Tarragon
3/4 - 1 CUP ORANGE JUICE
½ tsp. SALT
1/4 tsp. WHITE PEPPER
OPTIONAL:
1/2 inch of peeled ginger-chopped
Instructions
STOVETOP INSTRUCTIONS:
Prep the vegetables as described in the ingredients list.
Add oil to a large saucepan or soup pot on medium heat.
Sauté onions and garlic in a large sauce pan until onions are soft but not browned.
Add chicken broth, carrots and tarragon. Cover and let simmer about half an hour. In a food processor puree the soup a portion at a time, until smooth.
Return the soup to the saucepan and add white pepper. Stir in orange juice to give soup desired consistency. Salt, to taste.
INSTANT POT INSTRUCTIONS:
Prep the vegetables
Set the instant pot to saute on medium heat.(default setting)
Add oil. Once the oil is hot (not burned) Saute onions, Ginger (if using) and garlic until onions are translucent.
Press the cancel button.
Add the broth, carrots and tarragon.
Seal the instant pot lid and press the soup function.
Quick release.
Remove the solids from the instant pot (I used a ladle and sieve to separate them)
Mash the solids or puree them in a food processor.
Adjust the consistency of the soup to taste by removing 2 Cups of the liquids from the pot before adding in the puree.
Return the puree into the soup liquid in the instant pot and whisk together.
Add the white pepper and orange juice.
Now whisk in the remaining liquids to adjust the consistency of the soup to your preferences.
GARNISH SUGGESTIONS:
Fresh Cream or non dairy milk
Chopped Tarragon or parsley
Notes
Karin's stovetop method allows for evaporation which the instant pot does not. So the actual quantities are a bit different. That is reflected in the nutritional app where I used the instant pot proportions.
Nutrition Information
Yield
8
Serving Size
1 cup
Amount Per Serving
Calories

115
Total Fat

6g
Saturated Fat

3g
Trans Fat

0g
Unsaturated Fat

2g
Cholesterol

8mg
Sodium

337mg
Carbohydrates

14g
Fiber

3g
Sugar

6g
Protein

4g
Pin it: