Carrot Tarragon Soup makes a delicious lunch or side dish. This simple, healthy carrot soup recipe is gluten free and full of highly nutritious ingredients. Blending fresh carrots, onion and garlic, a nutritious broth, tarragon, and orange juice this soup is full of flavor and perfect any time of the year.
It can easily be made vegan by swapping a few ingredients out for your favorite vegan options. Enjoy it with a slice of Rosemary Garlic Sourdough Bread for a full meal or as a side to your favorite dinner.
Our foodie friend Miss Karen contributed her Carrot Tarragon soup recipe.
Miss Karen has contributed several amazing recipes. We have posted her Root Beer Float Cookies, Mini S'more Cookies recipe, and her Pineapple White Chocolate Macadamia Nut cookies. If your looking for great party treats or family snacks we highly recommend her cookies.
What is Carrot Soup made of?
Carrot soup is made of carrots, onion, garlic, fresh herbs and seasonings. Carrot soup is a creamy blended soup that is thick and warming. Perfect for the fall season just like squash soups.
This carrot soup recipe is a wonderful way to use up your amazing garden harvest carrots. If you aren't a gardener you can pick some up at your local farmers market, or co-op for organic local grown carrots.
What do you serve with Carrot Tarragon Soup?
This creamy, blended soup is perfect for fall and winter. The seasonings are warm and the flavors compliment a variety of sides. We are sharing some of our favorite side dish ideas for you to try.
Serve over a bed of white rice for a heartier meal
Enjoy with fresh bread or homemade rolls
Serve with a fresh green salad
Present as an appetizer or side dish to your favorite dinner
Enjoy with a couscous salad
Serve with a 3 bean salad
What enhances Carrot flavor?
Spices and herbs such as rosemary, thyme, cumin, garlic powder, tarragon, paprika, and cinnamon are all fantastic choices to pair with carrots. All of these seasonings will elevate the flavor of carrots, parsnips and similar vegetables.
What does Tarragon taste like?
Tarragon is a plant that presents a strong, pungent flavor similar to licorice, fennel and anise. Because of its intensity a little goes a long way when cooking with this plant. You can use either dried or fresh Tarragon depending on your personal preference.
Carrot Tarragon Soup Recipe
If you've never made carrot soup it may surprise you that it's sweet. The carrots and orange, especially the organic fresh ones will be even a bit sweeter and more full of flavor. Tarragon adds a great counterpoint to this sweetness as does the garlic and onions. We threw a bit of ginger in our soup because I like the added bite. So, we put it in as an optional ingredient for you.
Karen's original recipe is made on the stovetop and we made ours in the Instant Pot. We've included both recipe instructions for you in the printable recipe card.
This is an incredibly easy recipe to make your own. We chose to make a double batch in the Instant Pot so we used two quarts of chicken broth and increased the carrots. We adjusted the rest of the ingredients to taste.
To Make this soup Vegan or Vegetarian
Replace the chicken broth with a good low sodium vegetable broth
Replace the butter (if vegan) with avocado or coconut oil
Garnish with full fat coconut milk instead of heavy cream for vegan
We garnished this soup with fresh tarragon leaves and heavy cream. This soup can be eaten without any extras or with whatever non dairy milks you have on hand.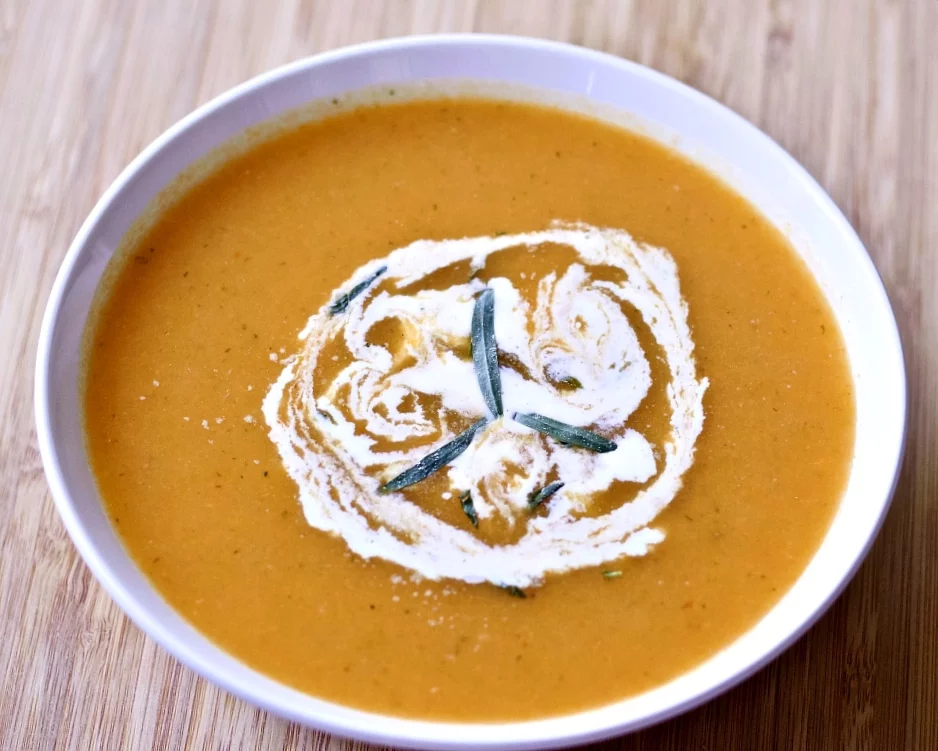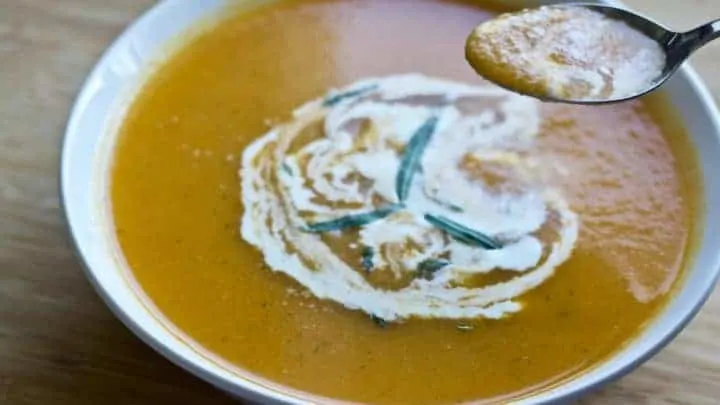 Yield:

7 cups
CARROT & TARRAGON SOUP
Carrot Tarragon Soup makes a delicious lunch or side dish. This healthy carrot soup recipe is gluten free and full of highly nutritious ingredients. Adaptations for vegan included. It's all so easy in your instant pot!
Ingredients
2 MEDIUM SIZED ONIONS
3 CLOVES OF GARLIC, minced
2 TBSP. BUTTER (or coconut oil for vegan)
1 ½ LBS. CARROTS, peeled and sliced
2 (14½OZ.) CANS of LOW SODIUM CHICKEN BROTH (or vegetable broth for vegan)
½ tsp. DRY TARRAGON (or more - to taste) OR fresh Tarragon
3/4 - 1 CUP ORANGE JUICE
½ tsp. SALT
1/4 tsp. WHITE PEPPER
OPTIONAL:
1/2 inch of peeled ginger-chopped
Instructions
STOVETOP INSTRUCTIONS:
Prep the vegetables as described in the ingredients list.
Add oil to a large saucepan or soup pot on medium heat.
Sauté onions and garlic in a large sauce pan until onions are soft but not browned.
Add chicken broth, carrots and tarragon. Cover and let simmer about half an hour. In a food processor puree the soup a portion at a time, until smooth.
Return the soup to the saucepan and add white pepper. Stir in orange juice to give soup desired consistency. Salt, to taste.
INSTANT POT INSTRUCTIONS:
Prep the vegetables
Set the instant pot to saute on medium heat.(default setting)
Add oil. Once the oil is hot (not burned) Saute onions, Ginger (if using) and garlic until onions are translucent.
Press the cancel button.
Add the broth, carrots and tarragon.
Seal the instant pot lid and press the soup function.
Quick release.
Remove the solids from the instant pot (I used a ladle and sieve to separate them)
Mash the solids or puree them in a food processor.
Adjust the consistency of the soup to taste by removing 2 Cups of the liquids from the pot before adding in the puree.
Return the puree into the soup liquid in the instant pot and whisk together.
Add the white pepper and orange juice.
Now whisk in the remaining liquids to adjust the consistency of the soup to your preferences.
GARNISH SUGGESTIONS:
Fresh Cream or non dairy milk
Chopped Tarragon or parsley
Notes
Karin's stovetop method allows for evaporation which the instant pot does not. So the actual quantities are a bit different. That is reflected in the nutritional app where I used the instant pot proportions.
Nutrition Information
Yield
8
Serving Size
1 cup
Amount Per Serving
Calories

115
Total Fat

6g
Saturated Fat

3g
Trans Fat

0g
Unsaturated Fat

2g
Cholesterol

8mg
Sodium

337mg
Carbohydrates

14g
Fiber

3g
Sugar

6g
Protein

4g
Follow Us:
We enjoy meeting you on our social networks. Follow us on Facebook, Pinterest, Instagram . Tag us with your pictures of our recipes and comment on how it went for you. We would love to see what you do with them.
We often like, comment and share your posts of our recipes on our daily Instagram stories.
Ask questions and rate the recipe in the comments section below. Please share what you did with this recipe. We are always looking for more and better ways to make homemade food. Other cooks love your ideas!
Recent Posts: