Chewy Chocolate Cookies with baking powder are soft and chewy chocolate wonders. Full of flavor with a just a bit of puff.
Chewy Chocolate Cookies are soft and tender cookies. These cookies are a great option for those that don't like crunchy or hard cookies. The baking powder in the cookies keeps them then perfect texture.
These cookies hold together great and are very easy to decorate seasonally or for the Holidays. If you like brownies you will love these delicious bites of chocolate yum.
We love cookies. You may have seen this mentioned a time or too in our other cookie posts. If you're a fellow connoisseur of delicious bite sized chocolate confections this recipe will fill your happy place.
Using Baking Powder instead of Baking Soda for Cookies
Baking powder will change the texture of cookies. Baking powder will result in a softer and fluffier cookie. Baking soda gives cookies a harder and crunchier cookie texture. Some cookie recipes combine both baking soda and baking powder in the ingredients.
More Delicious Cookie Recipes:
This cookie recipe represents several firsts. Our first 2018 Fall baking post (and we are SO glad to be getting onto FALL!) Our first cookie to use baking powder instead of baking soda. We REALLY are enjoying the beautiful texture these cookies have. WIN!
Our first Decorated cookie for the year! We just gobbled them up and so did the kids and hubbies. AND this is our FIRST post in Kaytis newly remodeled (almost) kitchen.
Watch the video for a sneak peek of her gorgeous new counters and cupboards.
I'm trying to not be jealous. I have a perfectly fine (15 year old remodeled) kitchen w everything I need except LIGHT. For a food blogger that is a problem. Kayti will be making many of our recipes in her new beautiful BRIGHT kitchen so you can see what's going on in the videos 🙂
Looking for a cute party treat? Look at how adorable these cookies are with an easy candy melt half dip and some creative sprinkles!
These cookies are wonderful just plain. They have a full bodied, but not overwhelming, cocoa flavor, a lovely mouth feel and satisfying chewiness. They ALSO hold together really well. This makes them a good choice for decorating.
Popular Holiday Add Ins:
In the printable recipe card I offer several ideas to change up this recipe. For the holidays try adding:
a bit of peppermint extract. Now pop a chocolate kiss on top for a yummy christmas cookie. Or Andes mints.
Chocolate chips or chocolate chunks
walnuts
dried cranberries.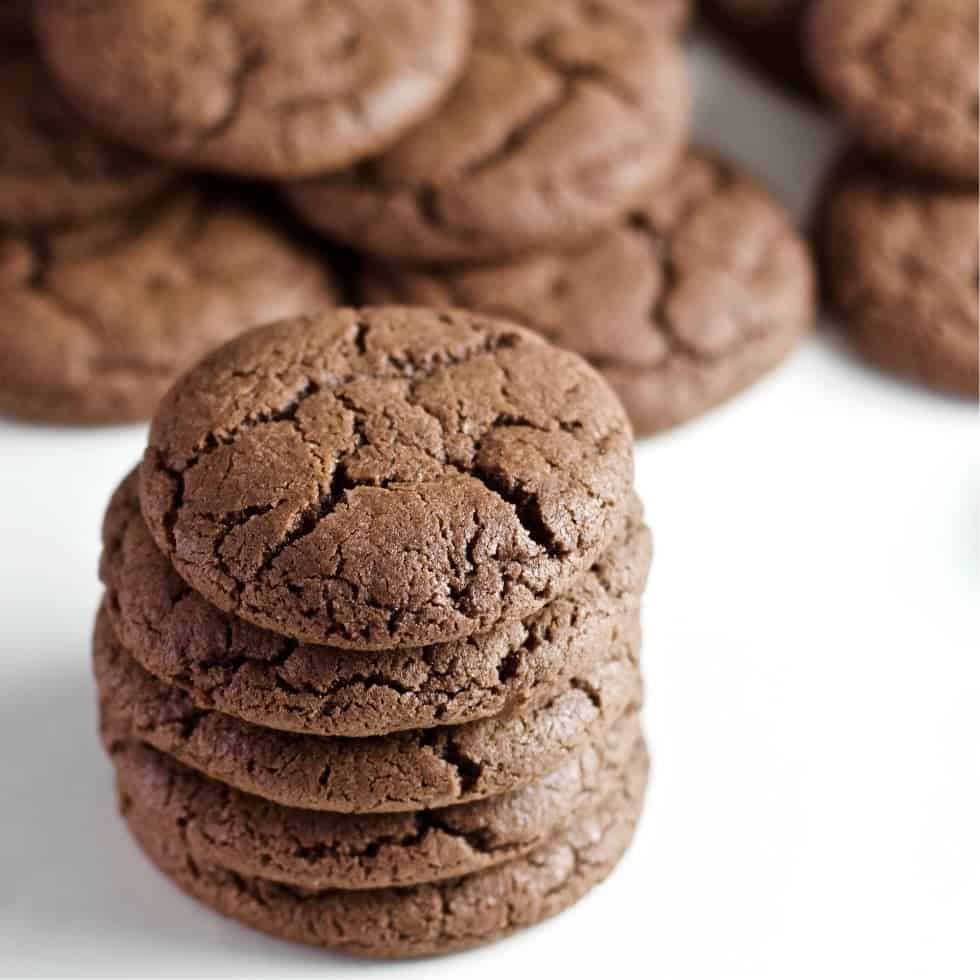 Let me know what you do with this cookie in the comments. I'm sure you will have a LOT of fun with it.
Chewy Chocolate Cookies Recipe:
Why baking powder? Well…it's a good substitute for baking soda when used at triple the amount. And we discovered we were OUT of baking soda. So we did the substitution and LOVED the result. So that's our recipe.
The baking powder added just a TOUCH of pillowy to these cookies. Still chewy but not hard like some baking soda recipes can get.
Our Sourdough Molasses cookies also use baking powder for a softer cookie. If you are a sourdough baker try them!
TIPS:
Use parchment paper or silicone mat on the baking sheet to keep the cookies perfect shape when taking them hot off the baking pan.
If using a stand mixer or electric hand held to mix put the dry ingredients in in small portions and keep the speed low. Otherwise you will be enveloped in a cookie dust bath.
The recipe calls for a baking time of 8 minutes but you may need a few minutes more if your oven is slow. Keep an eye out. These cookies turned out perfect in Kaytis oven in 10 minutes but she has a very slow oven.
Let the cookies cool for a few minutes on the baking sheet after removing from the oven. After five minutes or so, transfer them to a cooling rack and cool completely before decorating.
YOUR PRINTABLE RECIPE CARD: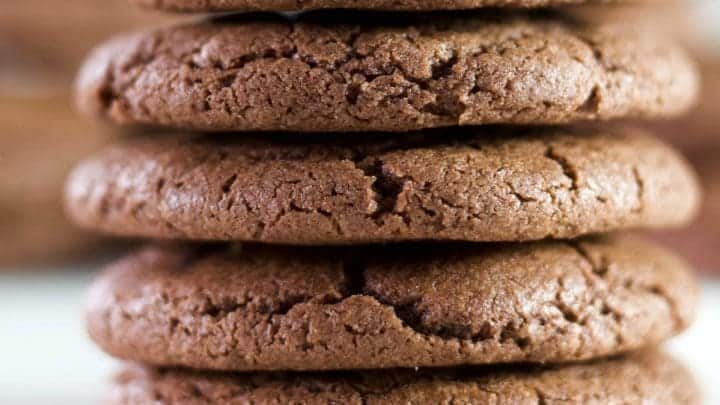 Yield:

27 cookies
Chewy Chocolate Cookies with baking powder
Beautiful bakery style Chocolate cookies with a wonderful soft texture.
Ingredients
3/4 Cup Butter, softened-(do not use margarine)
1 Cup granulated sugar
1 large egg
1 tsp. vanilla
1 Cup All purpose flour
1/16 tsp. salt
1 Tablespoon baking powder
3/4 Cup unsweetened Cocoa Powder
Instructions
Preheat oven to 350 degrees
Cream Butter and sugar until smooth and creamy.
Add the egg and vanilla and mix until just blended.
In a separate bowl blend together the flour, baking powder and salt.
Slowly add the dry ingredients into the wet and stir until just mixed.
Scrape down the bowl sides and make sure to gently mix in all the dry ingredients.
Form into one inch balls and place two inches apart on parchment (or silicone sheet) lined baking sheet.
Bake 8 to 10 minutes. Cool on the cookie sheet for about 5 minutes then transfer to cooling rack.
Notes
This recipe doubles easily and makes really cute holiday cookies.
Holiday Variations include:
Dip the cookies in melted candy melts of various colors to reflect your celebration theme and decorate with sprinkles as desired.
For a Christmas cookie add 1/2 tsp. peppermint extract to taste. Top each cookie with a Hershey's candy cane kiss.
Bake as directed and then put an andes chocolate on top. As it melts swirl with a toothpick.
Other ideas to use with this recipe:
Add 3/4 Cup chocolate chips
Add 3/4 Cup dried cranberries
Add 3/3 Cup Heath bits or your other favorite add ins
Nutrition Information
Yield
27
Serving Size
1 cookie
Amount Per Serving
Calories

98
Total Fat

5g
Saturated Fat

3g
Trans Fat

0g
Unsaturated Fat

2g
Cholesterol

20mg
Sodium

103mg
Carbohydrates

12g
Fiber

0g
Sugar

7g
Protein

1g
Follow Us:
We enjoy meeting you on our social networks. Follow us on Facebook, Pinterest, Instagram . Tag us with your pictures of our recipes and comment on how it went for you. We would love to see what you do with them.
We often like, comment and share your posts of our recipes on our daily Instagram stories.
Ask questions and rate the recipe in the comments section below. Please share what you did with this recipe. We are always looking for more and better ways to make homemade food. Other cooks love your ideas!
Recent Posts:
Pin it: