Classic Butter Spritz Cookies are intricately shaped with a Marcato cookie press and decorated with sprinkles, colored dough, drizzled ganache, or delicate jams to fit the theme of any event you are hosting.
This recipe requires no chilling and the results are beautiful, clearly shaped delicate cookies that make a stunning display.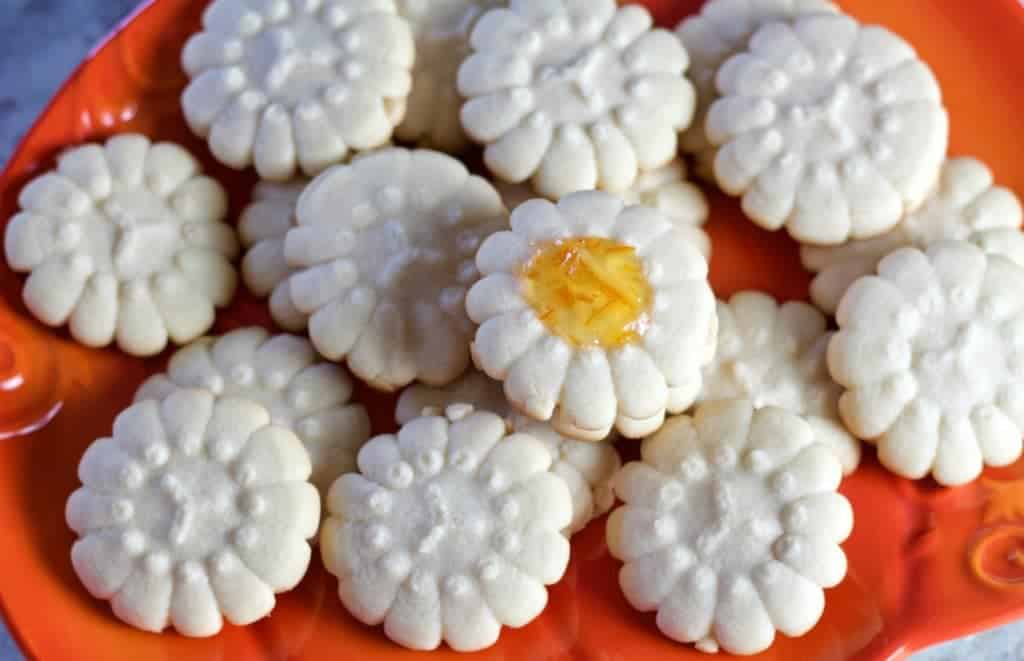 Watch the video below for the Pressed Spritz Cookie recipe demonstration and Marcato Cookie press demonstration on how to use a cookie press.
Why are they called Spritz Cookies?
The name Spritz comes from the German word spritzen, which means 'to squirt' and refers to the way these butter cookies are formed. A cookie press is used to press the cookie dough out in various designs and shapes. These cookies are popular around the holidays and are often found in shapes of wreaths, Christmas trees, and stars.
Cookie presses are popular and relatively inexpensive depending on which one you choose. We love this Italian Marcato cookie press because it is well designed, comes with a large selection of shapes and designs, and will last for generations. A cookie press is necessary to make these cookies because it is what gives them their unique shape and design, which is what these cookies are known for.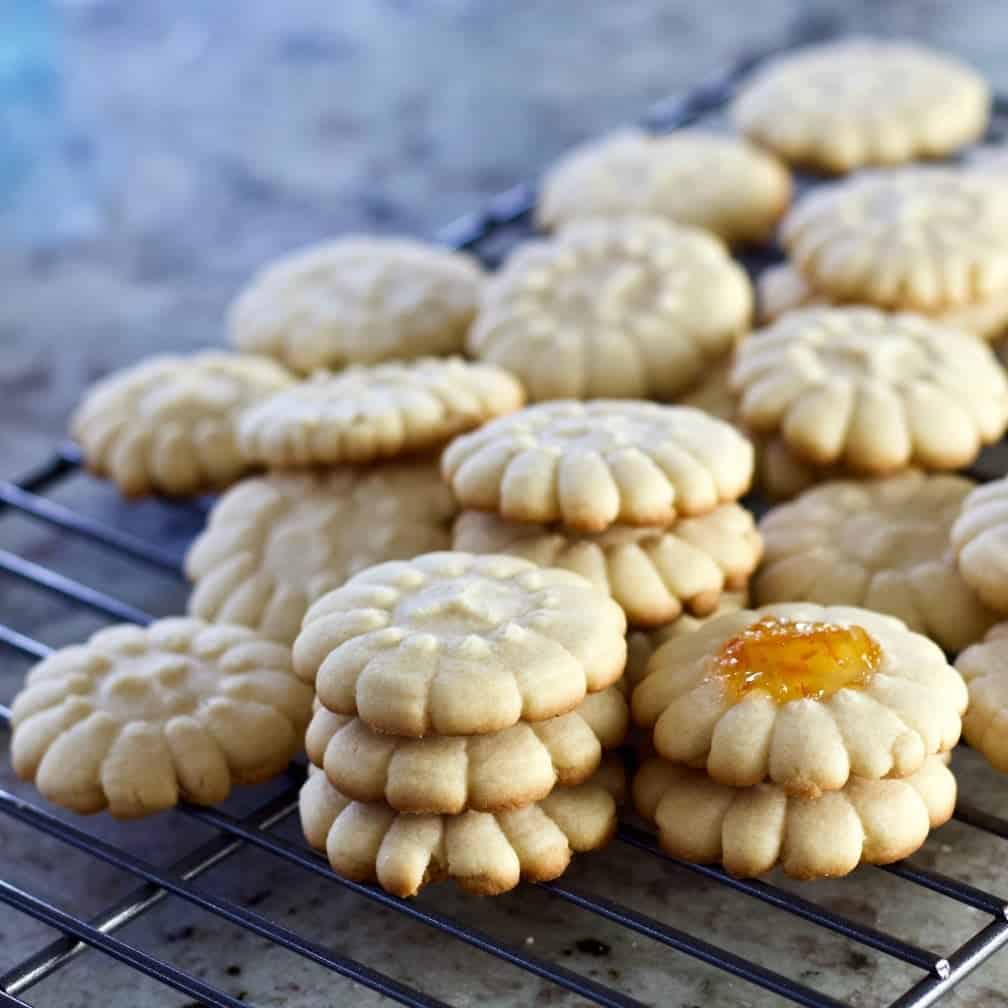 Tips for making Spritz Cookies
Make sure the dough is warm and not too chilled. You want the dough to be a bit tacky so that it will stick to the baking sheet. If you have made the dough ahead of time and kept it in the fridge, pull it out and allow it to warm up before you use it.
Always use metal baking sheets when making Spritz Cookies, light metal sheets are recommended as the darker baking sheets will brown the cookies too much. Silpat mats or parchment paper will not allow the cookie dough to stick which is necessary for clean shapes and sharp designs. It is best if the baking sheets are chilled, so if needed, place them in the freezer for a few minutes before you press your cookies.
Room temperature ingredients are best when making Spritz cookies as it will allow the dough to come together quickly so that you avoid over mixing. Warm the eggs to room temperature and use very soft butter. You do not want to chill the dough beforehand as this will prevent the dough from loading into the cookies press, and will prevent them from taking shape when going through the press.
These cookies will bake quickly so be sure to follow the recipe for the recommended time and temperature, and set a timer. The cookies should be very pale in color, with only a hint of brown on the bottom.
If you are coloring the dough be careful not to add too much as this will thin the consistency and cause the cookies to spread when baking. Gel food colorings are recommended because they won't add too much liquid to the dough. It is also recommended to bake colored cookies separately from non color cookies because the bake time is usually different.
If you are using sprinkles it is recommend to add them after the cookies have baked to prevent them from bleeding and discoloring the dough. To make the sprinkles stick brush with corn syrup or apply the sprinkles after glazing.
Using the Marcato Cookie Press
The beautiful white cookies on this post are from our new Marcato cookie (biscuit) press.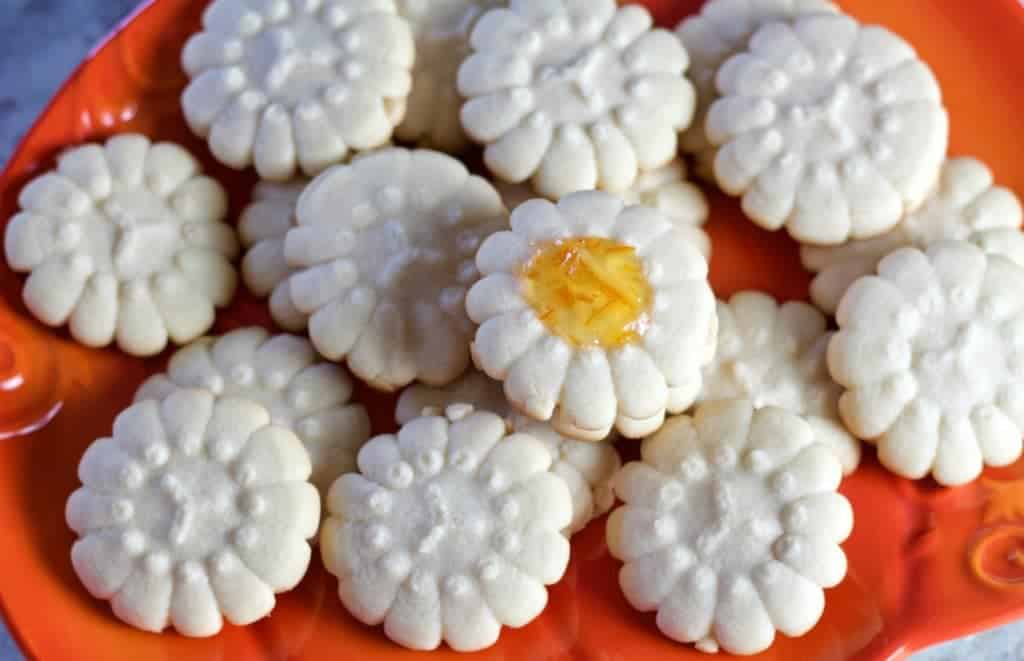 The Marcato is a well built Italian cookie press. The press is made of stainless steel, gives you two sizes of cookies, and includes 20 design disks for a wide variety of looks and shapes.
The only downside to this press is that it includes only traditional cookie shapes. We were really hoping for some holiday shapes, but overall the classy and sophisticated designs stand out and make a beautiful display that can be decorated however you choose.
Spritz Cookie Press Recipe
The recipe that we are sharing came from great grandma Cash. It was found in an old recipe book in her beautiful handwriting and we wanted to share it with you. Spritz cookies have been a long time favorite in our family around the holidays. They were always delicious and presented beautiful trays of goodies for everyone to snack on.
To color the Cookie Dough
Divide the dough into a separate bowl.
We recommend using only gel food coloring to prevent excess liquid in the dough.
Add the color and mix it up until you like the color tone.
Load the dough into the cookie press and bake all colored cookies separate from non colored cookies to ensure even baking.
This Spritz Cookie Recipe makes about 60 small cookies or 40 large cookies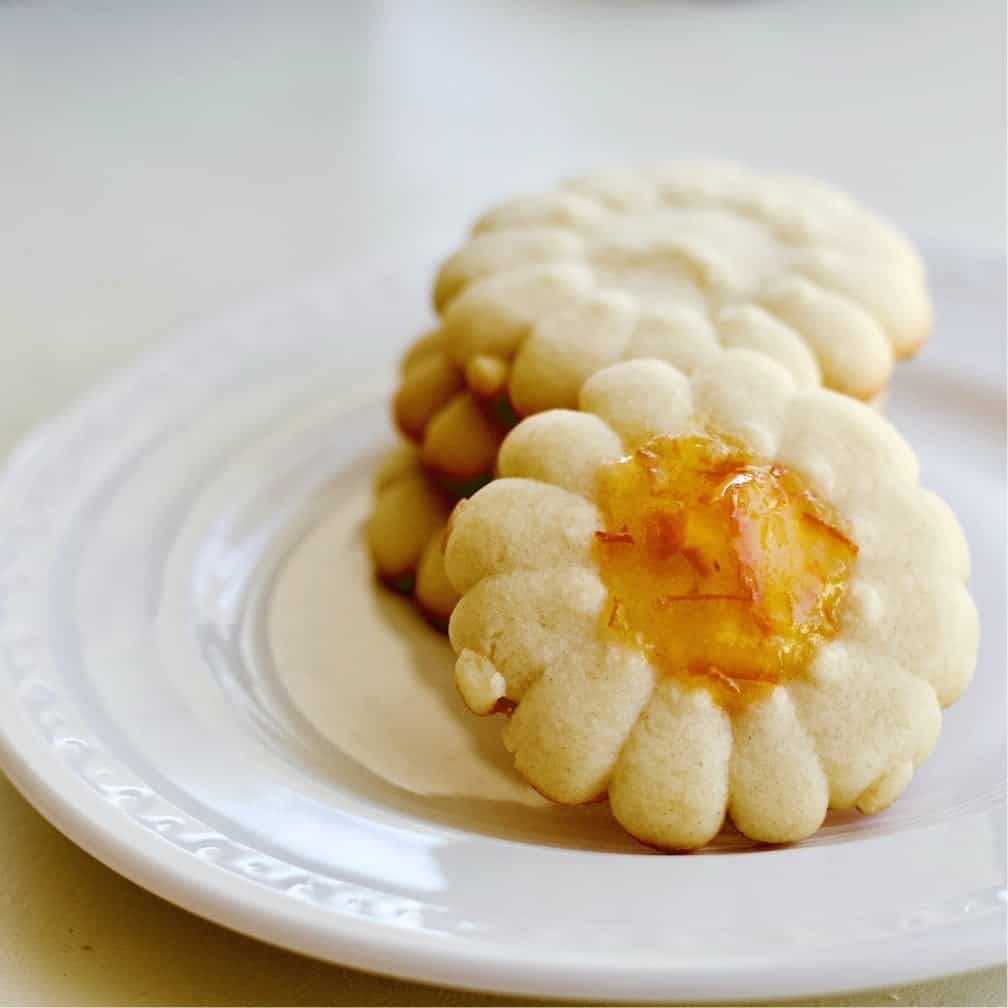 These Butter Cookies are wonderful glazed or dipped. Chocolate ganache is a popular choice to drizzle or dip the cookies in, but we have chosen to use a simple sugar glaze to enhance our cookies. They are also beautiful cookies to enjoy in the warmer months with a dollop of jam or marmalade.
Simple Glaze Recipe
1 Cup powdered sugar
1 tsp. vanilla
Add 1/2 Tablespoon milk until desired consistency is achieved.
Put the glaze in a quart resealable bag and cut off a tiny corner.
Trace the patterns on the cookies with lines of glaze
Add sprinkles over the glaze. The sprinkles will stick the glaze enhancing you cookie design. If you don't use a glaze, you can brush them with corn syrup to get the sprinkles to adhere.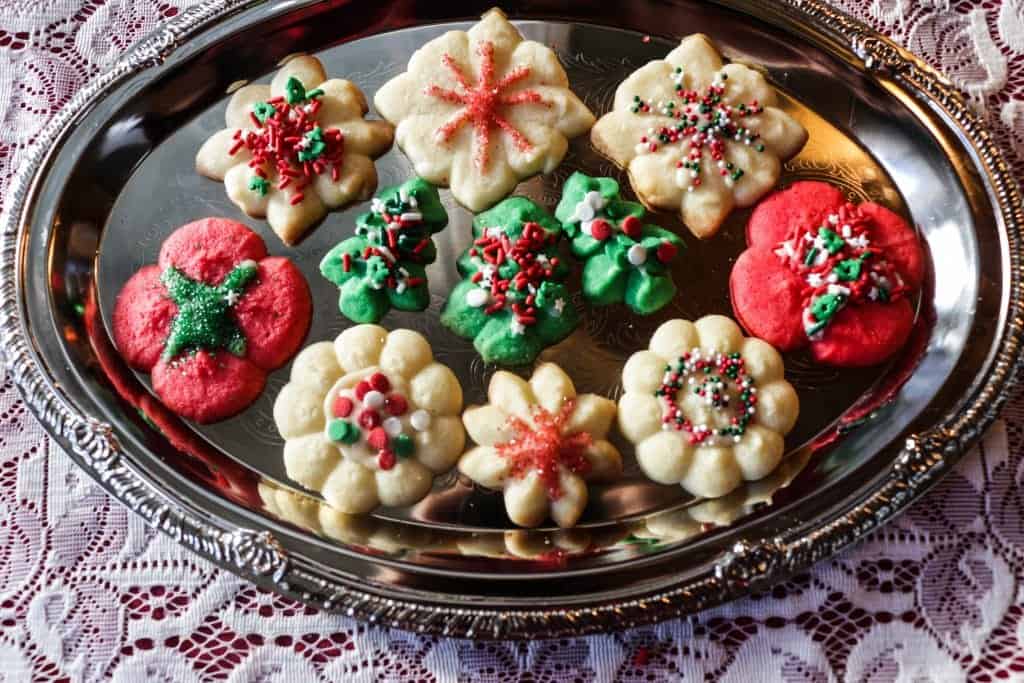 Follow the link for another popular Decorating Icing that is dairy free.
Your printable recipe Card: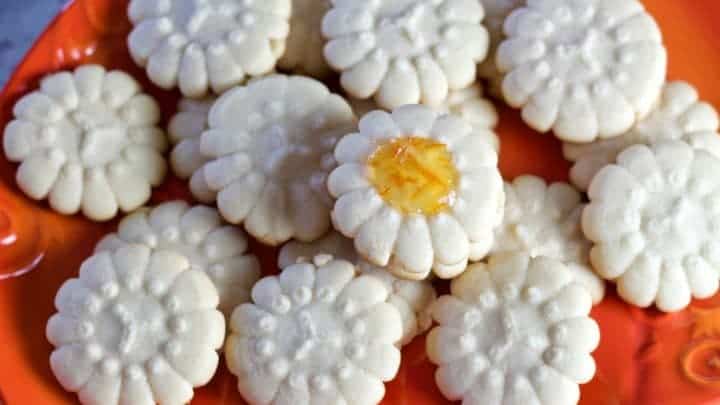 Yield:

60 small or 40 large cookies
decorating time:
30 minutes
Make delicious shortbread pressed spritz cookies into holiday shapes by putting them through a cookie press! Pressed cookies make a pretty display on your holiday table and they are so EASY to make!
Ingredients
For the Cookies:
3 1/2 Cups all-purpose flour
1 tsp.baking powder
1 1/2 Cups butter
1 egg
1 Cup sugar
1 tsp. vanilla
1/2 tsp. almond extract
Icing:
1 Cup powdered sugar
1 tsp. vanilla
1 Tablespoon milk
Instructions
Preheat oven to 400 degrees F.
In a medium bowl whisk together flour and baking powder. Set aside.
Beat butter for 30 second with an electric mixer in a large bowl.
Add sugars and beat till fluffy and pale yellow.
Add egg, vanilla, almond extract and beat.
Gradually add dry ingredients to beaten mixture, in small batches, beating after each addition until the ingredients are all thoroughly combined. Do not over mix!
Force dough through your cookie press onto an ungreased cookie sheet.
Bake in oven for 7 or 8 minutes until just done. They should be almost but not quite browned on the edges. Watch them!
Cool on wire rack.
For the icing:
Mix the powdered sugar, vanilla and milk.
Adjust to the consistency you desire by adding milk in TINY amounts. Beware it is easy to go from too thick to too thin.
Decorate the cookies with icing and sprinkles as desired.
Notes
This dough may divided into smaller amounts for different coloring groups.
Nutrition Information
Yield
40
Serving Size
1
Amount Per Serving
Calories

134
Total Fat

7g
Saturated Fat

4g
Trans Fat

0g
Unsaturated Fat

2g
Cholesterol

23mg
Sodium

57mg
Carbohydrates

16g
Fiber

0g
Sugar

8g
Protein

1g
More Holiday Treat Recipes
Follow Us:
We enjoy meeting you on our social networks. Follow us on Facebook, Pinterest, Instagram . Tag us with your pictures of our recipes and comment on how it went for you. We would love to see what you do with them.
We often like, comment and share your posts of our recipes on our daily Instagram stories.
Ask questions and rate the recipe in the comments section below. Please share what you did with this recipe. We are always looking for more and better ways to make homemade food. Other cooks love your ideas!
Recent Posts: