These Simple Rolled Holiday Cookies are a flavorful, beautiful treat for your family and friends to enjoy; they also make fantastic food gifts for cookies exchanges, teacher gifts, and cookie platters during the holiday season.
These soft and delicious no bake holiday cookies are made with marshmallows, maraschino cherries, shredded coconut, chocolate and walnuts. Just slice and serve for an easy dessert. They are the perfect bring-along contribution to any winter parties you are attending.
What is an example of a Rolled Cookie?
Traditional rolled cookies would be sugar cookies or gingerbread cookies. The dough is soft and easily rolled to create cutout shapes. These Rolled Holiday Cookies fall in the category of rolled cookies as well as holiday log dessert.
The no bake cookie dough is soft but hearty like a traditional cookie dough, but the traditional style to serve them is in cutouts from a rolled log.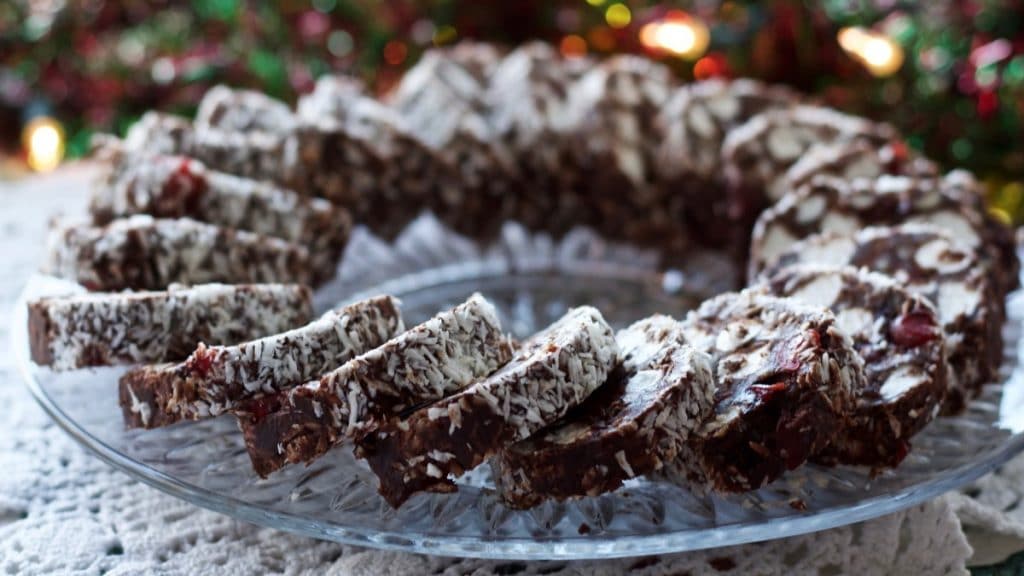 This is a family recipe that was made every year by Linda, my sister in law. She had marked all her favorite recipes for Christmas treats, these Chocolate Roll Cookies were always a holiday staple at our family parties.
Sadly, she passed early in life but I have several of her recipes on this blog. She left a wonderful legacy of love and generosity that we are happy to share with all of you. Every Christmas she would bake and bake and BAKE! Load her treats onto festive trays and give them away to her friends and family.
What are the most popular Christmas Cookies in America?
Based on a nationwide survey done by Betty Crocker, Americas favorite Christmas cookie is the Peanut Butter Blossom. These scrumptious peanut butter cookies are topped with the iconic Hershey's Chocolate Kiss candy.
Others that follow include the traditional Sugar Cookie, Russian Tea Cookies, Easy Spritz Cookies, Crinkle Cookies, and of course, the well loved Gingerbread Cookies.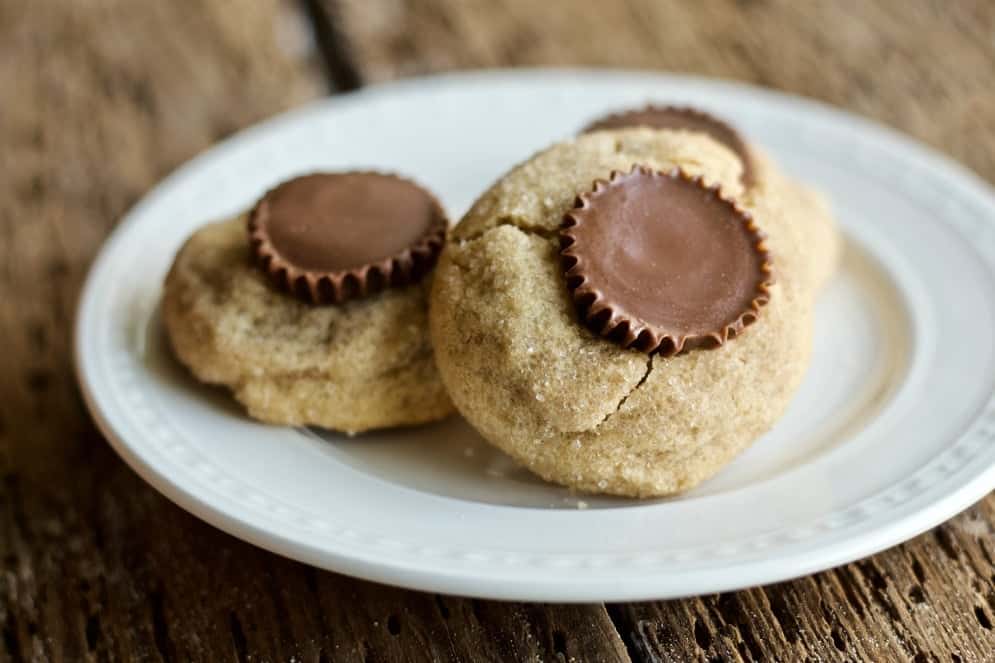 Can you make Rolled Holiday Cookies ahead of time?
This is a perfect make ahead cookie recipe for both Thanksgiving and Christmas. The ease of a no bake dough and the simplistic style of these soft treats make them a breeze.
The Chocolate Cookie Roll can be frozen, thawed enough to slice off what you need and refrozen.
Keep it well wrapped to avoid freezer burn.
Keep the Cookie Roll covered in the fridge once thawed.
It will stay fresh several days when stored in the fridge and wrapped tightly in plastic wrap to prevent the dough from drying out.
Why is my Holiday Cookie Roll sticky?
This Rolled Holiday Cookie log needs to stay chilled throughout the process of forming and slicing. If the cookie roll becomes sticky, place it in the fridge for 15 minutes allowing it to chill. Be sure to slice it with a very thin sharp knife and only when the cookie log is chilled throughout.
Can I substitute ingredients in the Rolled Holiday Cookies?
Yes, substitutions can easily be made to suite your preferences or particular dietary needs.
Substitute or omit the walnuts if desired
Dark chocolate chips can be used for a much richer flavor
Colored mini marshmallows could be used to fit another theme. Pastel marshmallows would fit an Easter event or springtime party
Maraschino cherries could be swapped out for your choice of dried fruit.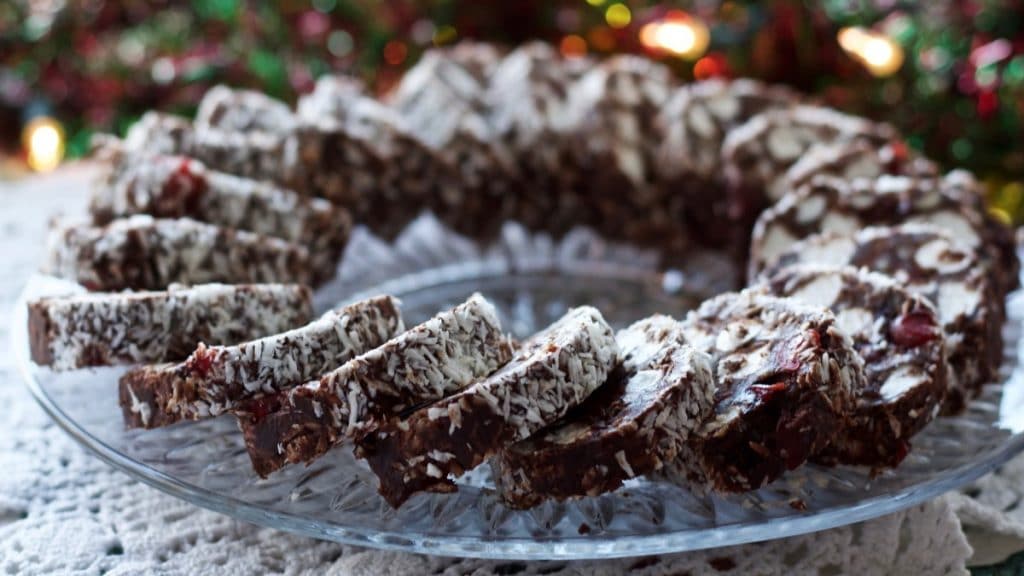 Chocolate Rolled Holiday Cookies Recipe:
Linda found this, and many of her other fantastic baked goods in the recipe book Company's Coming by Jean Pare.
I found this site called Eat Your Books that allows you to find the recipes without buying the books if you like. Purchase The Book on Amazon Company's coming by Jane Peré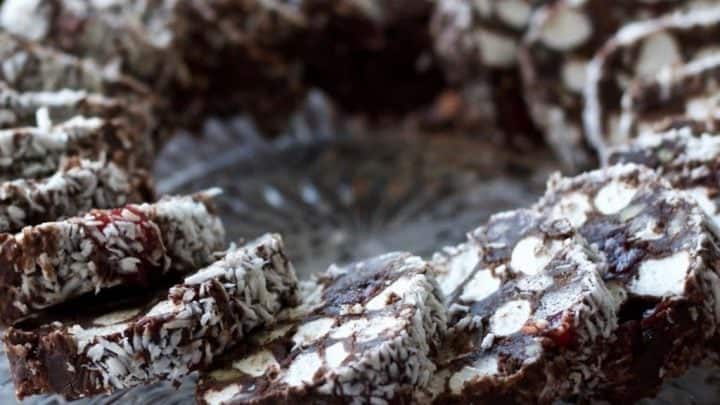 Yield:

24 cookies
Simple Rolled Holiday Cookies
Simple Choclate Rolled Holiday Cookies are easy to make, freeze well and make a tasty, colorful addition to your holiday table! Enjoy the ease of a made ahead roll of NO BAKE cookies you just slice as needed and serve!
Ingredients
1 Cup Chocolate Chips
2 Tablespoons butter
1 egg-beaten
1 Cup confectioners Sugar
2 1/2 Cups mini marshmallows-colored or white
1/2 Cup Maraschino Cherries, well drained and quartered
1/2 Cup walnuts-chopped small
2 Cups fine shredded coconut-for coating the roll
Instructions
Melt Chocolate chips and butter in a 4 quart sauce pan over low heat.
Remove from heat.
Add egg, confectioners sugar, marshmallows, cherries and walnuts. Stir until thoroughly mixed
Cool until handlelable(I chilled mine in the fridge 15 minutes)
Lay plastic wrap out on the counter and pour the cookie doungh onto the plastic wrap.Form into a roll.
If still very loose, refrigerate another 15 minutes.
Pour the coconut shreds evenly onto the clean counter in a wide rectangle.
Roll the dough in the coconut until it is evenly and thoroughly covered. Cover the roll in plastic.
Return to refrigerator until the dough firms into a solid log. I put mine on a cookie sheet in the fridge.
Cut thinly with a sharp knife and serve on tray.
Notes
This dough freezes well so you can make it ahead and serve quickly!
Nutrition Information
Yield
24
Serving Size
1 cookie
Amount Per Serving
Calories

138
Total Fat

7g
Saturated Fat

4g
Trans Fat

0g
Unsaturated Fat

3g
Cholesterol

10mg
Sodium

42mg
Carbohydrates

19g
Fiber

1g
Sugar

15g
Protein

1g
Follow Us:
We enjoy meeting you on our social networks. Follow us on Facebook, Pinterest, Instagram . Tag us with your pictures of our recipes and comment on how it went for you. We would love to see what you do with them.
We often like, comment and share your posts of our recipes on our daily Instagram stories.
Ask questions and rate the recipe in the comments section below. Please share what you did with this recipe. We are always looking for more and better ways to make homemade food. Other cooks love your ideas!
Recent Posts:
Recipe Source: Company's Coming by Jean Pare