These delicious Holiday candies are super cute and yummy.
These homemade candies are simple to decorate and make appropriate for any holiday you are celebrating this season.
Just change up the colors and flavorings.
If you are a super awesome creative person that loves making cool things than these candies are for you.
I'm really not terribly creative so these took me a long time just to decide how to color and decorate them.
Also if you use candy melts often and know how to work with them they are VERY easy.
BUT, if you don't know the tricks they can reek havoc with your (supposed to be) simple projects.
Like dipping homemade candy. Read on for my 'learned from experience' tips.
Once you get the basics of dipping the candies down this is a VERY easy project well suited to older kids that need creative gift ideas for friends and teachers.
One of the things that I really love about these holiday candies is that you can make them taste and look however you want.
It's really easy to make them themed to go with any party or Holiday. Valentines Day, Thanksgiving, Birthdays, Christmas.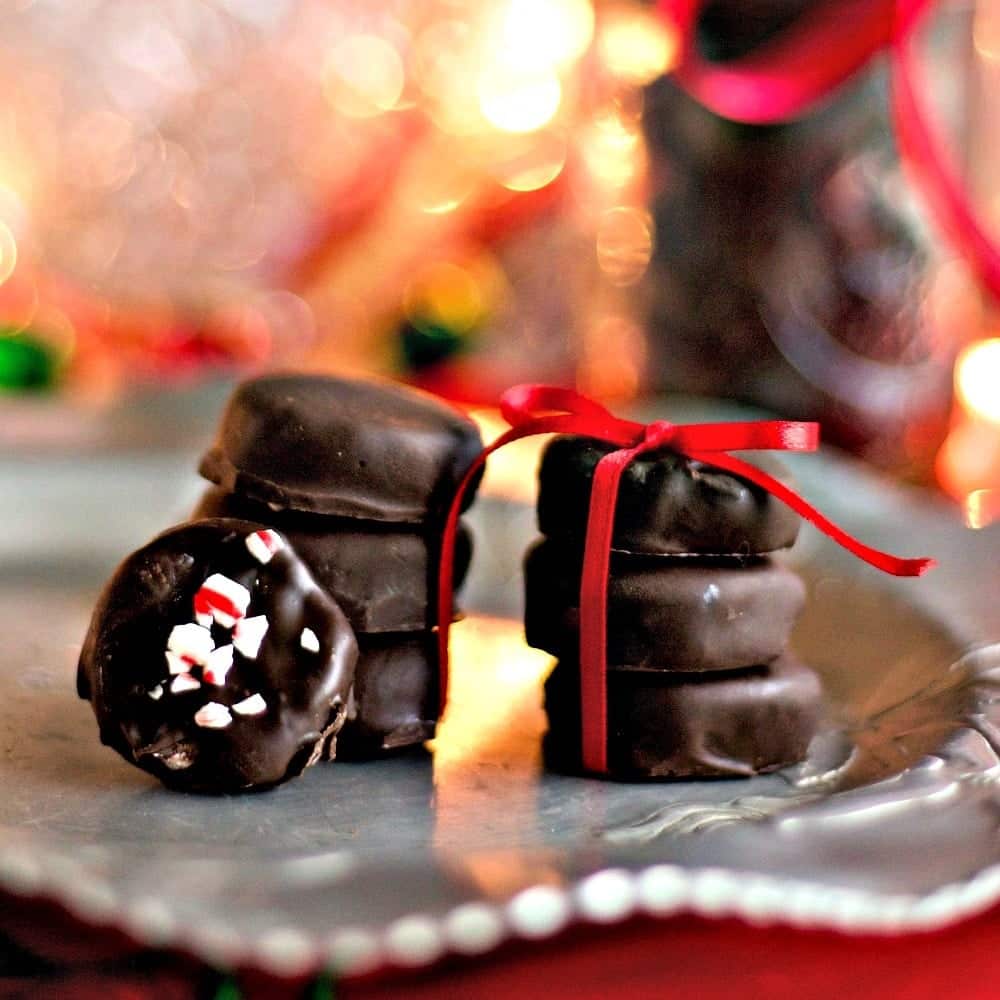 Holiday Candies RecipeThe dark chocolate Christmas candies are totally peppermint flavored. I also dipped my candies in white chocolate.
I used the white chocolate melting wafers they are awesome.
The combination of the white chocolate with the peppermint creates a fantastic peppermint patty type feel to these delicious candies.
It tastes like tiny bites of Christmas.
Recipe Notes for Holiday Candies:
Here are a few tips:
Do Cool the dough about 30 minutes in your fridge
Do NOT cool in a dough ball. Instead roll the dough into a log about an inch to an inch and a half in diameter.
Use ONLY candy melts for the dipping stage of this project. We have tried a healthy ganache.
It won't set up correctly. (If you have healthy ideas for this candy I'd love to know what you did)
ALSO: I half dipped these candies the first time I made them. They were cute BUT. The un-dipped half of the candy stayed somewhat sticky.
For this recipe we recommend you fully dip the candies to make them more manageable.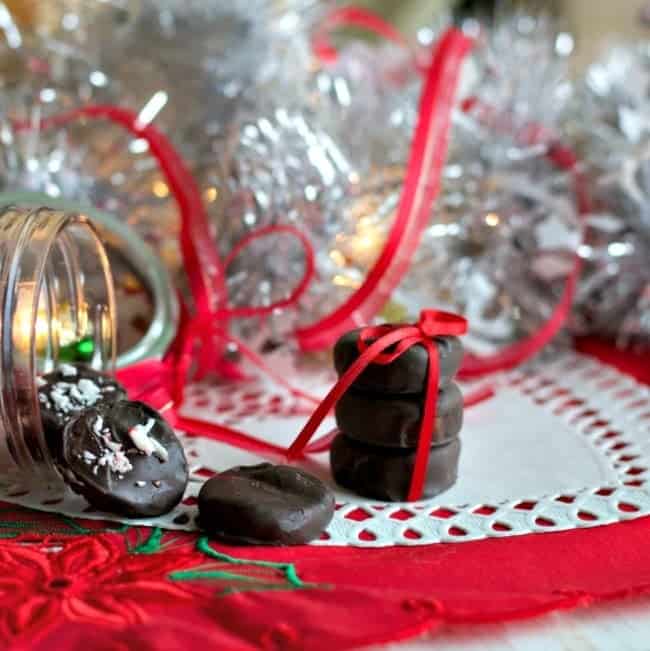 TIPS FOR WORKING WITH THE CANDY MELTS:
FOLLOW THE PACKAGE DIRECTIONS FOR EACH COLOR. THE INSTRUCTIONS DIFFER.
Put your microwave on half power and heat the melts for 30 seconds, stir the melts and repeat until the candy melts, melt.
IF your candy melts are melted but gloppy and thick. Add coconut oil (or any vegetable oil) in small amounts as you reheat the melts and stir it up.
Continue thinning with coconut oil (or any vegetable oil) until you get the consistency you desire. Do NOT overdo the oil though or it will take a long time to set.
If you overheat your candy melts- let them cool down to room temperature, add some oil and slowly and gently reheat.
As you stir in the oil, the candy melts should thin and smooth so you can dip the candies with good results.
Set up your project so the candy melts are the perfect consistency when the dough comes out of the fridge.
Have your toppings ready and the cooling station ready (I used silicone mats on a cookie sheet. Parchment paper will work too.)
The process:
Make your candy dough
Roll it into a long roll about 1 to 11/2 inches in diameter.
Wrap the candy in saran wrap and chill about 30 minutes.
Set up your toppings and get the candy melts ready to dip.
Unwrap your wrapped, cooled candy roll. Roll it around until it makes a perfect roll.
Cut the candies from the end of the cooled dough roll.
Shape any rough points off until they are dough circles.
Dip the candy dough into the candy melts with a fork, make sure it's coated all over.
Place the candy onto your cooling station and leave them alone OR top them now with your choice of crushed candies or sprinkles.
The candies will cool and set within an hour, depending on much oil is in the candy melts.
Once the candy is set up hard trim off the excess candy melt on the tray(see above) with a sharp knife.
Serve on a tray.
Yield:

36
Holiday Candies Recipe
Additional Time:
45 minutes
Total Time:
1 hour
30 minutes
These delicious Holiday candies are super cute and yummy! They are simple to decorate and make appropriate for any holiday you are celebrating this season!
Ingredients
2 1/4 cups powdered sugar
3 Tablespoons softened Butter
2 tsp peppermint extract or any extract flavoring you would like
3 Tablespoons heavy cream
12 oz. melting white chocolate wafers (or regular chocolate if you prefer)
sprinkles to decorate
Instructions
In a deep mixing bowl combine butter, cream and powdered sugar.
Add the extract of your choice and taste it to make sure you like the flavor intensity. Add more if desired.
With an electric mixer on low speed mix it all up until it forms a dough.
Continue mixing at high speed until the dough is manageable. Add extra powdered sugar a little at a time until the dough is stiff and no longer sticky.
Form the dough into a long skinny roll the circumference should be as big as your preference for your candies about 1 to 1 1/2 inch round should work well.
Tightly roll into plastic wrap and twist the ends. Refrigerate about 30 minutes until dough is easy to cut.
Spread powdered sugar down on a cutting board and roll out the dough with a rolling pin that is also lightly coated in powdered sugar and cut into shapes. OR just cut into small circles off the end to form small round candies. This is the easiest method for dipped candies.
If you are having a hard time with the dough sticking, pop it in the fridge to cool for 5-10 minutes.
Cut shapes out of your choice and place them on a parchment paper lined cookie sheet.
Dip them in Candy melts of your choice and decorate them however you would like.
They will set up hard in about an hour.
Trim off excess candy melt with a sharp knife.
Store in an airtight container.
Nutrition Information
Yield
36
Serving Size
1 candy
Amount Per Serving
Calories

122
Pin it:
Have fun with these holiday candies! They are easy to decorate and they will make perfect additions to any party!!
Here is a pic of the original holiday candies I made. They were cute but somewhat sticky half dipped.
I found the original recipe inspiration for these candies here but I changed the recipe to this one because it does not use corn syrup which I prefer. Recipe Source: www.ohnuts.com