Tamale Pie is winter time comfort food at it's best. This warming cornmeal pie is filled with a hearty beef filling with peppers and Mexican spices.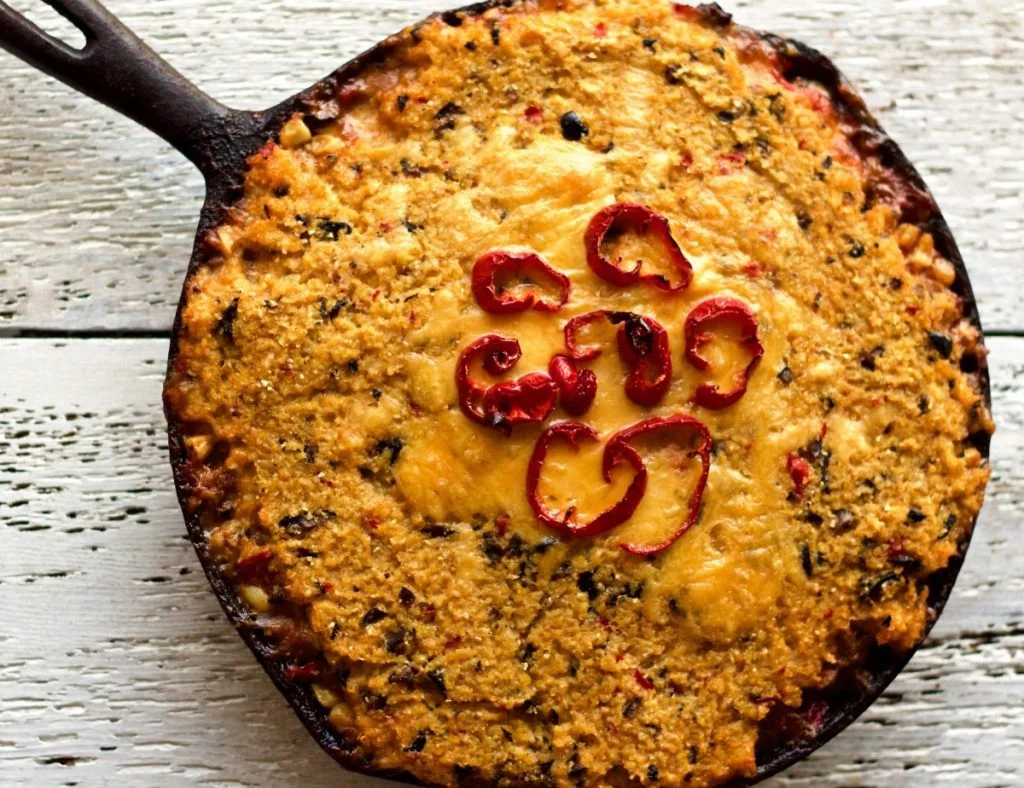 Looking for other meaty family hamburger casseroles?
Try our Shepherds Pie or cheesy hamburger pie. Mexican Cornbread is a yummy side dish to Tamale Pie.
Shepard's Pie

Cheesy Hamburger Pie

Mexican Cornbread
Old School Tamale Pie:
This Tamale Pie recipe is an old favorite recipe from my childhood revamped a bit. It's a great ground beef recipe. This is an easy version of the old classic Pronto Tamale Pie.
This pie has no bottom crust. The crust is spread on top of the pie only. This makes this recipe easier to make and we enjoyed the crust better this way.
The cornmeal crust in the bottom of the pan is how I had it as a kid. But we always left the crust in the pie plate. This way it gets eaten 🙂
You make the cornmeal and ground beef filling separately. Then put the crust on the top rather than the bottom of the pie.
Notes on Tamale Pie Recipe:
I used Bob's Red Mill organic medium grind Cornmeal. This gives a LOT more texture than the fine ground cornmeal flour I've used before. I
Use fine ground cornmeal for a finer texture in your crust. This recipe the more rustic version.
Use pasilla peppers or any heat pepper you prefer. We like the level two heat peppers. They are full of flavor but the heat is not too high.
Tamale Pie Casserole Instructions:
Start with the hamburger. Brown it on medium low, in a large cast iron skillet, if you have one, so you can pop it in the oven later and save yourself a dish. Otherwise you will need a 13 x 9 casserole dish or 10 inch deep dish pie plate, oiled and standing by to dump the filling into.
Now begin your cornmeal in a four quart sauce pan. Cook until done, add in the olives and peppers about halfway through the cooking.
While the cornmeal is cooking, finish the filling. Add in the peppers, onions, garlic and olives and brown the meat until done. Add the tomatoes and cornmeal mush in together at the last 10 minutes of cooking the filling.
Once the cornmeal is cooked set it aside and finish the filling.
After the filling is done (thickened and bubbly). This is when you dump the filling into your oiled casserole or pie plate, if your skillet isn't oven proof!
Sprinkle the top with 1 Cup shredded cheese and spread the cornmeal mush over the top and spread it evenly over the pie top. sprinkle remaining cheese and peppers over the top as garnish.
Bake at 350 degrees for 30 minutes.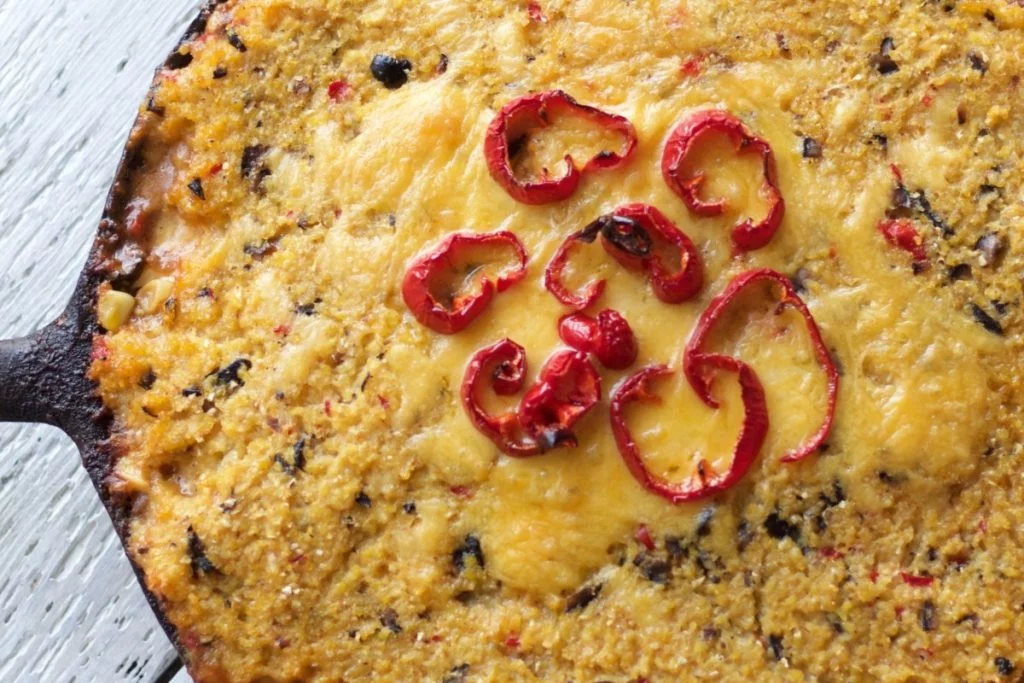 Your Printable Recipe Card: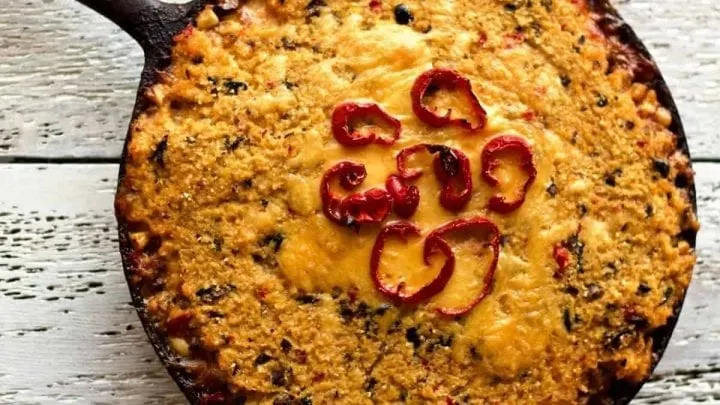 Yield:

8 servings
Tamale Pie Recipe
Tamale Pie is winter time comfort food at it's best. This warming cornmeal pie is filled with a hearty beefy filling. And topped with a flavorful cornmeal crust your family will love.
Ingredients
1 Cup cornmeal
3 Cups Water
2 tsp. Chili Powder
2 Tsp. salt
1 lb. hamburger
2 Tablespoons Chili Powder
2 tsp. Chipotle powder
1 large red pepper-chopped fine-divided
1 can pitted olives-chopped-divided (I use the extra large pearls 170 g size can. DW WT. 6 oz.)
1 onion-chopped
1 clove garlic chopped fine and smashed
2 cups fresh tomatoes-chopped
1 1/2 cups shredded cheddar cheese
Instructions
Preheat oven to 350 degrees:
Cornmeal crust:
In a 4 quart saucepan set on low, add the water, chili powder, 1 tsp. salt and stir in the cornmeal. Bring heat up to medium and stir until thick. Cook on lowest setting until done, about 15 minutes. Remove from heat.
Add 1/2 can chopped olives and 1/2 Cup chopped red pepper and mix well. Set aside covered.
Meanwhile finish the filling as described below:
Beef Filling:
In 12 inch cast iron skillet brown Hamburger on medium low heat.
When hamburger is about half browned, add chili powder,chipotle powder, onion, garlic, remaining olives, salt and all but one Tablespoon fresh chopped peppers and continue to cook until done.
Add the tomatoes and I cup cooked cornmeal mush to the filling and stir it in. Cook 10 minutes.
When the hamburger filling is cooked, transfer to your oiled 13 x 9 casserole, 12 inch ovenproof skillet or 10 inch deep dish pie plate as necessary.
Sprinkle the top with cheese and spread the cornmeal evenly over the top.
Sprinkle remaining 1/2 Cup cheese on the cornmeal and garnish with chopped pepper as desired.
Bake 30 minutes.
Nutrition Information
Yield
8
Serving Size
1
Amount Per Serving
Calories

302
Total Fat

15g
Saturated Fat

7g
Trans Fat

0g
Unsaturated Fat

6g
Cholesterol

52mg
Sodium

1010mg
Carbohydrates

28g
Fiber

3g
Sugar

3g
Protein

16g
Pin it: