Shepherd's pie is traditional savory classic that is well loved for its simplistic nature, and scrumptious, satisfying comfort. Bringing together ground beef, onion, peppers, corn and spices; topped with creamy mashed potatoes and cheese, this dish makes a fantastic family dinner that everyone is sure to love.
We have given our meat pie a southwestern flavor flair that will warm you through. This recipe is also crustless for a gluten free meal that saves you prep time and some carbs. However you choose to enjoy this pie, whether you pair it with a crusty soda bread, or enjoy it on its own, this is a generational favorite that we know you will enjoy.
What is real shepherd's pie made with?
Traditional Shepherds Pie is a British meat pie made with ground lamb and veggies, with Guinness added for an additional boost of flavor and richness. It is topped with a potato mash rather than a pastry crust like you find with many sweet pies. The name is truly a giveaway for the protein used in this dish as Shepherds are the people who care for and tend sheep.
Most folks don't realize that when you replace the lamb with ground beef, you are actually making what is traditionally known as a Cottage Pie. Over the centuries beef has taken over as the more commonly used protein, so the name has carried over regardless of the choice of meat used.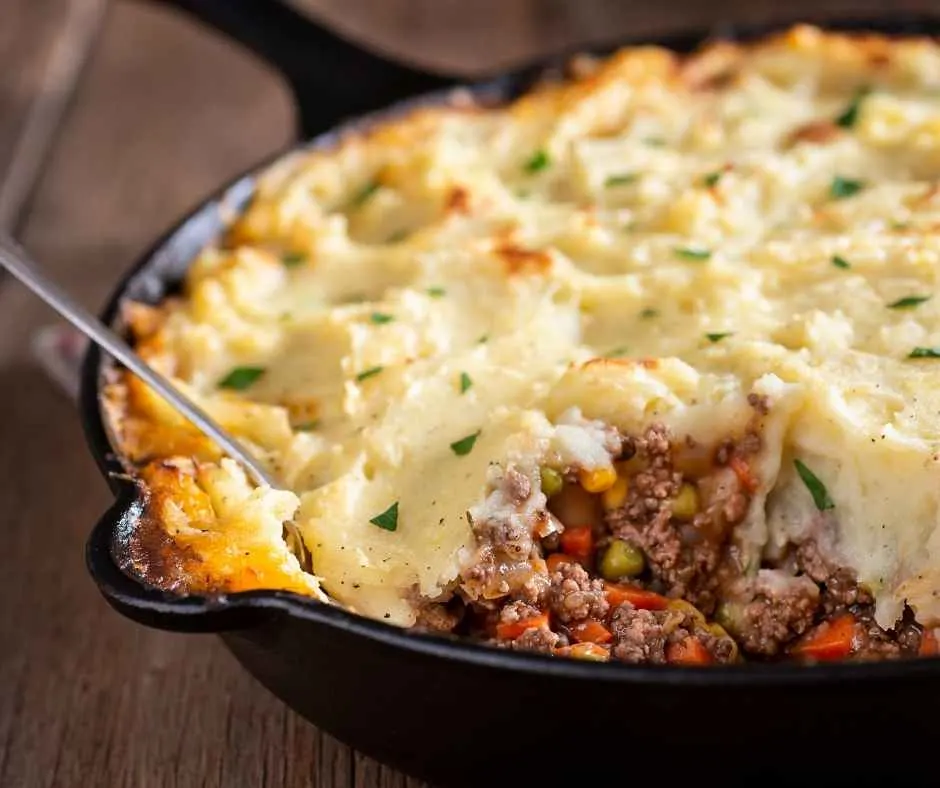 What do you eat with shepherds pie?
A shepherds pie can definitely hold its own as a complete meal, it is hearty and full of flavor making it an excellent choice for an all-in-one dinner. You can of course enjoy it with side dishes too! We have a list of scrumptious ideas for you if you are looking to bring a full banquet to your dining table.
Traditional Irish soda bread
Honey glazed carrots
Balsamic roasted brussel sprouts
Apple walnut salad
Broccoli bacon salad
Fresh baked dinner rolls
Roasted parmesan zucchini
Baked Italian artichoke hearts
Wild rice pilaf
Gruyere and bacon roasted asparagus
Storing and reheating your shepherds pie
Shepherds pie is very much like your standard casserole dish. It can be pre-made and stored in your fridge until you are ready to bake, it can be frozen for a later date, and it is very easy to reheat if you have leftovers.
To reheat your shepherds pie preheat your oven to 350 degrees F, cover with foil and place in the oven. Individual portions will take about 10 minutes to heat through, while a whole or partial pie will take anywhere from 30-40 minutes. If your pie has been frozen, set it at room temperature while your oven preheats and bake it for 60-90 minutes.
Recipe Notes for Shepherd's Pie:
Boil and mash your potatoes.
Put a skillet on medium heat and prepare your filling.
Pour the filling into your 9-inch pie plate. Allow your meat mixture to cool before spreading your mash, this is prevent it from sinking into the filling.
Spread mashed potatoes over the filling.
Shred one cup of cheese and sprinkle it over the top.
Bake! About an hour from start to finish
Shepherds pie can be a fantastic way to use up extra veggies you may have lying around. It can also be a great way to bring together leftover cooked vegetables and incorporate them into your meat pie. It may not qualify as a traditional shepherds pie, but it harkens back to its roots where it was an inexpensive meal for poor families that used what they could.
This savory pie also provides a lot of freedom in how you season it. We enjoy bringing bold spices such as peppers, cumin and even salsas to the mix. It certainly doesn't say traditional shepherds pie, but it is a delicious, full bodied dinner with a lot of depth and texture.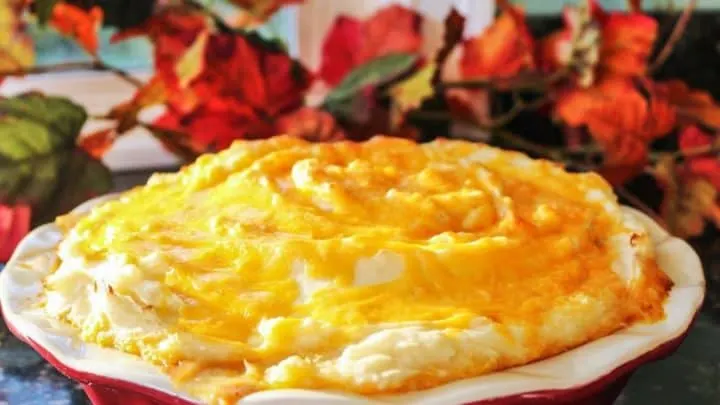 Yield:

8 servings
Shepherds Pie Casserole Recipe
Additional Time:
20 minutes
Total Time:
1 hour
5 minutes
A hamburger filling spiced with a bit of Southwestern flair. I topped it with creamy mashed potatoes and melted shredded cheese. A comforting, filling casserole.
Ingredients
1 Lb. ground beef
1 red pepper, chopped
1/2 medium onion, chopped
1 pepper, chopped fine
2 tsp. taco seasoning
1/2 tsp. cumin
1 tsp. salt
1 Cup frozen corn
1 1/2 Cups salsa
6 medium potatoes, diced
1/2 Cup milk
1/4 Cup butter
salt to taste
1 Cup shredded cheese
Instructions
Preheat the oven to 350 degrees F
In a large frying pan, fry beef, pepper, onion, taco seasoning, cumin and salt until beef is browned and vegetables are tender
Stir in corn and salsa and heat through completely
Pour into a 2.5qt casserole dish or 9 inch deep dish pie plate, and set aside
Boil potatoes until tender, about 10-15 minutes
Mash with milk, butter, and salt
Spread on top of beef mixture in casserole dish
Top with shredded cheese
Bake 20-25 minutes until heated through and cheese is slightly browned
Nutrition Information
Yield
8
Serving Size
1
Amount Per Serving
Calories

435
Total Fat

21g
Saturated Fat

10g
Trans Fat

1g
Unsaturated Fat

8g
Cholesterol

81mg
Sodium

973mg
Carbohydrates

39g
Fiber

5g
Sugar

5g
Protein

24g
Adapted from: The recipe Rebel
Follow Us:
We enjoy meeting you on our social networks. Follow us on Facebook, Pinterest, Instagram . Tag us with your pictures of our recipes and comment on how it went for you. We would love to see what you do with them.
We often like, comment and share your posts of our recipes on our daily Instagram stories.
Ask questions and rate the recipe in the comments section below. Please share what you did with this recipe. We are always looking for more and better ways to make homemade food. Other cooks love your ideas!
Recent Posts: