Reese's Peanut Butter Cup Cookies are soft delicious peanut butter cookies with a Reese's mini embedded right in the center. Made from scratch for a flavor filled and fluffy cookie, these are much better than any of the boxed versions that you can buy. You can use either a mini Reeses candy like we did, or switch it out for your favorite variety of Hersheys kiss to fit a theme or event.
The base of these cookies is a scrumptious dough that is fresh and packed with flavor. The consistency is soft and pleasant while providing a strong bed for that adorable Reeses mini candy cup.
These cookies are scrumptious with a satisfyingly firm candy center with just the right amount of intense peanut butter chocolate-ness. These cookies will hold together as you eat them because the candy is nestled snug into the cookie.
Most drop cookie dough recipes are best when you use room temperature ingredients. So, be sure to plan ahead and set out the butter and eggs so that they warm and soften. This will prevent over mixing the dough which can result in flat, dense, and chewy cookies.
This dough will require some chill time to not only help hold the shape through the baking process, but also to enhance and intensify the flavor.
Some recipes vary in the ratio of cookie dough to the size of the Reese candy. We love a beautifully balanced amount of cookie to candy so that neither is over powered. It is after all a cookie. We recommend using an ice cream or cookie scoop to measure out the dough.
This will also keep the cookies equal which will ensure even baking and a more uniformed look among your batch of cookies for display. There should be a golf ball sized amount of dough for each easy peanut butter cup cookies.
We really love Reeses minis for these cookies. They are the perfect size and bring a delicious flavor punch to these cookies. But, you can always play around with the candy that you use. Hershey kiss cookies are very popular during the holiday season for their flavors, color variations, and fun bell-like shapes.
Always work with the freshest ingredients for the best flavor.
You do need to chill the dough for about 15 minutes, so plan ahead a bit.
After baking, let them cool to slightly warm and then press the candy cups into the middle of the round cookies. This will allow the candy to melt slightly and seat well into the cookies.
Change up the Reeses candy for a fun variation.
Reese's Peanut Butter Cup Cookies are rolled in course organic sugar for that extra bit of sweet and a bit of glimmer. These are the perfect cookie for any occasion, but we love to enjoy them around the holidays with friends and family.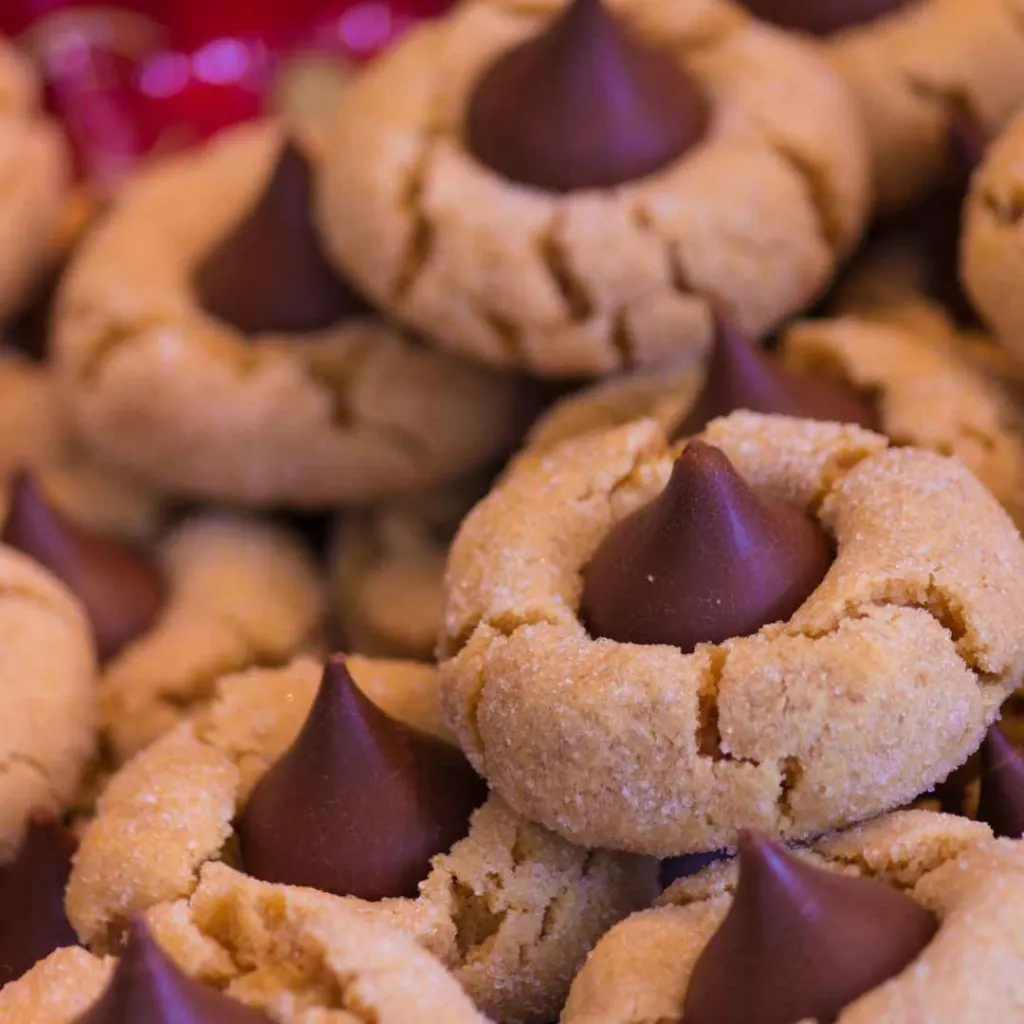 After the candy cups are in place chill the cookies to set the candy for 15 minutes in the fridge. Keep them on the baking tray and just slide them into the fridge. You can remove the cookies to a cooling rack if you prefer and let them harden at room temperature.
Once cooled and set they travel well and are not prone to breaking apart. These make excellent cookies to include in cookie exchanges, holiday parties, or as gifts for friends during the season.
Yield:

24 cookies
Reese's Peanut Butter Cup Cookies
Reese's Peanut Butter Cup Cookies are popular on a party tray and perfect for a family movie night treat. These easy to make soft peanut butter cookies definitely entice all cookies lovers and will not disappoint. The Reese's candy center is a perfect compliment to this yummy peanut butter snack.
Ingredients
1 1/4 cups all-purpose flour
1/2 teaspoon baking soda
1/4 tsp. nutmeg
1/4 teaspoon salt
1/2 cup unsalted butter, softened to room temperature
1/2 cup packed light or dark brown sugar
1/4 cup granulated sugar
3/4 cup creamy peanut butter
1 large egg, at room temperature
1 teaspoon vanilla extract
1/2 cup granulated sugar in a separate small bowl for rolling, I used large grain organic sugar
24 Reese's Miniature Peanut Butter Cups, unwrapped
Instructions
In a medium bowl whisk together flour, baking soda, salt, and nutmeg. Set aside.
In a large bowl or stand mixer place butter, peanut butter and sugars on medium speed.
Add the vanilla extract and egg. Beat on medium speed until blended.
Add the dry ingredients all at once.
Beat on low speed until the flour is mixed in.
Make the dough into a single large ball and cover in saran wrap.
Refrigerate for 30 minutes.
Remove the cookie dough from the fridge and preheat the oven to 350 degrees F.
Line two baking sheets with parchment paper, silpats (or oil them) and set aside.
Place about 1/2 cup granulated sugar in a small bowl for coating the cookie dough balls.
Using an ice cream scoop, (if you have one, or a tablespoon if you don't) scoop out the dough.
Place the dough between the palms of your hands. Now, roll the dough into a ball and coat in sugar. (I am using a large grain organic sugar)
Place on the prepared baking sheet. Repeat until your cookie sheet has twelve dough balls two inches apart. Repeat with the second baking tray.
Bake for 8 to 10 minutes until just slightly brown.
Remove from the oven and leave on the baking sheet for 10 minutes to set and cool down to warm. Now push a Reese's Cup into the center of the round cookie ball. Repeat for each baked cookie ball.
LET the cookies sit until the candy center is hardened. Chill in the fridge to speed up the setting time
Notes
NOTES:
The candy center will appear set long before it is. Be careful when handling unset cookies or it will mess up the candy top.
The total time to make a batch of these cookies is 60 minutes. Included in this time is 30 minutes of chilling time for the dough. But add in some cooling time after setting the candies for best results.
You can make the dough ahead and hold it tightly wrapped in the fridge for up to three days if you prefer.
Nutrition Information
Yield
24
Serving Size
1 cookie
Amount Per Serving
Calories

182
Check out these other tasty chocolate and peanut butter recipes!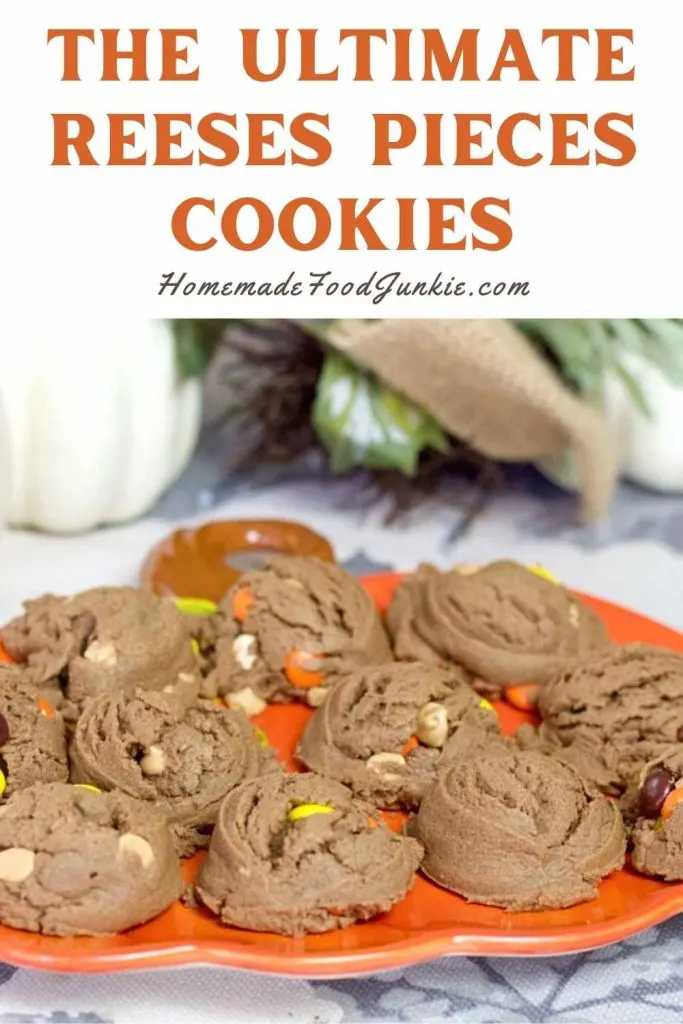 Follow Us:
We enjoy meeting you on our social networks. Follow us on Facebook, Pinterest, Instagram . Tag us with your pictures of our recipes and comment on how it went for you. We would love to see what you do with them.
We often like, comment and share your posts of our recipes on our daily Instagram stories.
Ask questions and rate the recipe in the comments section below. Please share what you did with this recipe. We are always looking for more and better ways to make homemade food. Other cooks love your ideas!
Recent Posts:
More of our most famous recipe links
Recipe Source Sally's Baking Addiction