Chocolate Peanut Butter Truffles make a very popular party food for the holidays or any ole party. Have a wedding shower, baby shower, girls night out, office or retirement party? Truffles are perfect.
Chocolate truffles are beautiful and look like you went to a lot of trouble to make them. But you won't. 🙂
These are easily made and stored in your fridge for up to a week. You can also freeze the chocolate truffles up to two months.
You can freeze a batch undecorated and on serving day thaw them and decorate them to suit your event.
We prefer them dipped in unsweetened 100 % dark chocolate. You can also dip the peanut butter balls in white chocolate or milk chocolate. However the finished truffles will be considerably sweeter.
100 % Unsweetend dark chocolate may seem risky for the base coating for this treat. It actually works REALLY well. The flavor of the sweet peanut butter and deep chocolate flavor is very delicious. Promise.
We used Ghirardelli brand chocolate since it provides a full rich flavor.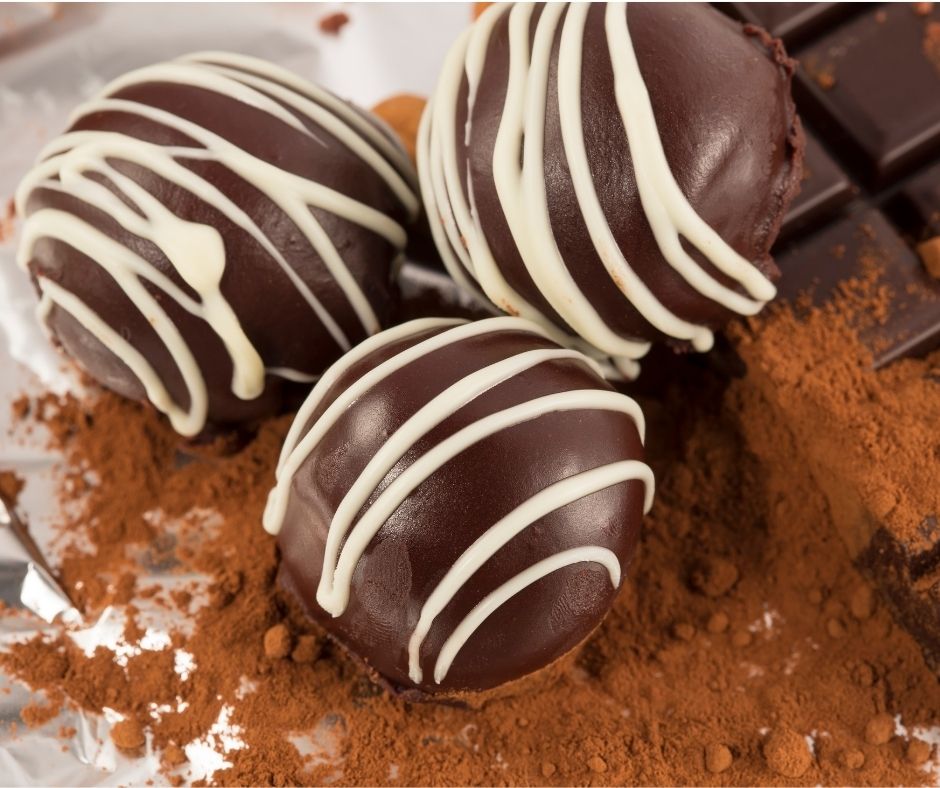 Once you dip the balls either decorate them and serve, or leave them plain. Set them in your fridge until serving and then transfer the peanut butter truffles to your serving trays.
They make a pretty party tray. Even undecorated everyone loves these yummy treats.
Chocolate Peanut Butter Truffles:
Truffles are simple to make. You can use your food processor or stand mixer to make the dough in five minutes. Once the peanut butter balls are formed and set on a baking sheet lined with parchment or a silicone mat.
Melt the chocolate in your microwave. Chill them, dip them and eat them, after a quick set up time!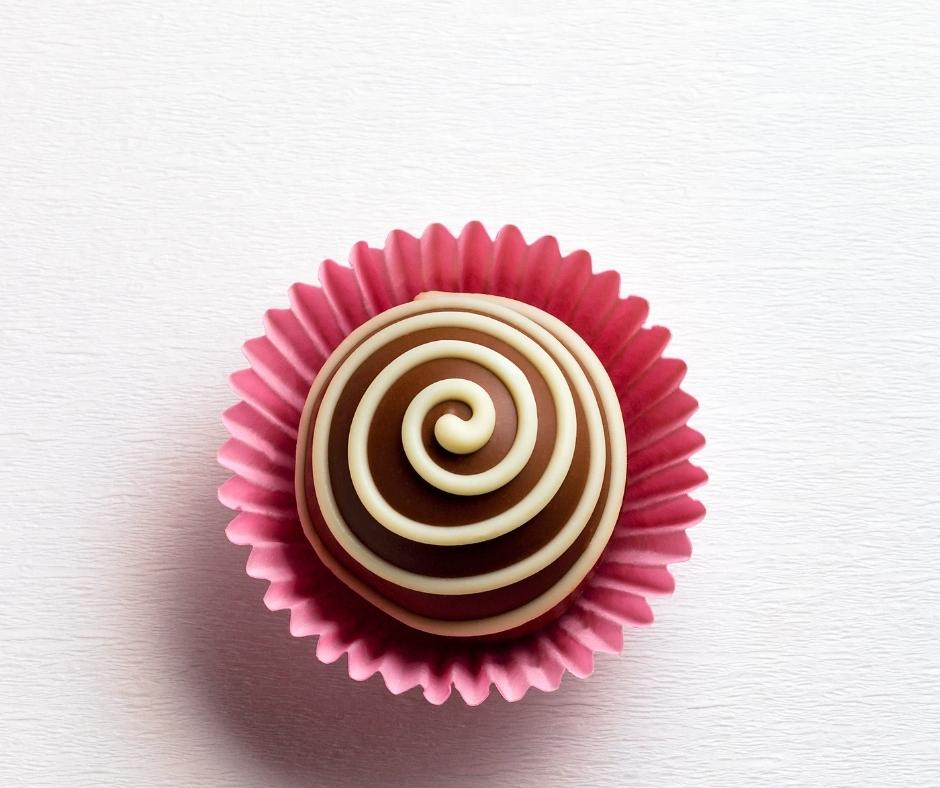 One thing to remember about homemade truffles. The chocolate is not tempered. this means the truffles will melt easily at room temperature.
So they are best served chilled. And the idea pictured above is more than just pretty. Those paper cups help keep fingers clean. 🙂
Decorating Ideas:
After you make the basic peanut butter balls, there are many many ways you can dress them up for your party.
You can pipe the truffles with milk chocolate, white chocolate or use candy melts in your favorite colors. It's a simple, elegant touch.(watch our video to see how we did it)
Even easier, crush your preferred nuts (even pistachio) and sprinkle them on top of the truffles as they set.
Crushed peppermint candies, Heath bits or whatever you fancy can also be sprinkled.
Roll the balls into sprinkles while still tacky.
You can serve them plain on a colorful parchment paper as well. They are always well received.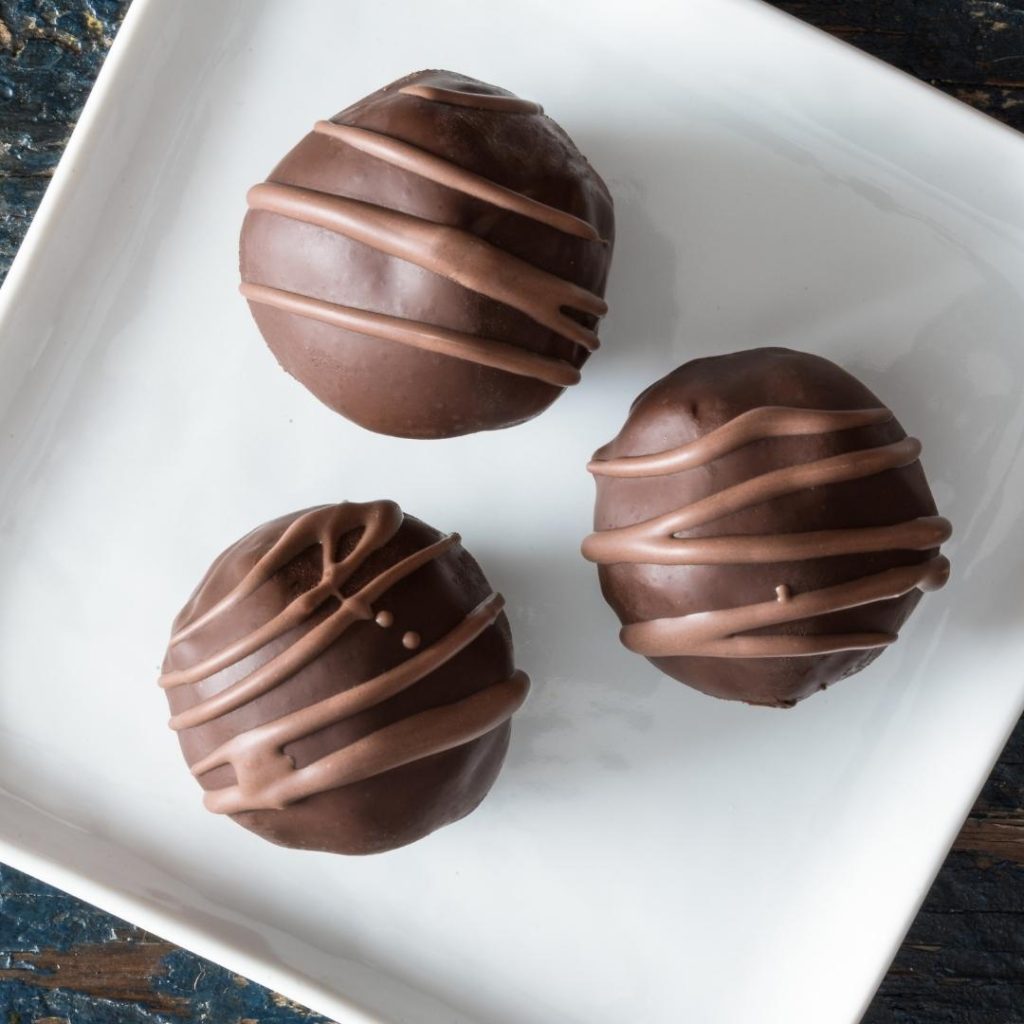 Storing and Freezing:
Store truffles up to a week in the fridge in an air tight container. Store them in one layer or separate the layers with parchment so the truffles don't stick together.
Freeze chocolate peanut butter truffles in an air tight container, separated by parchment up to two months.
Yield:

30
Chocolate Peanut Butter Truffles
Chocolate Peanut Butter Truffles are easy to make and look great on a party tray. Make them ahead and store covered in the fridge. They can be decorated many ways or served plain. Everyone loves them.
Ingredients
1 Cup creamy peanut butter
1/2 Cup unsalted butter-softened
1 tsp. vanilla
1/8 tsp. salt
3 Cups powdered sugar
16 oz. 100% dark chocolate-unsweetened
3/4 Cup milk chocolate (or candy melts) for decorating as desired
Instructions
Dump the softened butter into your stand mixer. (food prcessor or hand held electric mixer can also work)
Mix slightly until smooth.
Mix in the peanut butter, vanilla and salt.
Beat until smooth.
Add half the powdered sugar and mix.
Add the remaining powdered sugar and mix until smooth.
The dough will be rather dry and lumpy looking but should hold together when pressed.
Form the peanut butter dough into 1 inch balls.
Set the formed peanut butter truffles on tray and chill until firm. About 60 minutes.
Melt the dark chocolate in the microwave in 30 second intervals until melted. Stir until smooth.
With a fork, Dip the balls into the melted chocolate mixture.
Return to lined tray and refrigerate 10 minutes until the chocolate is firm.
The truffles can be served now as plain truffles or decorated. Store in fridge or freezer until serving (see notes section)
Decorating:
See our notes section for more ideas on decorating truffles.
Melt the milk chocolate (either chips or chopped bars is fine) or use colored candy melts if desired.
Place the melted decorator chocolate in piping bag(s)
Decorate the truffles as desired.
Set the decorated truffles in the fridge until serving.
At serving: Line your serving trays with parchment paper.
Transfer truffles to your serving trays and serve
Serving idea:.
Notes
Decorating Ideas:
Truffles can be served with no decoration. If you choose to decorate them with melted chocolate piping follow our video to see what we did. OR try...
Chopped nuts sprinkled over the truffles. Sprinkle nuts on the truffles after dipping and chill so the nuts stick to the truffle when they are setting up.
Crushed candy canes also make a good topping.
Heath bits, butterfinger bits (crushed) or other candy you may prefer.
Roll the balls into sprinkles went the are still somewhat damp.
You can also dip the peanut butter balls in melted white chocolate or milk chocolate rather than the dark chocolate. However, they will be considerably sweeter.
Freezing and Storing:
Store your truffles in the fridge in an air tight container up to a week. Put parchment paper between the layers of truffled to protect them.
Freeze truffles up to two months separated by parchment in an air tight container.
Nutrition Information
Yield
30
Serving Size
1 ball
Amount Per Serving
Calories

139
Related Content:
It's always fun to have more ideas for candy projects at the holidays. The kids can help too. Older children can make these candies on their own. Enjoy!
Candy spoons, A trays of our peppermint Holiday candies and Holiday bark candy are all great ways to enjoy sweets at the Holidays. These candies can all be decorated and flavored to suit whatever event you have in mind.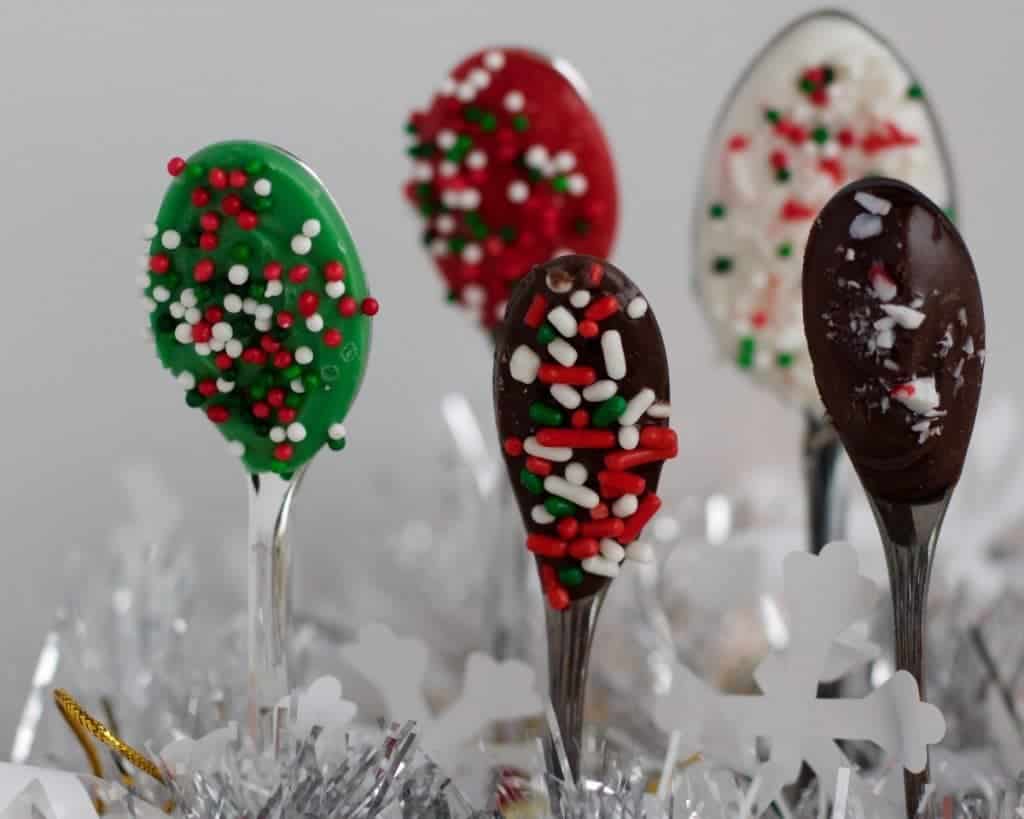 Follow Us:
We enjoy meeting you on our social networks. Follow us on Facebook, Pinterest, Instagram . Tag us with your pictures of our recipes and comment on how it went for you. We would love to see what you do with them.
We often like, comment and share your posts of our recipes on our daily Instagram stories.
Ask questions and rate the recipe in the comments section below. Please share what you did with this recipe. We are always looking for more and better ways to make homemade food. Other cooks love your ideas!
Recent Posts:
Recipe Adapted from Marsha's Baking Addiction