The delicious and beautiful pink lemonade vodka Drink is an adult twist on the classic summer drink. It has delicious flavors with notes of sweet lemonade, and a tinge of cranberry that gives it the brilliant pink color.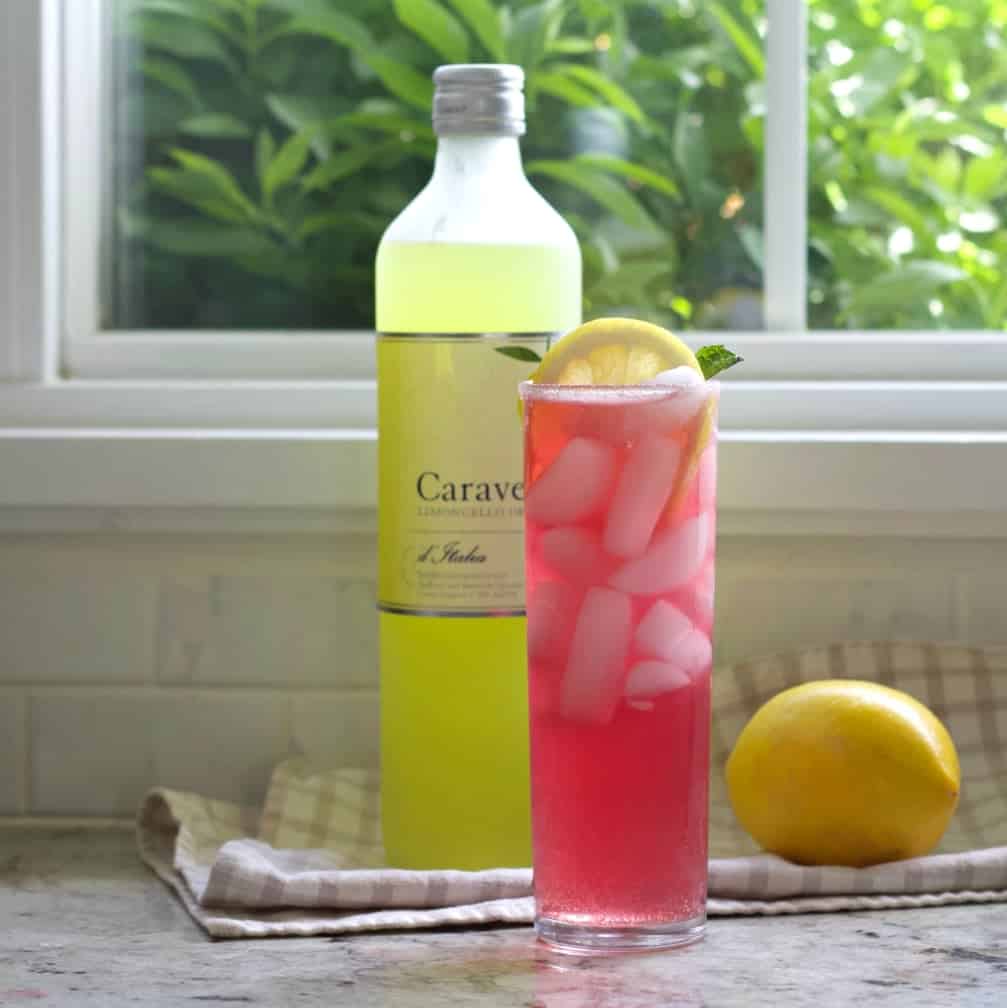 Pink lemonade mixed drink sparkles with pink brilliance. Sweet bubbly pleasure awaits your taste buds with this fruity vodka drink.
Three Limoncello Cocktail Recipes.
Our pink lemonade drink is a good vodka cocktail recipe. As well as a beautiful recipe for a limoncello drink.
Simple Vodka mixed Drinks like Sex on the Beach and Watermelon Peach Cocktail are always popular at parties. Pink Lemonade vodka drink is another simple and fairly inexpensive addition to the drink menu.
Visit our Cocktail section for more limoncello cocktails and vodka drinks.
Limoncello is the most expensive ingredient. you won't need much for this mixed drink.
Good vodka drinks like this one make a perfect summer cocktail. it's full of vibrant lemon lime flavors with a bit of sweet fizzy zing.
Pink Lemonade ( the traditional drink)
Lemonade is just juiced fresh lemons and water with a sweetener. Most often sugar. And it's always yellow in color.
So how do we have PINK lemonade? The origins are somewhat murky.
Before we begin the back story of pink lemonade. Rest assured. Our Pink lemonade is colored with cranberry juice. But it's missing the lemonade. 🙂
Originally, if this article can be believed, the color of pink lemonade arose out of crisis and was solved by a set of dirty pink tights (YUCK).
YET another story (same article) says a cinnamon candy blooper caused the color and sold like hot cakes. Read the article. It's funny how things happen!
So how is our Pink Lemonade cocktail created without fresh lemons? We use Limoncello liqueur.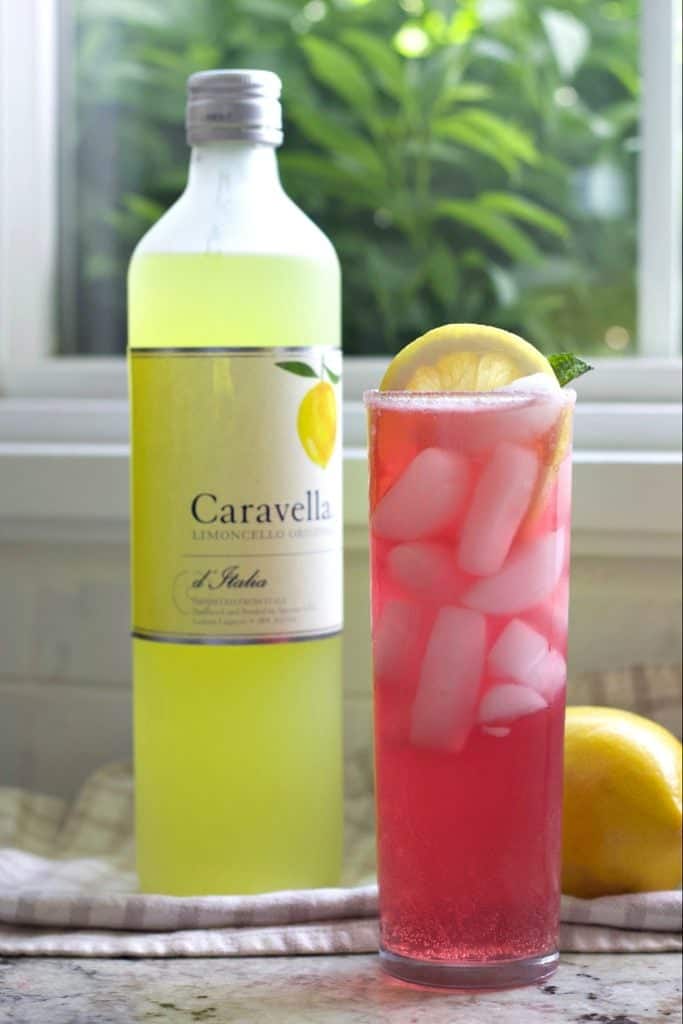 What is Limoncello?
Limoncello is an Italian liqueur that is traditionally made in Southern Italy. Watch the video for more Limoncello recipes.
What does Limoncello taste like?
It is an absolutely delicious liqueur that tastes like a lemon drop candy. However, this liqueur does have a strong alcohol taste when drank by itself. I recommend using it in a lemon flavor cocktail rather than sipping it alone.
How strong is Limoncello?
This liqueur is 28 percent alcohol. When you add in the vodka this recipe for limoncello drink can pack quite a punch. Always Remember to drink responsibly.
Should Limoncello be kept cool?
Limoncello does not need to be stored in the refrigerator once it's opened.
Limoncello has both a high sugar content and a high alcohol percentage that will keep it well preserved at room temperature.
You only need a small amount for this lemonchello drink. Fortunately, it stores well in your liquor cabinet rather than your fridge until you need it again.
TIP: For this recipe and other cocktails that are served chilled set the bottle in your fridge to chill an hour or two before serving.
If it's poured into the cocktail shaker warm you will get more dilution from your ice.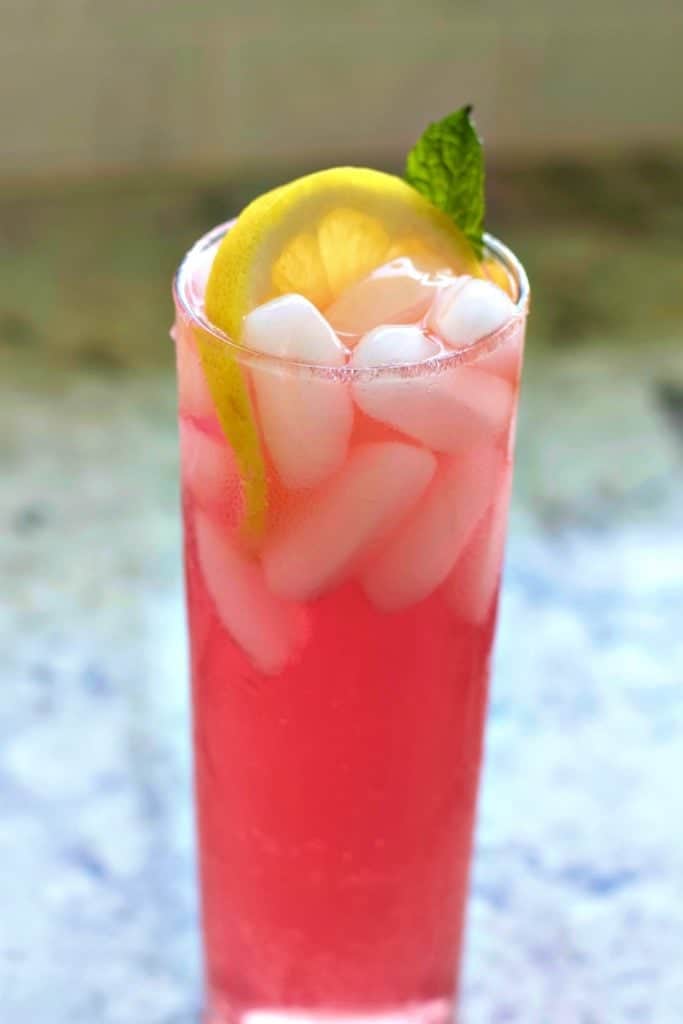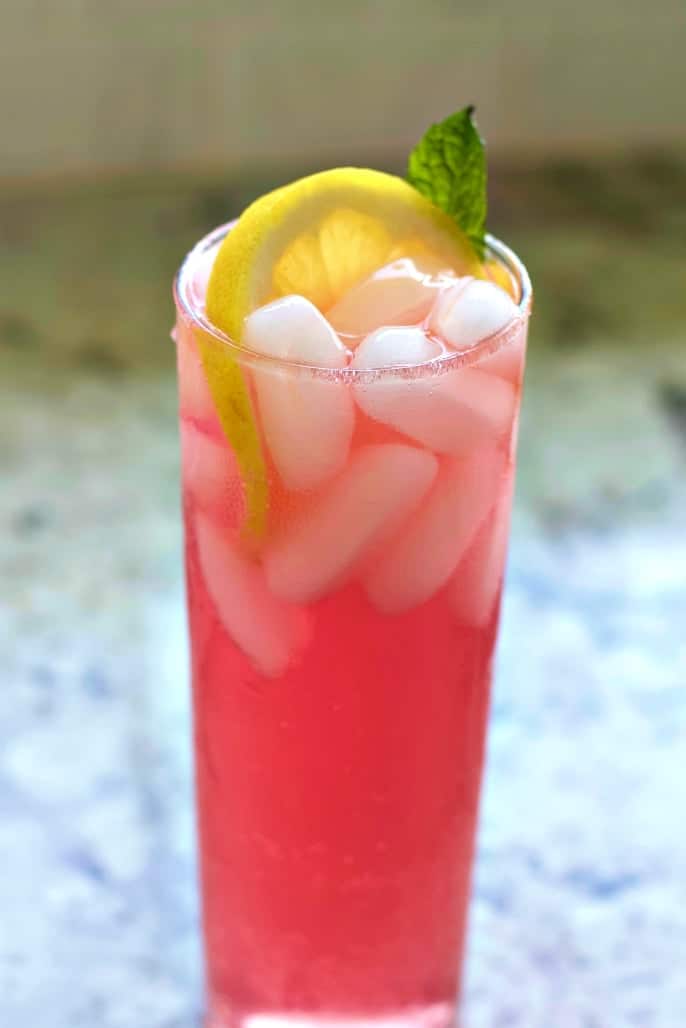 Pink Lemonade Vodka Drink Recipe:
limoncello liqueur sparks the lemonade flavors along with the fresh lemon squeeze. The flavor of the limoncello works beautifully in this recipe.
Add the cranberry juice to make it a pretty pink. The pink lemonade color is a lovely counterpoint to the lemon wheel garnish and mint leaf.
This fruity drink with vodka has lively flavors and a sweet fizz. It's also an easy vodka drink to make. The fresh lime squeeze brightens the flavors and brings in a bit of zestiness.
Enjoy this cocktail lounging around with the grill going… In a hammock…visiting at a dinner party. This drink fits right in.
Ingredients for this Simple Vodka Drink:
Vodka-we used Skyy Vodka
Limoncello-we used caravella Limoncello
cranberry juice (unsweetened)
1 bottle or can or 7 up
organic lemon and lime
The Glass:
Use a Tom Collins glass or any tall glass you prefer. It needs to hold about 12 oz.
Pink Lemonade Vodka Drink Recipe Guide:
TIP: Before you begin: Chill the glass and the 7 up.
We chose to rim the glass with sugar to bring out even more of the sweetness. And give it a nice look.
Fill a cocktail shaker with ice.
Add in the vodka, limoncello, cranberry juice, fresh lime juice, and fresh lemon juice.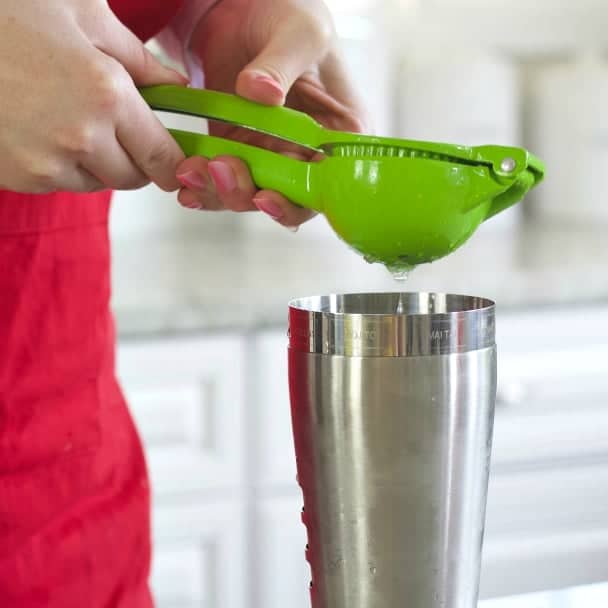 Put the lid on and shake vigorously for 30 seconds, or until you feel the cocktail shaker is completely chilled.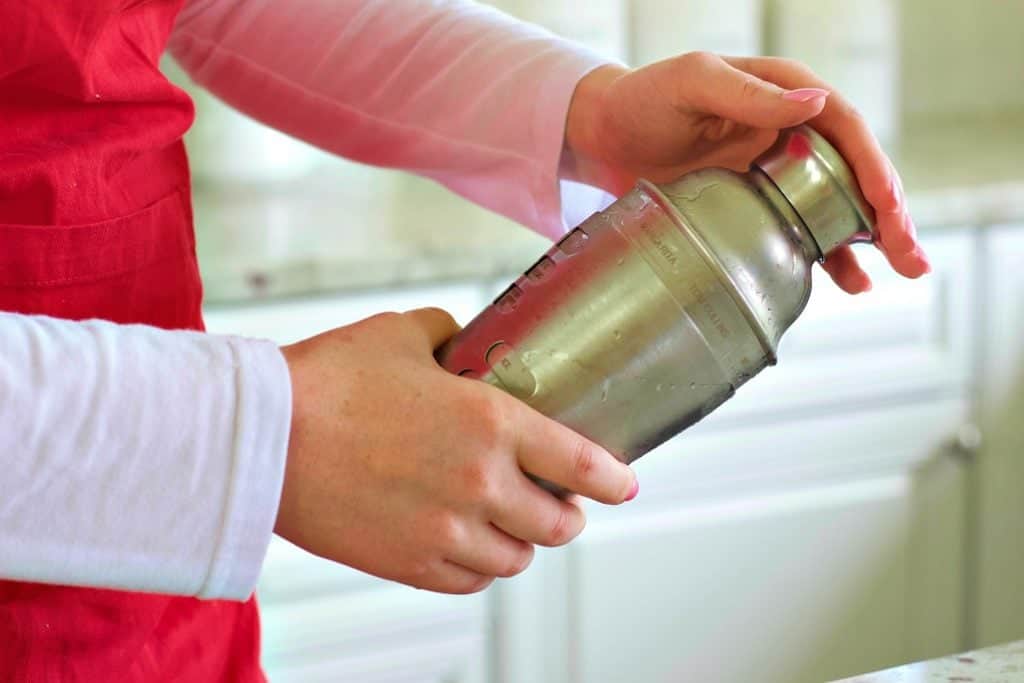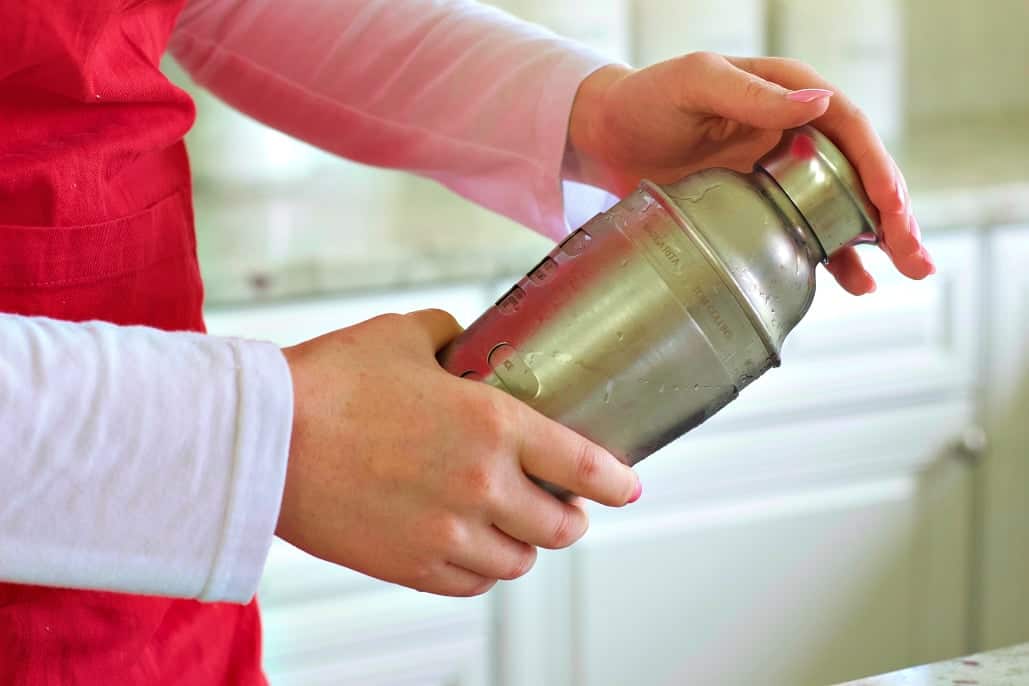 Fill the collins glass with ice.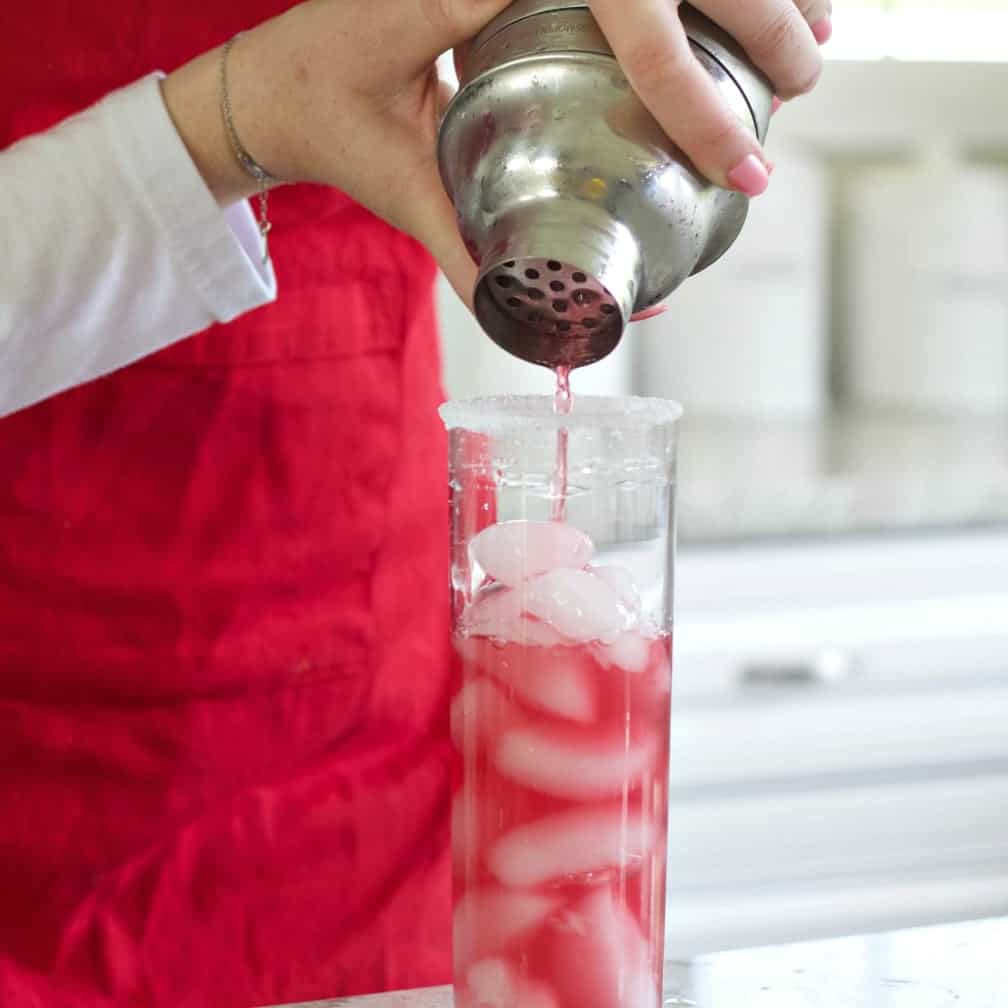 Slowly pour the liquid from the cocktail shaker out into the collins glass (straining out the ice from the shaker). Pour carefully to protect the sugared rim from dissolving.
Fill the rest of the glass with 7-up. Garnish the drink with a slice of lemon and a sprig or two of mint.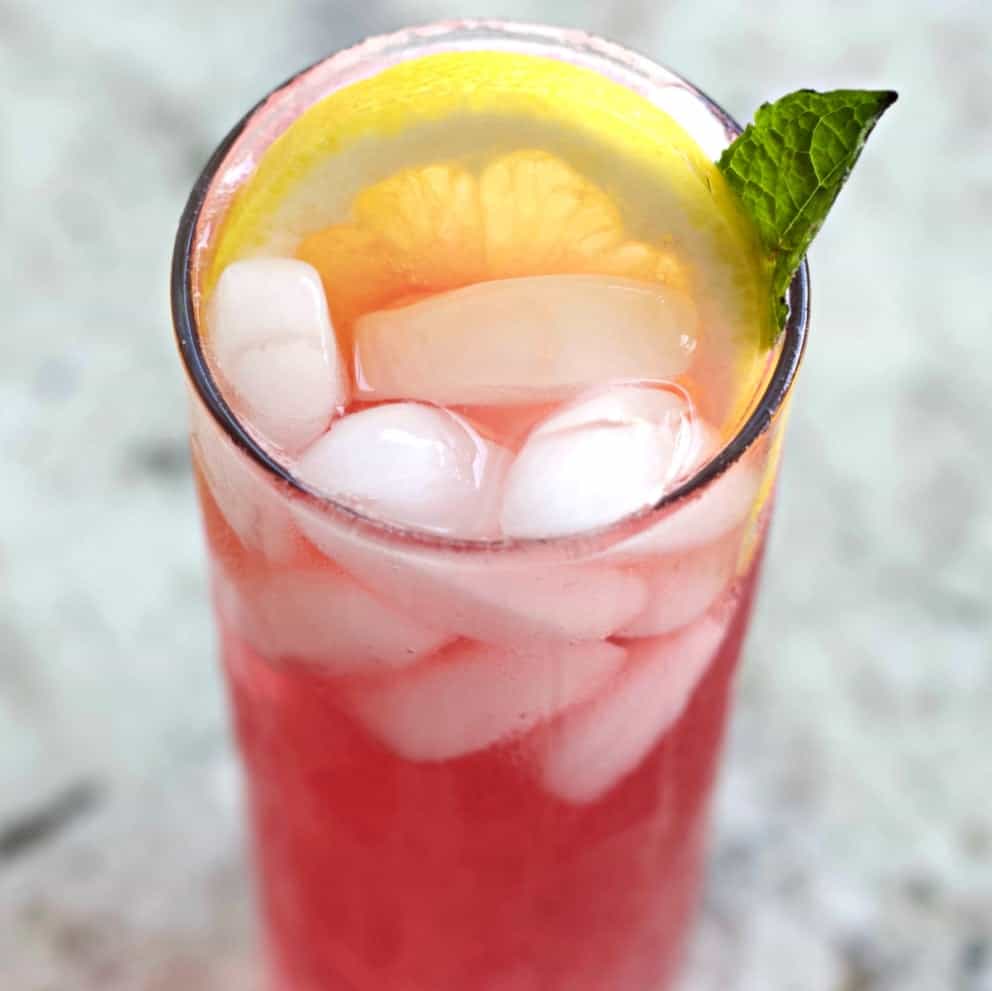 This is a lovely limoncello drink recipe you are sure to enjoy. And so will your guests.
Your Printable Recipe Card: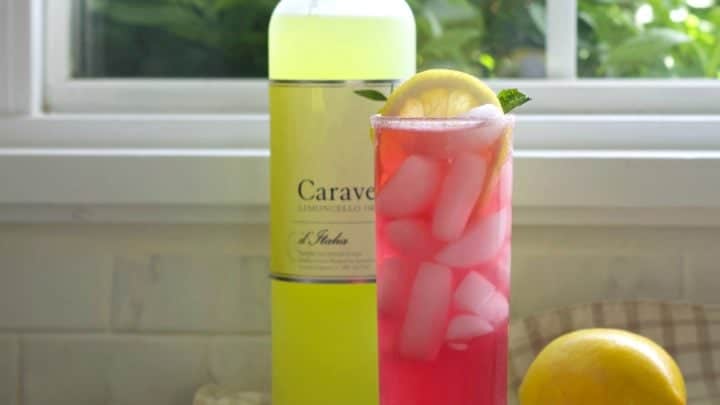 Yield:

1 cocktail
Pink Lemonade Cocktail
Pink Lemonade Vodka Drink is delicious, beautiful and simple. Enjoy vibrant lemon flavor with a sweet fizzy zing. Great addition to your vodka drink menu.
Ingredients
1 1/2 oz. Vodka
1/2 oz. limoncello (or triple sec)
1 oz. cranberry juice
1/2 oz. fresh lemon
1/2 oz. fresh lime juice
4 oz. 7 up-chilled
ice
Instructions
Chill the 7 up ahead
Fill your shaker with ice
Add vodka, limoncello, lime juice and cranberry juice into the shaker
Shake vigorously until the shaker is very cold to handle.
Fill a Tom Collins glass with ice.
Pour the shaked mix over the ice.
Fill the glass to the top with 7 up.
Squeeze the lemon over the top.
Stir and garnish as desired.
Notes
Suggestions for the Garnish:
I cut a lemon wheel and partially submerged it into the glass. Then I laid one mint leaf next to the lemon for a dash of fresh green.
Nutrition Information
Yield
1
Serving Size
1
Amount Per Serving
Calories

220
Total Fat

0g
Saturated Fat

0g
Trans Fat

0g
Unsaturated Fat

0g
Cholesterol

0mg
Sodium

16mg
Carbohydrates

26g
Fiber

1g
Sugar

23g
Protein

0g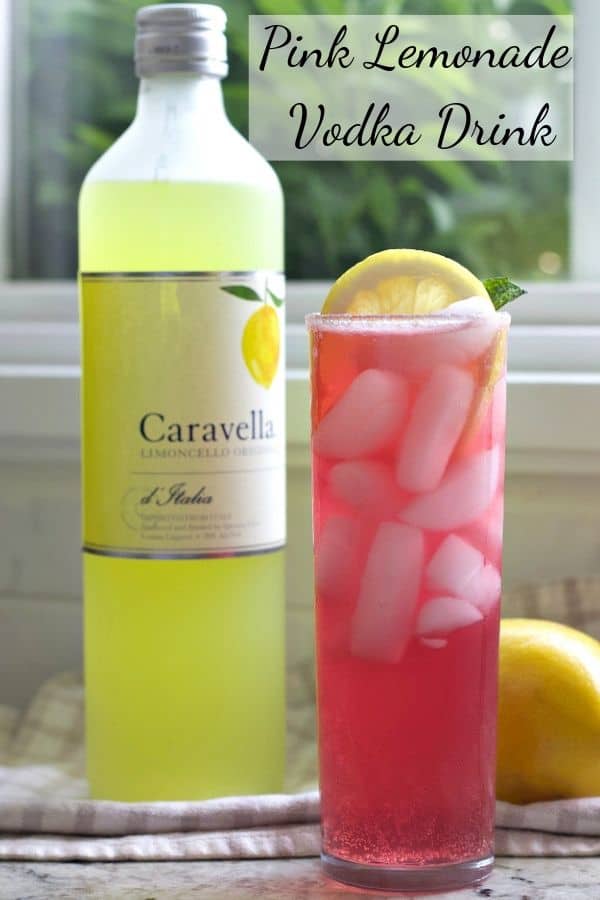 Recipe Slightly Adapted From The Ultimate Bar Book by Mittie Hellmich