Sex on the Beach cocktail definitely belongs at a beach party. But don't stop there. This inexpensive fruity vodka drink will delight your guests at any adult gathering.
Are you looking for more Vodka Mixed Drinks? Watch our video to quickly learn five vodka party drinks your guests will love.
Kayti takes you through all five of her easy cheap vodka drinks. Including this one!
What you can't see from the video is my mom. She came to the video shoot as one of our taste testers.
Kayti decided she could not down five cocktails and still be a responsible parent. I don't drink. So we recruited Grandma Nina. Bahaha.
We had a grand old time with this video. Cocktail party time in the morning 🙂 All for you.
Mom enjoyed the sex on the beach cocktail the best. She had never had one before.
She's a straight vodka fan mostly. She did not expect to love this mixed drink. But she did.
I was the designated driver. So I picked up mom and ferried her around. I picked up Ellie from school too.
Mom and kayti got quietly sloshed and we all sat around and giggled and had fun with it. We enjoyed ourselves with this novel and fun experience. Be sure you drink responsibly with a designated driver. Hope you enjoy the video 🙂
Isn't this a gorgeous vodka cocktail? And tasty too.
This gorgeous mixed drink bubbled up to the party drink circles In 1987. The year Peach Schnapps was launched by the Schnapps brand.
Where did it come from? Well…according to WikiPedia this vodka cocktail recipe came from an inventive bartender in the Confetti's Bar in florida.
This delicious vodka cocktail is well known for its association with vacationers looking for fun in florida. On the beach of course.
But it quickly outgrew the beach. Now you can find this delicious fruity adult beverage in any house party in America serving grown ups. It's so pretty, yummy and easy to make.
This drink recipe definitely belongs in your mixed drinks menu list.
Sex on the Beach ingredients and Recipes sort of vary.
There are many versions of this popular party drink. As it turns out you can find all sorts of recipes that co-opted this attention getting provocative title.
But they are all fruity vodka Peach schnapps recipes with a decided tropical look and feel.
Our rum based Malibu Sunset Cocktail also has a tropical feel. They are very different drinks but the beautiful color is pretty close. The malibu is an easy drink to make with a layered look.
These would make great summer party twins BTW. You will be a very popular party venue with these two mixed drinks on your beverage list.
The Sex on the Beach recipe we are giving you here is the version we like. it's very simple to put together and pretty inexpensive.
You won't need a fancy high cost vodka for this delicious party drink. It's a highly flavorful cocktail.
The fruitiness is going to cover the vodka flavor so don't worry about the vodka brand. This is a good well drink recipe. Cheap and simple.
Various recipes call for grenadine in place of the cranberry juice. Pineapple juice and Chambord are also popular additions to this drink. Let us know your favorite ways to make this delicious cocktail.
We used a blood orange for the simple garnish. The colors are great together. Maraschino cherries speared on a toothpick and set across the top of the cocktail glass is also a pretty look.
This vodka mixed drink is often made in a highball glass. The shorter whiskey glasses also look great. Choose your preference and have a great party!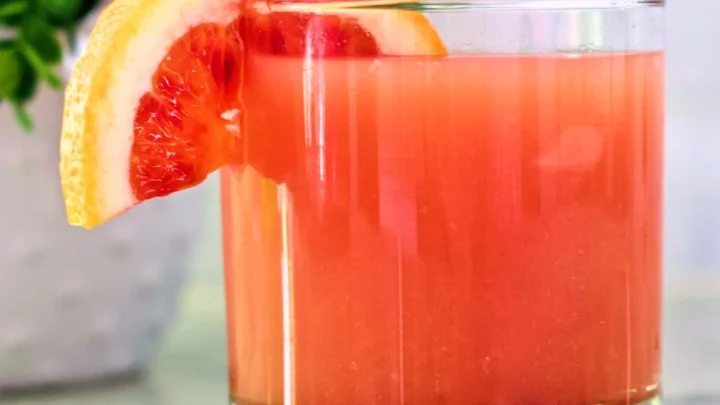 Yield:

1 sex on the Beach Drink
Sex on The Beach Mixed Drinks
A delicious and popular fruity mixed drink. Sex on the beach cocktail is a perfect summer party vodka drink. Inexpensive and easy to love.
Ingredients
1-1/2 oz. vodka
1/2 oz. Peach Schnapps
2 oz. orange juice
2 oz. cranberry juice
Garnish with orange slice (blood oranges make a nice garnish for this drink) and you can also put a couple of Maraschino cherries on a toothpick and set them on the top of your glass.
Instructions
In a 12 oz. glass:
Pour in the vodka
Add the Peach Schnapps
Stir and add in the orange and cranberry juices.
Stir and garnish
Notes
Make this drink into a full pitcher by increasing your drink amounts by the number of drinks you wish to create for your party guests. this fruity cocktail is easy to recreate and change up by slightly changing the proportions of ingredients. Enjoy.
Suggested Variation: Add 1/2 oz. of either Chambard or Grenadine.
Recommended Products
As an Amazon Associate and member of other affiliate programs, I earn from qualifying purchases.
Nutrition Information
Yield
1
Serving Size
1
Amount Per Serving
Calories

272
Total Fat

0g
Saturated Fat

0g
Trans Fat

0g
Unsaturated Fat

0g
Cholesterol

0mg
Sodium

8mg
Carbohydrates

41g
Fiber

4g
Sugar

32g
Protein

2g
Pin it:
WikiPedia: History of Sex on the Beach Cocktail