These delicious Rhubarb Shortbread Bars are made with a buttery shortbread crust, filled with a sweet and tangy custard filling, and crowned with a heavenly creamy whipped topping.
These bars are easy to make, with just a few simple ingredients, and are a great way to use up any extras. The silky smooth cream cheese topping is folded with whipped cream for a light finish that balances out the bright flavors. It is one of our longtime favorite desserts and is always popular when we serve it at family events.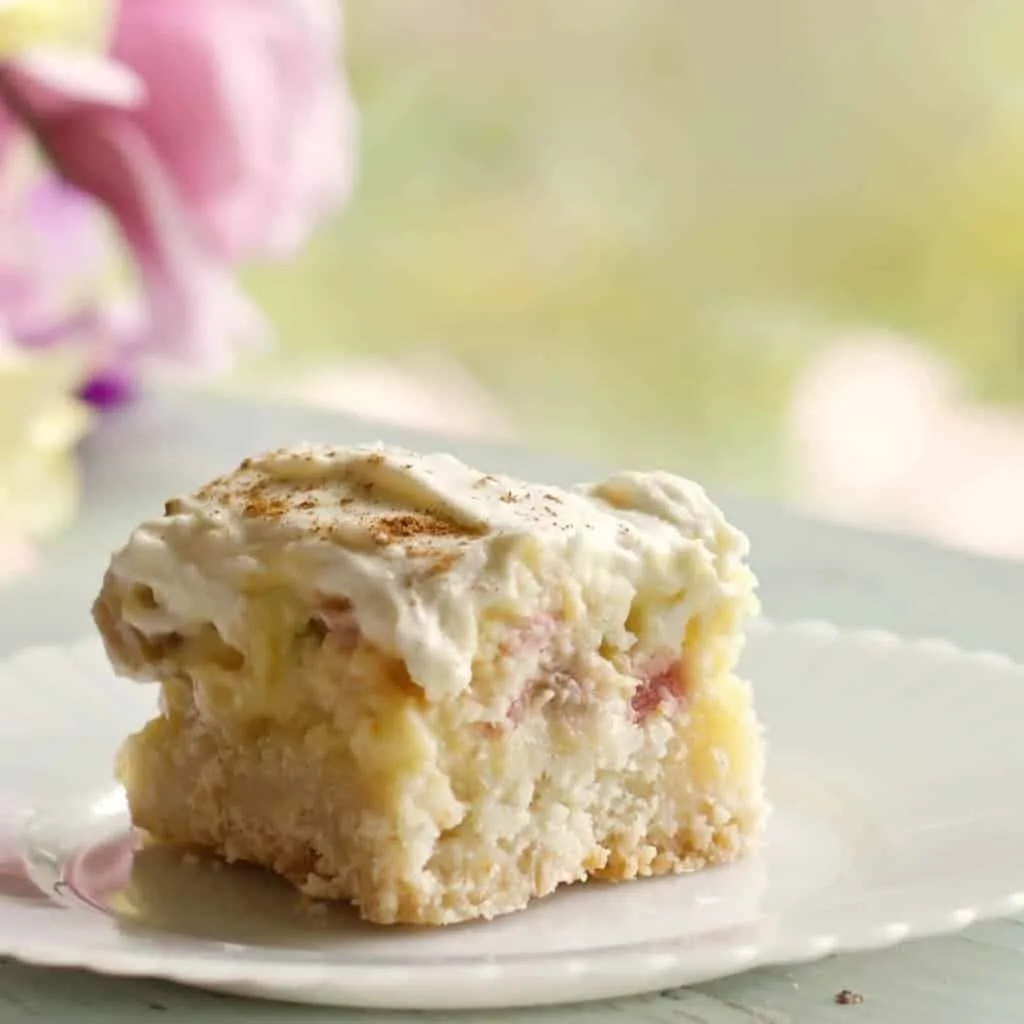 If you are interested in learning howto freeze rhubarb, you will be happy to learn that it is one of the simplest. With minimal prep and only a few supplies, just pick it, wash it, chop it up, and load it into an airtight freezer bag.
Wondering what rhubarb tastes like? It has a tart, tangy flavor with a slightly sweet taste. The stalks are crisp and slightly fibrous, with a juicy texture. The flavor can be compared to that of a sour cherry or green apple. It is often used in recipes where a sweet-tart flavor is desired, such as pies, jams, and compotes, and it is often combined with sugar or another sweetener to balance out its tartness. Some people enjoy eating it raw, while others prefer it cooked, which tends to bring out its natural sweetness.
You may also enjoy Rhubarb Ginger Sauce, Rhubarb muffins, Apple Fruit Crisp, Buttermilk Cheesecake, Strawberry Rhubarb Sauce, and our Ten favorite springtime recipes.
Is Rhubarb Good For You To Eat?
Yes, it is a nutritious and healthy food to eat low in calories and high in fiber, vitamins, and minerals such as vitamin K, vitamin C, calcium, and potassium. Additionally, this spring vegetable has a low glycemic index, making it a good choice for those with diabetes. Rhubarb growing is simple, and the plants reproduce annually with very little maintenance.
Parts of rhubarb plants are toxic, so it is important to know how to safely enjoy them if you are growing rhubarb. The leaves of the plant are toxic and should not be consumed. Only the stalks should be eaten.
To Properly Prepare Rhubarb
Harvesting rhubarb is simple. When the stalks are ripe just pull them off the bush with a twist. This releases the stalk.
Cut off all the parts of the leaves from the stalk.
Wash the stalks thoroughly.
Use the fully ripe red stalks of the rhubarb plant for eating.
Discard or compost the leaves.
Does it need to be peeled before you use it? No, you do not have to peel it before using it in cooking or baking. The skin is edible and provides texture to the dish. However, if the skin is tough, you can peel it with a vegetable peeler before using it.
As sheet pan desserts go this is an easy, practical, crowd pleaser. One pan feeds your family and friends a yummy treat, and then the pan is empty. Pretty sure that will happen every time.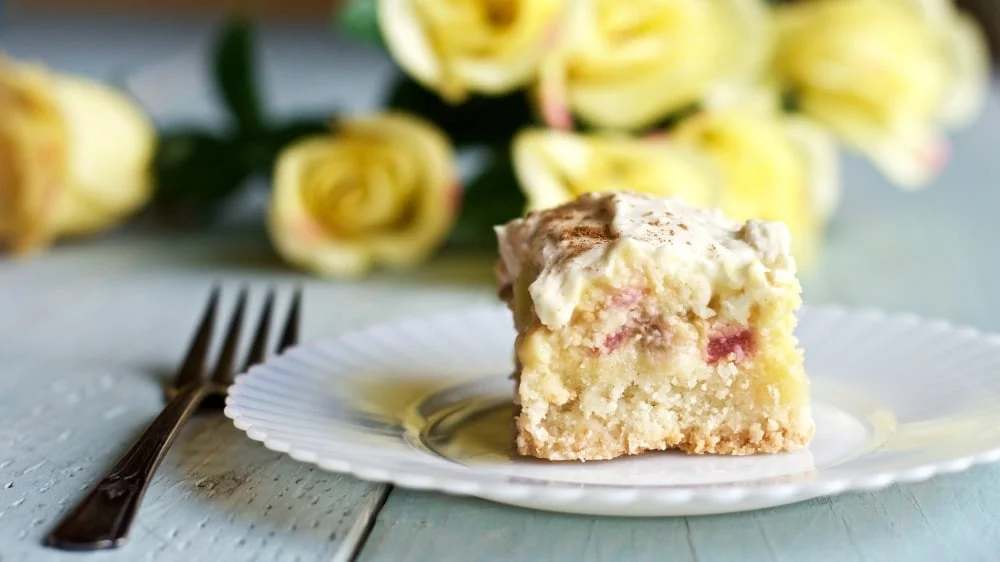 Recipe Notes
This recipe makes 24 servings. All the creaminess of this dessert is beautifully complemented by a tart zing. Creamy decadence of whipped cream, cream cheese and shortbread finish this delicious dish.
A perfect potluck dish or holiday dessert. It's rich and filling and small servings will satisfy. And then it's a blissful experience all around. It is simpler that a traditional recipe for rhubarb pie, and the addition of the creamy ingredients brings it into the realm of easily shareable desserts.
This is a super easy potluck dessert to put together
Recipe TIPS:
If you have a food processor make the crust recipe in that. It just takes a few pulses to make the crust this way. After that, press the dough into your oiled baking dish.
You can also make the filling in the food processor. This is especially helpful if you want it chopped fine.
You will need about 2 hours to make these and cool them down to layer the topping on. They are tasty at room temperature, or chilled.
The squares are much easier to cut once set and thoroughly chilled. So keep that in mind when you are timing the recipe. Cold is better.
We suggest you actually measure the squares size at about 2 x 2 inches and then cut to keep the squares fairly uniform.
You will need a sharp knife (cleaned often) to cut all the way through the crust.
These squares keep well, covered, in the fridge for days
Need an excellent make ahead dessert for a crowd? Here you go. You can make it the same day you want to serve it, just remember you'll need that chilling time for cutting.
Made with fresh or frozen rhubarb, a shortbread crust and custard filling.
To freeze this dish
To freeze the whole recipe in the baking pan
After the baking dish is thoroughly cooled to room temperature cover it tightly with plastic wrap.
Now cover it again with foil.
Label the container with an indelible marker. name and date.
Freeze for up to two months.
To freeze the squares once cut
The cut squares will not last as long in the freezer due to the exposed cut edges.
You will want to press the squares together tightly to minimize air exposure when freezing.
Double wrap and label.
Freeze up to one month.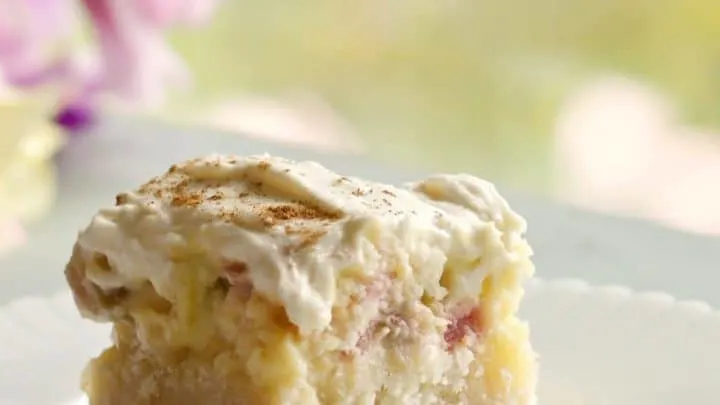 Yield:

24
Creamy Rhubarb Shortbread Squares
Total Time:
1 hour
10 minutes
Creamy Rhubarb Shortbread Squares are perfect for a large crowd or potluck dessert. Made with fresh or frozen rhubarb, a shortbread crust and custard filling. Top it all off with a creamy topping. This recipe makes 24 Scrumptious servings! Our reader Liz says "I made this recipe for creamy rhubarb shortbread squares and it's wonderful !!" And it freezes well too!
Ingredients
For the Crust
2 cups all-purpose flour
1/4 cup granulated sugar
1 cup cold butter
(For the Filling)
2 cups granulated sugar
7 tbsp. all-purpose flour
1 cup whipping cream
3 eggs-room temperature
5 cups rhubarb(chopped fresh or frozen and thawed and drained)
For The Topping
8 oz. cream cheese (softened)
1/2 cup granulated sugar
1/2 tsp. vanilla extract
1 cup whipping cream
1/2 Tsp. Cinnamon (for garnish)
Instructions
.For the crust:
Preheat oven to 350 degrees F
In a medium bowl whisk together the flour and sugar.
Cut in the cold butter until pea size uniform pieces are evenly distributed throughout the flour sugar mix.
Press the shortbread dough into a well oiled 13 x 9 baking pan
Bake 10 minutes until top is slightly browned. Set aside to cool.
Filling:
In a large bowl mix the flour sugar,whipping cream and eggs together with a large whisk until thoroughly mixed. Stir in the chopped rhubarb with a large wooden spoon until combined.
Pour evenly over the crust.
Bake at 350 degrees F for 40 minutes until custard is set and bubbles slightly. Remove from oven and cool to room temperature or lower.
Topping:
In a medium, deep bowl mix together with an electric mixer: cream cheese, sugar and vanilla until the cream cheese is partially mixed in.
Now add the whipping cream and continue to mix on high until the topping thickens to a spreadable, thick, rich smooth texture.
Spread evenly over the cooled cake with a spatula. Refrigerate until serving.
Cut into 24 squares. About 2 x 2 inches square
Notes

To Freeze These Bars:
This recipe freezes well if tightly wrapped and stored in the freezer up to a month.
DEFROST: For slow thaw-Set the container in the fridge and let slowly come to fridge temperature. OR for quicker defrost- Set on counter to bring to room temperature.
Nutrition Information
Yield
24
Serving Size
1
Amount Per Serving
Calories

313
Total Fat

19g
Saturated Fat

12g
Trans Fat

1g
Unsaturated Fat

6g
Cholesterol

76mg
Sodium

105mg
Carbohydrates

34g
Fiber

0g
Sugar

24g
Protein

3g
For more desserts try our Banana Trifle, banana split cake, and our Instant Pot New York Cheesecake with the strawberry rhubarb sauce. The cheesecake is the perfect alternative for a recipe for strawberry rhubarb pie.
Follow Us:
We enjoy meeting you on our social networks. Follow us on Facebook, Pinterest, Instagram . Tag us with your pictures of our recipes and comment on how it went for you. We would love to see what you do with them.
We often like, comment and share your posts of our recipes on our daily Instagram stories.
Ask questions and rate the recipe in the comments section below. Please share what you did with this recipe. We are always looking for more and better ways to make homemade food. Other cooks love your ideas!
Recent Posts: