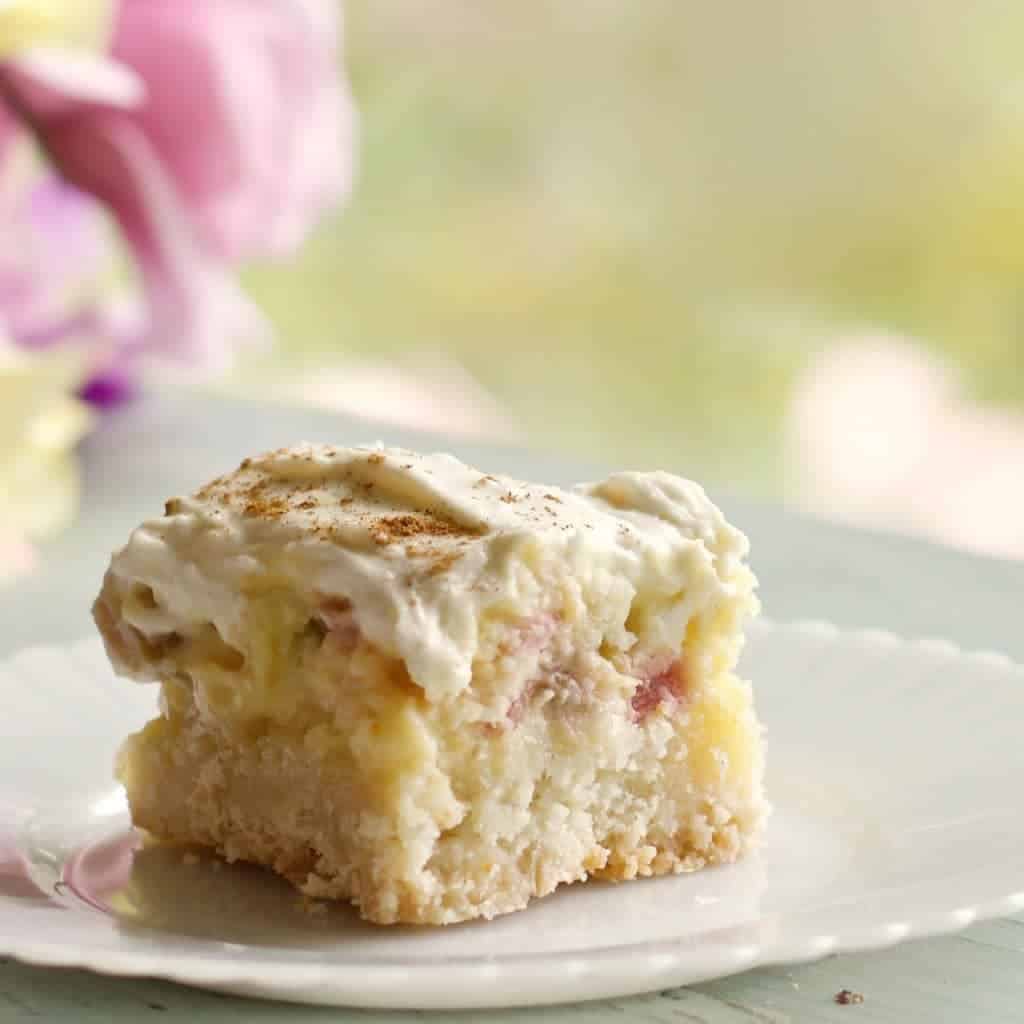 Creamy Rhubarb Shortbread Squares are perfect for a large crowd or potluck dessert. Made with fresh or frozen rhubarb, a shortbread crust and custard filling. Top it all off with a creamy topping. This recipe makes 24 Scrumptious servings!
Rhubarb lovers this recipe is for you! That tangy rhubarb flavor makes Creamy Rhubarb Shortbread Squares Irresistible!  Our rhubarb is ripening now. I froze 2 gallon ziplock bags of chopped rhubarb yesterday. The rest is in this delicious dessert.
If you enjoy rhubarb; search for rhubarb in our search bar. We have a growing inventory of rhubarb recipes.  Rhubarb Ginger Sauce, Pan Fried Rhubarb chicken, Rhubarb Apple Fruit Crisp, Rhubarb Buttermilk Cheesecake, and delicious rhubarb Cardamom streusel Muffins!
I made way too much of this yummy spring dessert for just Dave and I. We can't stay out of this! So, I sent some to work with Kayti. Where it was devoured.
I got caught though. Dave spied the pan on the table, wrapped up to go. I was reprimanded for letting some of this luscious, creamy dreamy, heavenly…(I could go on) dessert escape out the door. Honestly!
I told him it was too much for us. He wants it all! So sorry hubby; off to work it goes with Kayti! I only sent a little!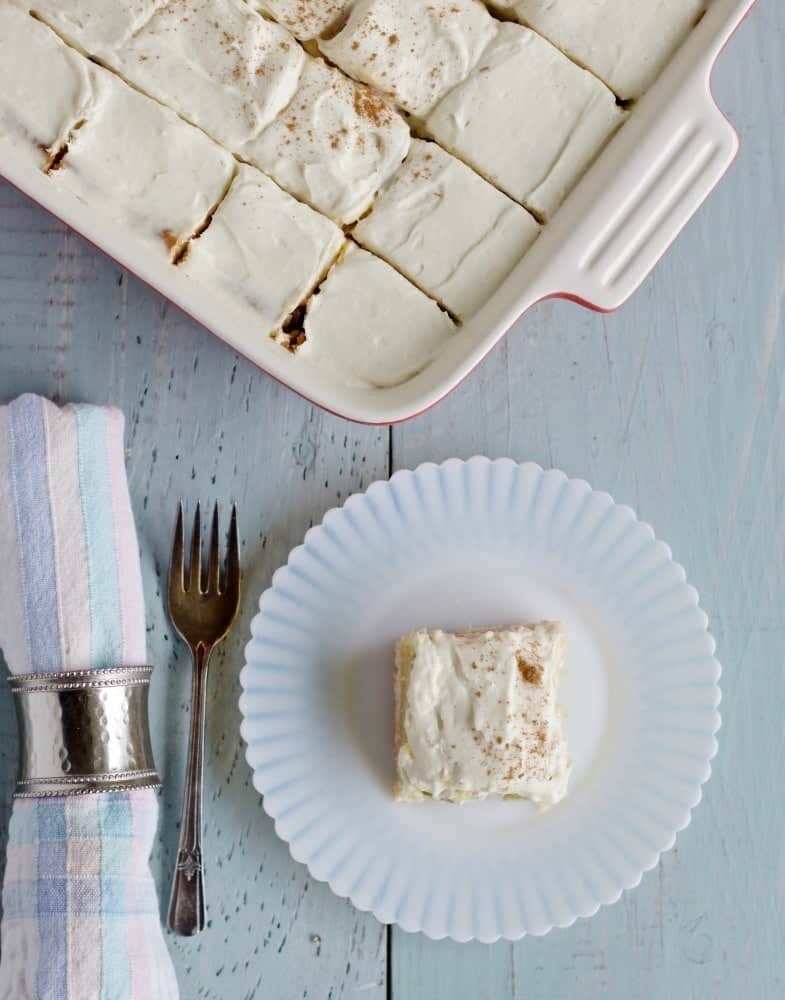 It was a sure bet Dave would enjoy this dessert.  He loves rhubarb recipes. He ADORES shortbread! The shortbread crust sold me this recipe. I never make shortbread, except as Christmas  or holiday cookies. Shortbread is a load of heavy carbs and fat. I'm adding this to my shortbread and potluck-party-holiday repertoire. And yes: Dave LOVES this creamy rhubarb dessert! Ridiculously!
This is an easy, practical, crowd pleaser. One pan feeds your family and friends a yummy treat. And then the pan is empty. Pretty sure that will happen.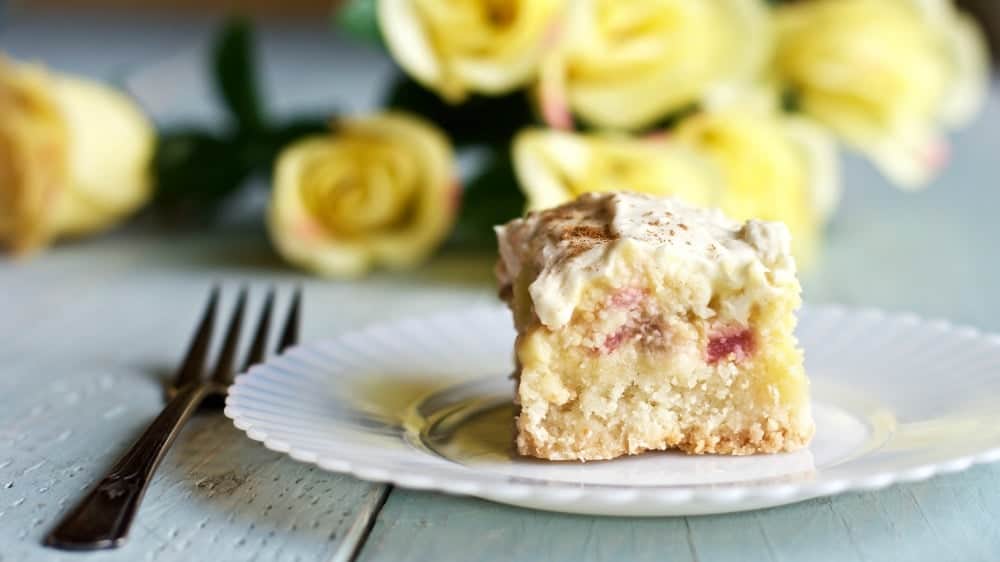 Notice the rhubarb is in the custard filling. All the creaminess of this dessert is beautifully complemented by rhubarb's tart zing.
Creamy Rhubarb Shortbread Squares Recipe Notes:
I indulged in creamy decadence this time. Whipped cream, cream cheese and shortbread! It is WORTH IT! But watch out! This is an easy treat to overdo. That's why I suggest it for a large crowd, potluck or holiday event. Everyone will love it. It's rich and filling. Small servings will satisfy; and then it's a blissful memory!
Of course I made it for just Dave and I to eat a whole 13 x 9 pan. OOPS!  For a party though, it's perfect! 24 servings in one pan!
These dessert squares are easy to make. No cooking the custard ahead or whipping the whipping cream ahead either!
They keep well, covered, in the fridge for days. Need an excellent make ahead dessert? Here you go! OR make it the same day you want to serve it.
You will need about 2 hours to make these and cool them down to layer the topping on. They are tasty at room temperature, or chilled.
For a large crowd, cut them ahead. Dave came in and wiped out a sizeable section in one swipe! I suggest you actually measure the square size at about 2 x 2 inches and then cut to keep the squares fairly uniform.  You will need a sharp knife(cleaned often) to cut through it all the way through the crust. Gloppiness can occur if the knife is not well cleaned after each cut.
Creamy Rhubarb Shortbread Squares Recipe
Ingredients
(For the Crust)
2 cups all-purpose flour
1/4 cup granulated sugar
1 cup cold butter
(For the Filling)
2 cups granulated sugar
7 tbsp. all-purpose flour
1 cup whipping cream
3 eggs
5 cups chopped fresh or frozen rhubarb(thawed and drained)
(For The Topping)
8 oz. cream cheese (softened)
1/2 cup granulated sugar
1/2 tsp. vanilla extract
1 cup whipping cream
1/2 Tsp. Cinnamon (for garnish)
Instructions
Preheat oven to 350 degrees F.
For the crust:
In a medium bowl whisk together the flour and sugar.
Cut in the cold butter until pea size uniform pieces are evenly distributed throughout the flour sugar mix.
Press the shortbread dough into a well oiled 13 x 9 baking pan
Bake 10 minutes until top is slightly browned. Set aside to cool.
Filling:
In a large bowl mix the flour sugar,whipping cream and eggs together with a large whisk until thoroughly mixed. Stir in the chopped rhubarb with a large wooden spoon until combined.
Pour evenly over the crust.
Bake at 350 degrees F for 40 minutes until custard is set and bubbles slightly. Remove from oven and cool to room temperature or lower.
Topping:
In a medium, deep bowl mix together with an electric mixer: cream cheese, sugar and vanilla until the cream cheese is partially mixed in. Now add the whipping cream and continue to mix on high until the topping thickens to a spreadable, thick, rich smooth texture.
Spread evenly over the cooled cake with a spatula. Refrigerate until serving.
Cut into 24 squares. About 2 x 2 inches square
Pin it:
Recipe Source:rhubarb central.com