This Rhubarb Apple Fruit Crisp uses fresh or frozen rhubarb and apples. It's baked with cinnamon, oats, and coconut oil, and sweetened with pure maple syrup and brown sugar. This is comforting dessert that is perfect when apples are in season and you are lookin for a delicious apple cinnamon treat.
Top with a homemade vanilla whipped cream, or enjoy with a scoop of homemade vanilla ice cream, and enjoy with our hot toddy or Irish coffee for a warming, indulgent experience.
You can substitute the apples for another fruit if you desire. This recipe would be delicious with strawberries, mixed berries, blackberries, or even plums. The oat topping provides a delicious crunch that is sustaining and rich, balancing the fruit mixture perfectly. We love crisps, and this is one of our favorites.
This rhubarb crisp is only one of our recipes to incorporate the tangy produce, and the end result is delicious. Apples and rhubarb are a wonderful combination because the flavors play well and balance one another. Rhubarb benefits from sweet fruits that tone down the strong acidic nature of the stalky fruit.
Rhubarb apple fruit crisp is a perfect substitute for similar desserts that may require more effort to execute, like apple rhubarb pie, apple rhubarb cake, apple rhubarb muffins, or apple rhubarb bread. All of these recipes, while delicious, will require more time and effort than this crisp, so it provides a fantastic option that is easy to make and full of flavor.
What flavors pair well with rhubarb?
Although apple is a popular companion to many rhubarb desserts, there is no shortage of options to enjoy with your favorite tart fruit. Ginger, cinnamon, butter, caramel, and honey all bring wonderful sweetness and spice to rhubarb.
Lemon, orange, mint, strawberries, blackberries and raspberries compliment the bright, tart flavors of rhubarb and are strong enough in their own right to bring additional flavors to the table. Whipped creams, ice creams, custards, and various pastries doughs often accompany rhubarb and add a creamy, softness that is well loved.
What are the best apples for apple crisp?
The best apples to use in a crisp are ones that are crisp and able to withstand the baking process without turning to mush, and slightly tart with a soft sweetness. The most popular baking apples include Golden Delicious, HoneyCrisp, Granny Smith, and Jonagold.
Any of these apples, or similar varieties, will be a great choice for crisp because they aren't too sweet, and the texture can withstand being baked without losing the integrity of the texture.
We have used these apples in many different recipes including our own Apple crisp and Caramel Apple pie.
What is the difference between a fruit crisp and a fruit crumble?
Fruit crisp and fruit crumbles are essentially the same thing with one small exception. Crisps incorporate oats in the topping while crumbles are made without oats for a simple sugar, flour, butter streusel that is clumpier than crumbles and can include chopped nuts if desired.
We love a traditional crisp topping because the oats bring a richness to the dessert, and add a comforting element that is perfect for a fall or winter treat. If you wish to omit the oats you absolutely can; you will just be making a crumble rather than a fruit crisp.
Rhubarb Apple Fruit Crisp Recipe
If you are making this with fresh fruit, or prefer to drain your frozen fruit as it thaws, we recommend cutting the cornstarch in half. If you are washing the fruit and it's watery add more cornstarch accordingly.
For this recipe we use pure maple syrup and coconut oil. We love these ingredients because they add flavor and moisture to the recipe. You can use white sugar and butter one to one with coconut oil and maple syrup if you prefer.
For the filling
In a large bowl, whisk together pure maple syrup (or organic sugar) and cornstarch.
Add fruits to the cornstarch mixture and mix until all the fruit is coated with the syrup mixture.
Pour into a greased 8 inch square baking dish or pie plate.
For the topping
In a medium bowl, whisk together the oats, brown sugar, flour and cinnamon.
Mix the dry ingredients well.
Add the melted coconut oil to the dry topping mix and stir until It's crumbly.
Sprinkle over the fruit in baking dish.
Bake 45 minutes until fruit is bubbly in the center and the edges are browned. About 45 minutes.

SaveSave
Here is your printable recipe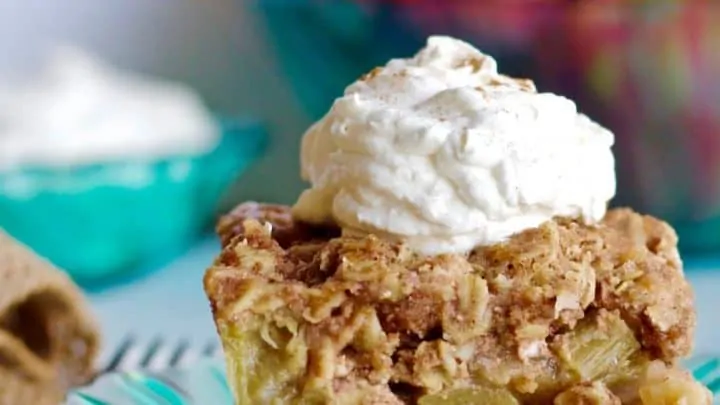 Yield:

9 servings
Rhubarb Apple Fruit Crisp
Total Time:
1 hour
4 minutes
This Mid Winter Rhubarb Apple Fruit Crisp uses fresh or frozen rhubarb and apples. It's baked with coconut oil and sweetened with pure Maple Syrup to keep it healthy!
Ingredients
3 Cups Rhubarb, fresh or frozen
2 Cups apples, strawberries, or other fruit
4 Tablespoons cornstarch
3/4 Cup maple syrup
1 Cup oats
1/2 Cup brown sugar, firmly packed
1/2 Cup coconut oil, melted
1/3 Cup flour
1 tsp. ground cinnamon
Instructions
Preheat oven to 350 degrees.
In a large bowl combine maple syrup and cornstarch
Add fruits and mix until coated with the syrup mixture
Pour into a greased 8 inch square baking dish or pie plate
In a small bowl, combine the oat, brown sugar, melted coconut oil, flour and cinnamon
Mix it well until It's crumbly
Sprinkle over the fruit in baking dish
Bake 45 minutes until fruit in bubbly in the center and edges are browned, usually about 45 minutes
Notes
If using frozen fruit, measure before the fruit has thawed. Drain the frozen fruit but do not squeeze out the juices.
Nutrition Information
Yield
9
Serving Size
1
Amount Per Serving
Calories

318
Total Fat

13g
Saturated Fat

10g
Trans Fat

0g
Unsaturated Fat

2g
Cholesterol

0mg
Sodium

9mg
Carbohydrates

50g
Fiber

3g
Sugar

32g
Protein

2g
Click on any of the pictures below to explore these recipes next
Follow Us:
We enjoy meeting you on our social networks. Follow us on Facebook, Pinterest, Instagram . Tag us with your pictures of our recipes and comment on how it went for you. We would love to see what you do with them.
We often like, comment and share your posts of our recipes on our daily Instagram stories.
Ask questions and rate the recipe in the comments section below. Please share what you did with this recipe. We are always looking for more and better ways to make homemade food. Other cooks love your ideas!
Recent Posts: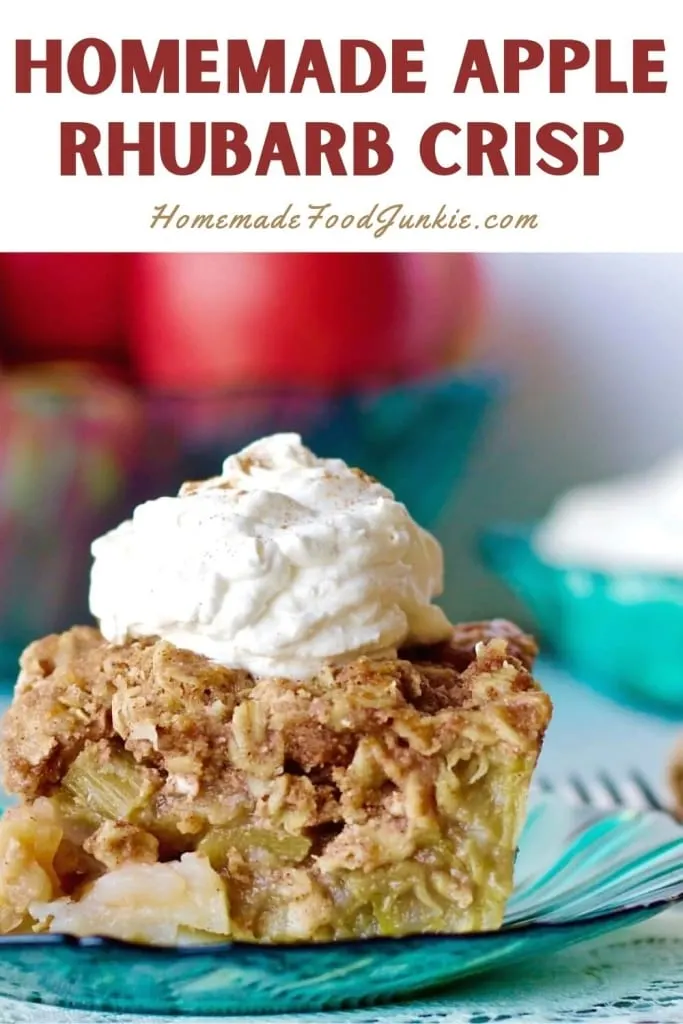 Recipe adapted from Taste of home