This sweet and spicy Rhubarb Ginger Sauce is a glaze perfect for chicken and pork. Use this as a marinade or compote for a flavor accent to your grill, stovetop or crockpot. It can be prepared as a chunky chutney, or a smooth, pourable sauce to dip meats in.
Combining fresh rhubarb stalks, raisins, brown sugar, and balsamic vinegar; the sweet and tart flavor profile is finished with black pepper, red pepper flakes, and fresh ginger for a powerful finish. The heat and spice can be as intense as you like, and you can build on this recipe to create a more complex flavor profile.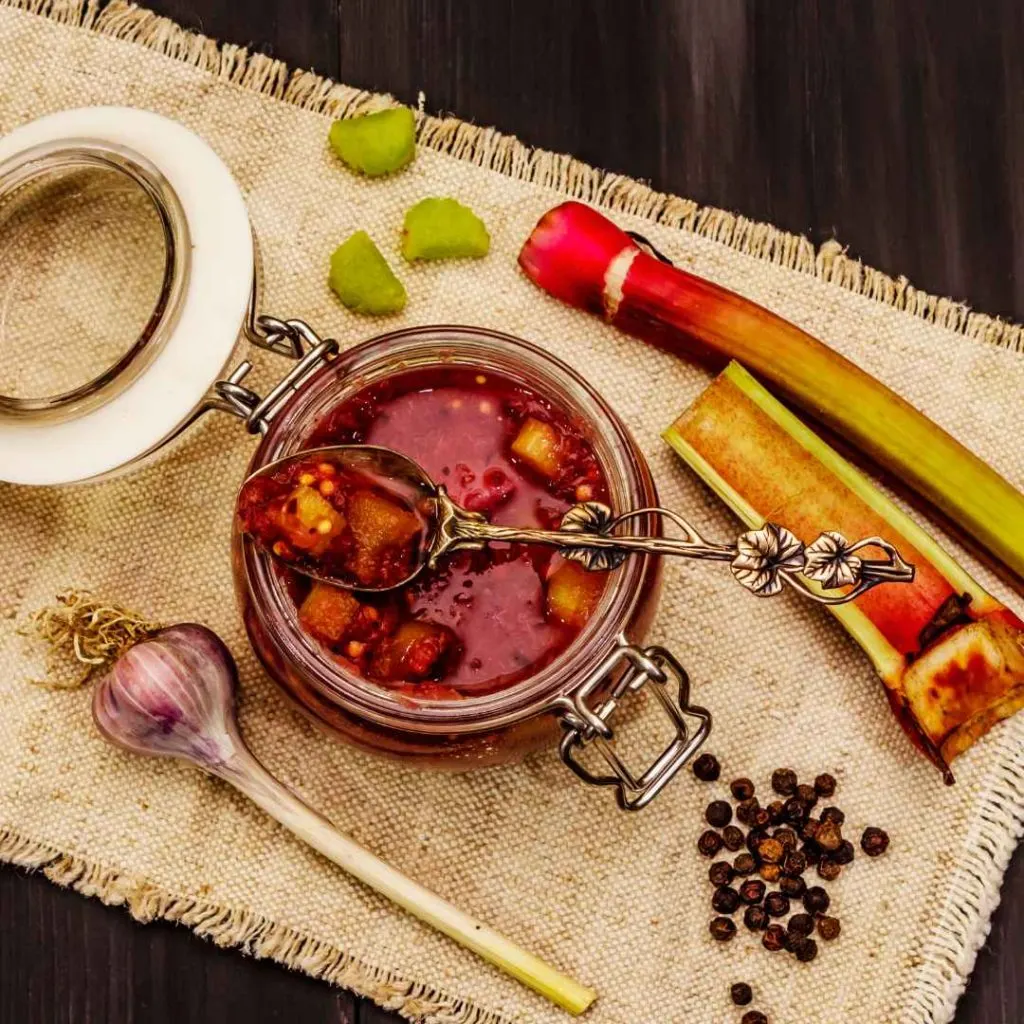 This sauce, full of healthy and nutritious ginger and rhubarb, goes together quickly and simmers to a thick compote in about a half hour.
Rhubarb has such a unique, tart flavor it requires some sweetness to compliment it and bring out the juicy clean flavor of this tart delicacy. You can play around with how you sweeten the recipe if you don't want to use brown sugar. Maple syrup could be substituted, or you could make it as stewed rhubarb with ginger and honey.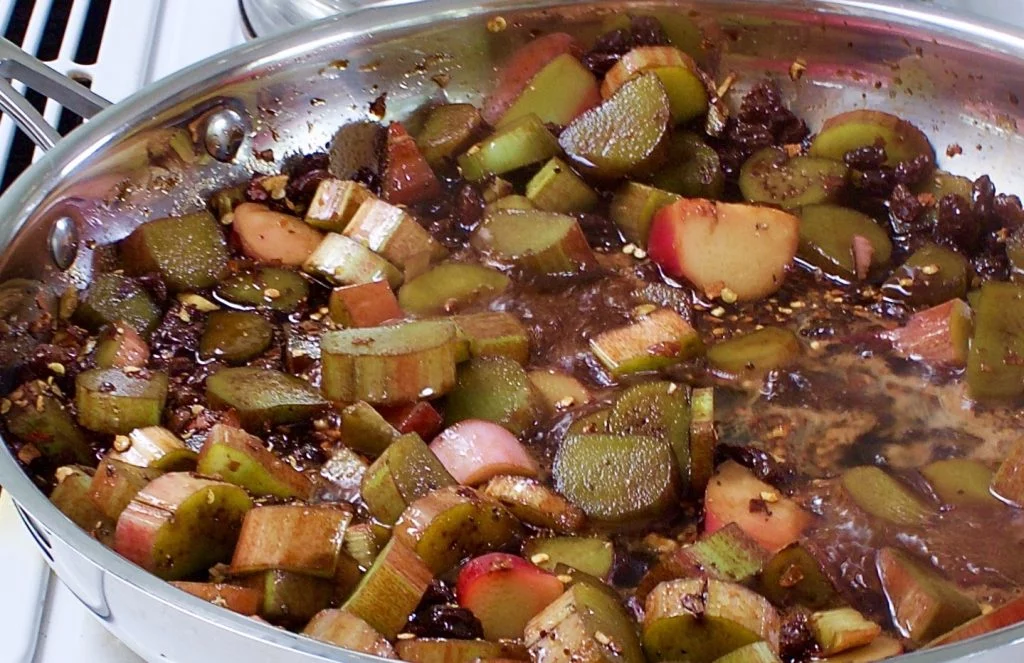 We occasionally grow rhubarb in our garden and enjoying cooking with it. We have made a delicious strawberry rhubarb dessert sauce that is scrumptious poured over things like ice cream, scones, and even toast.
In this recipe the tart rhubarb and spicy ginger mixed with a few sweeter elements is the perfect partner for meats. This sauce would work well on wings or for the grill, as a rhubarb bbq marinade.
What is rhubarb compote made of?
Compotes are a stewed fruits cooked in a sweetener like sugar or syrups, and used to top desserts. This recipe can very easily be used as a compote with a few small changes. Prepare it without the peppers, and balsamic vinegar and you have yourself a delicious drizzle for rhubarb ginger dessert recipes.
Rhubarb Ginger Sauce Recipe
This is a spicy sauce unless you choose to tone down the red pepper flakes. We love it as the recipe is written, but if you let it sit in your fridge the flavor will concentrate. Rhubarb sauce for pork is a popular option for this recipe because pork meat has a sweeter flavor that pairs beautifully with the tart, and sweet flavors that this recipe brings.
Cooking the compote
Chop up the rhubarb and mince and peel the ginger.
Add everything into a large skillet and bring to a low boil.
Simmer until the sauce thickens, about 20 minutes.
Yield: This recipe makes about a quart of sauce.
If you want a smooth, pourable sauce simply put it in a blender and give it a few pulses. Be careful not to mix it too much, or it will become too thin.
Because there are peppers in this recipe, the intensity of the heat will build the longer it marinades and infuses. If you don't want a spicy sauce, either use it right away or reduce the amount of pepper flakes.
Storing the compote
This gingery rhubarb sauce will keep well in the fridge a week or so.
This sauce does freeze well for up to two months.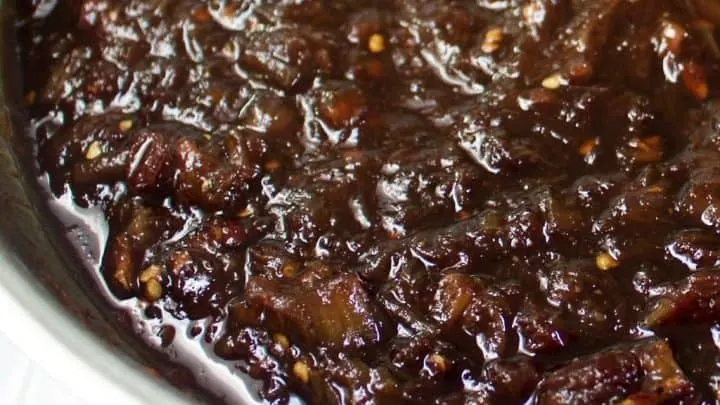 Yield:

12
Sweet and spicy Rhubarb Ginger Sauce
This gingery rhubarb sauce is a sweet and spicy compote. Great over chicken and pork. Add this thick rich accent to your favorite slow cook meat dinner or in a gravy boat on the side at table for a delicious flavor enhancement.
Ingredients
4 to 5 cups fresh rhubarb chopped into 1/2 inch lengths
1 Cup brown sugar
1/2 cup balsamic vinegar
1 Tablespoon red pepper flakes
1 Tablespoon Fresh ginger finely chopped
1 tsp. black pepper
1/4 Cup raisins
Instructions
Add all of the ingredients into a skillet on low and stir them together with a wooden spoon.
Turn up the heat to medium and cook until the rhubarb is mushed and the liquid is reduced to a thick , saucy consistency, about 20 minutes.
Pour into a quart sized air tight container and store in the fridge until needed.
Nutrition Information
Yield
12
Serving Size
1
Amount Per Serving
Calories

122
Total Fat

1g
Saturated Fat

0g
Trans Fat

0g
Unsaturated Fat

0g
Cholesterol

0mg
Sodium

15mg
Carbohydrates

29g
Fiber

4g
Sugar

21g
Protein

2g
Follow Us:
We enjoy meeting you on our social networks. Follow us on Facebook, Pinterest, Instagram . Tag us with your pictures of our recipes and comment on how it went for you. We would love to see what you do with them.
We often like, comment and share your posts of our recipes on our daily Instagram stories.
Ask questions and rate the recipe in the comments section below. Please share what you did with this recipe. We are always looking for more and better ways to make homemade food. Other cooks love your ideas!
Recent Posts:
Original recipe found at Bon Appetite