Pan Fried Rhubarb Chicken is a sweet and spicy chicken dinner that makes a delicious springtime meal full of flavor and spice. Seared chicken breasts covered with our tangy rhubarb ginger chutney. It pairs well with a variety of sides and makes a wonderful easy skillet dinner.
Chicken with rhubarb and ginger are the perfect trio combining the bright spice of fresh ginger with a sweetened fresh rhubarb reduction that is infused with red pepper flakes and balsamic vinegar for a bit of heat and a tangy finish. We love savoury rhubarb recipes, and this one is is sure to become a favorite of yours as well.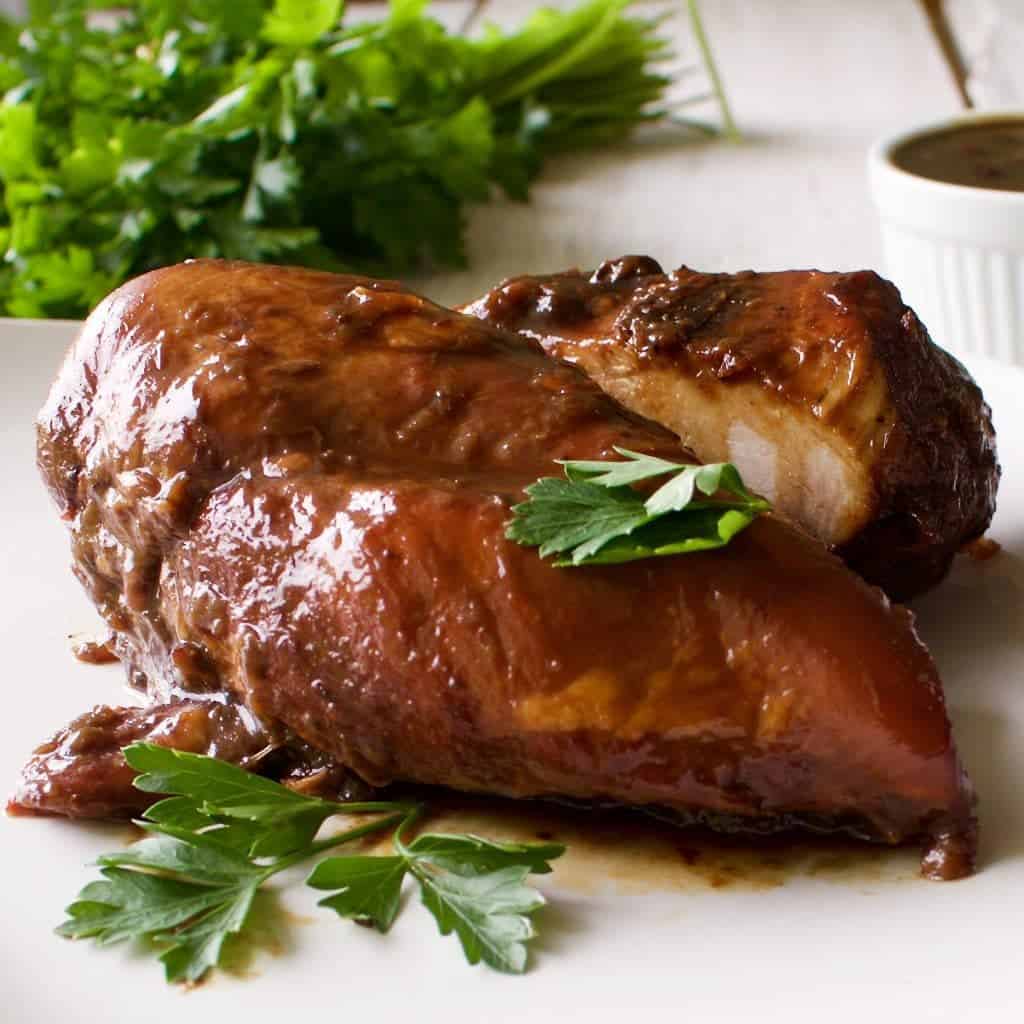 Fresh Rhubarb and ginger are a knock out flavor team in this homemade rhubarb ginger sauce. Put that delicious spicy sauce in a deep frying pan, add some juicy, organic chicken breasts into your skillet. Cook on low until that sauce is thoroughly infused into the chicken.
You now have the main course of a great dinner. This recipe is healthy and delicious using fresh or frozen rhubarb and fresh ginger. Rhubarb meat recipes are not very common, as the tangy stalk is most often sweetened for use in sweet desserts; but we love it with savory meats.
Is it better to pan sear or bake chicken?
Because chicken is such a lean meat, it is prone to drying out quickly when it is cooked in the oven. Baking your chicken does not allow for occasional marinating throughout, and when it is exposed to the heat directly it loses much of the natural juices. Baking chicken is a good option for casserole style dinners and breaded or whole chickens.
Pan searing your chicken breasts will allow you more control over the heat, as well as marinating the chicken while it cooks. Because pan seared chicken is done on an open skillet, the presence of cooking oil will help to retain a juicier meat. The high heat will cook the chicken quickly, giving it less time to dry out.
To help the chicken retain even more moisture, consider brining the breast meat before cooking. This will infuse the extra liquid into the meat, and add flavor.
How do you properly sear chicken?
Properly searing chicken to achieve an even cook, and slight crust requires a few techniques and an attentive eye. The meat will cook quickly, and once it is cooked it will burn or dry out just a fast. Here are our main tips for searing your chicken breast.
Using the correct pan or skillet is very important as this will not only conduct heat evenly, but will also protect the lean meat from too much heat. Heavy bottomed stainless steel pans or cast iron skillets are great for pan cooking chicken.
Heat the pan and use a high heat cooking oil that is stable at high temperatures. The pan will need to be hot to give the chicken a crisp sear, then you will reduce the heat and cover the chicken, allowing it to finish cooking through. A high heat oil like good quality avocado oil is necessary to prevent burning. You can also add butter for additional flavor.
Flip the chicken when it easily releases from the skillet. If the chicken is sticking it is not ready to be flipped.
Pan Fried Chicken Recipe Notes
Pan fry the chicken in the Rhubarb Ginger sauce on medium low heat until the chicken is completely cooked.
This allows the sauce to form a lovely patina over the chicken. Serve the extra sauce on the side at table. That's all there is to it. Make the sauce ahead to save time. It adds a delicious spicy sweetness to your chicken.
Pan Fried Rhubarb Chicken Health Benefits
If you wish to feel fantastic about eating this meal, follow these links! Rhubarb supports the body in these many ways. Gingers health benefits are summarized by Cara Cooperman in her article 10 Natural benefits of ginger.
Organic chicken is a very healthy meat to eat. Chicken is full of protein for very little fat. The combination of ingredients in this dinner is startlingly beneficial.
Rhubarb chicken makes a beautiful presentation at the table.
How can I elevate chicken breast?
Chicken is the most popular protein, and chicken breasts are easy to cook and very lean making them versatile and affordable. The mild flavor of this poultry can present a challenge when it comes to seasoning and garnishes. Finding ways to bring out the flavor of the meat is sometimes tricky, but not impossible. Here are some ideas for ways to elevate your chicken dinner.
Garnish with flavorful cilantro, parsley, or fresh red onion. Chicken with rhubarb and red onion is a rich and satisfying combination
Season your chicken with bold, aromatic spices like ground mustard, paprika, rosemary, garlic, and tarragon
Enjoy chicken with rich sides like seasoned rice, mashed potatoes, or honey skillet corn
Serve alongside a dipping sauce for added flavor and moisture
Yield:

8 servings
Pan Fried Rhubarb Chicken
Additional Time:
20 minutes
Total Time:
1 hour
50 minutes
Pan fried Rhubarb Chicken is Low-Carb, Low-Sodium, Low-Sugar and Gluten-Free. This sweet and spicy chicken dinner makes a healthy springtime meal full of flavor and spice!
Ingredients
6 large boned chicken breasts at room temperature
cilantro for garnish
Instructions
Make your gingery rhubarb sauce (follow the directions in our tutorial here)
Once the sauce is thickened, add the breasts directly into the sauce in the frying pan
Cook on low for about a half hour, occasionally turning the chicken to coat all sides, until the chicken is cooked through with no pink in the meat
Serve garnished as desired
Nutrition Information
Yield
8
Serving Size
1
Amount Per Serving
Calories

170
Total Fat

4g
Saturated Fat

1g
Trans Fat

0g
Unsaturated Fat

2g
Cholesterol

77mg
Sodium

141mg
Carbohydrates

4g
Fiber

1g
Sugar

1g
Protein

29g
What can you serve with rhubarb chicken breasts?
Because this dish is a pan seared chicken dinner, it is very easy to enjoy with a wide array of sides. We are sharing some of our favorites below to give you some ideas.
Follow Us:
We enjoy meeting you on our social networks. Follow us on Facebook, Pinterest, Instagram . Tag us with your pictures of our recipes and comment on how it went for you. We would love to see what you do with them.
We often like, comment and share your posts of our recipes on our daily Instagram stories.
Ask questions and rate the recipe in the comments section below. Please share what you did with this recipe. We are always looking for more and better ways to make homemade food. Other cooks love your ideas!
Recent Posts:
This post is published in the Kitchen Revival Anniversary round up
This recipe is published on The Daily Meal Magazine