Growing rhubarb in your garden provides you with an easy to grow perennial that makes the most wonderful piquant recipes. It freezes well too. We have a clump of rhubarb in our garden my mom gave us. This lovely, edible perennial is worth growing.
Once established rhubarb will return year after year with relatively little care. Early each spring it will send up bright red stalks covered in large green leaves bringing in spring colors and delighting the palate with is tangy, sweet desserts, muffins and savory dishes!
Welcome Back to our Tuesday in the Garden Blog Hop! Join us as we share spring recipes, and some tips on how we grow our favorite spring veggies! At the bottom of the post you will find links to all of the members of our Blog hop. Please Click on every post link in the group. You Don't want to miss a post from these experienced gardeners!
Growing Rhubarb!
Here are a few good nutritional reasons to devote some space to Growing rhubarb in your garden! Rhubarb is low in Saturated Fat and Sodium, and very low in Cholesterol. It is also a good source of Magnesium, and a very good source of Dietary Fiber, Vitamin C, Vitamin K, Calcium, Potassium and Manganese.Read More about rhubarb's nutrient values: at Nutrition Data
Rhubarb, grown in a hill, makes a large leafy mound with upright stalks ready to be picked. Rhubarb loves growing in our U.S.D.A. zone 8a climate. Wet and temperate areas are usually a very good environment for this large, leafy, perennial vegetable.
Rhubarb needs a permanent home with lots of room so plan ahead! Rhubarb, as with many perennials(like asparagus) requires some patience and a lot of room! Those leaves are big and the stalks get long!
My mother gave us this rhubarb start five years ago… I couldn't say no. She had it wedged into the back of her car with lots of other plant refugees I am honor bound to save whenever she takes a notion. (She has friends that garden).
I had tried to grow rhubarb in the past. It started out well, gave us lots of yummy stalks, and then each year became weaker and the stalks sparse and spindly. I just didn't think it would thrive here. She made me take it anyway.
We researched growing rhubarb this time. I found out over harvesting it in the first and second years was a common mistake that weakened rhubarb. OH! Mystery solved.
Turns out Growing Rhubarb is a long view operation: Remember!
The roots of rhubarb need to grow a LOT in year one and two. Rhubarb devotes most of it's growth to it's roots in the first several years. If only one third or less of the stalks are harvested and the plant is well fed, the roots thrive. This produces a robust plant that will give you many years of trouble free rhubarb bounty. Otherwise…spindly weak stalks and an exhausted, dying root.
We harvested less than a third of the currently growing stalks only one time, in year two, to help the roots build a strong base. A little more in year three…This year is year five. This crown of rhubarb was divided last year and it's thriving! Dividing a healthy rhubarb crown after three years of good growth is very good for the crown.
Now we have more rhubarb than we can eat fresh. I'm freezing some for later and baking lots of rhubarb goodies in season. Love this piquant veggie. It's such an interesting flavor to bring into the kitchen. So many ways to use this extraordinary vegetable in either sweet or savory dishes. Strawberry Rhubarb Sauce , Rhubarb chicken, Rhubarb Apple Crisp we enjoy many more delicious rhubarb recipes!
Growing rhubarb in your garden:
Here are some tips for planting and caring for your rhubarb. We have only grown Rhubarb from a crown. To grow rhubarb from seed take a look here.
This infographic is a quick guide to planting and growing rhubarb. Be sure to check your zone and local conditions and make sure it's a good fit for your garden.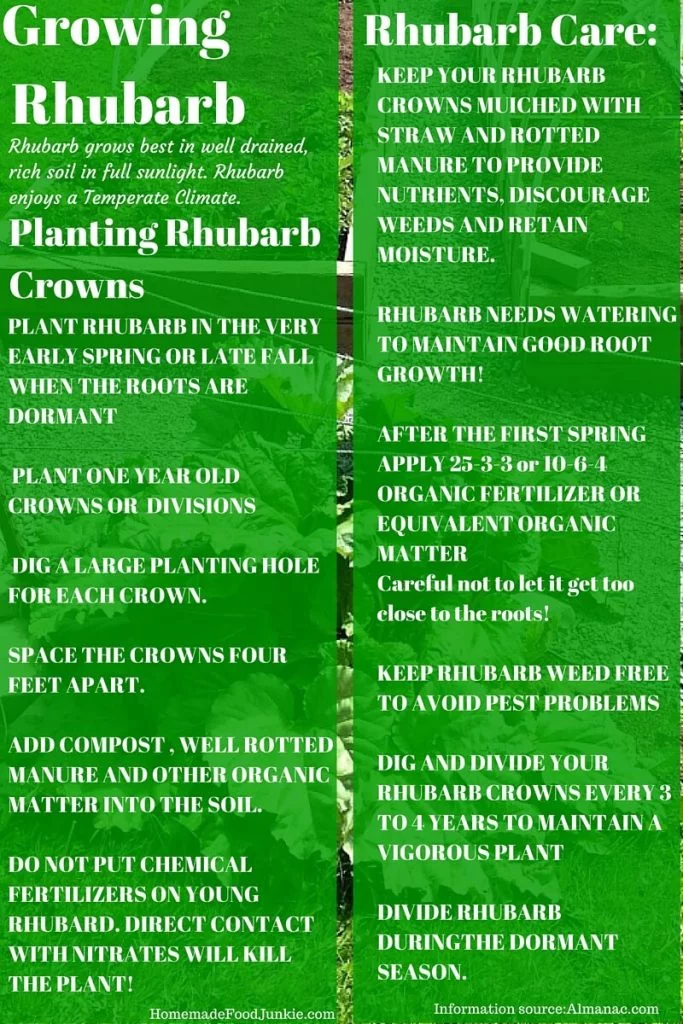 Here is an article on growing Rhubarb I thought you might enjoy. The author is Chris Smith from the Seattle PI. It's fun to read.
Ripe, fresh rhubarb stalks ready for freezing, baking and saucing!
So go out and define a permanent area in your garden(or flower bed) for this lovely spring garden treat!
SOME IMPORTANT FACTS TO REMEMBER ABOUT GROWING RHUBARB IN YOUR GARDEN
Do NOT harvest rhubarb the first year after planting. The roots need a year to grow before they have to support re-growing the stalks.
When the rhubarb stalks are thin, stop harvesting. That means the roots need more fertilizer. Your rhubarb roots are struggling to grow the top growth. Over harvesting will kill the rhubarb by robbing the rhizome of necessary nutrients and energy.
Rhubarb loves cold early spring weather. If you have a warm spell check to see if your rhubarb plant is sprouting flower stalks. If you find them; just cut them off. Otherwise the plant's energy is drained into growing flowers, not rhubarb.
Leave at least TWO STALKS of rhubarb after harvest.
Do

NOT

eat rhubarb

LEAVES. EVER

! They are poisonous! The stalk is delicious and nutritious!

Cut off the leaves

which are full of oxalic acid, which is toxic, and dispose of them.
AFTER SEASON'S END remove all the dying plant debris and deeply mulch the roots for the winter!
TIME TO ENJOY THE BLOG HOP!
Here are our Blog Hop Contributors this week. Enjoy the wealth of experiences here from all over our United States.
Creative Living With Bren Haas
PIN IT: