Leftover corned beef?  Reuben Sandwich! Make this for a change up in your lunch or dinner menu. The Reuben Sandwich is a hot grilled combination of Swiss Cheese, corned beef, mustard, piquant sauerkraut and delicious dressing on rye bread. Great for a filling lunch or dinner!
The Classic Reuben sandwich is now a favorite in our family memory. We will recreate this one a LOT in our future! Our youngest son, Evan hosted a family movie night in his (new to him)house. The party grew and grew until his home was bursting at the seams with extended family of three generations.
Evan decided Reuben sandwiches were the perfect party food for this event. It was SO fun! And WHAT a Sandwich!! Yowsa that's good stuff!
We ate Red Cabbage Carrot Salad, chips and Feasted on hearty Reuben sandwiches. Brownies and  blueberry pie for dessert. Completely delicious event!
The movie was Hacksaw Ridge, directed by Mel Gibson. I hid in the office and worked to avoid the violence. Everyone else enjoyed it very much. This show has a great true story. We gained a great deal of respect for the hero who was honored with the Congressional Medal of Honor for his heroism. Iwo Jima was a horrible battle!
We used up some St. Patrick's Day Instant Pot Corned beef  to make our Reuben Sandwiches for the party. The instant Pot keeps the flavor in the meat. We loved the corned beef flavor bursting through the sauerkraut and Swiss!
The Reuben sandwich is a messy choice. But so good! This compilation of Crunchy toasted bread, stringy sauerkraut, tender corned beef and ooey gooey homemade Thousand island Dressing….what are you waiting for?
This Traditional American Sandwich became a hit in the early 20th century. It's now as traditional as apple pie. Corned beef season just begs for this sandwich. It's a messy, juicy sandwich devoured all over the country in diners and homes.
Reubens were considered an Irish sandwich in my family but Wikipedia says different. The story goes that a man (named Rueben) in Omaha Nebraska invented it one night for his friends at a poker game. Definitely man food. Although I ate the one you are seeing in this post. It dripped all over me and entangled my fingers and I loved it!
You will need napkins for this messy, filling delicious beast! I can just see a group of guys harfing  down on a plate of this crusty handful of meaty bliss. At least that's what happened to us last weekend. Satisfied appetites and dirty napkins.
Reuben Sandwich Recipe:
Are you out of fresh cooked corned beef? Use Pastrami for a close match (although the pastrami is a bit more peppery)in flavor. We loved it with pepperoncini chopped into the sauerkraut. Just sayin.
Heat the sauerkraut and corned beef and keep warm.
Set a skillet to medium heat
Butter the two slices of bread on one side only
Spread the 1000 island dressing on the other side of the two pieces of bread.
Spread the mustard over the 1000 island dressing
Lay the corned beef on one of the pieces of bread
Layer the swiss cheese over the shredded corned beef
lay the sauerkraut over the swiss cheese
Cover with the other piece of prepared bread and put into the skillet.
Cook until the bread is browned and then flip the sandwich over with a spatula
Cook a few more minutes until the sandwich is golden on both sides and the cheese is melty.
Remove from pan and serve with pickles, chips and napkins!
Other Sandwiches that make good party food!
Crock pot French Dip Sandwich Another classic American favorite with easy crockpot directions and a cajun twist!
Waffled Torta Ham Sandwich My own creation. Filling and delicious! Waffled Torta Ham Sandwich is full of flavorful, good ingredients. Perfect for a hungry family week end lunch!
Bacon and Egg Croissants make a delicious breakfast treat!
Here is Video of me making the Reuben sandwich you see in this post. It was easy to make and delicious!!
Your Printable Recipe: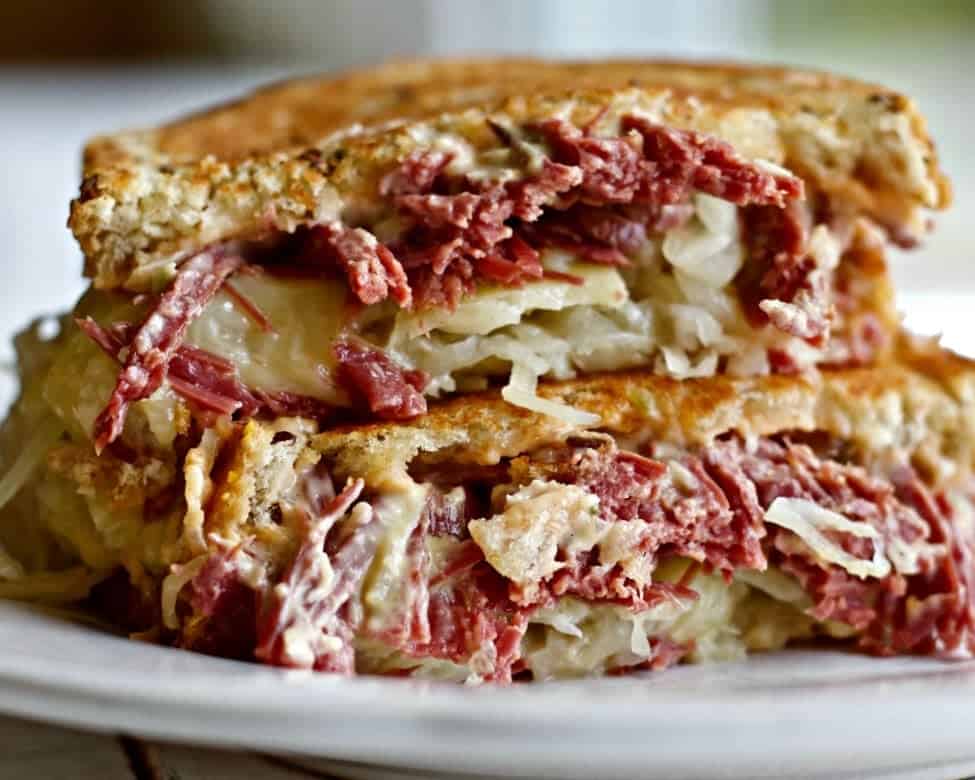 Ingredients
2 slices Rye Bread
2 Tablespoons butter
1 Tablespoon 1000 Island Dressing
1 tsp. brown mustard
1 Slice Swiss cheese
1 pepperoncini pepper finely chopped
1/4 Cup Sauerkraut
1/2 Cup Corned Beef
Instructions
heat the sauerkraut and corned beef and keep warm.
Set a skillet to medium heat
Butter the two slices of bread on one side only
spread the 1000 island dressing on the other side of the two pieces of bread.
Spread the mustard over the 1000 island dressing
lay the corned beef on one of the pieces of bread
Lay the swiss cheese over the corned beef
lay the sauerkraut and pepperoncini over the swiss cheese
Cover with the other piece of prepared bread and put into the skillet.
Cook until the bread is browned and then flip the sandwich over with a spatula
cook a few more minutes until the sandwich is golden on both sides and the cheese is melty.
Remove from pan and serve
Pin it: