The tangy Reuben Sandwich. Make this hot sandwich for a change up in your lunch or dinner menu. With a combination of Swiss cheese, corned beef, mustard, piquant sauerkraut and delicious 1000 Island dressing on rye bread; it's a satisfying all in one meal.
This sandwich is a fantastic way to use up any leftover corned beef. The soft, shredded meat is easy to pile on and brings an insane amount of flavor that everyone loves.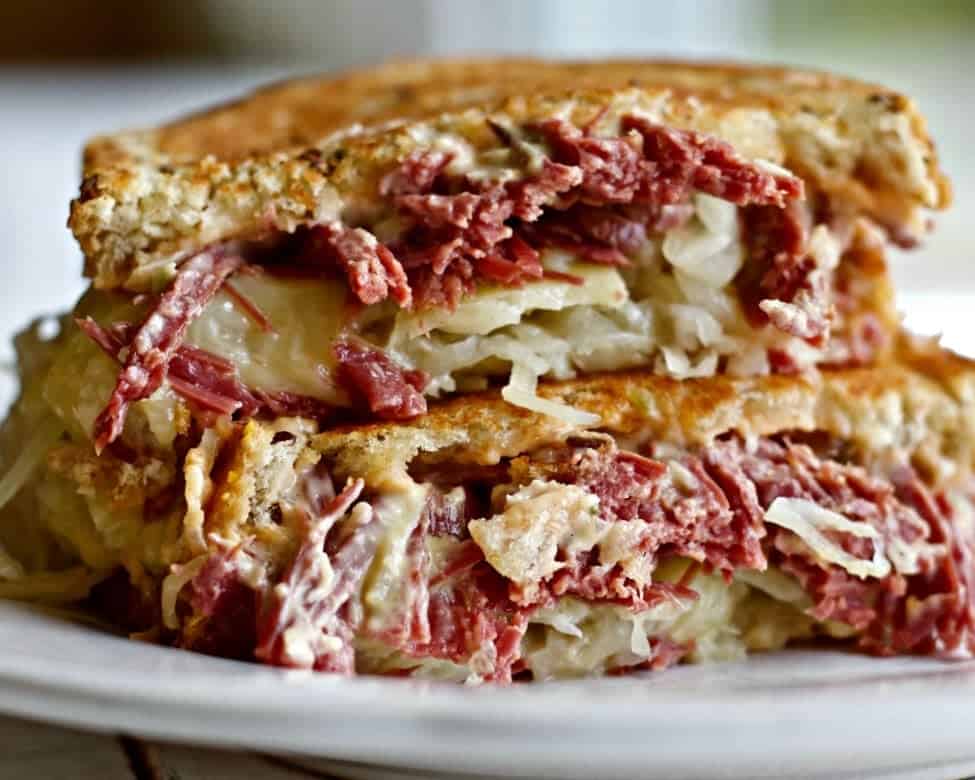 What is a Reuben Sandwich made of?
The Classic Reuben sandwich is made with corned beef, Swiss cheese, sauerkraut, and Russian or thousand island dressing. Traditionally, marble or rye bread is used to serve the hot, melted mixture.
The corned beef could be substituted with pastrami which will bring added flavor and may be easier to source, but, it wouldn't technically qualify as a true Reuben Sandwich.
How do you make the Reuben Sandwich?
Try our favorite leftover corned beef and sandwich recipes
Click on any of the recipes below to explore more delicious meals. These are some of our favorite hot sandwiches, and the hash is perfect for a hearty start to your day.
What do you serve with a Reuben Sandwich?
Because hot sandwiches are quintessential diner food, they are usually enjoy alongside a plate of chips, potato salad, and maybe a pickle wedge. But, don't let that stop you! There are so many delicious sides you can enjoy with this melted reuben sandwich. Here are some ideas to get you going.
We love the corned beef flavor bursting through the sauerkraut and Swiss. Any remaining corned beef leftovers can make a wonderful plate of Corned beef Hash and Eggs for breakfast the next day.
The Reuben sandwich is a messy choice. Bring the napkins to the table, you will need them. It makes a fun option to serve at a guys night, a summer party, or tailgating event. Just plug in your sandwich press and pile everything on!
Who invented the Reuben Sandwich?
This traditional American Corned Beef Reuben Sandwich became a hit in the early 20th century. It's now as traditional as apple pie. Corned beef season just begs for this sandwich. It's a messy, juicy sandwich devoured all over the country in diners and homes. The story goes that a man named Rueben in Omaha Nebraska invented it one night for his friends at a poker game.
What does rye bread taste like?
Rye bread has an earthy, almost herbal flavor and is covered in caraway seeds. These seeds have a noticeable flavor that adds to the richness of this bread. Certain rye breads are made with a sourdough base which gives them a slight tang, while others are sweeter.
Reuben Sandwich ingredients
All you need to make this delicious hot sandwich is rye bread, corned beef, sauerkraut, Swiss cheese, and thousand island dressing. Those are the traditional ingredients used to make this hearty bite.
But, if you have been around our blog you know that we love to add our own spin. Sooo…if you are looking to spice things up, or change some of the ingredients to suite your preferences; we do too! We actually diced up some perpperoncinis and added them to the sauerkraut for some more spice, and add some delicious spicy brown mustard.
If you don't care for marble or rye bread consider using a hearty sourdough slice. It will bring a rich flavor and hold together once it's toasted together with the ingredients.
How do you toast a hot sandwich?
Sandwich presses are the easiest option and will give you the best toasted crunch. You will get an even amount of pressure and heat distributed throughout the sandwich.
If you purchase Items From our affiliate links we may receive a small commission at no extra charge to you. Thank you for supporting Homemade Food Junkie.
The sandwiches can be cut into quarters and placed on a sandwich tray to pass around for parties. A little bit goes a long way. Definitely a delicious meal in a sandwich right here!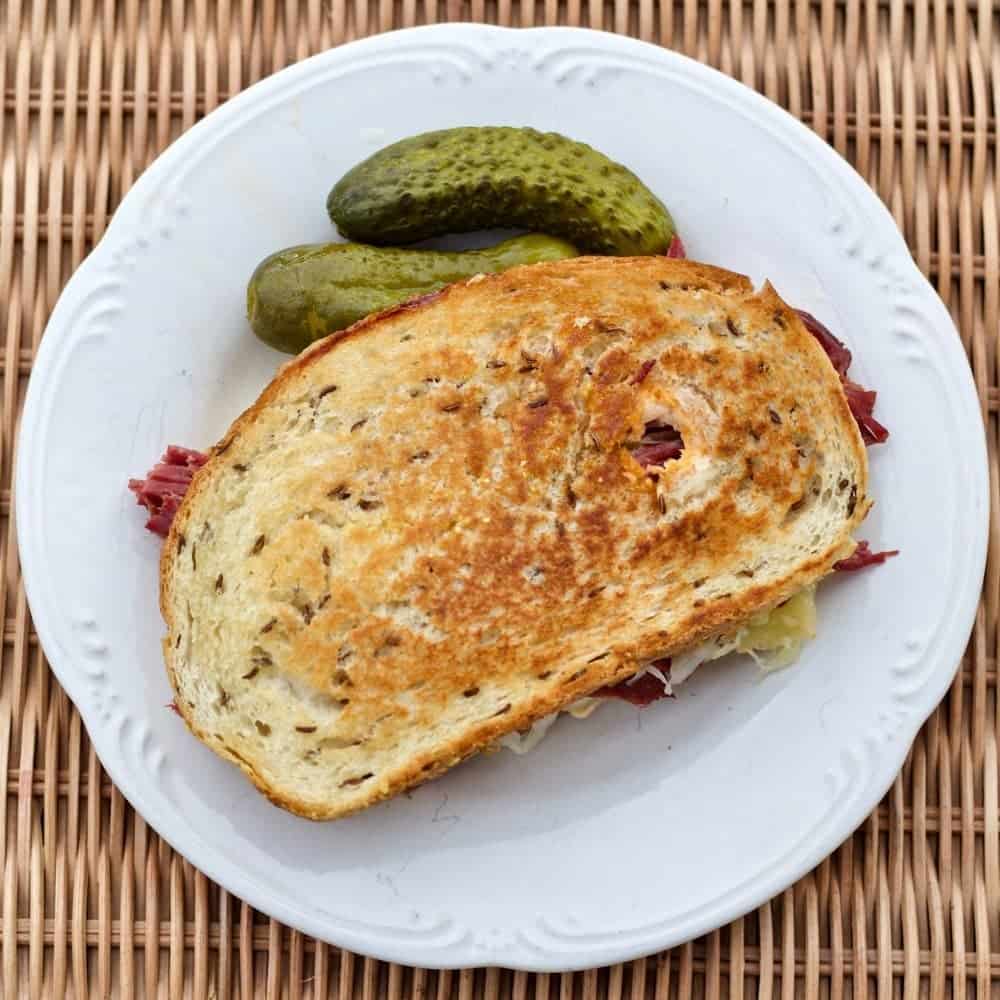 Is the Reuben Sandwich healthy?
The Reuben sandwich calories are better qualified as 'comfort calories'. This sandwich for sure doesn't stand in the healthy category. The fats are high and the sodium from the corned beef isn't great. Thousand island dressing is also high in fats and has few redeeming ingredients. But tasty? Oh it's definitely that.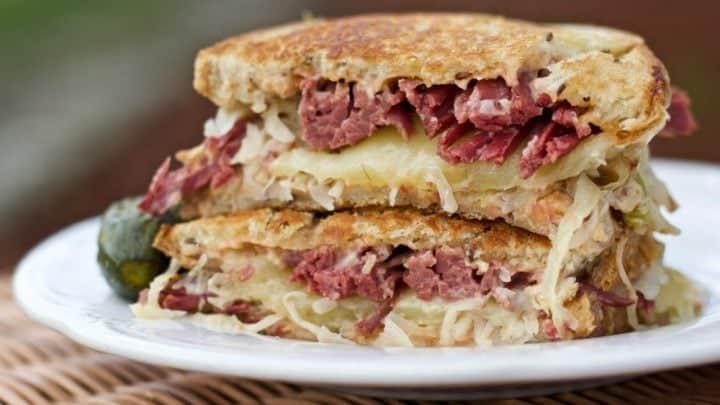 Yield:

1 sandwich
Reuben Sandwich Recipe
The Reuben Sandwich is a hot grilled combination of Swiss Cheese, corned beef, mustard, piquant sauerkraut and delicious dressing on rye bread. Great party food or a filling lunch or dinner.
Ingredients
2 slices Rye Bread
2 Tablespoons butter
1 Tablespoon 1000 Island Dressing
1 tsp. brown mustard
1 Slice Swiss cheese
1 pepperoncini pepper finely chopped
1/4 Cup Sauerkraut
1/2 Cup Corned Beef
Instructions
heat the sauerkraut and corned beef and keep warm.
Set a skillet to medium heat
Butter the two slices of bread on one side only
spread the 1000 island dressing on the other side of the two pieces of bread.
Smooth the mustard over the 1000 island dressing
Arrange the corned beef on one of the pieces of bread
Lay the swiss cheese over the corned beef
Carefully set the sauerkraut and pepperoncini over the swiss cheese
Cover with the other piece of prepared bread and put into the skillet.
Cook until the bread is browned and then flip the sandwich over with a spatula
cook a few more minutes until the sandwich is golden on both sides and the cheese is melty.
Remove from pan and serve
Recommended Products
As an Amazon Associate and member of other affiliate programs, I earn from qualifying purchases.
Nutrition Information
Yield
1
Serving Size
1 large sandwich
Amount Per Serving
Calories

796
Total Fat

60g
Saturated Fat

28g
Trans Fat

1g
Unsaturated Fat

26g
Cholesterol

202mg
Sodium

2973mg
Carbohydrates

30g
Fiber

5g
Sugar

7g
Protein

33g
Follow Us:
We enjoy meeting you on our social networks. Follow us on Facebook, Pinterest, Instagram . Tag us with your pictures of our recipes and comment on how it went for you. We would love to see what you do with them.
We often like, comment and share your posts of our recipes on our daily Instagram stories.
Ask questions and rate the recipe in the comments section below. Please share what you did with this recipe. We are always looking for more and better ways to make homemade food. Other cooks love your ideas!
Recent Posts: