Leftover corned beef? Reuben Sandwich! Make this incredible hot sandwich for a change up in your lunch or dinner menu.
The Delicious meal replacing hearty Reuben Sandwich is a hot grilled sandwich that will fill you up and satisfy. So this is a quick easy meal between two slices of bread.
With a combination of Swiss Cheese, corned beef, mustard, piquant sauerkraut and delicious 1000 Island dressing on rye bread.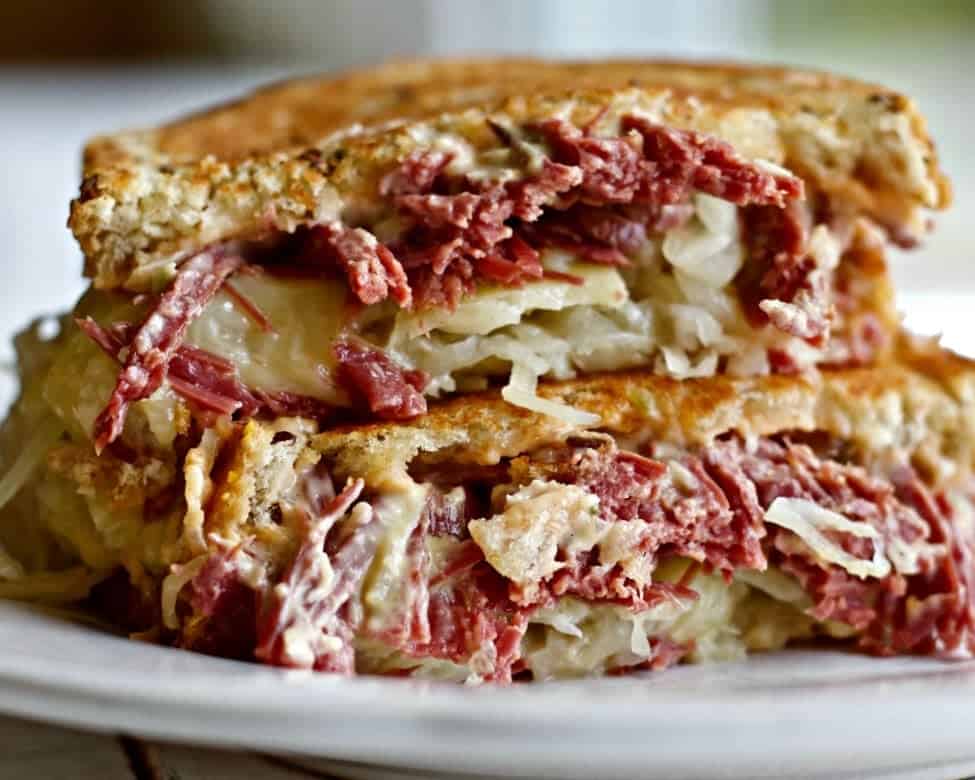 The Reuben Sandwich is a beautiful mess of flavors and textures.
The Classic Reuben sandwich is now a favorite in our family memory. We will recreate this one a LOT in our future.
Our youngest son hosted a family movie night. The party grew until his home was bursting at the seams with our extended family Three generations of viewers crammed themselves into the living room. We all had an enormously good time and grilled Reuben sandwiches for everyone.
Reuben sandwiches are the perfect party food for a TV event. It was SO fun! And WHAT a Sandwich!! Yowsa that's good stuff!
Watch me make the Reuben Sandwich:
We ate
Red Cabbage Carrot Salad
, chips and Feasted on hearty Reuben sandwiches. Brownies and
blueberry Lime pie
for dessert. Completely delicious!
We used up some our leftover St. Patrick's Day Instant Pot Corned beef to make our Reuben Sandwiches for the party. The instant pot is a wonderful tool for cooking corned beef.
We loved the corned beef flavor bursting through the sauerkraut and Swiss! The remaining corned beef leftovers made us Corned beef Hash and Eggs for breakfast the next day.
The Reuben sandwich is a messy choice. Bring the napkins to the table. And a plate. You will need them.
Reuben Sandwich Origin:
This Traditional American Corned Beef Recipe became a hit in the early 20th century. It's now as traditional as apple pie. Corned beef season just begs for this sandwich. It's a messy, juicy sandwich devoured all over the country in diners and homes.
Reubens were considered an Irish sandwich in my family but Wikipedia says different. The story goes that a man (named Rueben) in Omaha Nebraska invented it one night for his friends at a poker game.
Definitely man food. This MIGHT be the original Manwich. Although I ate the one you are seeing in this post. It dripped all over me and entangled my fingers and I loved it!
I can just see a group of guys harfing down on a plate of this crusty handful of meaty bliss. At least that's what happened to us last weekend. Satisfied appetites and dirty napkins.
The sandwiches can be cut into quarters and placed on a sandwich tray to pass around for parties. A little bit goes a long way as these are rather…sustaining. Definitely a delicious meal in a sandwich right here!
If you purchase Items From our affiliate links we may receive a small commission at no extra charge to you. Thank you for supporting Homemade Food Junkie.
If you want to cut down the size of this monster, make is on a croissant instead. This Might work best on a sandwich maker so you don't have to flip em.
Reuben Sandwich Recipe:
Are you out of fresh cooked corned beef? Use Pastrami for a close match (although the pastrami is a bit more peppery)in flavor. We loved our Reubens with pepperoncini chopped into the sauerkraut. Just sayin.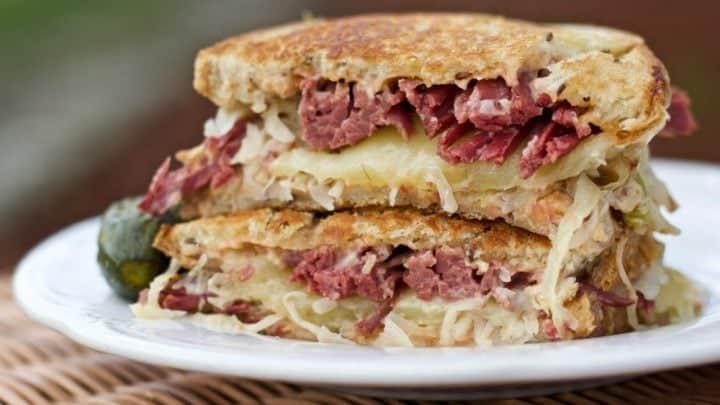 Yield:

1 sandwich
Reuben Sandwich Recipe
The Reuben Sandwich is a hot grilled combination of Swiss Cheese, corned beef, mustard, piquant sauerkraut and delicious dressing on rye bread. Great party food or a filling lunch or dinner.
Ingredients
2 slices Rye Bread
2 Tablespoons butter
1 Tablespoon 1000 Island Dressing
1 tsp. brown mustard
1 Slice Swiss cheese
1 pepperoncini pepper finely chopped
1/4 Cup Sauerkraut
1/2 Cup Corned Beef
Instructions
heat the sauerkraut and corned beef and keep warm.
Set a skillet to medium heat
Butter the two slices of bread on one side only
spread the 1000 island dressing on the other side of the two pieces of bread.
Smooth the mustard over the 1000 island dressing
Arrange the corned beef on one of the pieces of bread
Lay the swiss cheese over the corned beef
Carefully set the sauerkraut and pepperoncini over the swiss cheese
Cover with the other piece of prepared bread and put into the skillet.
Cook until the bread is browned and then flip the sandwich over with a spatula
cook a few more minutes until the sandwich is golden on both sides and the cheese is melty.
Remove from pan and serve
Recommended Products
As an Amazon Associate and member of other affiliate programs, I earn from qualifying purchases.
Nutrition Information
Yield
1
Serving Size
1 large sandwich
Amount Per Serving
Calories

796
Total Fat

60g
Saturated Fat

28g
Trans Fat

1g
Unsaturated Fat

26g
Cholesterol

202mg
Sodium

2973mg
Carbohydrates

30g
Fiber

5g
Sugar

7g
Protein

33g
Try Our Homemade Food Junkie Favorite Leftover Corned Beef and Sandwich Ideas
Corned Beef Hash and Eggs
Other Delicious Grilled Sandwiches!
Crock pot French Dip Sandwich Another classic American favorite beef sandwich. Easy crockpot directions and a cajun twist!
Waffled Torta Ham Sandwich My own creation. Filling and delicious! Waffled Torta Ham Sandwich is full of flavorful good ingredients. Perfect for a hungry family week end lunch!